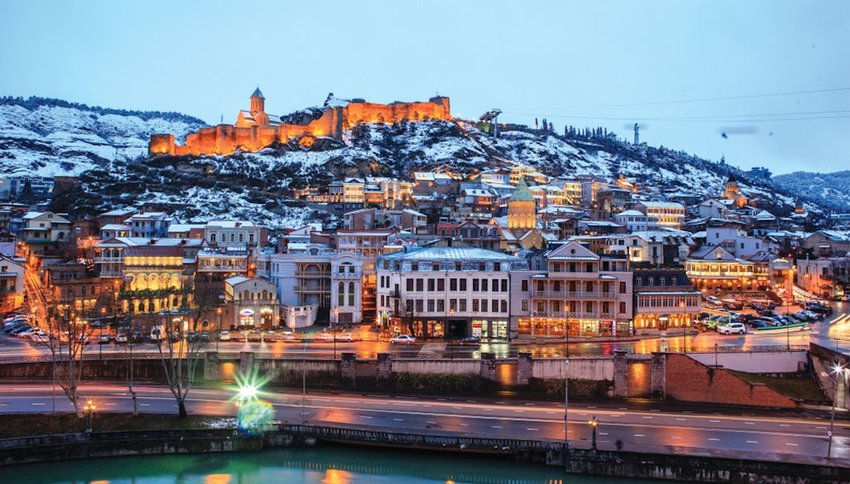 Why You Should Visit Tbilisi in Winter
The reason I selected Georgia as the destination for a week-long holiday while living in Turkey started out as pure convenience. It was only after researching the country that I learned what we were in for.
My excitement grew when I learned more about Georgia and the capital city of Tbilisi. With ancient wine-making traditions dating back 8,000 years, a distinctive food scene, a wonderfully preserved old town, and a curious East-meets-West vibe, I found myself with a jam-packed itinerary.
January ended up being the only time we could make the trip work, and despite knowing it would be cold and snowy, I decided to go for it anyway. Upon arrival, I found that even the winter weather couldn't mask Tbilisi's charm. Despite the season — or perhaps because of it — the time I spent exploring Tbilisi and the surrounding area felt almost magical, which is why I highly recommend planning at trip to Tbilisi in January — the low season. Here's why you should add this city to your bucket list.
Festivities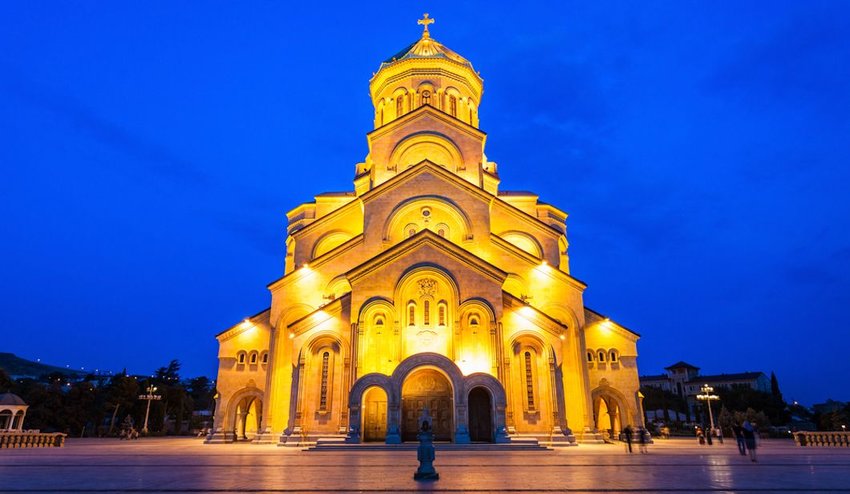 The majority of Georgians are Orthodox Christians, which means Christmas is a big deal. However, although December 25th is observed, the more anticipated Christmas celebrations fall on January 6th and 7th of the Julian calendar.
Additionally, Georgian Orthodox Christians follow the same Orthodox traditions for the New Year — celebrating not once, but twice. Georgians observe two New Year's holidays on January 1st and January 14th, which is known as the Old New Year. This means there are two occasions for parties on both December 31st and January 13th.
I quickly learned that Georgians love to celebrate just as much as they love an excuse to drink their famous wine. A visit between mid-December and mid-January guarantees bearing witness to some sort of celebration. The city is set aglow by elaborate light displays — making it impossible not to get into the spirit of things. Christmas is more intimate and family-oriented, so visiting Tbilisi for the Orthodox New Year in January allows for more involvement.
Old New Year's Eve is on January 13th and symbolizes the final night of the nearly month-long winter festivities. Kick off the evening with a Lights Tour. Start at Freedom Square and follow the glow up Rustaveli Avenue to Dedaena Park for the final night of Tbilisi's Christmas and New Year's Market. Wander through the festive stalls clustered around the giant Christmas tree, which are stocked with handmade trinkets and of course, mulled wine. Grab a cup and enjoy the festivities before finding the perfect vantage point for the midnight firework show over the Mtkvari River.
Far Fewer Tourists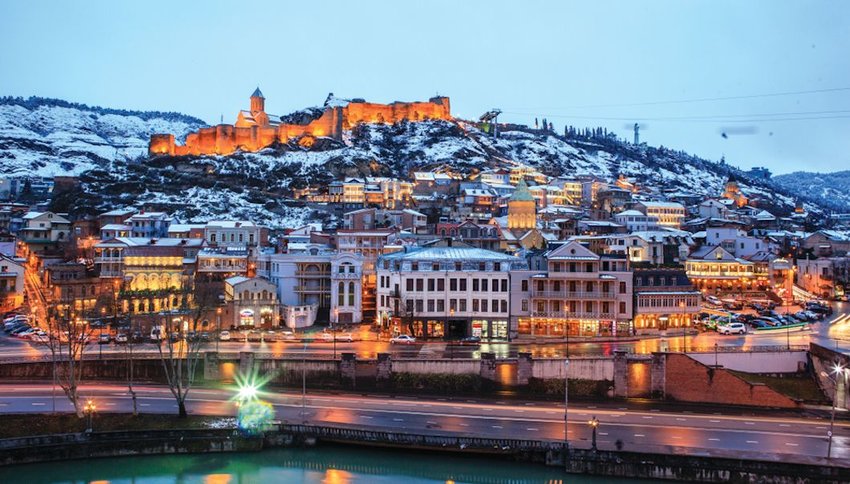 Spring, summer, and the wine harvesting season in September and October attract the most tourists to Tbilisi and the surrounding areas. I'm sure Georgia is enjoyable in milder months, but traveling there in the dead of winter meant I had the streets to myself. Attractions were empty, which made everything feel much more authentic. There were no bustling streets and no tacky tourist traps — just Tbilisi in its genuine form and locals going about their daily lives.
No crowds and no reservations necessary meant spontaneity ruled. I joined a free Old Town tour at the last minute and boarded the cable car running up to Narikala Fortress without waiting in line. I rented a car at a moment's notice and took off on impulsive day trips. I managed to get a same-day appointment at Tbilisi's sulphur baths and never had to wait for a table at a restaurant. I literally had the city at my fingertips.
Empty Roads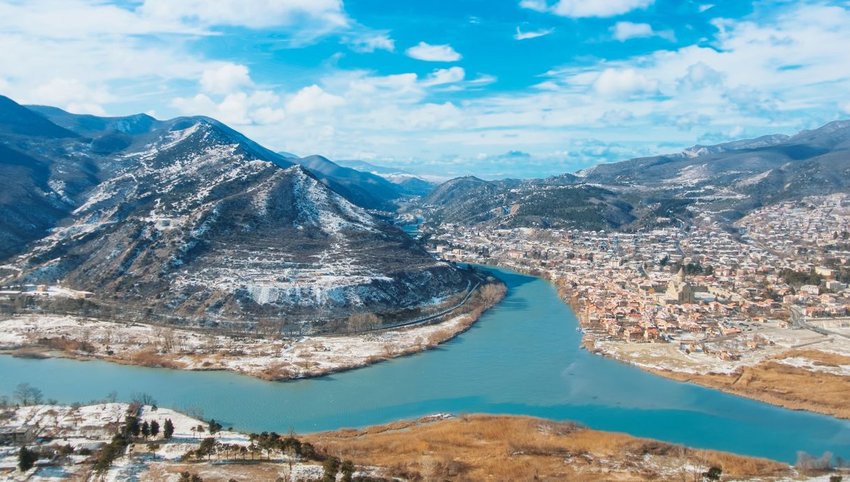 Another major perk to visiting Tbilisi in January was the empty roads. Mtskheta, the country's old capital, is just a 40-minute drive outside of Tbilisi and is worth a day away from the city. The incredible view from the Jvari Monastery over the old town clustered around the river is an obvious appeal.
However, the hidden jewel sits over seven miles outside town. The 6th-century Shio-Mgvime Monastery rests at the base of a limestone canyon and is considered a holy place by Georgians. Even if you're not a spiritual person, the Upper Church will give you goosebumps with the inexplicably vibrant beams of light pouring through the arched windows.
A slightly longer but equally worthy road trip from Tbilisi is Sighnaghi, a picturesque little town built along the hilltops overlooking the Alazani valley with the Caucasus Mountains in the distance. Located in the heart of Georgia's wine-producing region, Sighnaghi understandably draws a crowd during peak season.
Visit in January, however, and you might be lucky enough to have the country's most famous wineries (like Pheasant's Tears and Okro's) all to yourself. Order at least one glass of kvevri — the region's most prized product. Following an 8,000-year old tradition, this wine ferments inside clay amphora buried in the ground.
Cozy Restaurants and Bars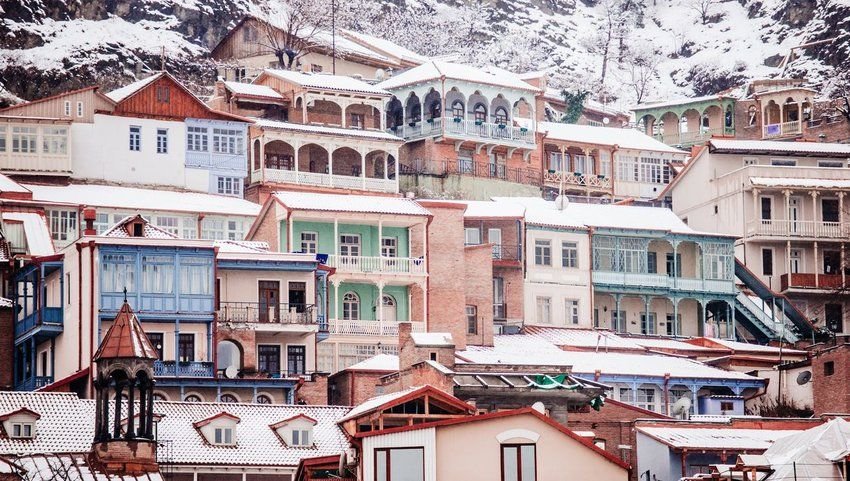 Eating and drinking take precedence throughout Georgia, and there's no better place to gain five pounds than Tbilisi. Hunker down in one of the city's hole-in-the-wall establishments or wine bars (my favorites were Salobie Bia and Café Volver) and get to work. The deliciousness and variety of food went above and beyond my initial expectations. From cream and ginger-soaked chicken breast to the heartiest of beef stews, I could not eat enough. You can't go wrong ordering anything off the menu, but be sure to try popular local dishes like Khachapuri (cheesy bread) and Khinkali (stuffed dumplings).
Everything is washed down with wine. Don't worry. No one here is judging how many glasses you drink. The options are broad and the names are difficult to pronounce, but there are two varieties that never disappoint — Saperavi (red wine) and Rkatsiteli (white wine). Make sure you toast to a trip well-traveled!
Enjoy this article? Share it with a friend
All featured products and deals are selected independently and objectively by the author. The Discoverer may receive a share of sales via affiliate links in content.
Discover the World's Best Destinations, with your free weekly travel guide sent straight to your inbox.
Welcome to The Discoverer!
We are so excited to fill your inbox with discoveries from around the world! You can expect your first edition to arrive on Monday. Until then, feel free to check out our previous editions.