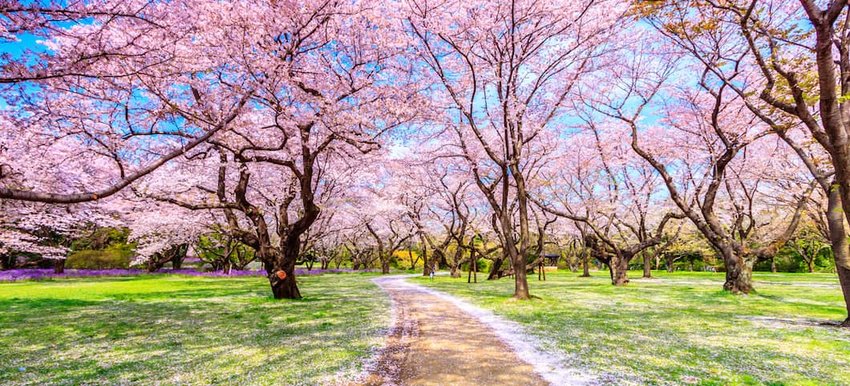 When and Where to See Japan's Cherry Blossoms This Year
Cherry blossoms, or sakura, are a big deal in Japan. Their spring arrival is meant to symbolize renewal, and their two-week life span is a reminder of "the fleeting nature of life." Cherry blossom season is a special time of celebration, especially since it lines up with the beginning of both the academic and the fiscal year in Japan. If you're trying to enjoy this natural phenomenon, we've put together some tips on when and where to travel to see these flowering buds.
How to Enjoy Sakura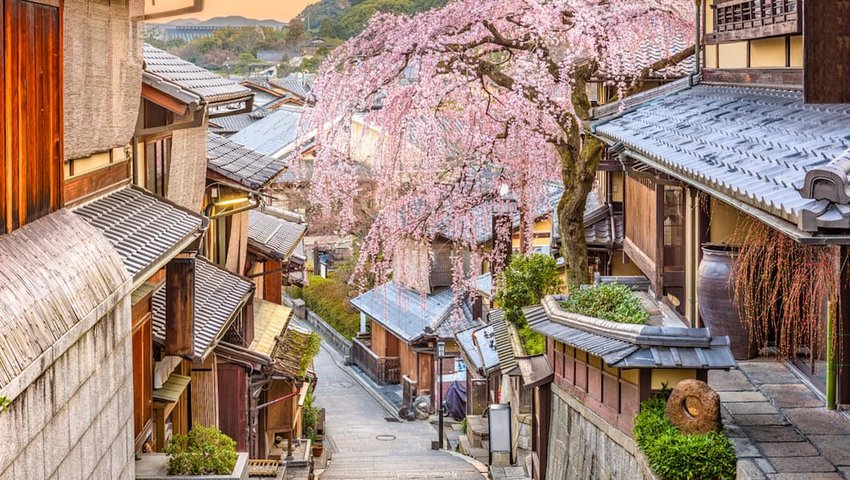 Following a thousand-year tradition called hanami (which was begun by aristocrats who liked to write poetry while looking at the blossoms), many people throw parties during cherry blossom season, eating picnics under the trees. At night, hanami becomes a more romantic time known as yozakura.
Cherry blossom festivals are held all over Japan each spring. They're very popular, and many people head to the park with a blanket to stake out their spot as early as 24 hours in advance. You can choose to visit a park where young people are drinking and enjoying themselves, or follow the elderly Japanese to a park with plum blossoms, which are generally less rowdy. Tea ceremonies are often held at cherry blossom festivals and vendors are always selling something exciting.
When to Go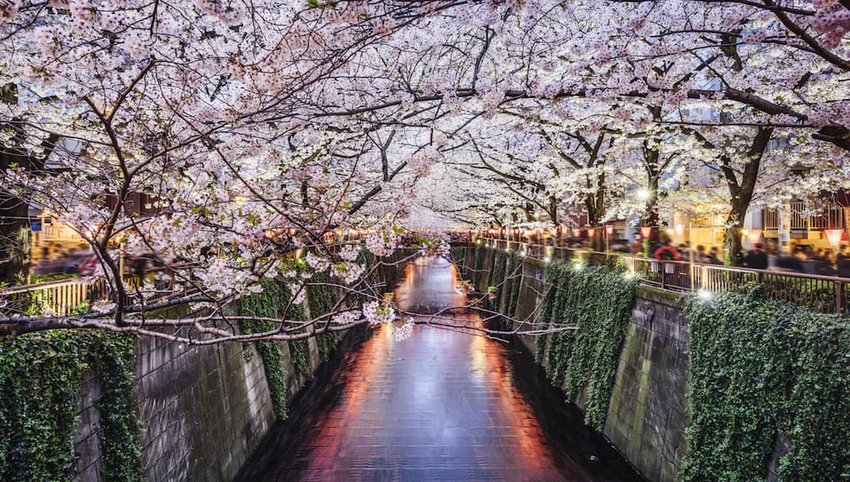 According to the Japan Meteorological Corporation, the cherry blossoms are due to arrive early this year thanks to high temperatures in October 2018. However, you can't pick just any old location in Japan and expect a fantastic hanami experience — the cherry blossoms don't bloom everywhere, so carefully plan your trip to make sure you hit the maximum time and place for buds.
Yoshino Cherry trees should bloom as early as mid-March this year. Yoshino trees are tall, 40 to 50 feet, with fragrant blossoms. The tree is native to Japan and was first planted in America in 1902. According to a Japanese legend, a fairy maiden hovers in the sky every spring to wake up the cherry trees with her breath. The fairy is here early in 2019, and tourists can enjoy the benefits.
Trees in the city of Fukuoka should flower by a forecasted date of March 20th and be in full bloom by March 29th. The best places to view the cherry blossoms in Fukuoka (which is on the north shore of Kyushu Island) include Fukuoka Castle, Nishi Park and Atago Shrine; these are all spacious outdoor areas with plenty of room for picnicking and, of course, lots of cherry blossoms.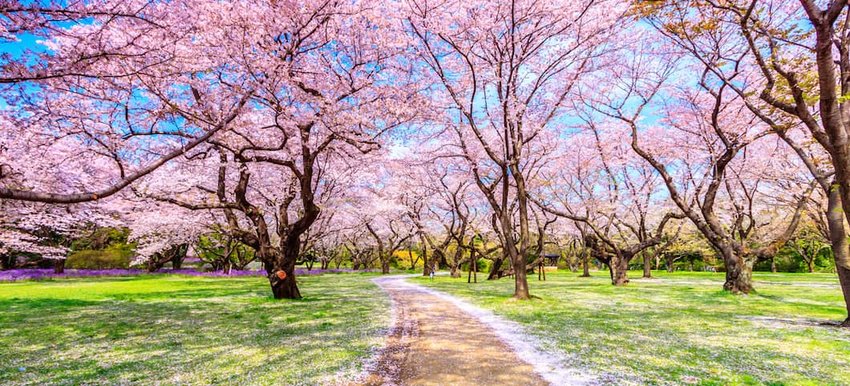 The blossoms will be in the cities of Nagoya and Tokyo by March 22nd and Hiroshima the next day. For hanami in Nagoya, head to Nagoya Castle, Yamazakigawa Riverside (lined by almost a kilometer of cherry trees) or Inuyama Castle. In Tokyo, one of the best viewing places for cherry blossoms is Shinjuku Gyoen — this central garden has dozens of species of cherry trees with over 1,000 trees total. Hiroshima Peace Park and Hiroshima Castle are two of the best places in Hiroshima to enjoy hanami.
And if you've ever wanted to visit Osaka or Sendai, the cherry blossoms will be there, too. Expect the blooms to be in Osaka by March 27th and go to Osaka Castle Park to view the beautifully illuminated trees; in Sendai, plan your trip for April 9th and visit Mikamine Park.
In Summary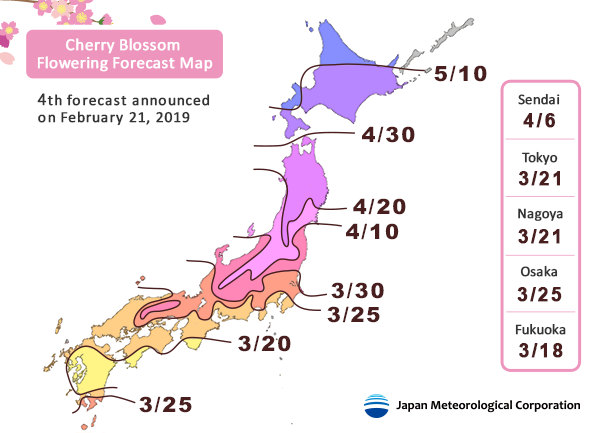 Confused? Here's the official rundown:
Fukuoka — March 20th
Tokyo — March 22nd
Nagoya — March 22nd
Osaka — March 27th
Sendai — April 9th
Book that plane ticket, bring some sake and get ready to contemplate the fleeting beauty of life. We'll see you under the sakura.
Enjoy this article? Share it with a friend
All featured products and deals are selected independently and objectively by the author. The Discoverer may receive a share of sales via affiliate links in content.
Discover the World's Best Destinations, with your free weekly travel guide sent straight to your inbox.
Welcome to The Discoverer!
We are so excited to fill your inbox with discoveries from around the world! You can expect your first edition to arrive on Monday. Until then, feel free to check out our previous editions.