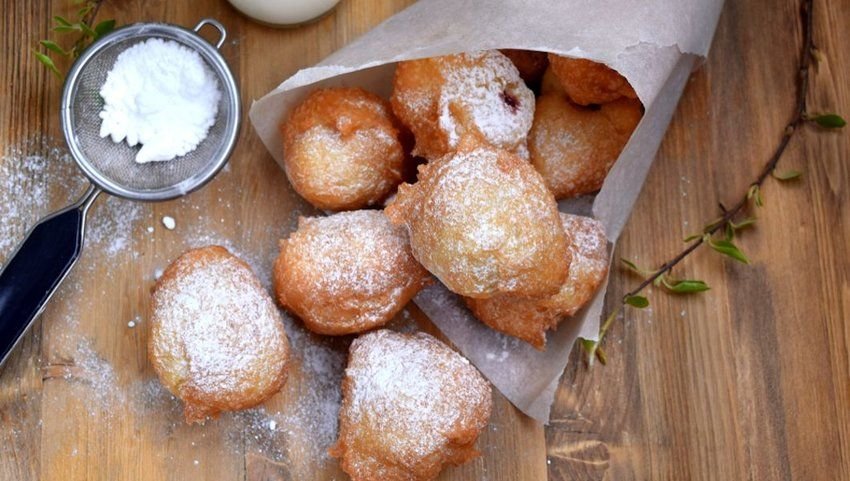 The One Food to Try in Every State
Fancy eating your way around the USA? On a tour of the nation you can dive face-first into mouthwatering delicacies such as Illinois's signature deep-dish pizza and Maine's lobster rolls. From north to south, east to west, here's a definitive guide to not-to-be-missed foods in every state.
Alabama: Chicken and White Barbecue Sauce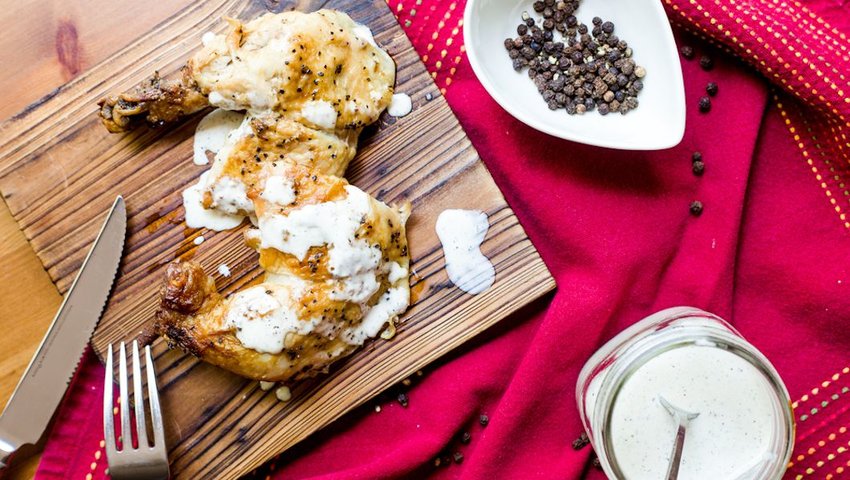 While most of us are familiar with smothering our smoked chicken with red barbecue sauces, in Alabama they do it differently. The white variation on barbecue sauce is a creamy, mayonnaise-based dressing with a tangy taste created from the addition of horseradish, mustard and vinegar. State legend says that Bob Gibson, of Big Bob Gibson Bar-B-Q, invented the sauce in 1925. If you are passing through Decatur you can try it at its birthplace.
Alaska: Salmon Candy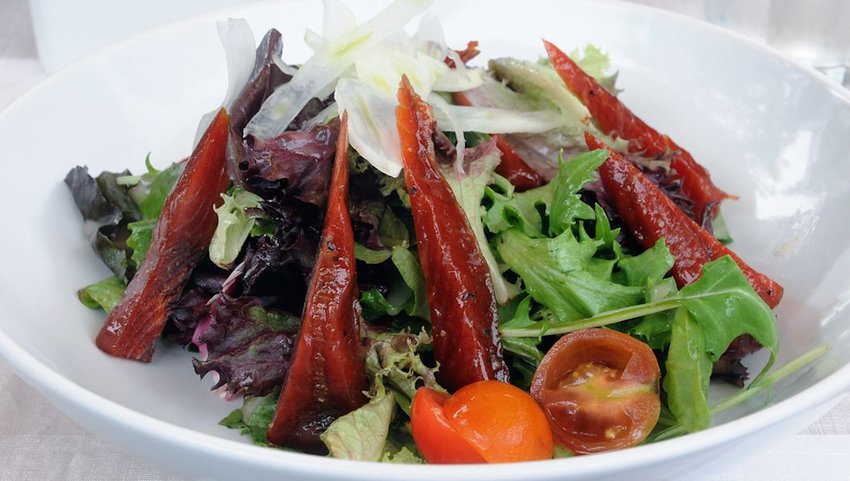 Whether barbecued, cooked in a bisque or made into a chowder, salmon is quintessential to the Alaskan diet. But what do you do when you've had a particularly good fishing season? Make salmon candy, of course. When smoked, Alaskan king salmon develops a dry, jerk-like texture with a salty-sweet taste. Chomp on it as a snack or toss it into a salad to add extra flavor to your greens.
Arizona: Chimichangas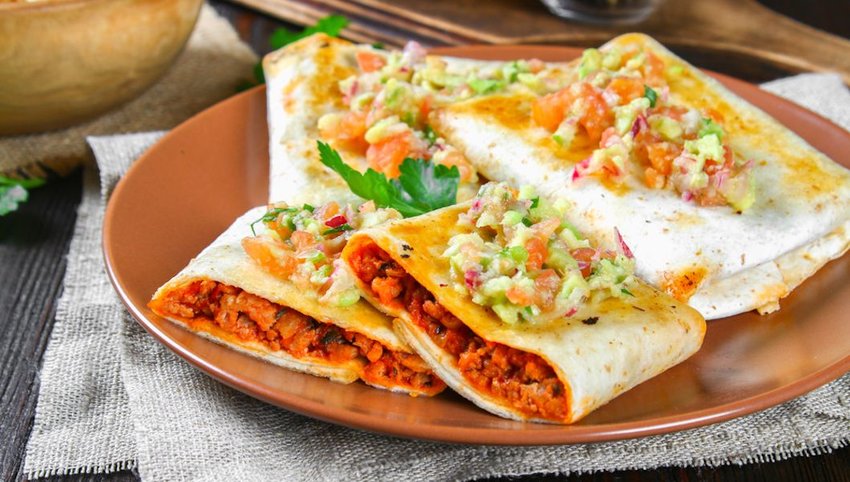 The story goes that back in the 1950s a chef was busily preparing a burrito when she inexplicably dropped it into a deep fryer. The result was the crispy, meat-filled delicacy now known around the world as the chimichanga. Today they come in all shapes and sizes and are stuffed with everything from chicken to shrimp and beans. Head to the original El Charo Café in Tucson, where chef Monica Flyn made her way into culinary folklore.
Arkansas: Fried Pickles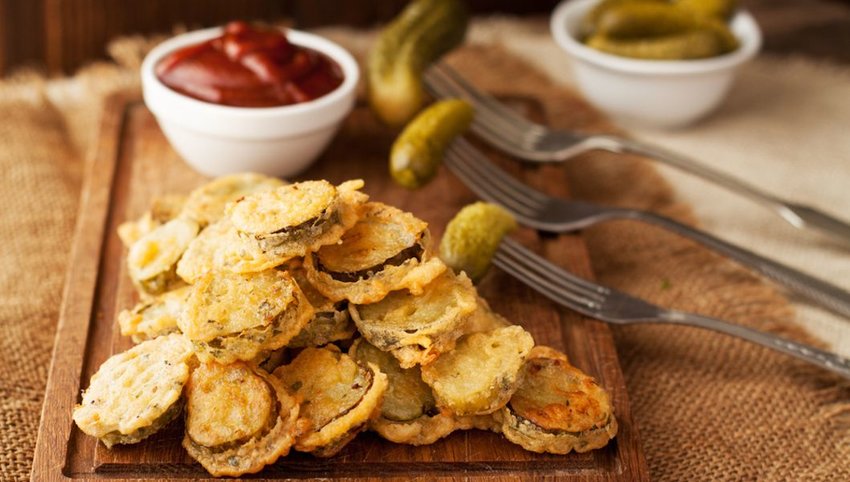 Invented in Atkins for workers at a local pickle plant, who'd probably already had enough of seeing pickles, fried pickles are now a staple of the Deep South. It's as simple as it sounds: sliced dill pickles dipped in batter and deep fried. Dip them into a ranch dressing or ketchup and you are on to a winner. Try them at home by following this recipe.
California: Fish Tacos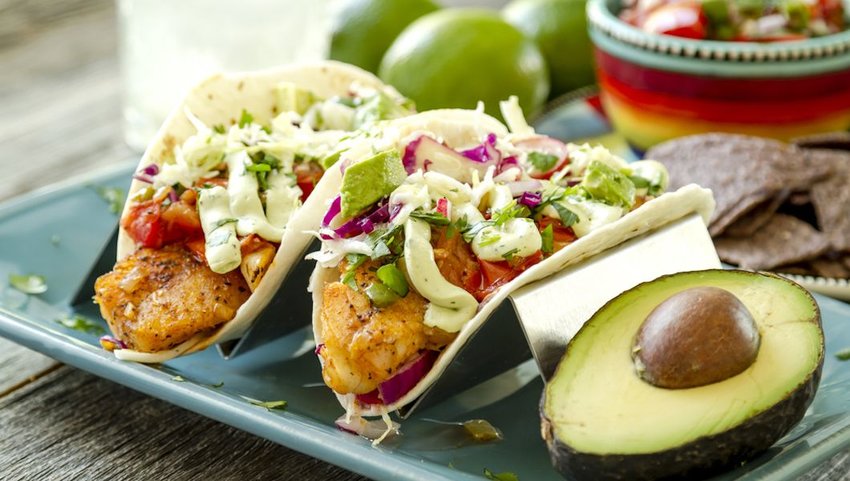 Do as the sun-kissed surfers and bohemian SoCal crew do and grab yourself some fish tacos after a day at the beach. All you need is some flaked white fish (often fried in a light tempura), corn tortillas, avocado, salsa and slaw. Spice it up with some chipotle and a garlic lime mayo. If you need some help deciding where to get the best, then check out our Ultimate Taco Tour of California.
Colorado: Lamb Chops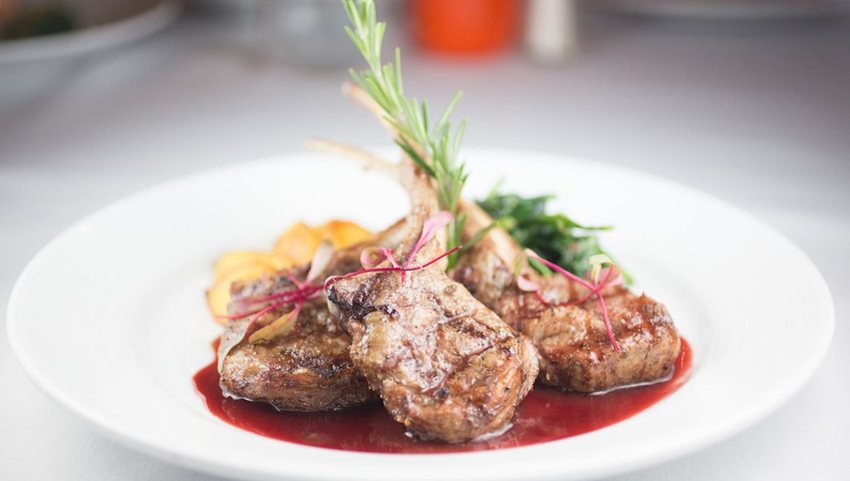 Colorado's lamb is gaining such notoriety that you can travel around the globe and find it on restaurant menus. The key is in the shepherds, many of whom hail from traditional sheep-herding regions, breeding lamb for meat production and not wool. Up in the mountains, they feed naturally on berries, grasses, plants and wild carrots to produce tender cuts of rich meat. Sample it at any branch of Elway's and you won't be disappointed.
Connecticut: White Clam Pizza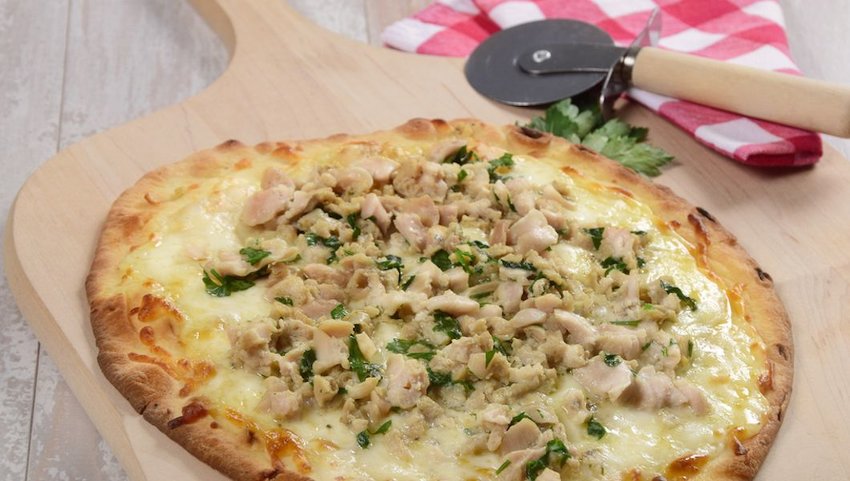 Like pizza? Like seafood? Then get yourself to Connecticut to feast on a white clam pizza. Think a thin-crust base with garlic, oregano, cheese and plenty of locally sourced clams. You'll find plenty of places serving it in New Haven, with arguably the best being at Frank Pepe Pizzeria Nepoletana. They've been oven baking pizzas since 1925 so have had plenty of time to perfect it.
Delaware: Vinegar French Fries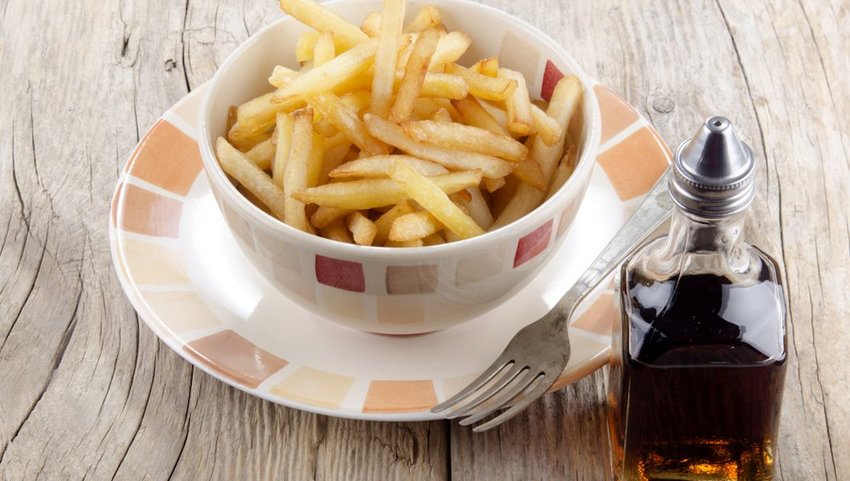 In Delaware, almost everyone hits the beach in the summertime and when there they indulge in a portion of salty French fries doused in apple cider vinegar. The secret is to marinade the potatoes in vinegar and then refrigerate them before frying. Avoid ketchup and opt for extra vinegar instead. Take your pick of locations serving them along the Boardwalk of Rehoboth Beach, of which Thrasher's is the star.
Florida: Key Lime Pie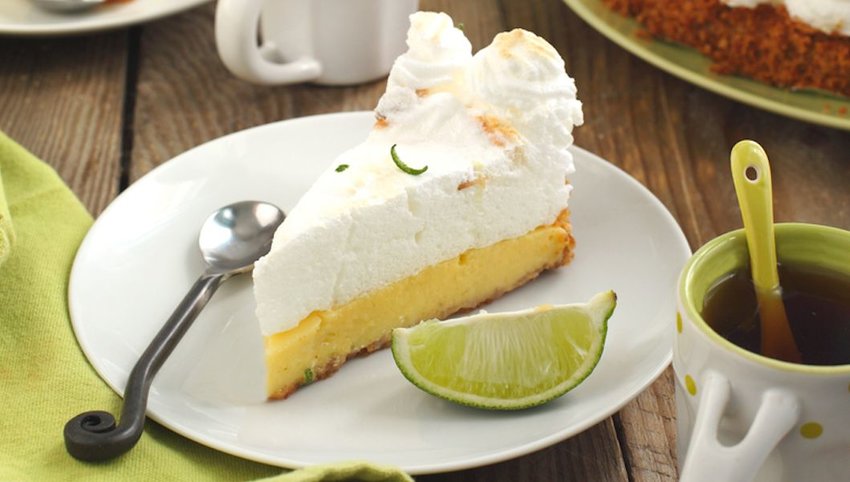 Named for the limes that grow freely throughout the Florida Keys, key lime pie has been a state staple since the 1940s. Traditionally this dessert is a no-bake pie whose filling is the result of a chemical reaction when mixing the limes with condensed milk and egg yolks. Such is the pie's significance to Florida that in 1965 a politician lobbied for a $100 fine to be given to those making it without Key limes. Get your fix at July's Key Lime Festival.
Georgia: Lattice-Top Peach Pie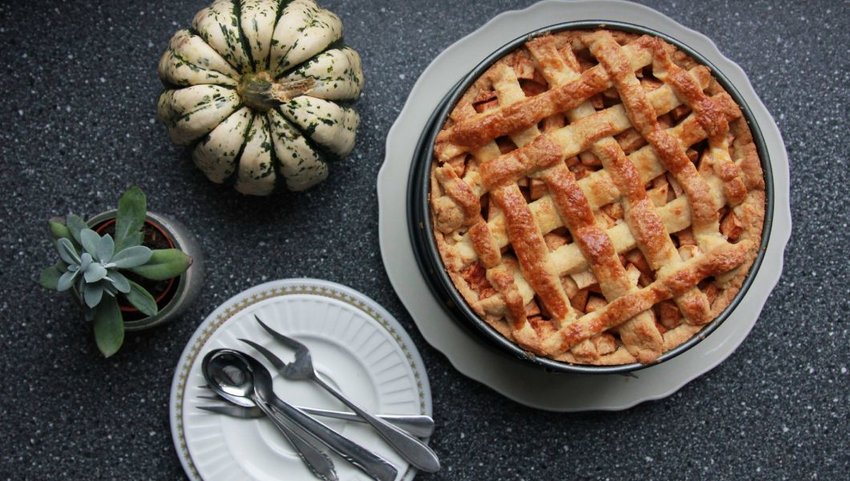 Georgia has been the forerunner in pecan production in the U.S. since the late-19th century. Consequently, every café, dinner and household statewide has their own signature recipe. Whether for breakfast, as an afternoon snack or dessert, wherever you go, you'll be able to tuck into a gooey, crunchy pie overloaded with homegrown pecans. What better place to try one than on a pecan farm such as Jeamor Farms, in Alto?
Hawaii: Shave Ice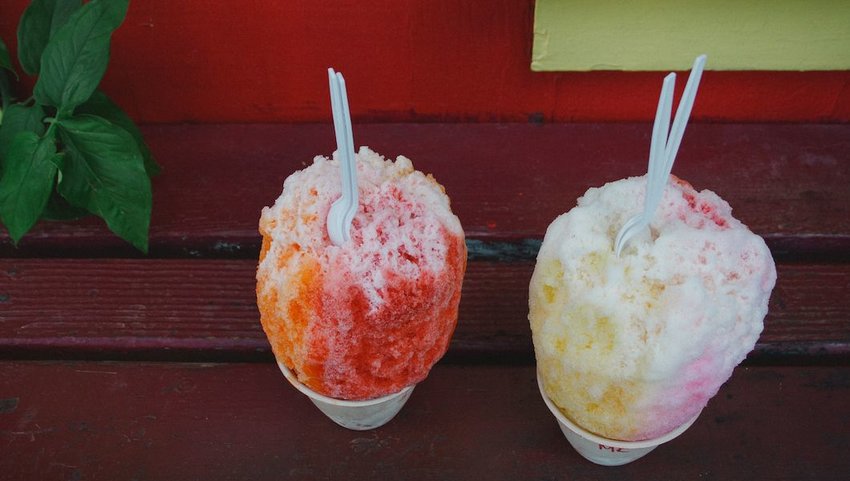 First let's set the record straight: Shave ice is not the same as a snow cone. Shave ice is in fact a Hawaii tradition of making an ice-based dessert by sculpting a block of ice. It's served in a plastic cup and gets its flamboyant colors from the addition of flavors that range from guava to mango and passion fruit. Some variations include a scoop of vanilla ice cream or adzuki bean paste. Matsumoto Shave Ice has been serving happy punters since 1951.
Idaho: Finger Steaks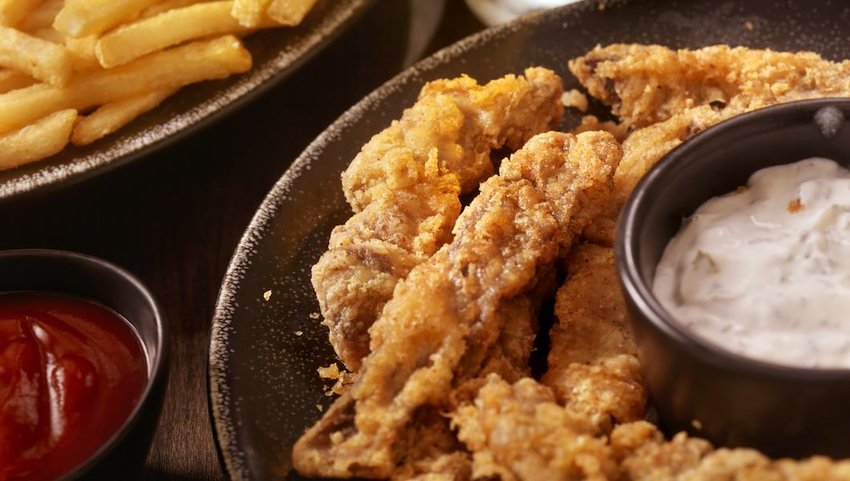 Sometimes the best food is the simplest food and Idaho finger steaks are just that. It's basically a steak version of chicken fingers, enjoyed with barbecue sauce, a portion of fries or a side of toast. First brought to the Idaho menu at Boise's now-closed Milo's Tavern in the 1950s, nowadays they are impossible to miss. Try some at the Oxbow Diner, in Bliss.
Illinois: Deep-Dish Pizza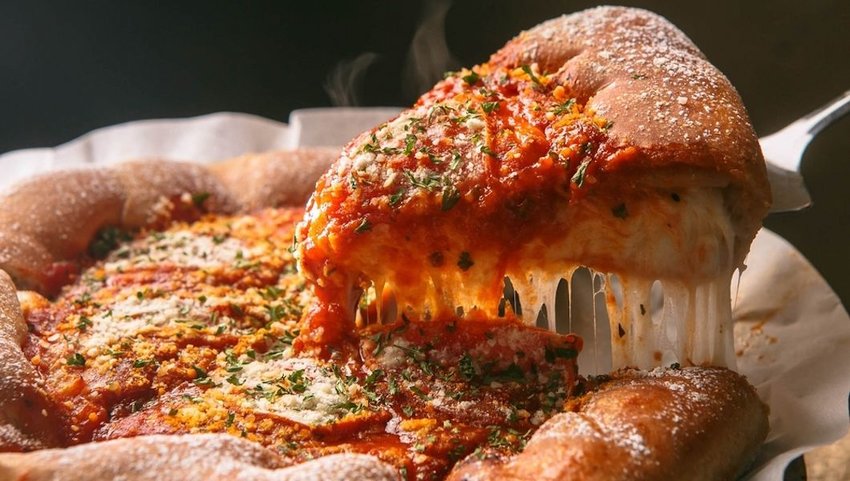 When in Chicago and with a craving for comfort the only way to turn is to your nearest pizzeria. The Chicago-style deep-dish pizza differs from the traditional variation by being baked in a cast-iron skillet to produce a thick, buttery crust. On top, chefs pile the pies high with chunky tomato sauce and lashing of mozzarella. Order yours with sausage for the ultimate experience. Lou Malnati's and Pizano's are run by the sons of the supposed deep-dish inventor Rudy Malnati.
Indiana: Hoosier Pork Tenderloin Sandwich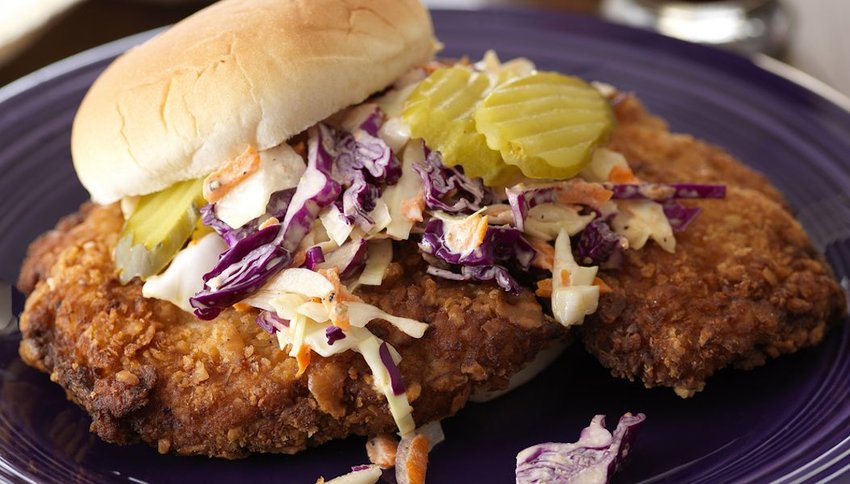 Everyone loves a sandwich whose bread appears conspicuously smaller than its fillings and that's exactly what the Hoosier pork tenderloin sandwich does. It's a pounded pork steak marinated in spiced buttermilk, covered in bread crumbs, deep fried and placed inside a bun. Lettuce, tomatoes, onion, mustard and mayonnaise are optional. Nick's Kitchen in Huntington has been doing them for over a century.
Iowa: Sweet Corn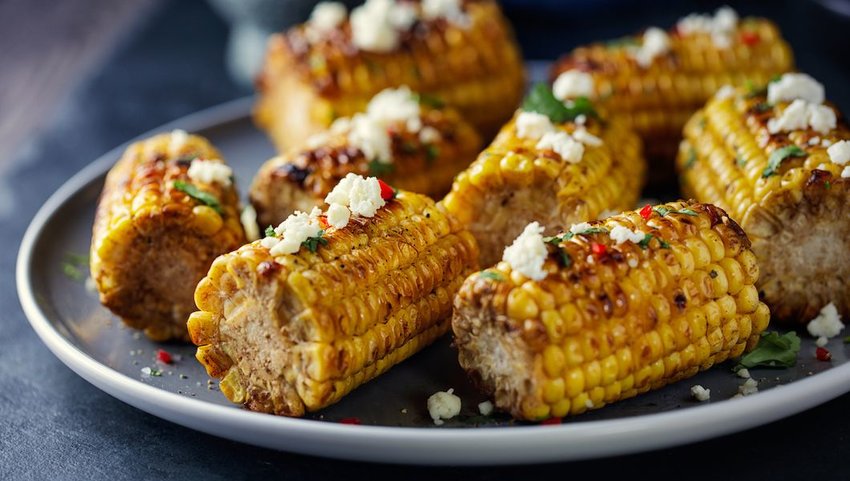 Drive through Iowa from Independence Day onwards and you'll see corn sprouting in all directions and trucks packed to their limits en route to markets. The best way to enjoy the state's most-famous crop is to grill it until slightly charred and then baste it with a garlic butter. True corn and kernel fanatics should make room for the West Point Sweet Corn Festival in their calendar.
Kansas: Kansas City-Style Ribs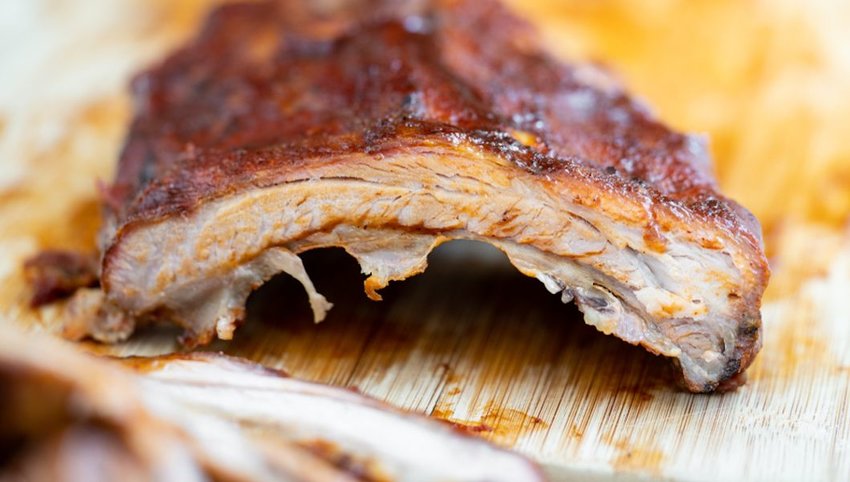 When in Kansas, there's no shame in getting your fingers sticky while diving face first into a plate of tender smoked ribs. The Kansas City variation is noted for the thick sauce that is brushed onto the ribs for the last half an hour of cooking. Prior to this, a dry rub consisting of brown sugar, chili powder and pepper is applied. Don't miss the American Royal World Series of Barbecue at the Kansas Speedway for some fall-off-the-bone delights.
Kentucky: Kentucky Hot Browns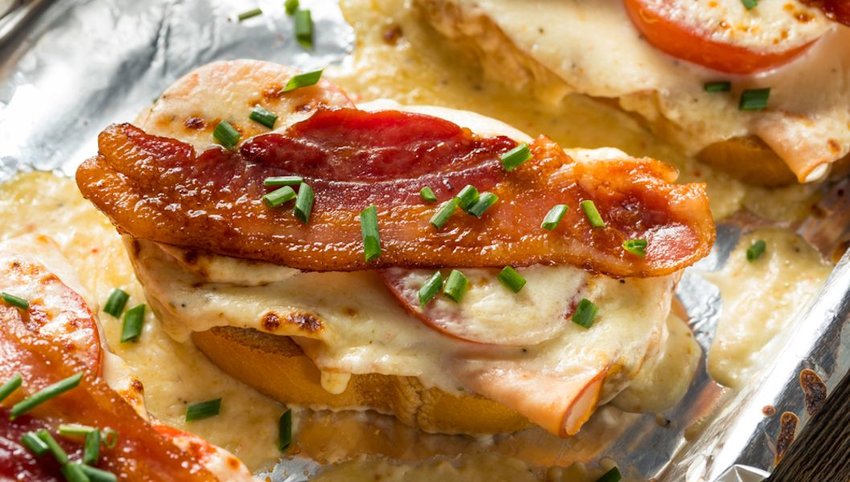 Kentucky's much-loved Hot Brown originated at Louisville's Brown Hotel as an alternative to the ham and egg suppers served to the late-night dinner-dance guests. This open-faced sandwich has a slice of turkey covered in Mornay sauce and broiled until bubbling. Bacon is then placed on top. When invented in 1926, the sandwich was rare because turkey was often eaten only during Thanksgiving and Christmas. The Brown Hotel still knocks up one of the best.
Louisiana: Beignets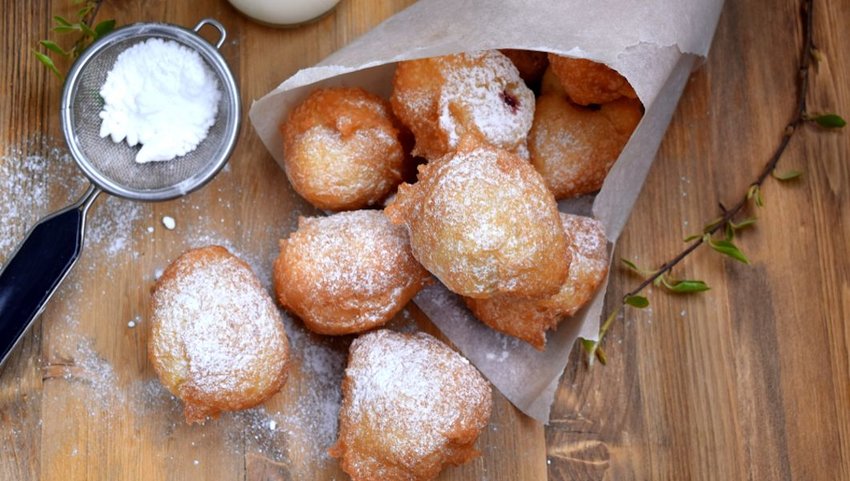 Spicy Cajun and Creole cuisine is rife across Louisiana but one thing you shouldn't miss is a beignet. Consumed in their thousands for breakfast and with coffee in New Orleans' cafés, beignets are deep-fried choux pastry sprinkled with powdery sugar. The iconic way to eat them is fresh out of the fryer with a chicory coffee. Café du Monde is a beignet hotspot, although they are available everywhere in the French Quarter.
Maine: Lobster Roll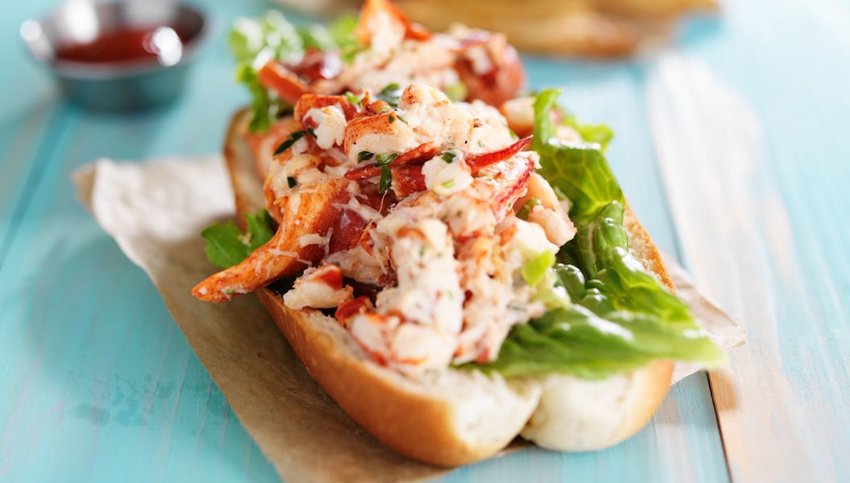 There's perhaps no better place on the planet to try lobster than in Maine. The state's shoreline swarms with this marine crustacean and thousands of lobstermen scour the waters in trawlers to catch them in their millions. To serve a lobster roll correctly, you need to follow one simple rule: make sure that it' overflowing with meat, both claw and tail included.
Maryland: Steamed Blue Crabs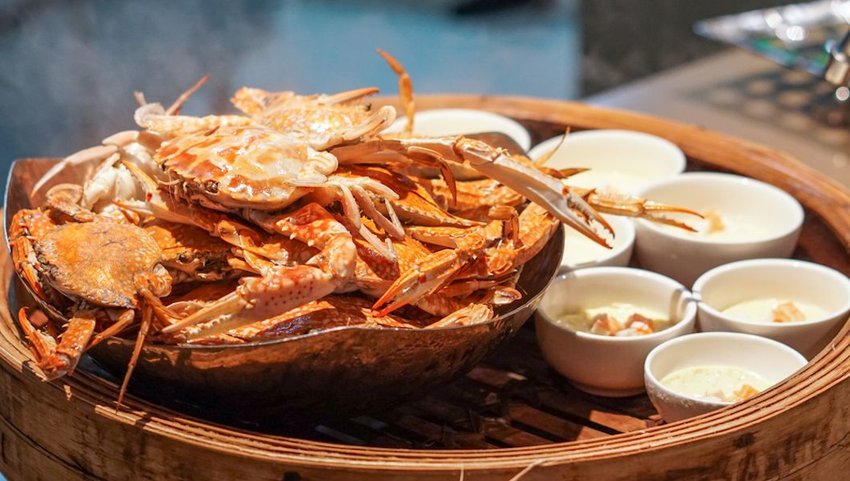 Chesapeake blue crab is as synonymous with Maryland as lobster is with Maine. Adored for their sweet, white meat, and smothered in Old Bay seasoning, this dish makes for some messy eating. Summertime is crab season so enjoy them on the waterfront with a pitcher of ice cold beer. Cantler's Riverside Inn in Annapolis will satisfy all of your Maryland seafood desires.
Massachusetts: Clam Chowder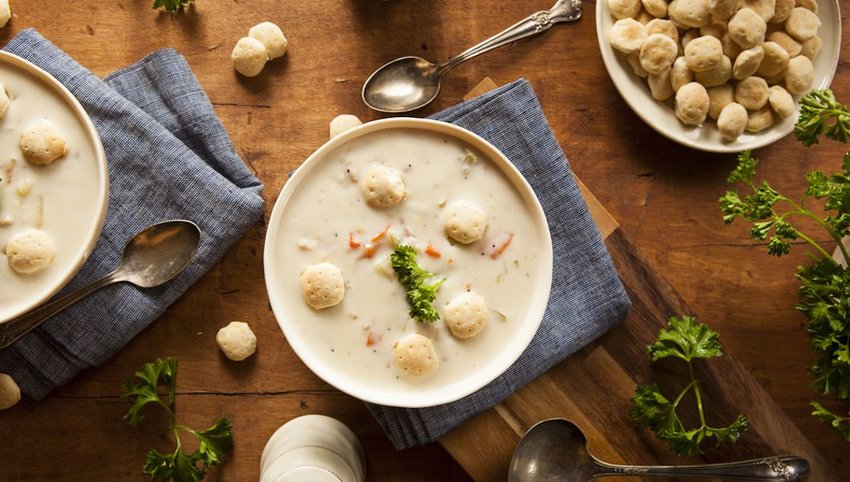 Almost every state on the eastern seaboard has their own clam chowder recipe but the original New England variation was born and raised in Massachusetts. The thick, creamy-milk chowder comes with bacon or salt pork, potato and an abundance of fresh clams. Eat one with oyster crackers for extra seafood flavoring. Ye Olde Union Oyster House has had it on the menu since 1836.
Michigan: Michigan Pasty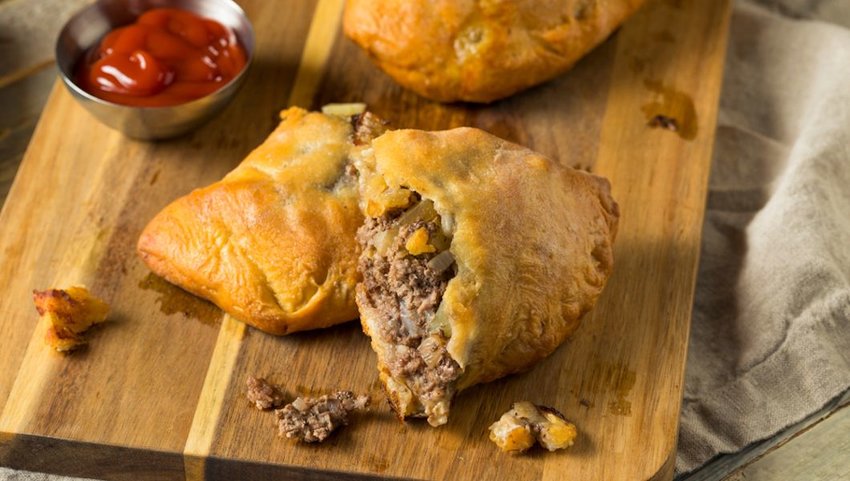 Pasties are more commonly associated with the English mining region of Cornwall. So when Cornish copper miners came to seek their fortunes in Michigan it was only normal that they'd introduce their meat and vegetable pies. The classic Michigan pasty follows tradition by being stuffed with beef, carrots, onions, potatoes and rutabaga and is readily available in the Upper Peninsula. There's even an annual Pasty Fest held in Calumet.
Minnesota: Juicy Lucy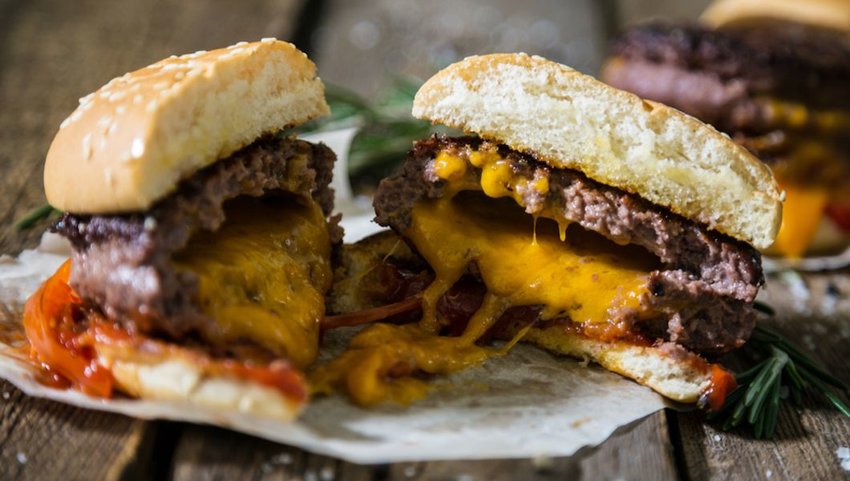 A hamburger had to eventually feature on this list and Minnesota's Juicy Lucy is worthy of being the first. It's a classic cheeseburger with a twist. Think ground beef patty filled with cheese that cascades over the bun once you've taken the first bite. Two Minneapolis bars, 5-8 Club and Matt's Bar, claim to be the inventors. There's only one way to decide which has the best and that's to try them both.
Mississippi: Mississippi Mud Pie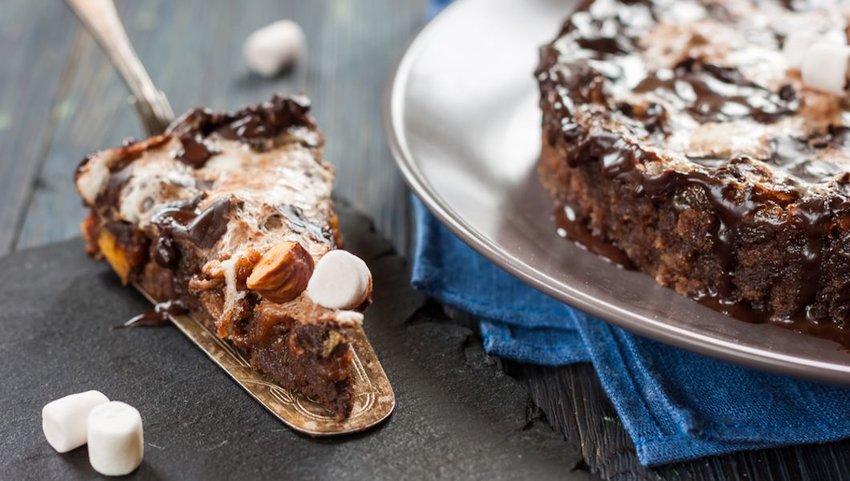 Here's one for the chocaholics and those with a penchant for sweet treats. A rich, stodgy chocolate filling sits on a crumbly chocolate crust, which is sometimes jazzed up with a bourbon infusing. It comes served with a scoop of ice cream, marshmallows or whipped cream, or all three if you are up for the challenge. The name is derived from the resemblance of the dessert's dark color to the banks of the Mississippi River.
Missouri: Toasted Ravioli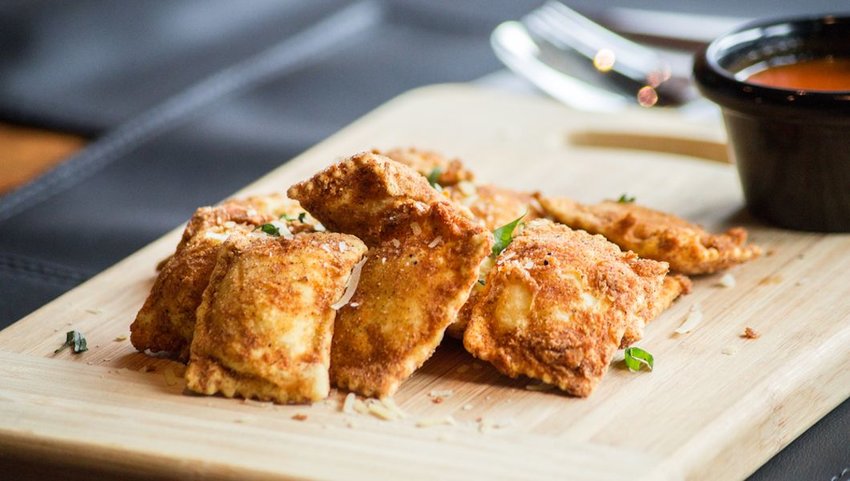 Toasted ravioli is actually fried ravioli, but don't let this misnomer cloud your judgement of this Missouri favorite. You take traditional meat-filled raviolis, cover them in bread crumbs and drop them into a deep fryer to produce a crispy, golden brown appetizer. There's usually a sprinkling of parmesan and marinara sauce for dipping. Apparently, baseball hero Joe Garagiola was among the first to try them at a restaurant in The Hill, the Italian neighborhood of St. Louis. Charlie Giotto's also lays claim to being the originator.
Montana: Huckleberry Pie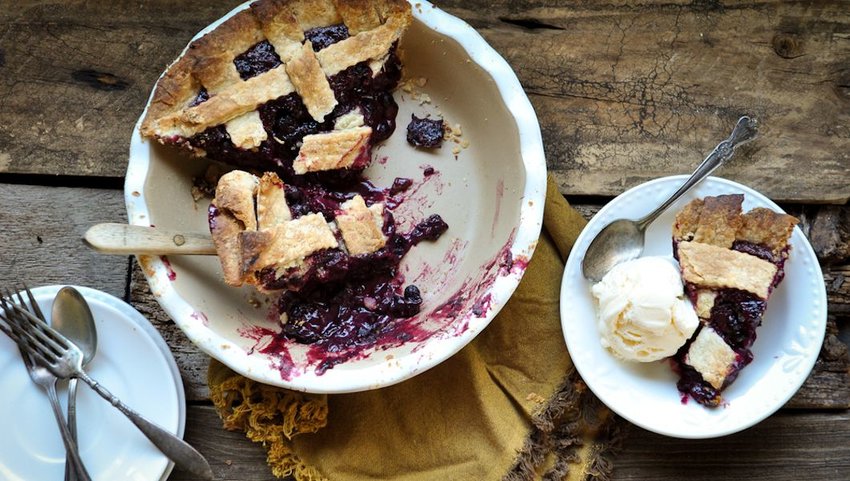 Huckleberries are the cherished late-summer wild fruit of the Pacific Northwest. Similar to blueberries, they have an intriguing balance of tart and sweet flavors, thus making them perfect for a comforting pie. Huckleberries are mixed with tapioca, sugar, salt, apple cider vinegar and spices and baked in a thick buttery pastry. A pie at Park Café has become a Glacier National Park attraction in its own right.
Nebraska: Reuben Sandwich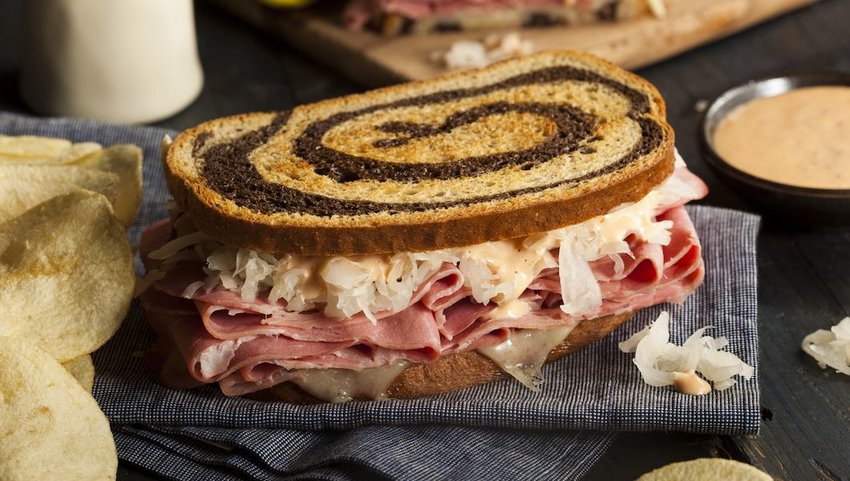 Corned beef, cheese, sauerkraut and Russian dressing (a mayonnaise and ketchup combo) grilled between slices of rye bread produce the delectable Reuben sandwich. Munch your way through one direct from the grill, when the cheese is hot and melting. Nebraskans and New Yorkers both claim the sandwich, with the Nebraska version originating at the former Blackstone Hotel. Curiously, the hotel also came up with Nebraska's butter brick ice cream.
Nevada: 3 a.m. Steak and Eggs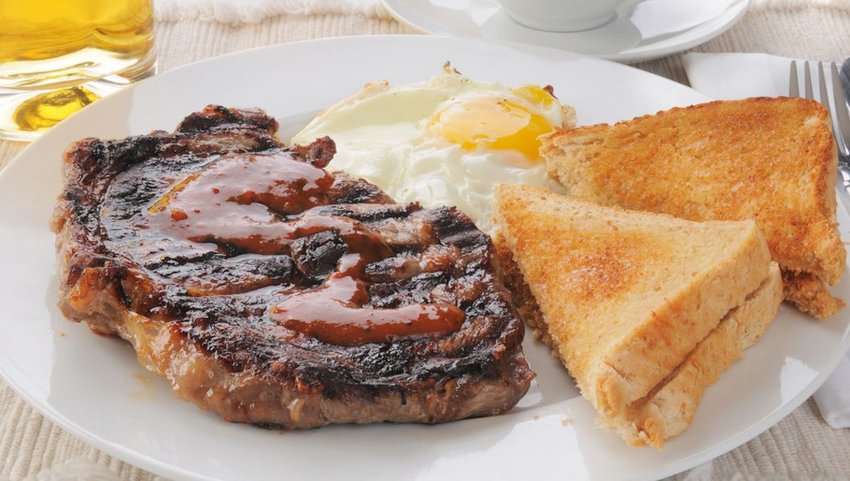 Steggs, as Nevadans lovingly call it, is as transparent as its name suggests; a late-night/early-morning plate of steak and fried eggs, with sides of potatoes and toast. Night owls, casino and club workers in Las Vegas and Reno are hard pressed to find anything quite as satisfying. Fortunately, Vegas is a 24-hour destination so you don't have to wait until 3 a.m. to get yours. Ellis Island Café and Grand Lux Café come recommended.
New Hampshire: New England Boiled Dinner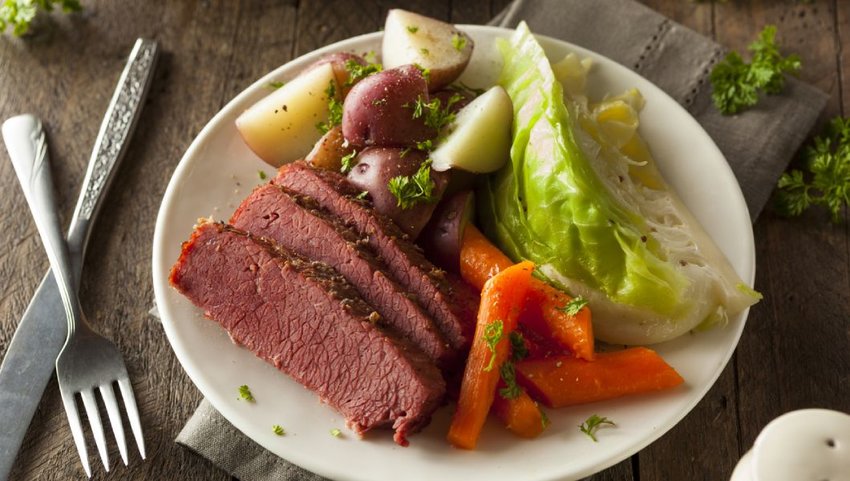 In a world of culinary pretentiousness, endless food blogs and fad diets, it's nice to occasionally discover something basic, hearty and wholesome. Behold the New England boiled dinner, an Irish-invented one-pot comfort meal of corned beef, cabbage and root vegetables cooked in a beef broth. It's one to make at home, enjoy as a family and finish as a fried hash for breakfast the next morning.
New Jersey: Pork Roll Sandwich with Egg and Cheese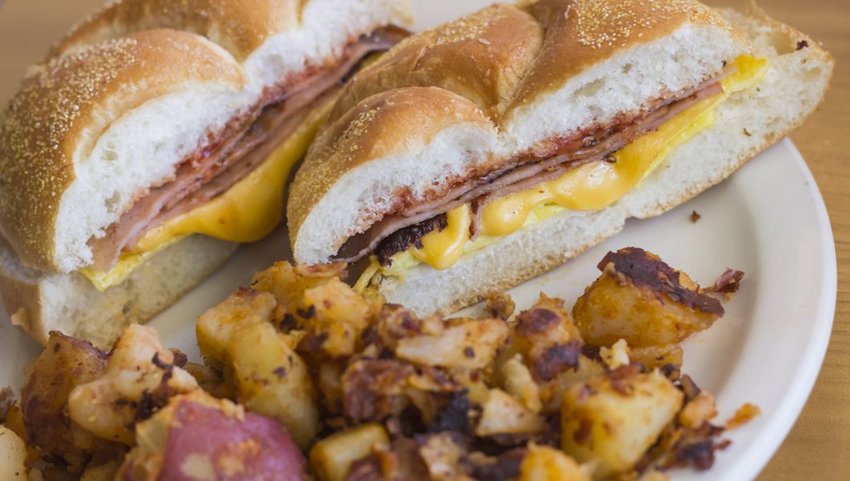 This New Jersey classic also makes the best out of everyday ingredients to offer a fulfilling breakfast. Also known as a Jersey Breakfast, the name says it all. Slices of Spam-like pork roll, cheese and a fried egg come inside a toasted bun. The sandwich is such a part of New Jersey culture that the '80s alt-rock band Ween coined the song Pork Roll Eggs and Cheese and Trenton hosts an annual Pork Roll Festival.
New Mexico: Green Chile Cheeseburger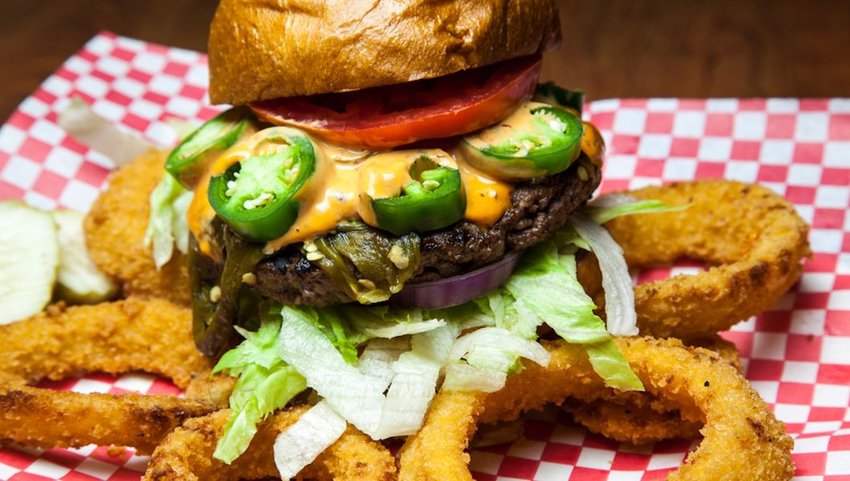 There's always time for a burger and especially when its a mouthwatering variation of a classic. In New Mexico, chili peppers are everywhere so why not add some to your cheeseburger? These aren't jalapeños but Hatch chillies, which have enough spice to tickle the palette without forcing you to down a gallon of water after every bite. If you've got time on your hands and the stomach to handle it, then you can tick off the list of venues on the state's Green Chile Cheeseburger Trail.
New York: Buffalo Wings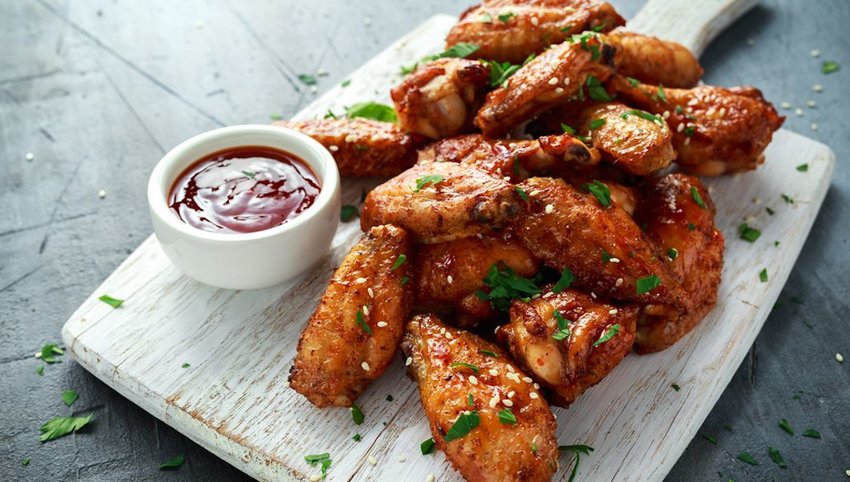 There's a case for bagels, cheesecake, pizza and pretzels to be the number one food type of New York. But you should order a plate of tangy Buffalo wings for a veritable statewide culinary experience. Like many great meals, they were an accident that turned into an epic dish. Taste the original recipe with a pitcher of beer at Buffalo's Anchor Bar just as the drunk friends of the co-founders son did in 1964.
North Carolina: Krispy Kreme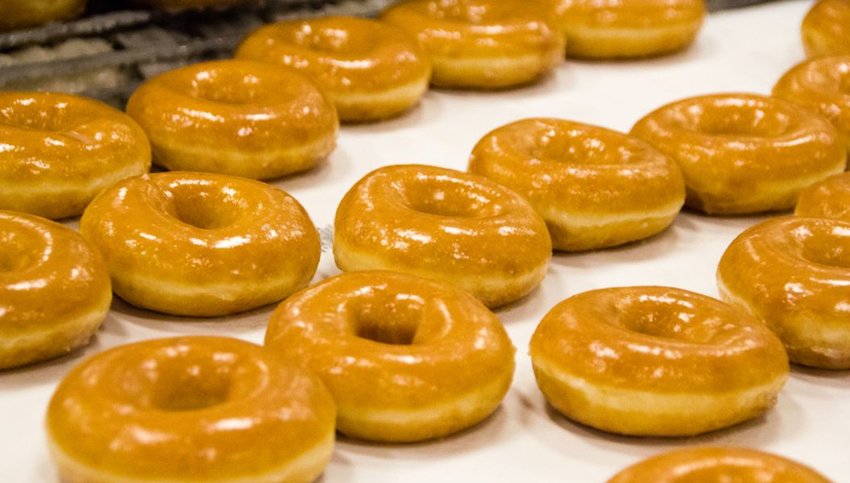 Sure, you can get them nationwide but its always more rewarding to try foods at their birthplace. The Krispy Kreme started life in 1937, when they were sold for 25 cents a dozen. Suckers for nostalgia should visit the chain's first ever store in Winston-Salem. Donuts and sports don't often go hand-in-hand; however, the annual Krispy Kreme Challenge sees competitors attempt to run five miles in an hour with the additional task of scoffing a dozen donuts.
North Dakota: Lefse Potato Crepes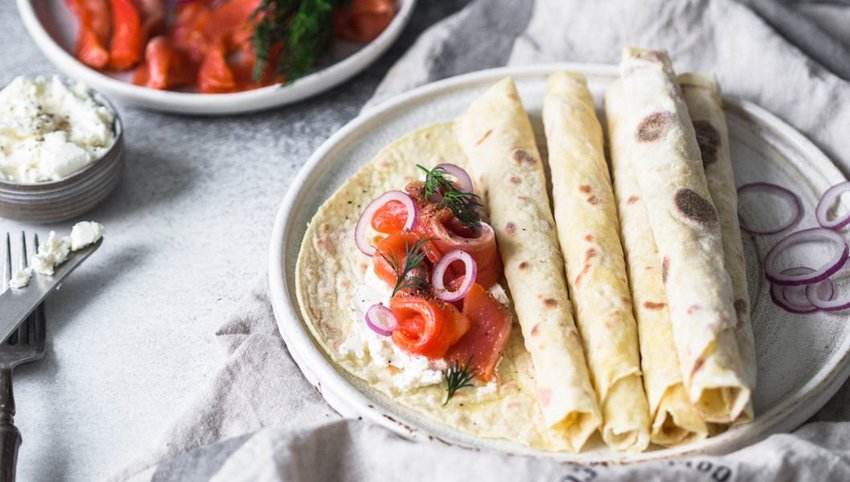 Farmers and immigrant families from Northern Europe came to North Dakota from the late-1800s and today the state's culinary scene is a homage to these ancestors. Many of the settlers were Norwegians, who introduced their lefse potato crepes. After being boiled, riced and seasoned, potato balls are flattened and cooked on a skillet. Top them with anything from cream cheese to jam, jelly and sugar. Eat some like a Viking at the Norse Hostfest.
Ohio: Buckeyes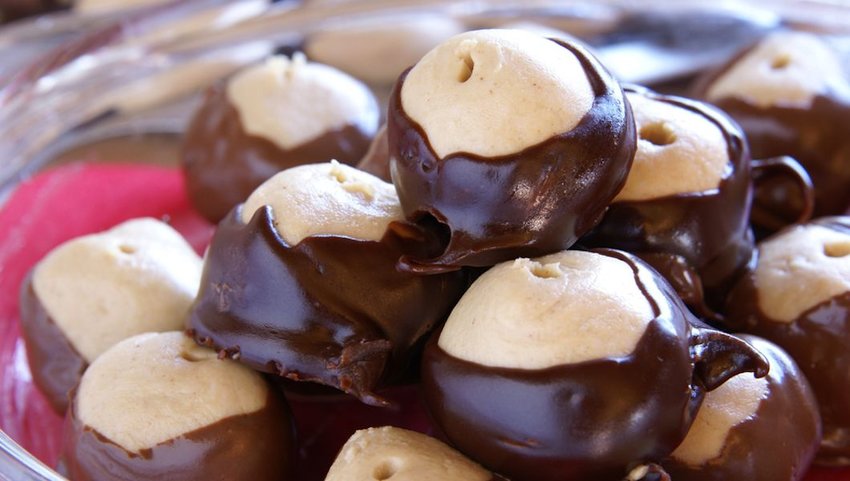 The Ohio Buckeye is Ohio's official state tree and Ohioans even call themselves Buckeyes, therefore it's only apt to have a food named after the iconic tree. The tree gets its name from the resemblance of its nut to the shape and color of a deer's eye. Buckeyes are no-bake chocolate and peanut butter candy balls that mimic this resemblance. There's even an Ohio Buckeye Candy Trail.
Oklahoma: Calf Fries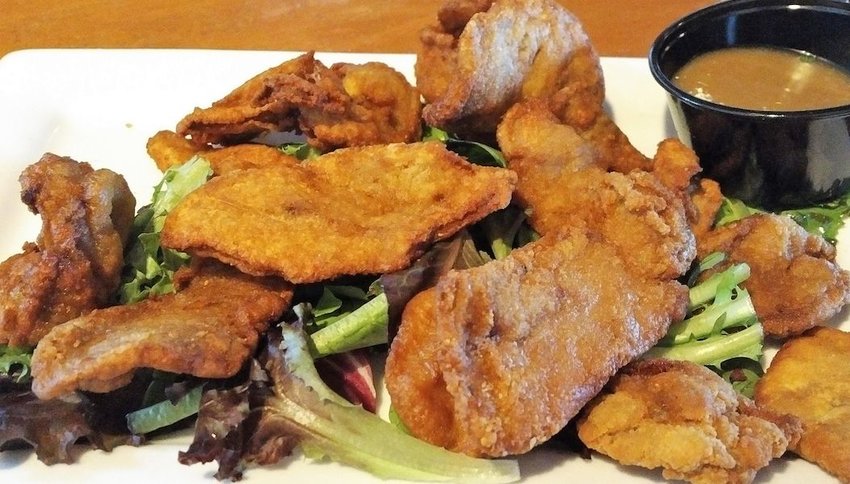 They aren't fries and elsewhere they go by Rocky Mountain Oysters, which aren't oysters. Nevertheless, calf fries are delicious, even if a little unnerving once you realize that they are deep fried bull, pig or sheep testicles. Dip them into a tangy sauce for a starter or with a beer at a sports bar. Get your authentic calf fries kicks on Route 66 at Clanton's Cafe.
Oregon: Marionberry Pie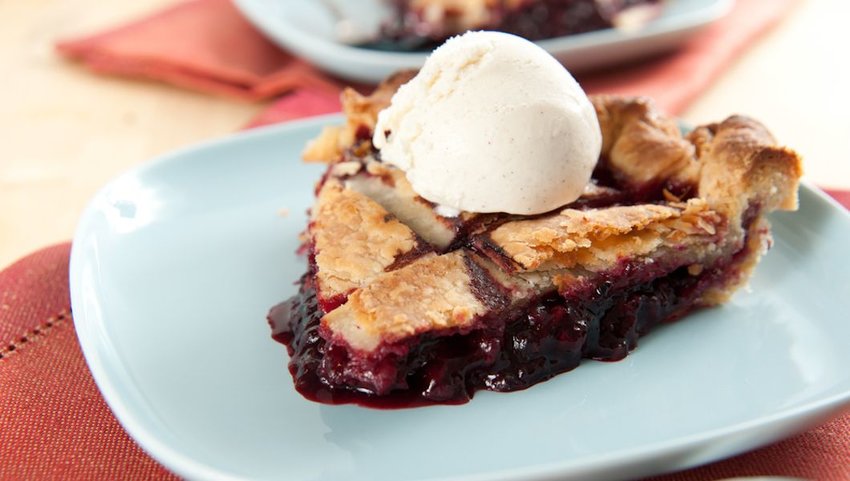 Leaving Oregon without discovering a Marionberry pie would be like visiting Portland and not crossing paths with a craft beer. Just like Montana's huckleberry pie, Oregon's treasured dessert is made with fresh, local berries. Interestingly, the Marionberry was created by the USDA Agricultural Research Service at OSU. It's taste is somewhere between a Chehalem and Olallie blackberry. Willamette Valley Pie Company has some of the state's nicest.
Pennsylvania: Philly Cheesesteak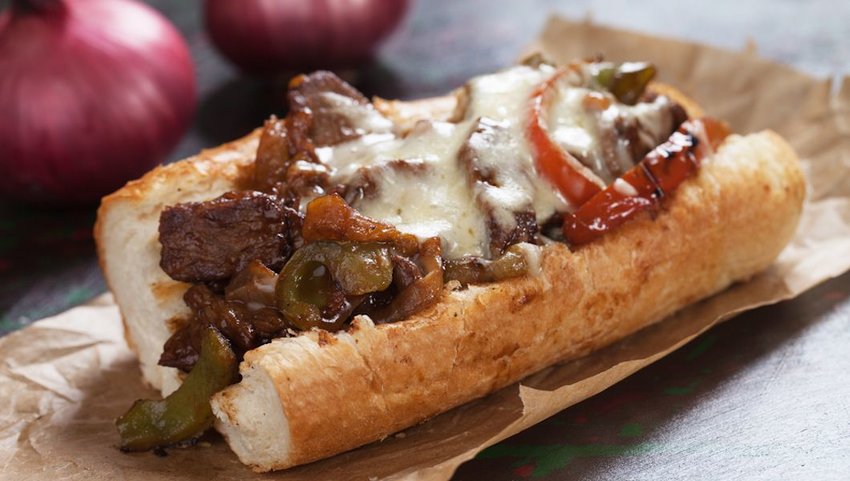 The good old Philly cheesesteak has been a national icon since its inception in Philadelphia in the 1930s. Now the only thing getting in the way of sandwich satisfaction is the decision to have sliced cheese or canned Cheese Whiz on your griddle-fried beefsteak and onions. Co-inventors Pat and Harry Olivieri opened Pat's King of Steaks shortly after launching the sandwich and it's still going today. Nearby Geno's Steaks offers some good competition.
Rhode Island: Johnny Cakes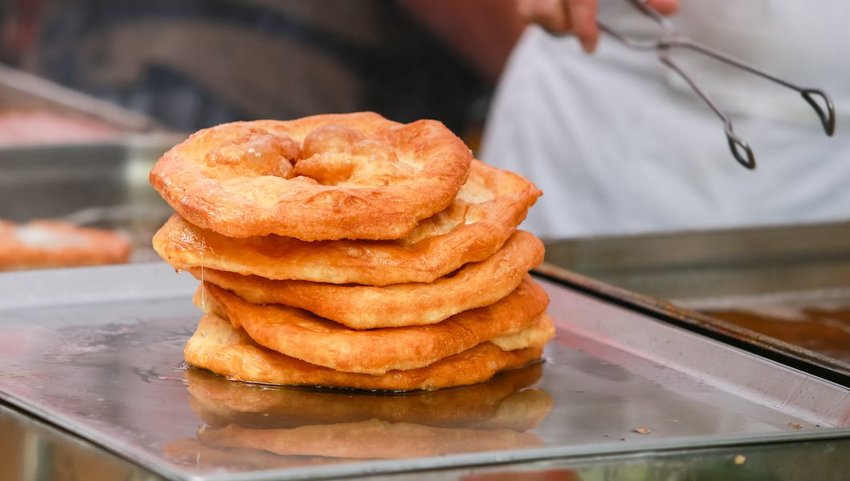 Rock up to any café and dinner in the USA's smallest state and two things are guaranteed on the menu: Johnny cakes and coffee milk. Johnny cakes, or journey cakes, or Shawnee cakes, have been around since the Pilgrims arrived way back in 1620. Struggling to find food, the Pawtuxet Indians taught the settlers how to make these cornmeal flatbreads. For breakfast, lunch, dinner and everything in between, they are here to stay. Learn how to make some at Kenyon's Grist Mill.
South Carolina: Shrimp and Grits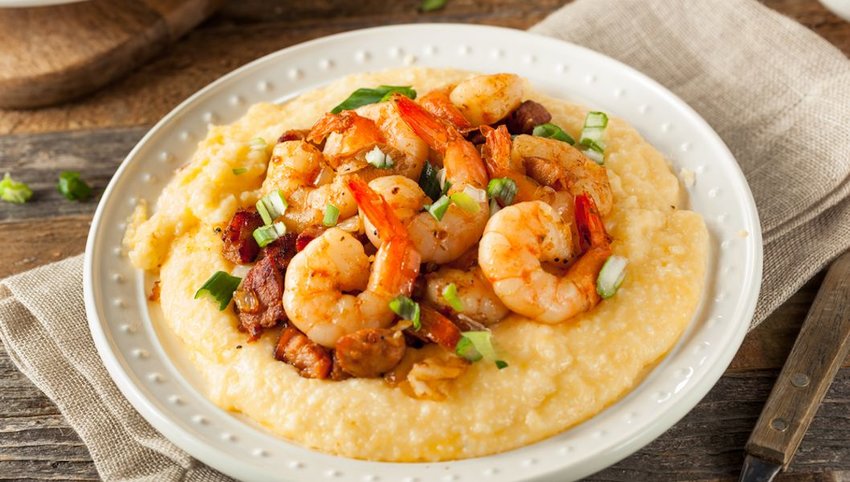 South Carolinians make the most of the land and sea to bring us the nation's most sought-after shrimp and grits. The shrimp bit is obvious. The grits are a bed of thick ground corn. At one time this dish was a breakfast of champions and traditionally served with hot sauce or a buttery cream base. Present-day diners can grab a bowl at anytime, often infused with cheese, greens, sausages and exotic Cajun and Creole sauces. And of course there's a Shrimp and Grits Festival.
South Dakota: Indian Taco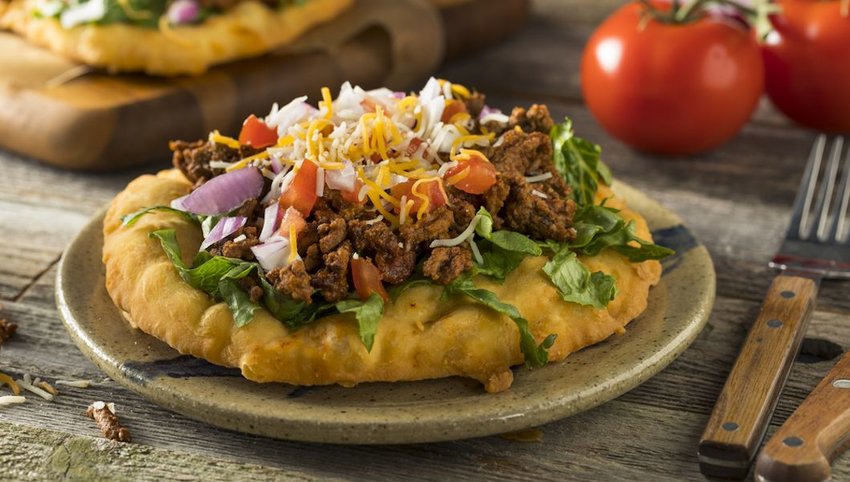 Discard any prejudices for the traditional taco shells and devour this South Dakota classic instead. Indian tacos are flat fry breads topped with Tex Mex ingredients such as beef, beans, cheese, chili, tomatoes and sour cream. You may even find the beef exchanged for bison to offer a carnivorous alternative. They are in restaurants everywhere and the go-to at the state's Powwow events.
Tennessee: Nashville Hot Chicken Sandwich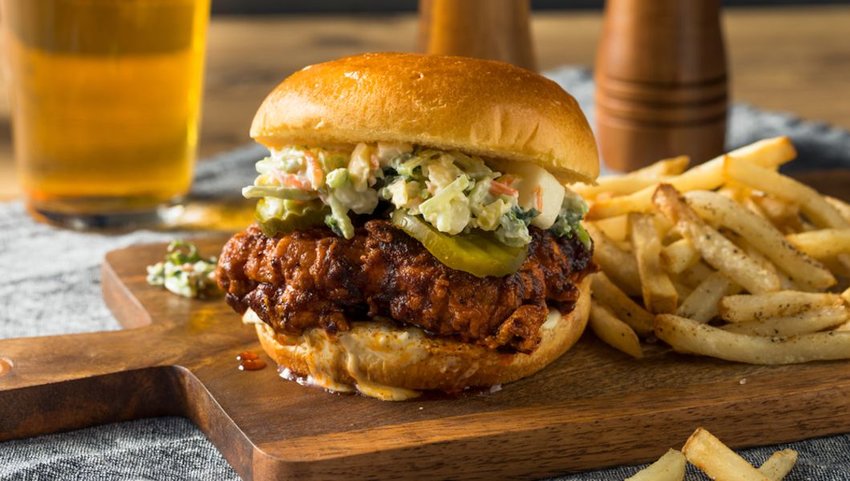 Spice up your culinary life with a Nashville hot chicken sandwich. The hot doesn't refer to the temperature, rather the potent cayenne pepper sauce that is an integral part of the marinade. Like all good things, Nashville's signature sandwich has a local legend. Apparently a scorned lover of womanizer James Thornton Prince sought revenge by dousing his chicken in a mountain of spice. Prince loved it so much he opened the still-operating Prince's Hot Chicken Shack in 1945.
Texas: Brisket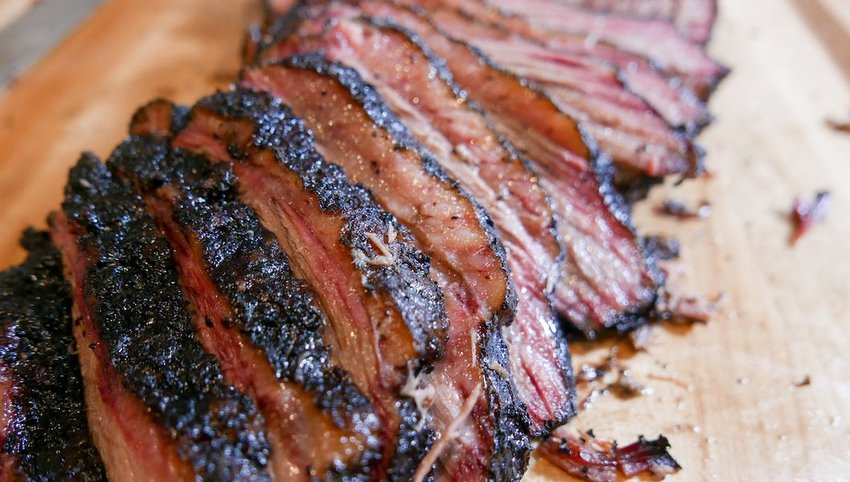 A Texan barbecue isn't the real thing if it doesn't have slow-cooked brisket. Done right, the Texas brisket leaves the smoker with blackened edges that conceal the tenderest, juiciest and huskiest meat you might ever feast on. One place that never fails to satisfy is Franklin's Barbecue in Austin. Should you have five hours to spare to stand in line, then join the fellow brisket hunters that start to arrive at sunrise. Otherwise, pull up at the no-frills roadside Meshack's Bar-B-Que in Garland.
Utah: Funeral Potatoes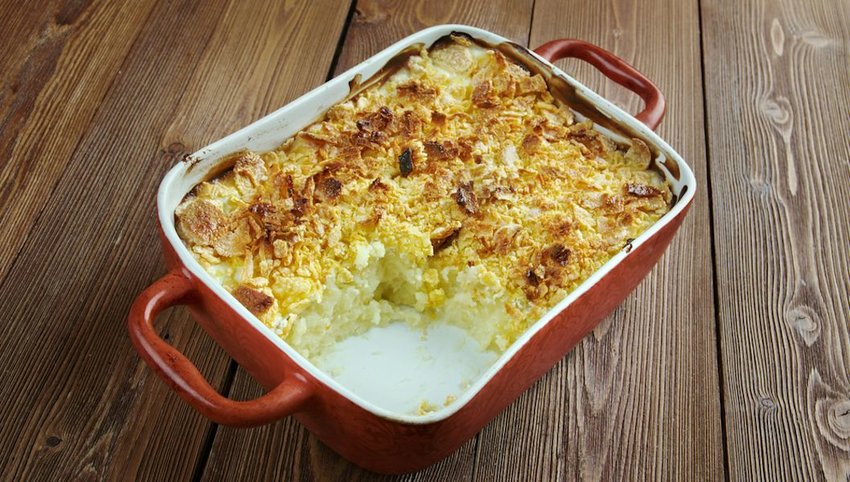 A top contender for the most unappealing name goes to Utah's funeral potatoes. Yet despite the grim title, this is a delightful hot dish of hash browns, onions, garlic and cream topped with melted cheese. Depending on the cook's preference, you'll get cornflakes or potato chips sprinkled over the cheese. Luckily, it's not mandatory to attend a wake to try some. Here are some recommendations.
Vermont: Cheddar Cheese Apple Pie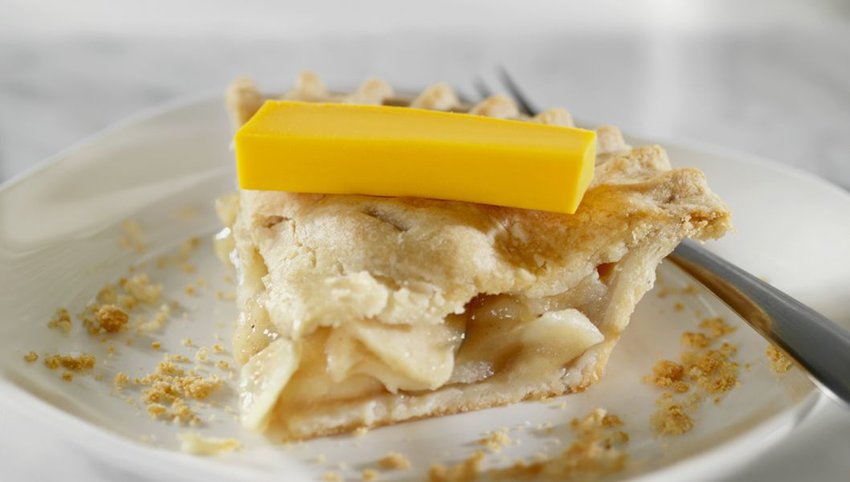 Agree or not, New Englanders can't go without cheddar cheese with their apple pie. Some say that it's the sweetness of the pie cut with the salty sharpness of the Vermont cheese that creates a sensory explosion. Children's author and humorist Eugene Field even professed his desire for it in a poem called Apple Pie and Cheese. The USA claims it, although historians argue that it comes from medieval England. South Hero's Allenholm Farm, which by the way is an apple orchard, does it particularly well.
Virginia: Peanut Soup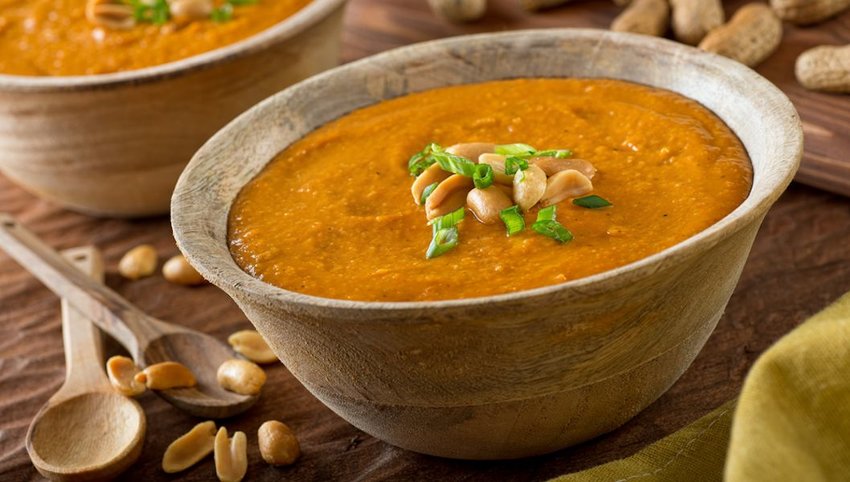 What began as a staple in western Africa, came across the Atlantic with English colonists and is now a mainstay of the Virginia diet. The combination of peanut butter, onion, celery and either meat or vegetable broth produces a healthy soup and comforting winter warmer. Want to sip on a bowl the colonial way? Head to the King's Arms Tavern in the Colonial Williamsburg Historic Area.
Washington: Cedar-Planked Salmon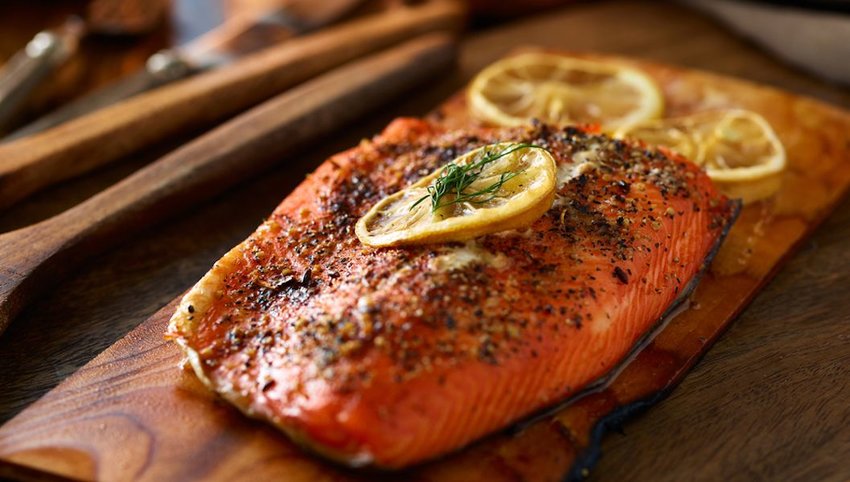 Salmon is plentiful in Washington State and is a prominent fixture on menus and at home barbecues. Cooking this tender flaky fish on a charred cedar wood board gives it a beautiful smoky and earthy flavor. Brush it with a rub of fresh aromatic herbs for an additional gourmet-style touch. Find a friend to make it for you on a warm summer's day, or failing that, drop in at Elliott's Oyster House in Seattle.
West Virginia: Skillet Cornbread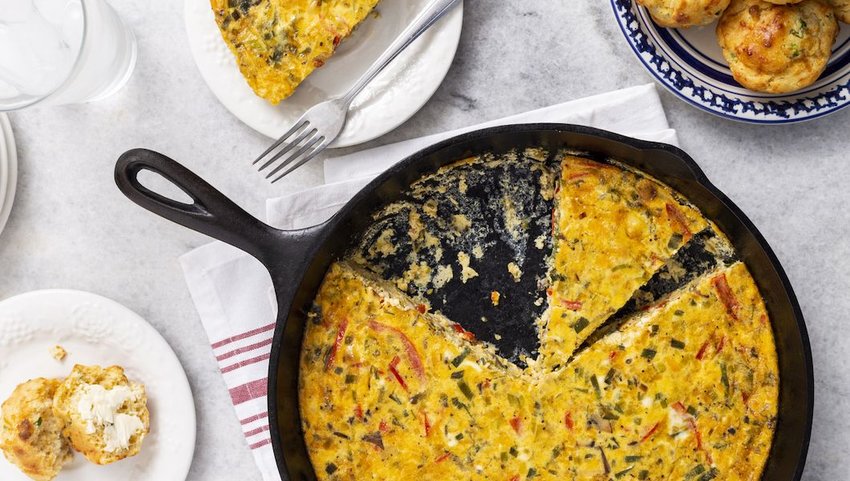 Delicious as it is, cornbread is also a great companion to almost every known savory dish. Have it alongside barbecued meats, with a bean chili, a casserole or pile of vegetables. Cook it with ham and cheese inside, make an alternative hotdog or spice it up with jalapeños. In West Virginia, cornbread is made in a cast iron skillet and that skillet should be for cornbread and cornbread only.
Wisconsin: Fried Cheese Curds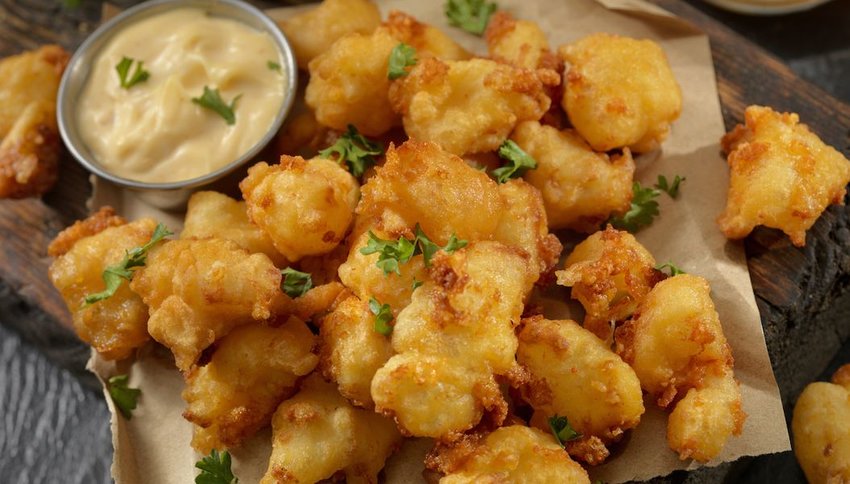 Made by deep frying the lumps of cheddar cheese that haven't yet matured into blocks, cheese curds are downright irresistible. Mildly crunchy on the outside and with an elastic texture and salty flavor on the inside, they are food heaven for all ages. They even squeak when bitten into. You'll enjoy them even more with a craft beer in hand. Fanatics flock to Ellsworth's Cheese Curd Festival.
Wyoming: Chicken-Fried Steak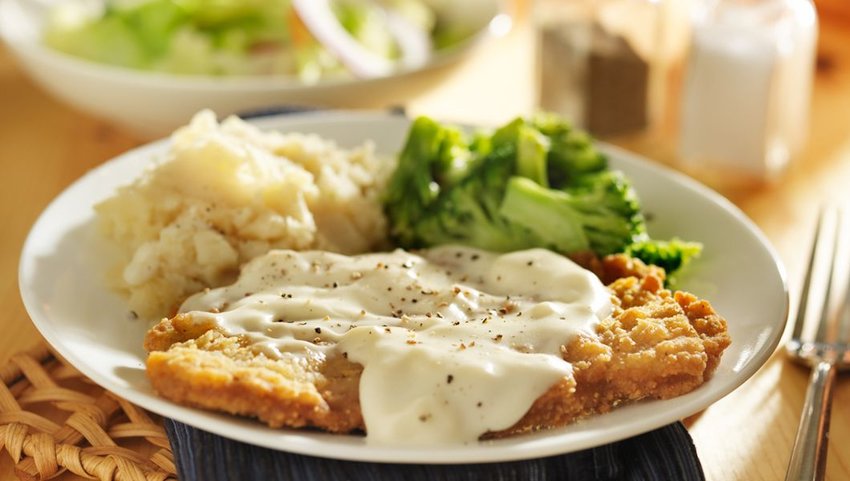 Wyoming is the Cowboy State and up there with the best cowboy cuisines is the chicken-fried steak. In homage to traditional fried chicken, the steak is dipped in an egg wash, breaded and cooked in a skillet. Serve it with mashed potato and creamy gravy for the real cowboy meal. Just remember that the steak is beef and not chicken.
Enjoy this article? Share it with a friend
All featured products and deals are selected independently and objectively by the author. The Discoverer may receive a share of sales via affiliate links in content.
Discover the World's Best Destinations, with your free weekly travel guide sent straight to your inbox.
Welcome to The Discoverer!
We are so excited to fill your inbox with discoveries from around the world! You can expect your first edition to arrive on Monday. Until then, feel free to check out our previous editions.