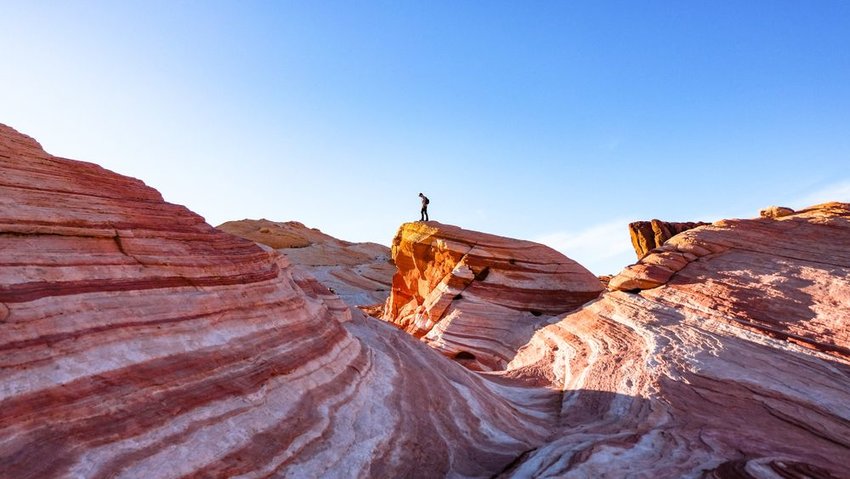 The Best Hike in Every State
WE KNOW THERE ARE QUESTIONS AROUND TRAVEL AMID THE CORONAVIRUS (COVID-19). READ OUR NOTE TO READERS HERE.
Over 50 years ago, President Lyndon B. Johnson stood before Congress to address the need to conserve and restore the natural beauty of America. He emphasized the need for wild places where "old and young alike" could "walk, hike, ride horseback, or bicycle for fitness and fun."
In response to his speech, an effort was made to not only expand the existing network of trails, but establish national scenic trails, national park and forest trails, and metropolitan trails. Today, more than 190,000 miles of trails have been established on federal land and another 42,500 on state land.
So, whether you're looking for a multi-day adventure across the craggy summits in the Cascades or want to spend a few hours climbing over red rock formations in Arizona, there's a trail for you. To help you narrow down your search, we've put together a list of the best hikes in every state.
Alabama
Walls of Jericho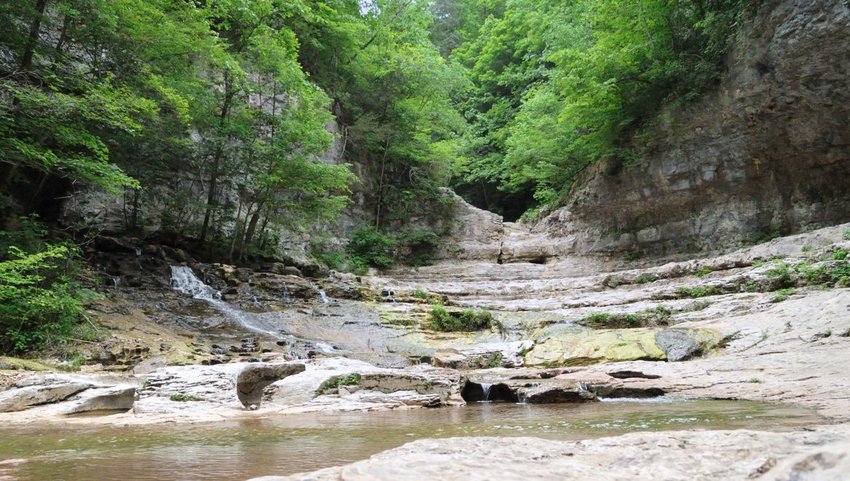 As a welcome addition to the James D. Martin Skyline Wildlife Management Area, the Walls of Jericho trail in Alabama spans over 21,000 acres of the Alabama-Tennessee border. This six-mile trek leads hikers 1,000 feet from the rim of a canyon past a stunning limestone amphitheater and a handful of cascading waterfalls. Alabamians refer to this natural wonder as the "Grand Canyon of the South" and thousands of hikers hit the trail each year to explore the treasures tucked beneath the canyon walls.
Alaska
Harding Icefield Trail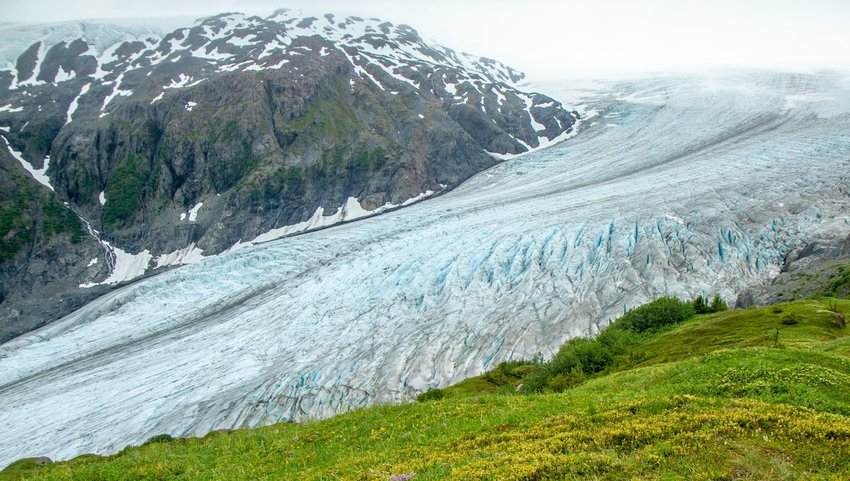 There's definitely no shortage of scenic trails in Alaska, but the 8.2-mile Harding Icefield trail is arguably the state's most popular and well-known footpath. Located in Kenai Fjords National Park, the adventure begins at Exit Glacier, one of the most accessible glaciers in the state of Alaska. The trail winds through lush forest before reaching above the treeline. With 1,000 feet of elevation per mile, this jaunt is almost guaranteed to take your breath away (both literally and figuratively), but the expansive views of the vast icefield make every step worth the effort.
Arizona
Rim to Rim Trail (South Kaibab)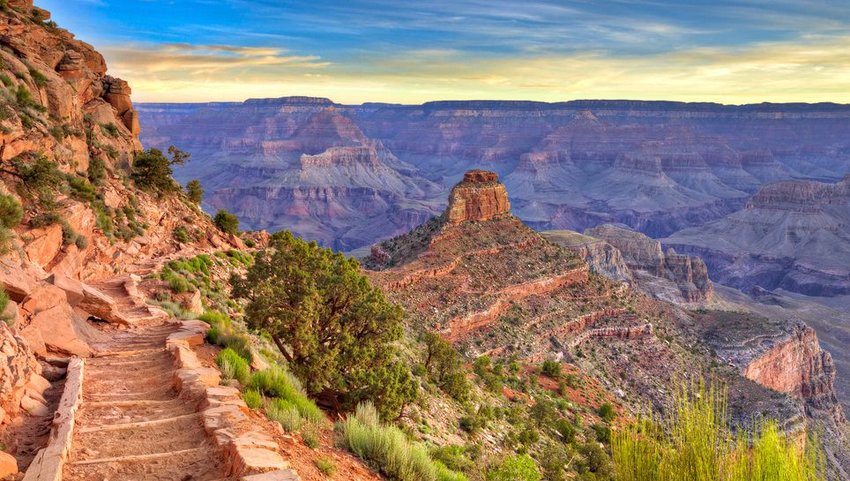 What better way to experience one of the most famous places on Earth than hiking it from rim to rim? The aptly-named Rim to Rim Trail spans over 20 miles from one side of the Grand Canyon to the other. This strenuous footpath climbs 5,700 feet of elevation and descends 4,700 feet — making it the ultimate adventure for experienced hikers and backpackers. The most popular route follows the North Kaibab trail and Bridge Angel Creek trail — both of which are well-maintained and easy to follow. After obtaining a permit, most hikers will set their sights on the Bright Angel Campground or Phantom Ranch, an exclusive lodge that sits 5,800 feet below the North Rim for some much-needed rest and relaxation.
Arkansas
Whitaker Point Trail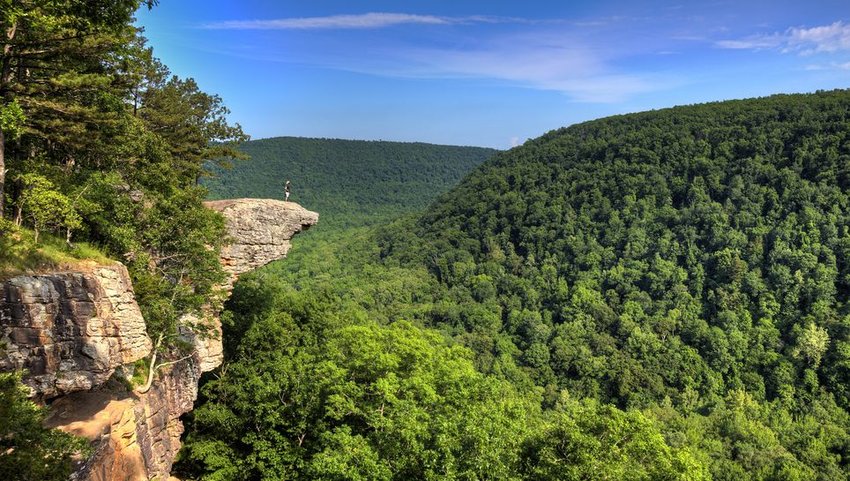 Whitaker Point, a craggy outcrop that has witnessed numerous wedding proposals, is Arkansas' most famous hiking trail. The short, three-mile hike to Whitaker Point is relatively easy and justifiably popular. The sweeping views from Whitaker often inspire hikers to confront their fear of heights and thrill-seekers to walk to the cliff's edge to soak in their surroundings. Keep in mind, a fall here would prove fatal. It's important to exercise caution and respect the risks associated with standing several hundred feet above the forest floor.
California
John Muir Trail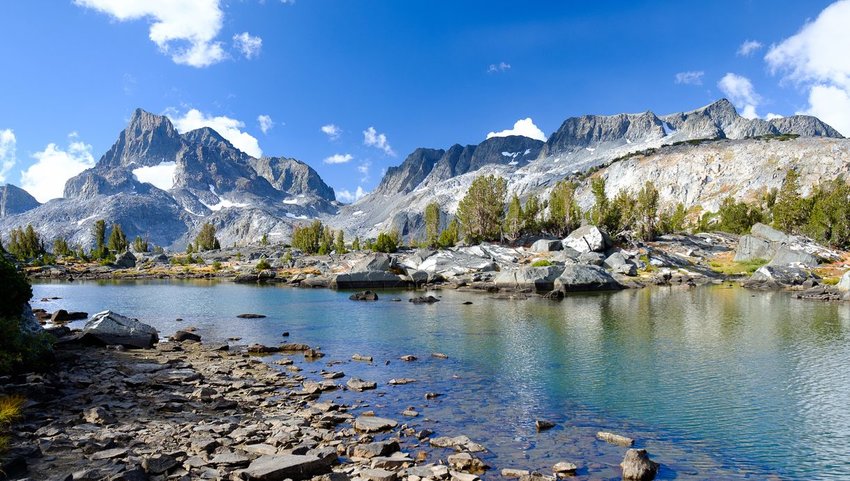 This impressive, 211-mile trail traces the backbone of California's cherished eastern Sierras. The John Muir Trail (JMT), which climbs a staggering 46,000 feet in elevation, offers some of the most scenic vistas in the country. Beginning in Yosemite National Park, the trail wanders over six stunning, high-elevation passes, traverses through two of the state's most illustrious wilderness areas (the John Muir Wilderness and Ansel Adams Wilderness), and passes through both Sequoia National Park and Kings Canyon National Park before culminating at the top of the tallest peak in the contiguous United States — Mount Whitney. The trail takes an average of three weeks to complete from end-to-end, but sections of the trail such as Big Pete's Meadow to Kearsarge Pass or Lower Cathedral Lake, are excellent options for a weekend getaway in the mountains. There's no wrong way to hike the JMT, so grab a permit and hit the trail!
Colorado
Ice Lakes Basin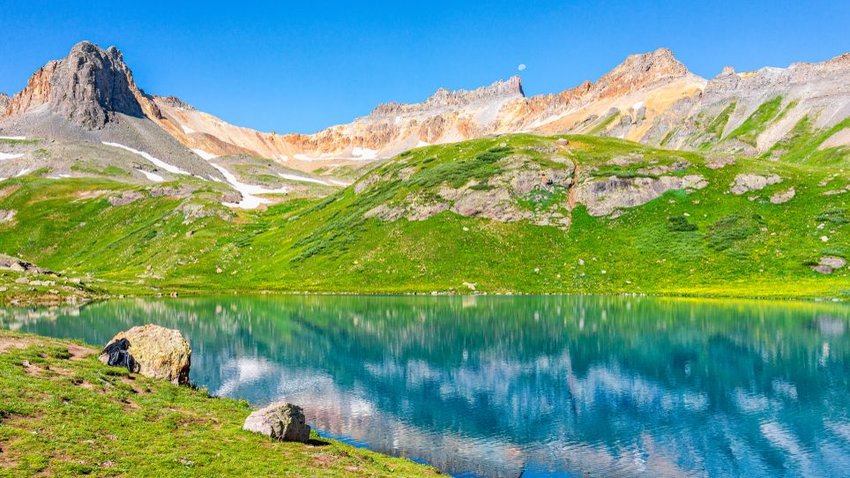 The Ice Lakes Basin is a heart-pounding, leg-burning, seven-mile climb up an alpine bowl surrounded by craggy, 13,000-foot Colorado peaks. The trail climbs through a pine forest and lush meadows before reaching the Lower Ice Lakes Basin. Here, iconic San Juan Mountain peaks such as Fuller Peak, Vermillion Peak, Golden Horn, and Pilot Knob rise high above the ridgeline. From Lower Ice Lakes, the trail continues to climb steeply to the iridescent blue waters of Ice Lake. After a well-deserved break, you can hike two additional trails to Island Lake and Fuller Lake or head back to the car for a celebratory post-hike snack.
Connecticut
Bear Mountain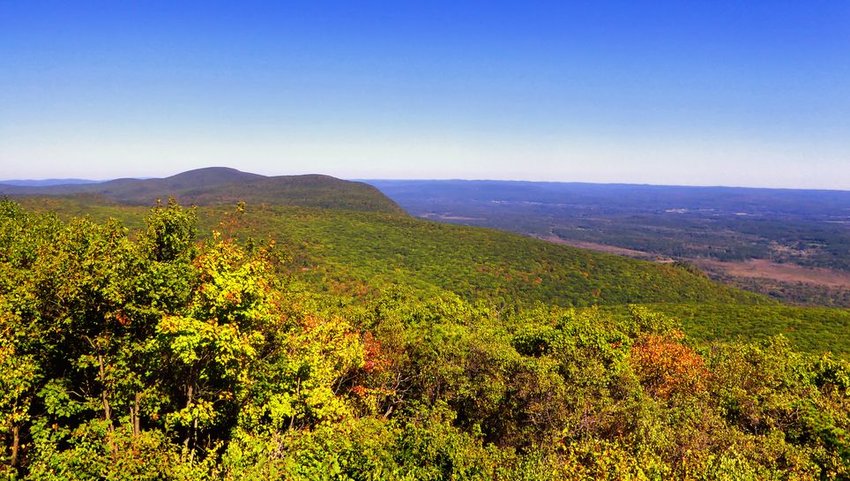 Climb to the top of Bear Mountain to traverse the tallest peak in Connecticut! It isn't the tallest point in the state, but 2,323-foot Bear Mountain spans a portion of the world-famous Appalachian Trail and is equally, if not more, impressive. The 5.4-mile trail extends 1,600 feet through a forest and along exposed ridges and offers sweeping views of several surrounding states. From Bear's pyramidal stone peak, it's easy to see why this trail is one of the most popular in Connecticut.
Delaware
Walking Dunes Trail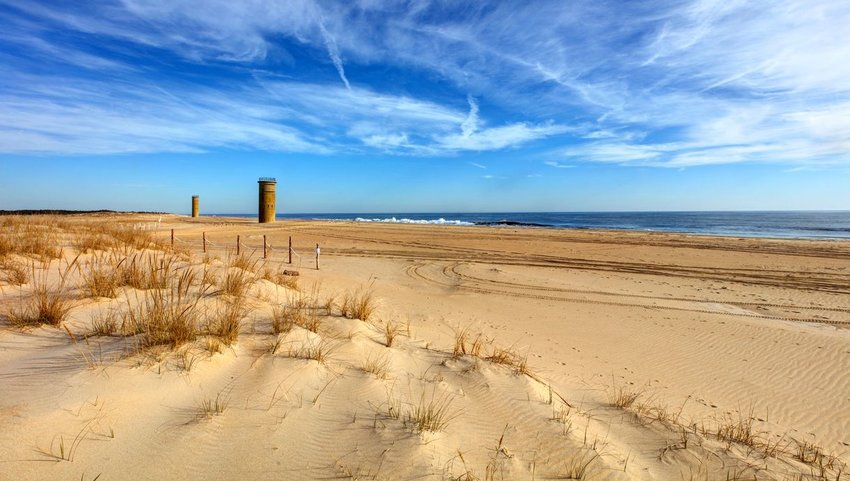 Take a stroll to the top of Delaware's highest sand dune and scope out several fire control towers left behind from World War II. Rising 80 feet above the ocean, the Great Dune sits within Cape Henlopen State Park, an area that was adored by the founder of Pennsylvania and set aside for public enjoyment before Delaware became a state. The 2.6-mile Walking Dunes Trail traverses through several diverse ecosystems including a wooded maritime forest, salt marsh wetlands, and of course, vast sand dunes. The trail is easy and is an excellent option for the whole family.
Florida
Florida National Scenic Trail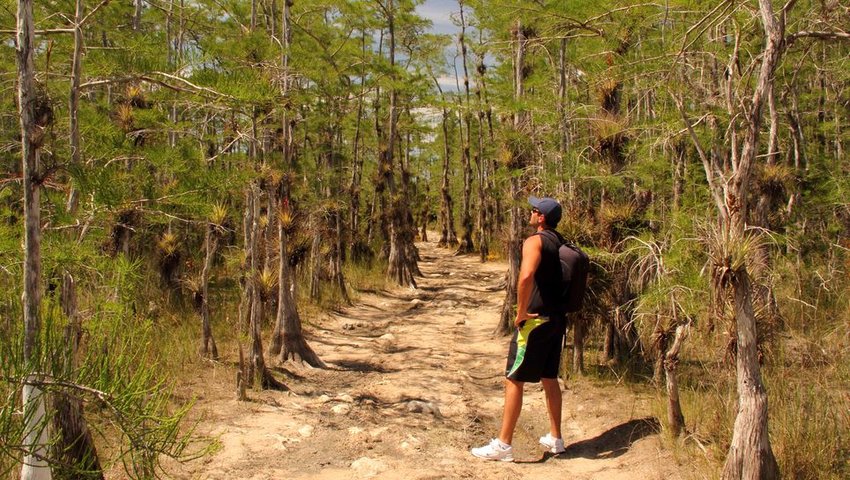 From the swamps of Big Cypress to the Gulf Islands National Seashore, the Florida National Scenic Trail features some of the most scenic, historic, cultural, and natural wonders the Sunshine State has to offer. The trail is approximately 1,300 miles long — depending on who you ask. The trail can also be divided into four distinct and diverse regions — the Panhandle, Northern, Central, and Southern Regions. Each region can serve as a starting point to explore the trail. Fifteen named hiking sections exist along the Florida National Scenic Trail and hundreds of trailheads or access points can be found within an hour of most major cities.
Georgia
Anna Ruby Falls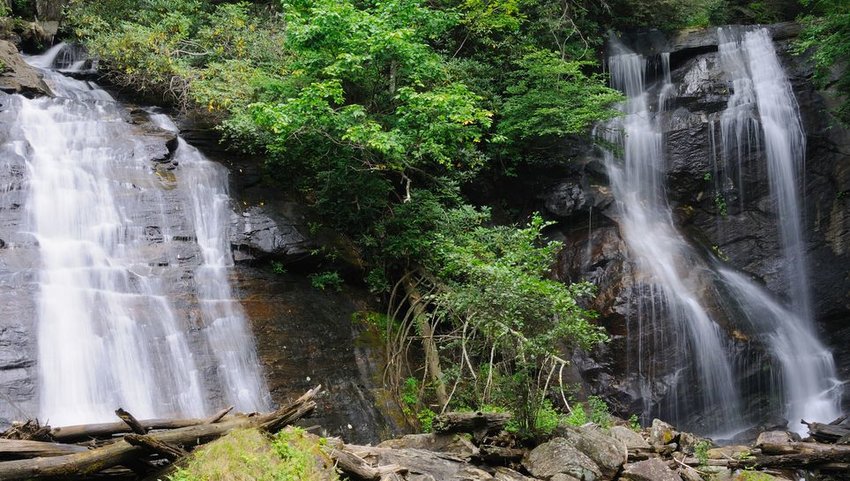 A pair of twin, cascading waterfalls plunge in tandem for more than 150 feet in the heart of the Chattahoochee-Oconee National Forest. Anna Ruby is an idyllic and beloved slice of north Georgia forest. A paved trail climbs steadily through the forest canopy — periodically passing fallen boulders and mossy rocks. Benches that line the footpath offer hikers the perfect place to pause and appreciate the sounds of a babbling creek below. The trail leading to Anna Ruby Falls is stroller and dog-friendly — making it a great hike for the whole family.
Hawaii
Kalalau Trail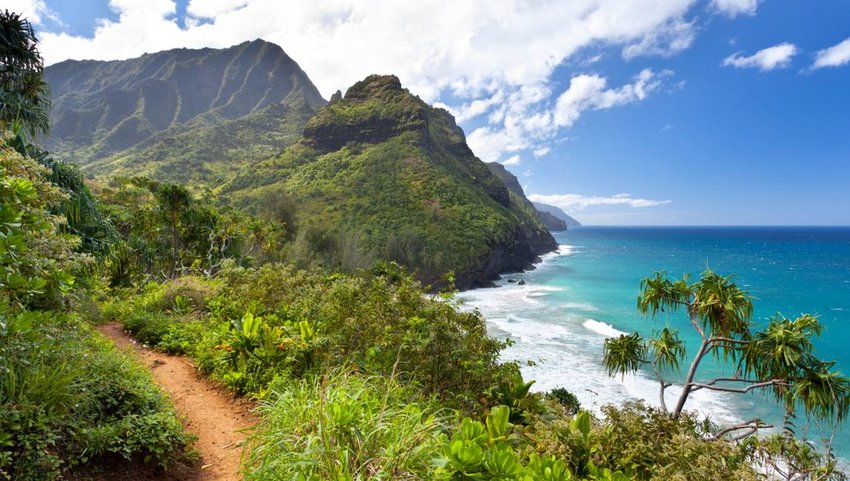 The Nāpali Coast is famous for its striking sea cliffs, cascading waterfalls, and vibrant, blue waters. This slice of paradise is often claimed to be one of the most beautiful places on Earth. In fact, the untouched appearance of this landscape has been featured in several renowned Hollywood films like "Pirates of the Caribbean" and "King Kong." The Kalalau Trail offers the only land access to miles of otherwise unreachable shoreline. This 22-mile journey traverses five valleys and climbs over several towering pali (cliffs) before reaching Kalalau Beach. The trail generally takes more than two days to complete and should only be attempted by experienced hikers. Despite its beauty, the Kalalau Trail is one of the most dangerous footpaths in the world due to rapidly rising water and falling rocks.
Idaho
Goldbug Hot Springs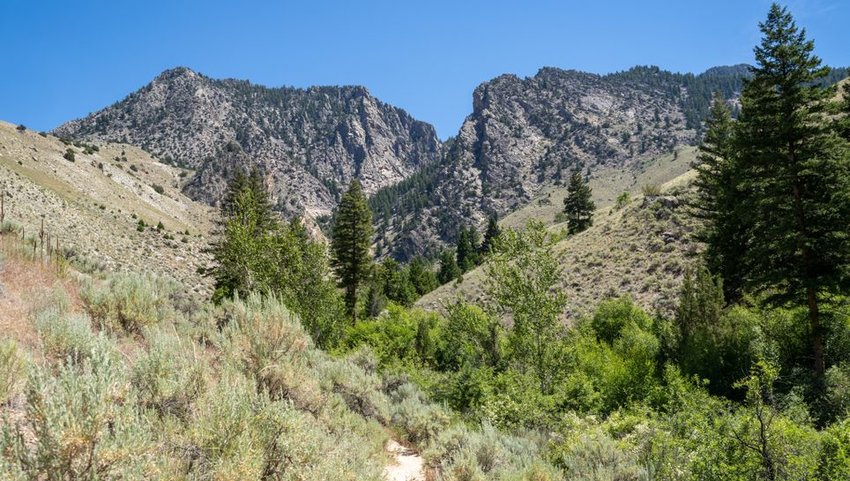 From desert cacti to stunning mountain views, the Goldbug Hot Springs trail traverses it all. The trail to the springs is well-traveled and easy to follow, and with only two miles each way, it's a deceivingly easy endeavor. However, reaching the pools requires a bit of a climb. Luckily, after an ascension of 1,300 feet, these cliffside natural springs prove to be the perfect muscle relaxers. If one soak isn't enough, pitch a tent and spend the night beneath the stars. What better way to enjoy your morning cup of joe than a soak in nature's bath tub?
Illinois
Little Grand Canyon Trail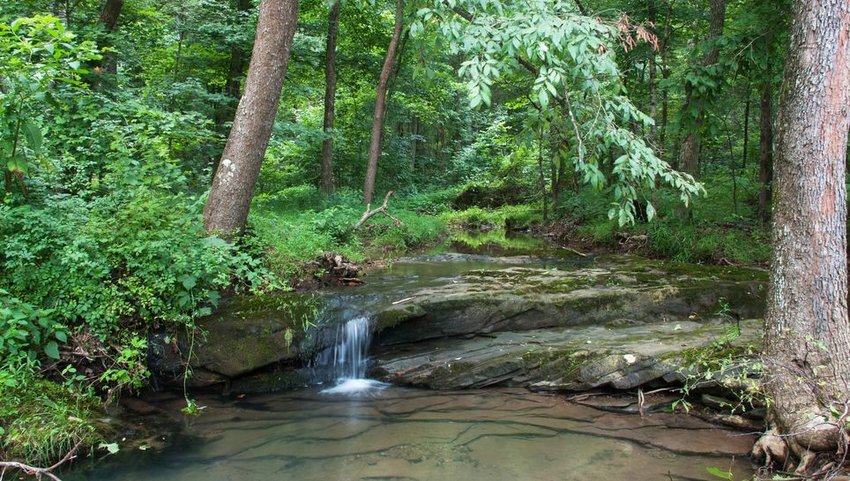 Can't make it out to Arizona? Illinois has the next best thing — the Little Grand Canyon Trail. This three-mile loop trail climbs 700 feet and follows a rocky creek bed and sheer bluffs past waterfalls and large, sandstone outcrops. At the trail's highest point, a short side path leads to sweeping views of the Mississippi River, Big Muddy River, and Swallow Rock. If you're looking for a little extra adventure, continue down into the canyon itself. It's not a 6,000-foot hole in the ground, but gazing up at 100-foot sandstone cliffs is guaranteed to make you feel small.
Indiana
Knobstone Trail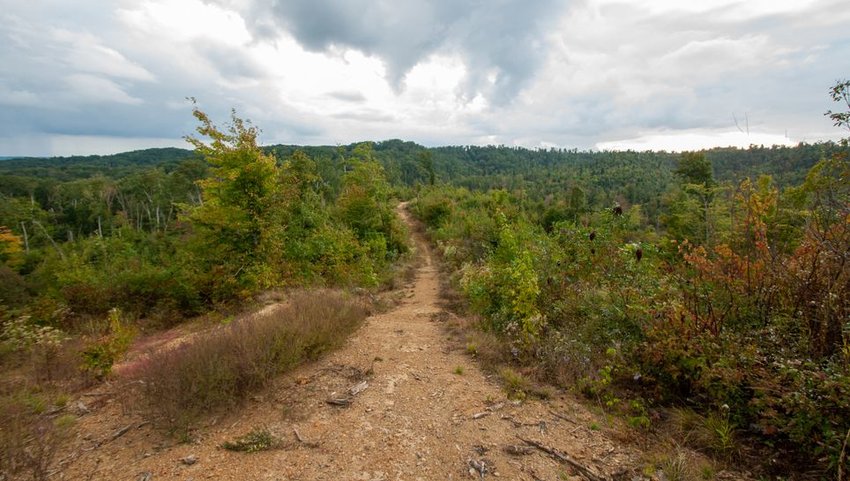 Admirably known as the "little Appalachian Trail," the Knobstone Trail stretches for 58 miles through two state forests and reaches over 10,500 feet in elevation. Knobstone is the longest hiking trail in Indiana and is known as a training ground for hikers looking to tackle the Appalachian Trail. If you can't get six months off to hike from Georgia to Maine, a walk from Louisville to Salem is the next best thing. The rugged trail follows the Knobstone Escarpment, which is one of Indiana's most scenic areas. Rumor has it that more miles will be added to Knobstone in the coming years, but if you can't make the multi-day trip there are also several day-hiking options available too.
Iowa
Eagle Rock Trail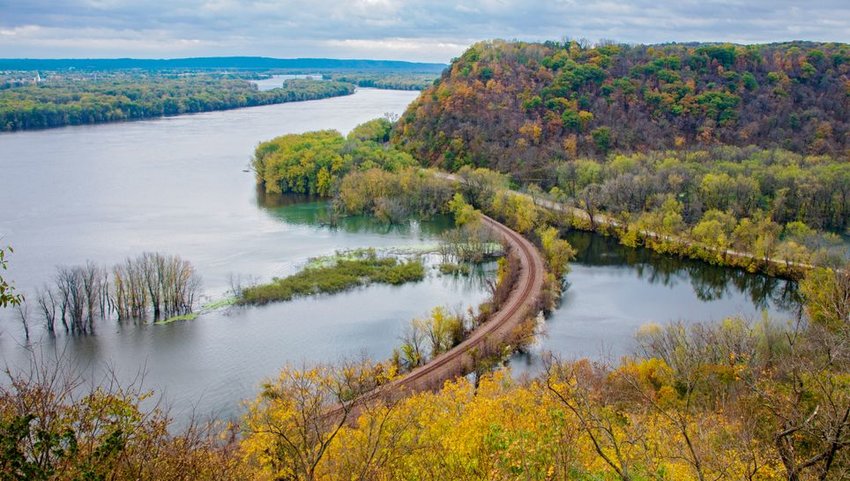 Offering one of the best views of the Mississippi Valley, the Eagle Rock Trail traverses for seven miles through ancient Native American burial grounds, lush forests, and sweeping meadows. The trail, which is located in Effigy Mounds National Monument, travels alongside limestone outcroppings that offer breathtaking views of the mighty Mississippi. The Eagle Rock Trail also allows visitors to walk amongst over 60 Native American effigy mounds. The preservation of the monument and effigy mounds sheds light on the critical link between the surrounding landscape and the native people that once lived there.
Kansas
Elk River Trail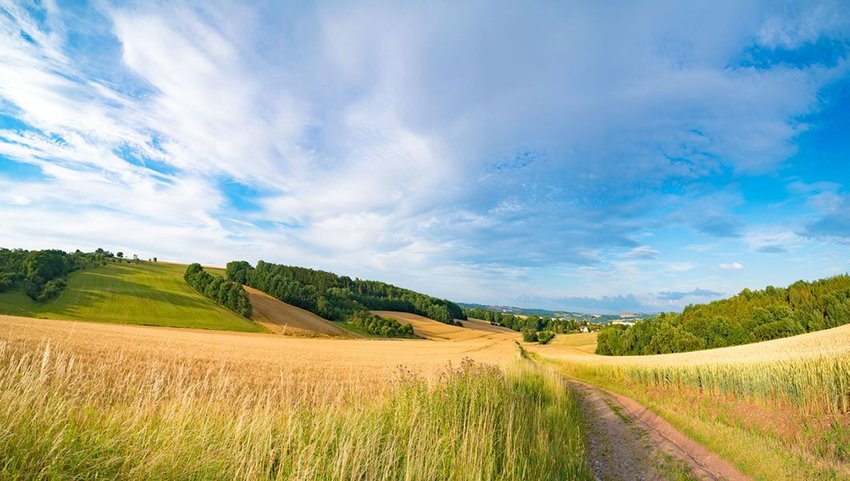 Soak in panoramic views of the Elk City Reservoir on the Elk River Trail. Locals will tell you that the 15-mile ascent (each way) isn't easy, but it's reminiscent of the rugged Ozarks and is a sharp contrast to the open prairie landscapes typically seen across Kansas. The trail only climbs 800 feet, but several stream crossings, stone-covered passageways, and narrow canyons allow for plenty of excitement along the way.
Kentucky
Double Arch Trail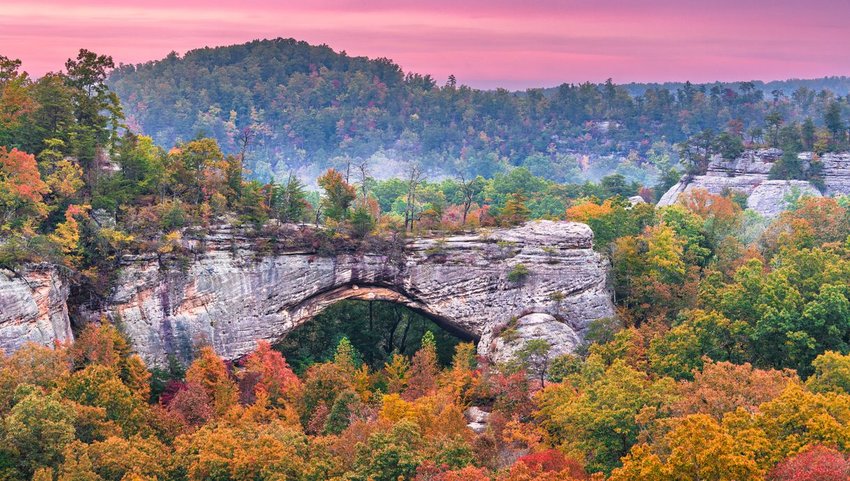 When you think of natural rock arch formations, chances are that Utah comes to mind. However, it turns out the Bluegrass State is hiding its own set of striking arches. The 4.4-mile Double Arch Trail in Daniel Boone National Forest leads hikers beneath a sandstone cliff and traverses through giant hemlocks and bigleaf magnolias before reaching expansive views of Courthouse Rock and Haystack Rock. The trail is accessible year round, but leaf peepers will prefer to make their way to Double Arch for a vibrant display of fall foliage.
Louisiana
Wild Azalea Trail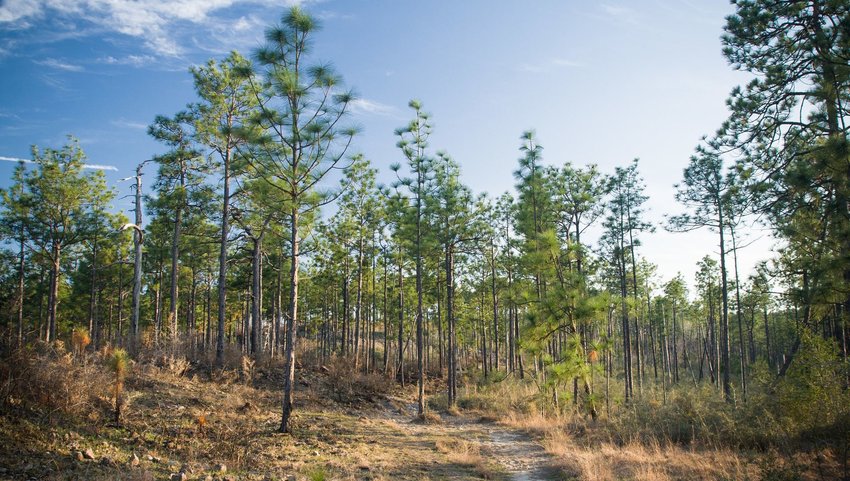 At 28 miles long, the Wild Azalea Trail holds the title as Louisiana's longest footpath. Bright yellow blazes mark the path through Kisatchie National Forest as it winds through pine hills and hardwood forest. Ambitious hikers can complete the hike in a day, but the trail is ideal for multi-day backpacking trips.
Maine
Gulf Hagas Trail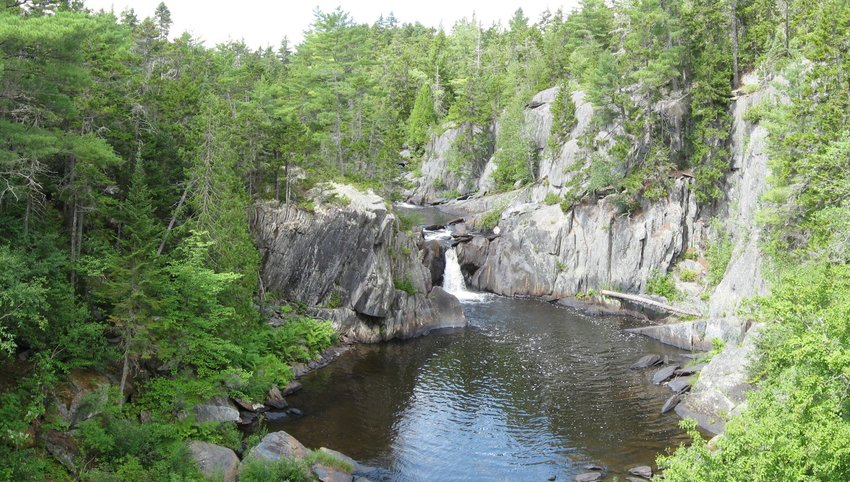 Fittingly nicknamed the "Grand Canyon of Maine," the Gulf Hagas is a three-mile gorge that towers over the Pleasant River in the Appalachian Trail corridor. The river plummets about 500 feet and forms several cascading waterfalls and popular swimming holes. The Gulf Hagas Trail follows the rim of the canyon to several scenic overlooks and passes dozens of natural features including 25-foot Screw Auger Falls. Keep in mind, the Gulf Hagas Trail is notoriously rugged and might require wading through water. If you're not interested in hiking the whole trail, shorter trips to popular attractions like The Jaws and Buttermilk Falls are great alternatives.
Maryland
Annapolis Rock and Black Rock Cliff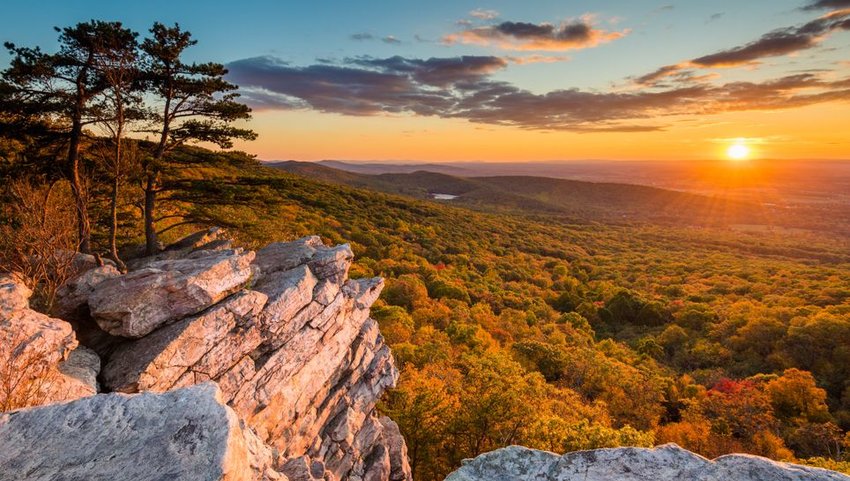 Like Maine, Maryland's best hiking trails can be found along the Appalachian Trail. Just under seven miles round-trip, the trek to Annapolis Rock and Black Rock Cliff offer determined hikers' postcard-worthy views of Hagerstown Valley, Greenbrier Lake, and the surrounding wilderness. Arguably the best time to visit these two trails is during fall when the trees display vibrant foliage in hues of red, yellow, and orange. Annapolis Rock is also a popular destination for rock climbers, so don't panic if you see someone dangling from the quartzite bulges at the lookout.
Massachusetts
Bash Bish Falls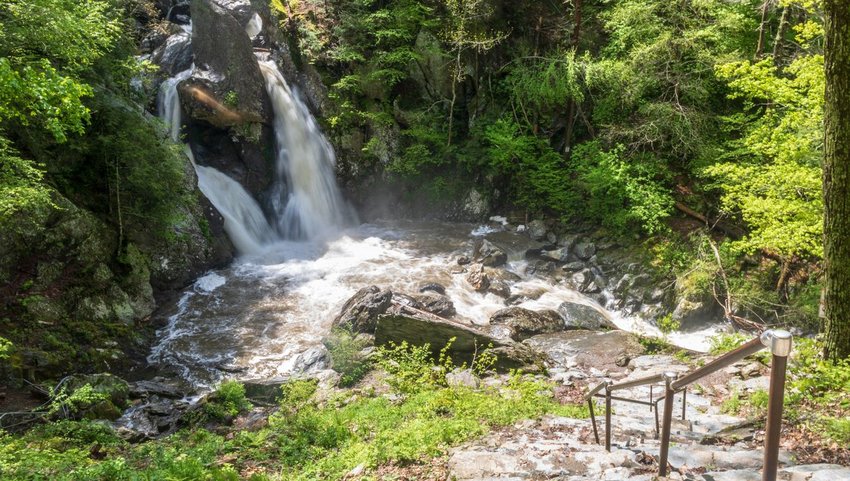 While you won't find Bay Staters and New Yorkers cuddling up at a baseball game, it's not uncommon to find them on the same footpath to Bash Bish Falls. In fact, when you google the trailhead to the highest waterfall in Massachusetts, you might be surprised to learn that the easiest footpath is technically found in New York. A second trailhead found in the Berkshires in Massachusetts is just a mile away and is a bit shorter, but features a much steeper descent to the falls. Whether you opt to hit the trail in New York or Massachusetts, you'll be treated to views of 200-foot cascading waterfalls.
Michigan
Pyramid Point Trail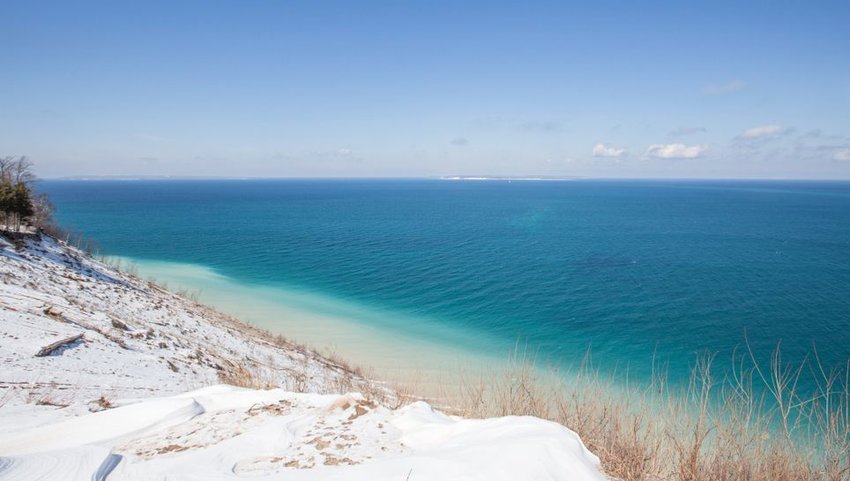 Stunning sand dunes and scenic views of Lake Michigan make it easy to see why Pyramid Point is a top contender for Michigan's best hiking trail. The 2.7-mile, round-trip hike travels through three distinct environments of maple-beech forests, high bluffs, and meadows before reaching a bluff overlooking the lake and the Sleeping Bear Dunes. Grab a snack, kick back, and soak in Michigan's most breathtaking view.
Minnesota
Superior Hiking Trail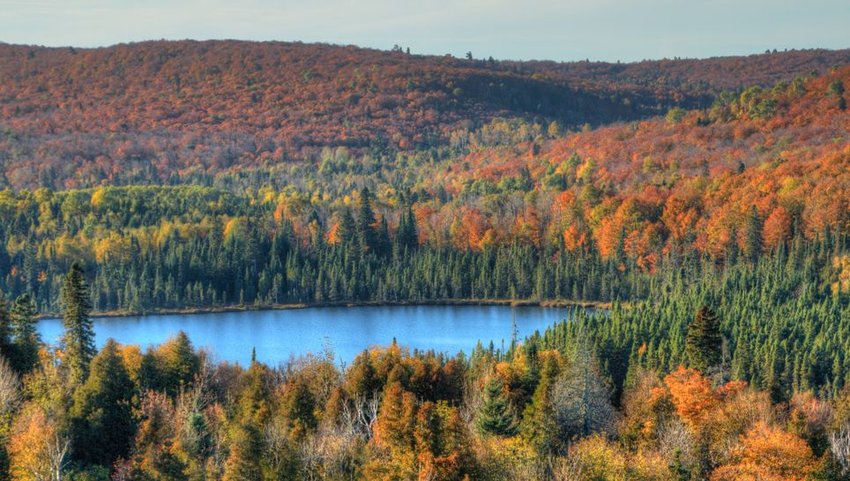 Spanning over 310 miles from the Minnesota-Wisconsin border to the Canadian border, the Superior Hiking Trail follows the coastline of the world's largest fresh-water lake, Lake Superior. Long-considered Minnesota's crowned jewel of hiking trails, the Superior Hiking Trail travels through eight state parks and passes the deepest canyon in Minnesota, plus several dazzling lakes and waterfalls. Hiker completing the entire trail will spend anywhere from two to four weeks making the trek, but with trailheads available every five or so miles, it's easy enough for anyone to take a quick day hike. Superior Trail highlights include the Oberg Loop, Cascade River, and Eagle Mountain.
Mississippi
Black Creek Trail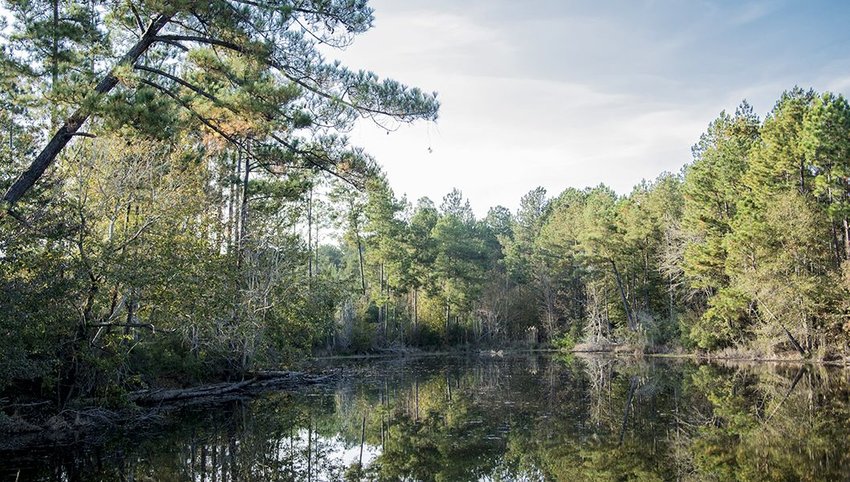 Black Creek is Mississippi's only national scenic river and its namesake trail is one of the longest and most challenging trails in the state. This national recreation trail was intended to be the first segment of a much longer, 240-mile trail that never came to fruition. Today, the trail spans 40 miles over rolling hills and through the flat land of the Black Creek flood plain. Hikers that don't have the time or energy for a long-distance trek can use the footpath to access Black Creek and its iconic white sandbars.
Missouri
Ozark Trail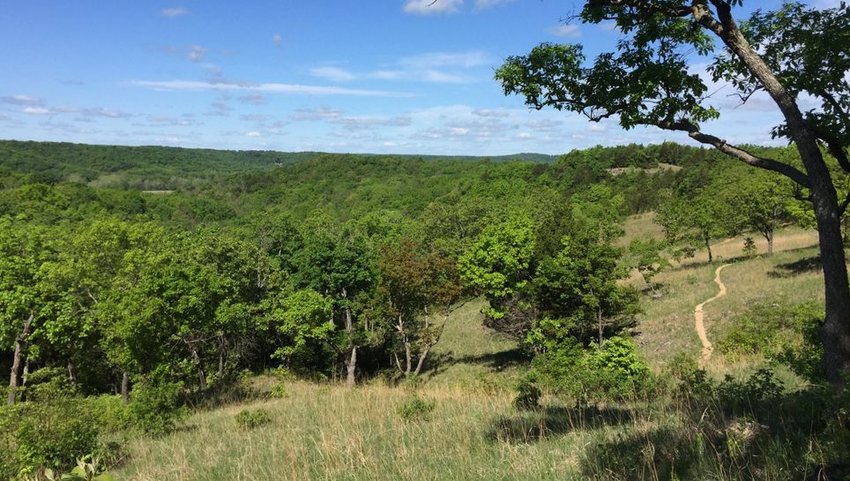 The Ozark Trail is technically still a work in progress, but its completed 230+ miles give even the most famous, long-distance trails a run for their money. The trail, which spans from St. Louis to the Arkansas border, currently consists of 13 sections ranging from 19 to 48 miles. From the rock glades of the St. Francois Mountains to the densely forested terrain of Courtois Creek, each section is teeming with natural beauty. Even if you don't have the time or energy to complete the entire trail, it's easy enough to immerse yourself in the beauty of the Missouri Ozarks.
Montana
Grinnell Glacier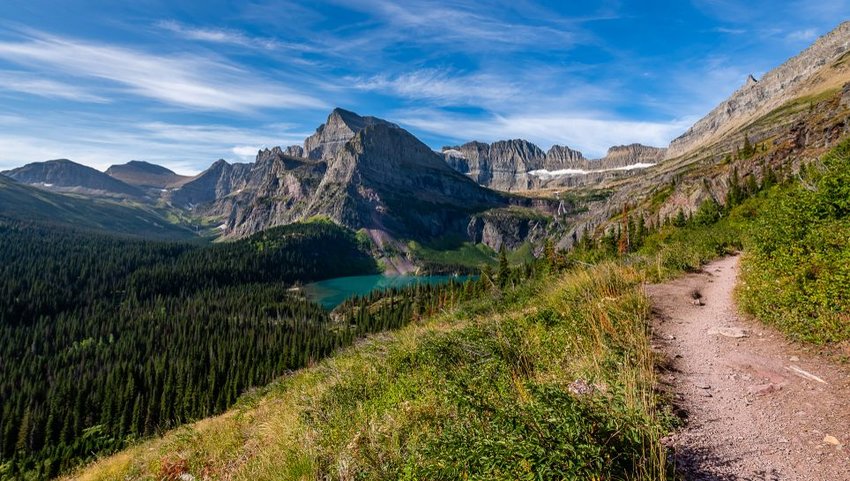 Picking a single hiking trail in what's arguably the wildest state in the contiguous United States is a tall order. However, when it comes to finding hiker's paradise in Big Sky Country, you don't have to look far. Montana's "Crown of the Continent," Glacier National Park, houses over 700 miles of jaw-dropping scenery. One trail in particular has remained a crowd favorite for decades — Grinnell Glacier. At just over 10 miles round-trip, Grinnell Glacier offers spectacular views of wildflower-filled meadows, snow-capped summits, and of course, glacial-fed lakes. It's worth noting that this footpath is also favored by black bears, grizzly bears, and moose, so make sure you are familiar with how to properly handle wildlife encounters.
Nebraska
Saddle Rock Trail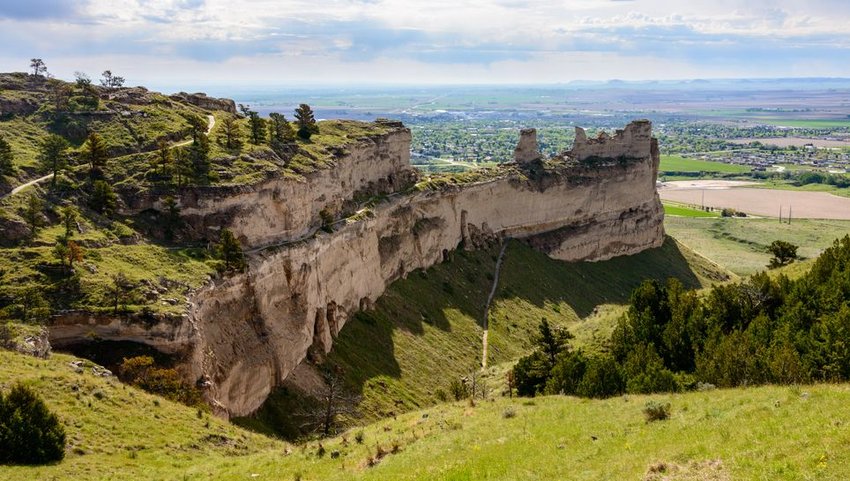 Some run it for a daily dose of cardio, while others simply explore the sheer sandstone faces that once frightened and captivated Oregon Trail emigrants. Either way, the Saddle Rock Trail offers adventurers a closer look at the intriguing geologic features of Scotts Bluff National Monument. The paved, 1.6-mile trail is relatively easy and gains 500 feet in elevation. It passes by Scott's Spring, through a stone foot tunnel, and around the famous, eroded sandstone bluffs.
Nevada
Fire Wave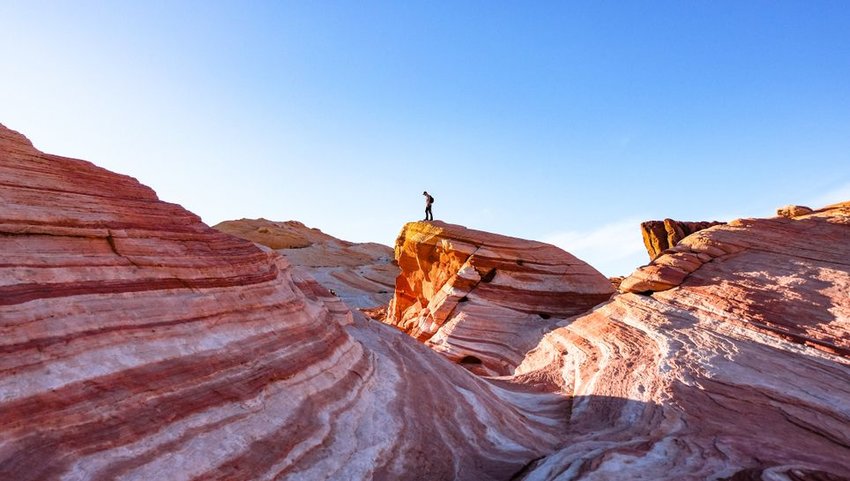 Every year, thousands of hopeful hikers gamble on the off-chance that they'll win a drawing to hike "The Wave" — one of Arizona's most famous rock formations. Little do they know that Arizona's neighbor has its very own wave-shaped, multicolored slice of sandstone. The Fire Wave is located within the Valley of Fire, Nevada's oldest and largest state park. A quick, 1.5-mile, round-trip trail leads hikers past otherworldly red-rock formations to reach this pastel painted canyon. Wear sunscreen before you hit the trail and don't forget to pack plenty of water.
New Hampshire
Franconia Notch Ridge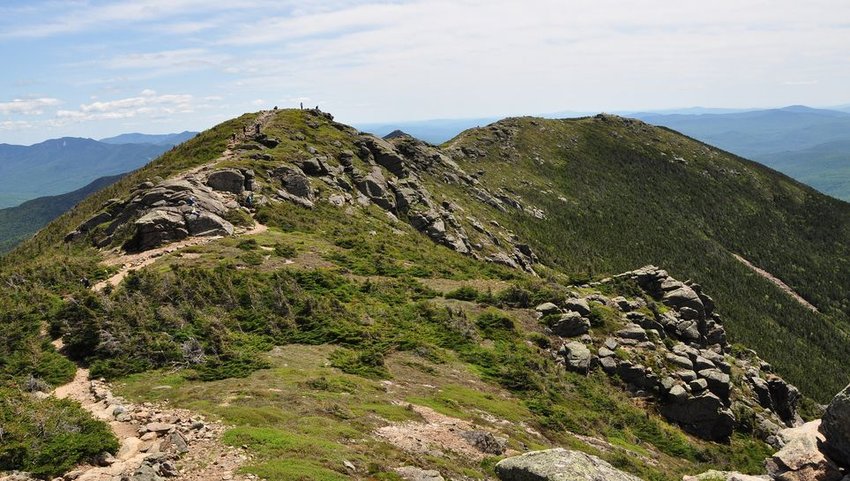 Traverse the crest of the renowned Franconia Ridge on this multi-peak adventure. This nine-mile trek along Franconia Ridge traverses the second highest ridgeline in New Hampshire and summits three iconic White Mountain peaks — Mount Lafayette, Mount Lincoln, and Little Haystack. This New England favorite takes about eight hours to complete end-to-end or can be broken up with an overnight stay at the Greenleaf Hut.
New Jersey
Stairway to Heaven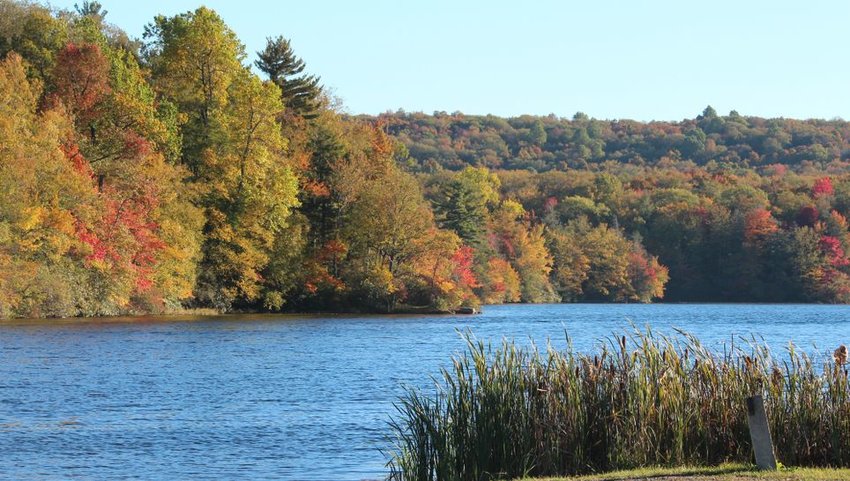 For the best views in the state, New Jersey locals look to Wawayanda Mountain, a ridge in the New York Jersey Highlands region of the Appalachian Mountains. The Stairway to Heaven, which is quite literally a series of rock slab stairs, climbs for 2.6-miles to the top of the mountain. The Stairway to Heaven can be climbed on its own, but if you're looking to challenge yourself with more miles, an additional five miles can be added by starting at the Appalachian Trail. Regardless of which trail you choose, the unobstructed views waiting for you at the top are well-worth the climb.
New Mexico
Pine Tree Trail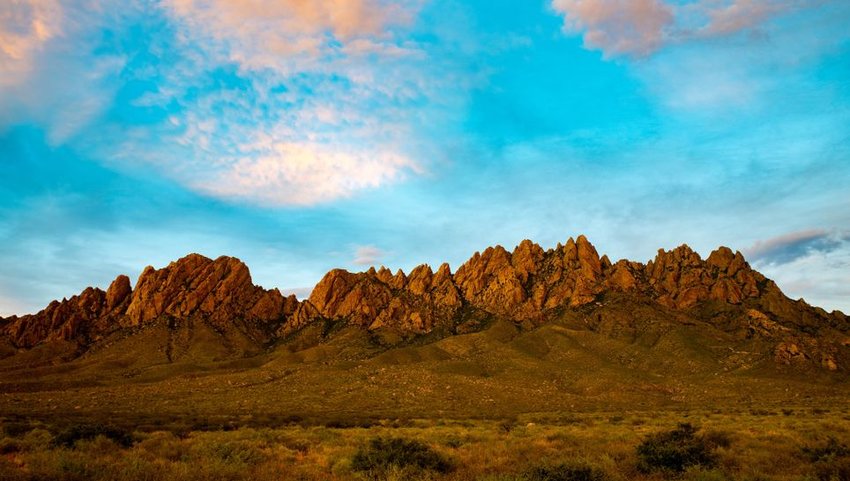 Don't let the name fool you. The 4.2-mile Pine Tree Trail offers a lot more than views of pine trees. In fact, this modest trek features seriously impressive panoramic views of New Mexico's rugged Organ Mountains and the Tularosa Basin. The trailhead sits at nearly 6,000 feet in the Aguirre Springs Recreation Area and climbs 6,880 feet in elevation — making it the highest maintained trail in the Organ Mountains. Consider getting an early start and beating the midday heat by pitching a tent at the Aguirre Springs Campground.
New York
Cascade Mountain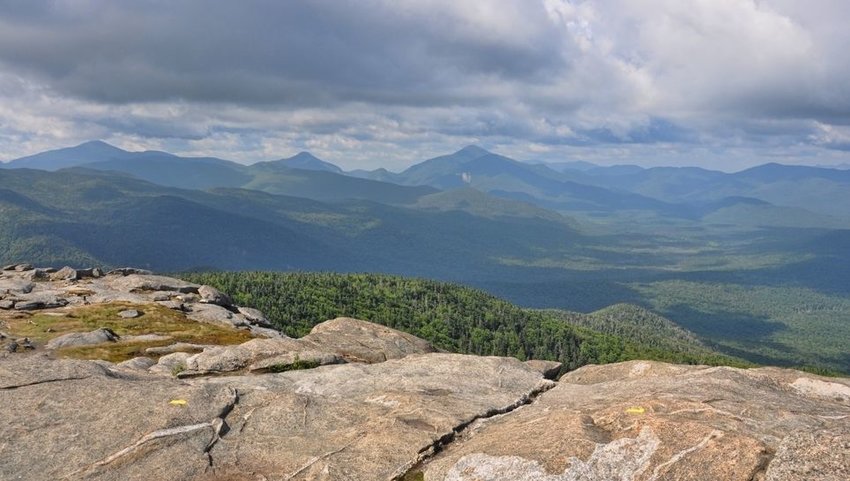 Panoramic views reward hikers that are willing to endure the arduous climb to the top of Cascade Mountain. At just 2.4 miles each way, the trek to Cascade Mountain isn't particularly long, but it wastes no time rising over 1,900 feet in elevation to the 4,098-foot summit. Cascade Mountain is one of the 46 Adirondack High Peaks and is a great introductory summit for ambitious hikers looking to join the Adirondack 46er club by climbing all 46 summits. To check two High Peaks off your bucket list, consider taking an easy side trip to Porter Mountain while en route to the top of Cascade Mountain.
North Carolina
Art Loeb Trail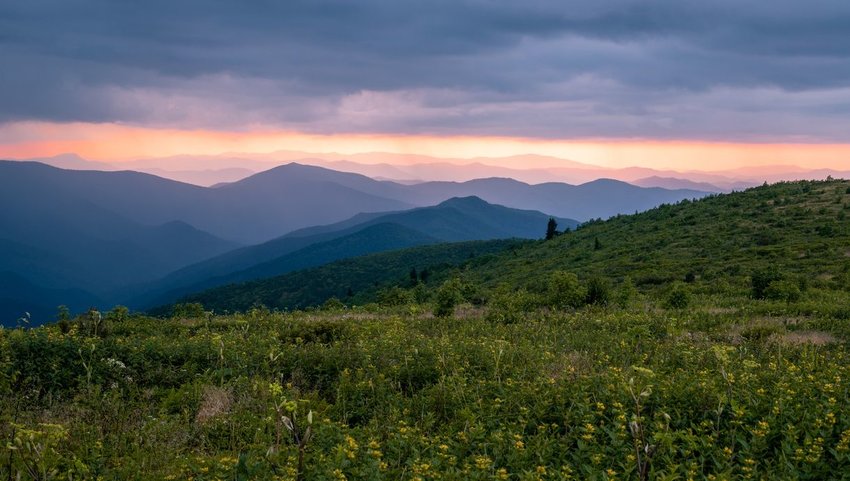 Art Loeb is a classic 32-mile footpath tucked in Pisgah National Forest. The trail skirts past several iconic peaks and ridges — offering breathtaking panoramic views of Pisgah icons such as Black Balsam Knob, Tennent Mountain, and Pilot Mountain along the way. The trail ascends 7,887 feet, making it far from a gentle stroll in the woods, but the views make every step worth the effort.
North Dakota
Maah Daah Hey Trail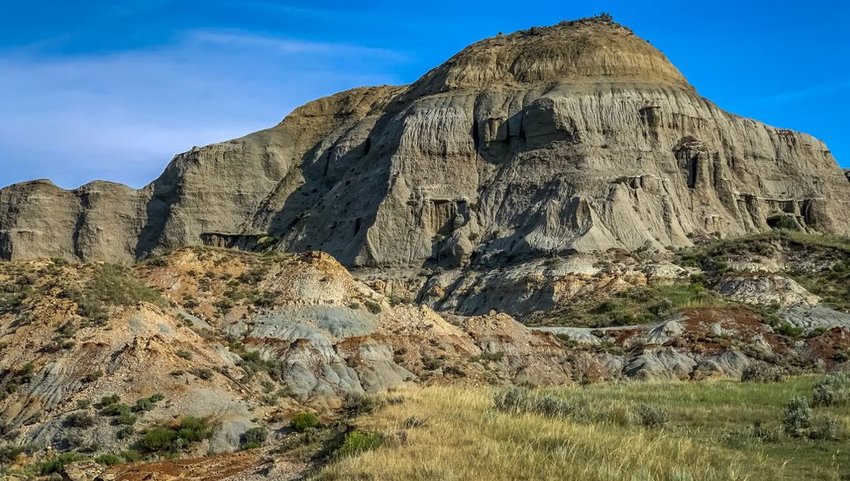 Known by locals as North Dakota's best-kept secret, Maah Daah Hey features over 100 miles of the state's most breathtaking terrain. The trail encompasses nine unique trail units, each with its own distinct topography ranging from grassy flats to rugged clay buttes in the Badlands. There are several access points and 10 campgrounds, so visitors can pick and choose which parts of the trail they want to tackle.
Ohio
The Ledges Trail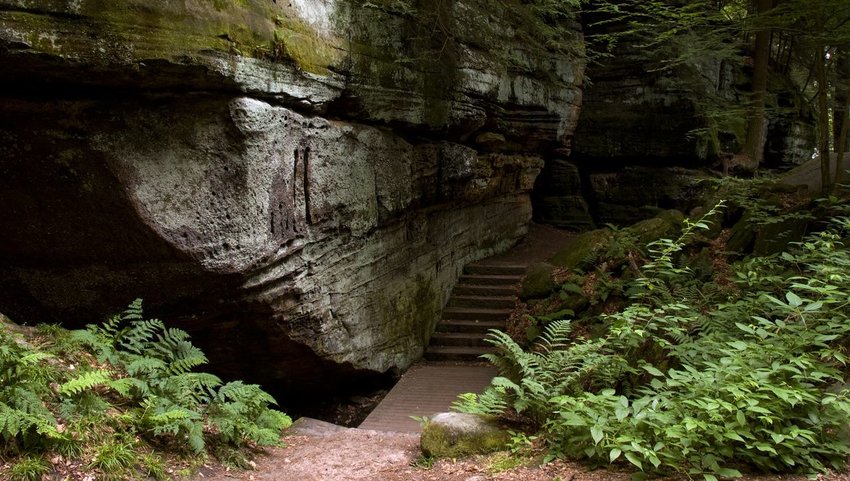 Located in the heart of Cuyahoga Valley National Park, the Ledges Trail ambles through brilliant hemlock forests and past captivating rock formations to the craggy sandstone cliffs that make up Ritchie Ledges. Large boulders and tree roots line this two-mile footpath, so although the trail isn't particularly challenging, the terrain can prove to be rugged and technical. Reaching the Ledges Overlook is the highlight of this adventure, so make sure you take some time to appreciate the infinite views of the forested Cuyahoga Valley below.
Oklahoma
Ouachita Trail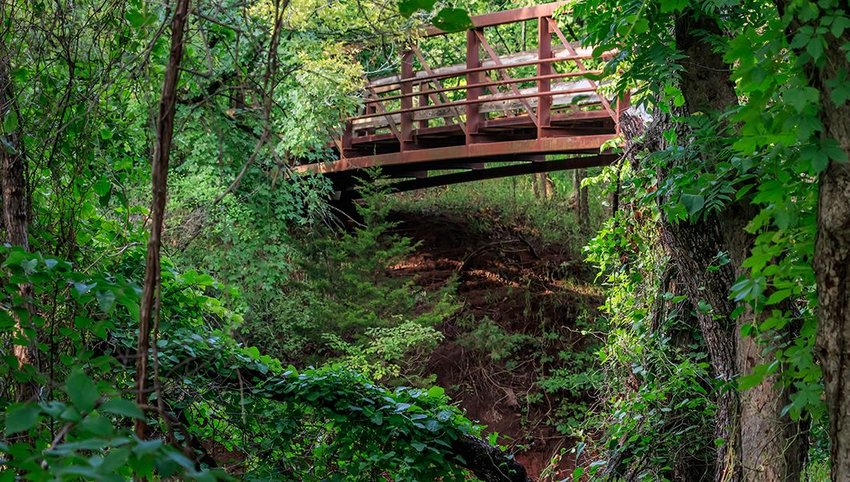 The Ouachita Trail is a 233-mile test of true grit. Traversing for miles over forested mountains and across sweeping valleys, the Ouachita Trail stretches from Oklahoma all the way to Arkansas. The trail is lesser known across the long-distance hiking community, which means it's the perfect walk in the woods for hikers seeking solitude and subtle beauty. The trail can also be divided into as many as 10 sections for day-hikers and weekend backpackers. If you're hoping to climb the highest point of the trail, Rich Mountain, you don't have to walk 200+ miles to get there.
Oregon
Trail of Ten Falls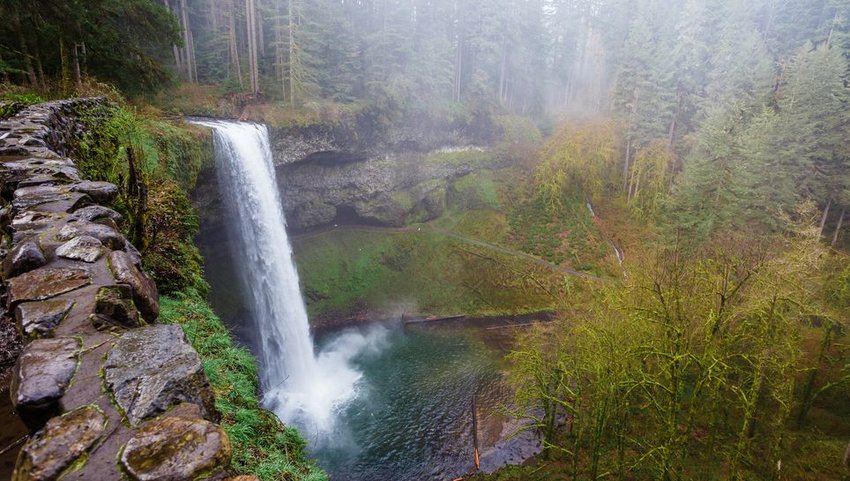 Despite TLC's catchy advice, everyone goes chasing waterfalls in Oregon — especially on the Trail of Ten Falls in Silver Falls State Park. This popular, 7.2-mile trail traverses past all 10 waterfalls as they cascade over basalt cliffs. The trail, which leads hikers directly behind, alongside, and above several 100-foot waterfalls, meanders gently through lush forest. If you don't have time to complete the full trail, famed falls such as the 177-foot South Falls and 136-foot North Falls can also be accessed through easy footpaths from the nearby parking area.
Pennsylvania
Ricketts Glen Falls Trail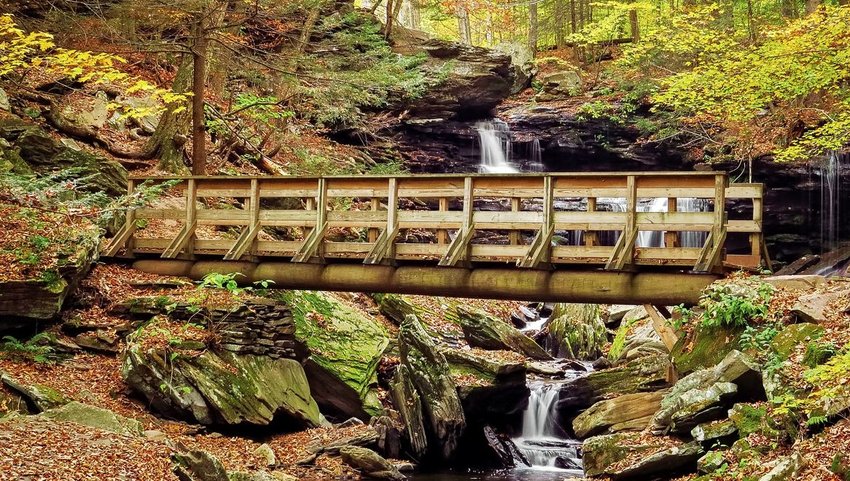 Pennsylvania's famed Ricketts Glen Falls Trail is the perfect adventure for anyone with waterfall wanderlust. This 7.2-mile loop hike traverses past a whopping 21 waterfalls. The tallest waterfall plunges 94 feet! The trail, which features several steep drop offs, rocky stairways, and uneven terrain, has a reputation for being both difficult and dangerous. It's important to take your time and bring proper footwear.
Rhode Island
Long Pond Woods Trail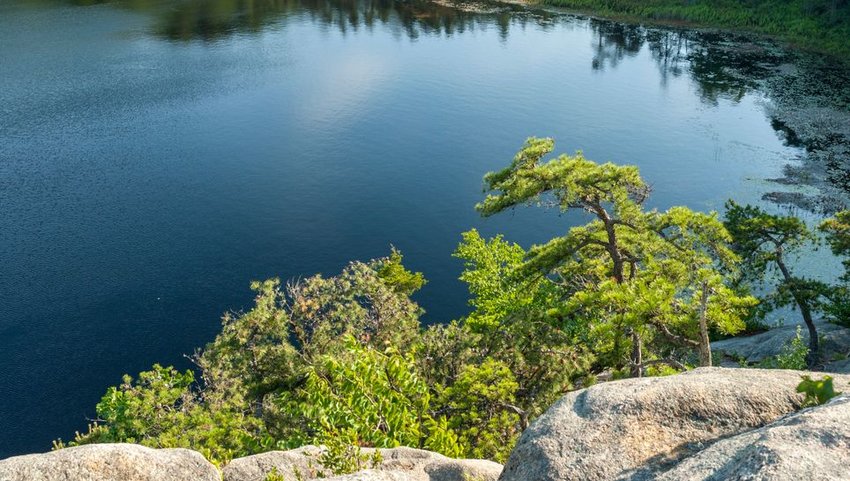 The 4.4-mile Long Pond Woods Trail doesn't appear to be a very challenging hike. However, a series of boulder scrambles, steep stairs, and rugged terrain prove otherwise. Fortunately, the journey is well worth the effort. Long Pond Woods is known for its beautiful hemlock forest and fascinating rock formations. Don't let the trail difficulty deter you from experiencing one of the very best vistas in Rhode Island.
South Carolina
Foothills Trail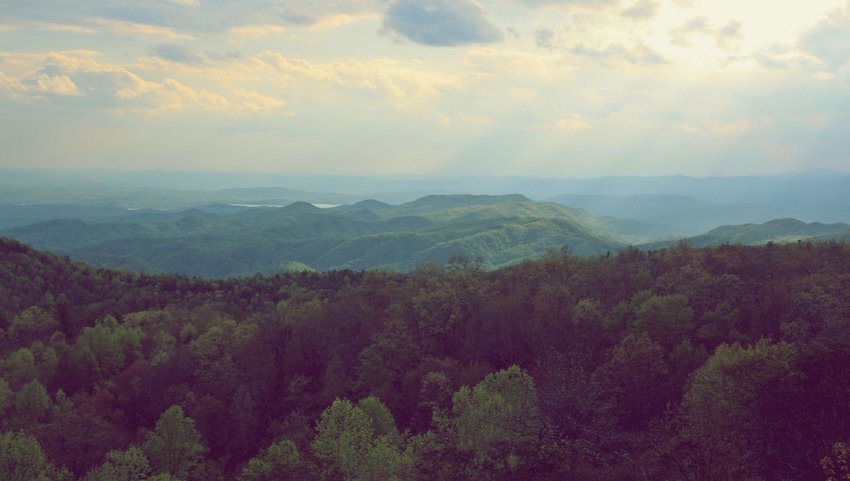 Hoping to see a wild black bear? The Foothills Trail, a 77-mile mountainous wonderland, is home to one of the heaviest populations of black bears in the country. Aside from the occasional bear looking for berries, the Foothills Trail includes mountain peaks, dense forests, and sweeping views of the state. The trail also features several steep climbs including an ascent of South Carolina's tallest peak and a variety of mixed terrain.
South Dakota
Cathedral Spires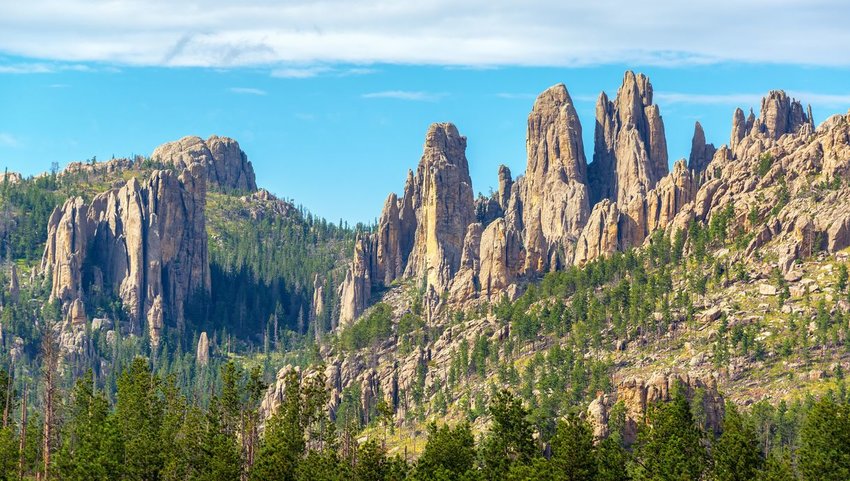 Eroded granite pillars, towers, and spires blanket the landscape along the five-mile Cathedral Spires trail in Custer State Park. Known as the Needles, this otherworldly landscape is the ultimate outdoor playground for rock climbers, but even non-climbers can appreciate spending a few hours exploring the largest rock faces in the Black Hills. The most commonly used trailheads are the Sylvan Lake trailhead, Little Devils Tower trailhead, and the Cathedral Spires trailhead.
Tennessee
Mount LeConte Via Alum Cave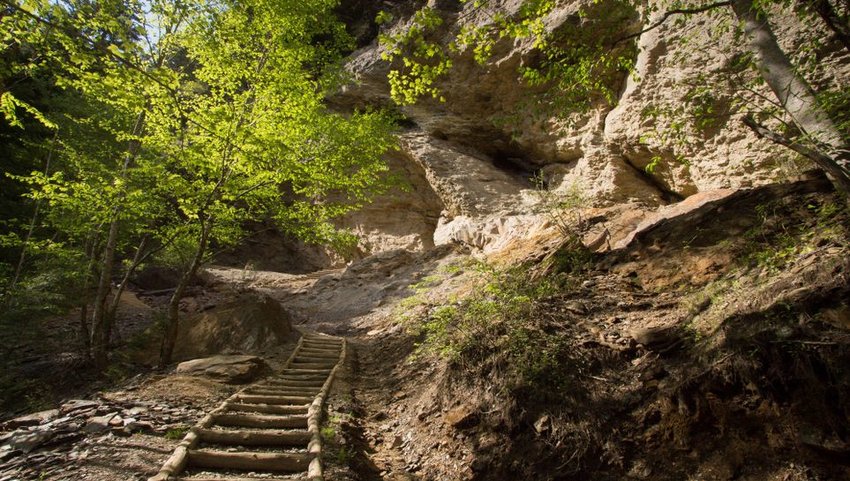 A visit to Tennessee wouldn't be complete without a trek in the Great Smoky Mountains. This great American trail through our nation's beloved national park offers both a closer look at extraordinary geological features and impressive lookouts over the Tennessee wilderness. To reach the summit of the third highest peak in the Smokies, Mount LeConte, hikers must climb 2,700 feet in elevation 5.5 miles. Along the way, the trail passes Alum Cave, an 80-foot concaved bluff that was once mined by the Confederate Army to make gunpowder during the Civil War. The unique combination of natural beauty and intriguing history makes this trail a must for anyone visiting the Volunteer State.
Texas
Santa Elena Canyon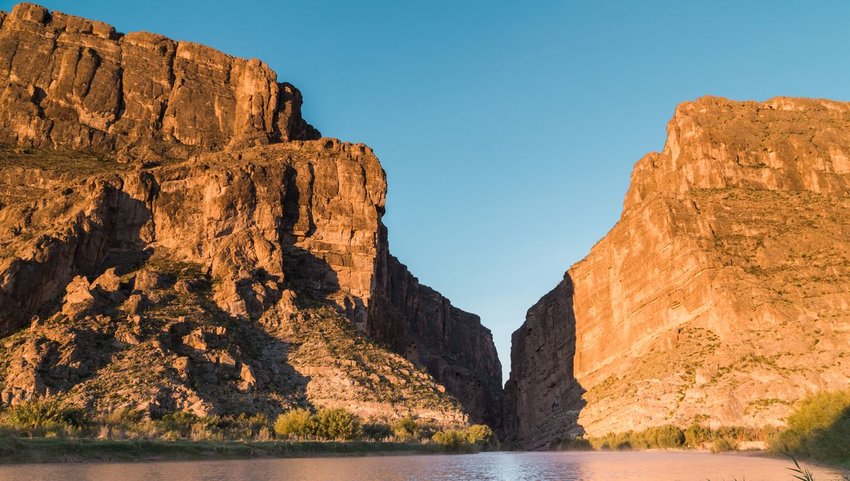 Everything is bigger in Texas and this applies to the 1,500-foot canyon walls that form the spectacular Santa Elena Canyon. This beloved Big Bend trail crosses Terlingua Creek and climbs several flights of stairs before descending into Santa Elena, the deepest Rio Grande Canyon. Although a scenic overlook can be reached from a short footpath from the trailhead, the best way to experience the canyon is by canoe or raft. Local outfitters offer multi-day trips or the trip can be attempted solo by experienced paddlers.
Utah
Golden Cathedral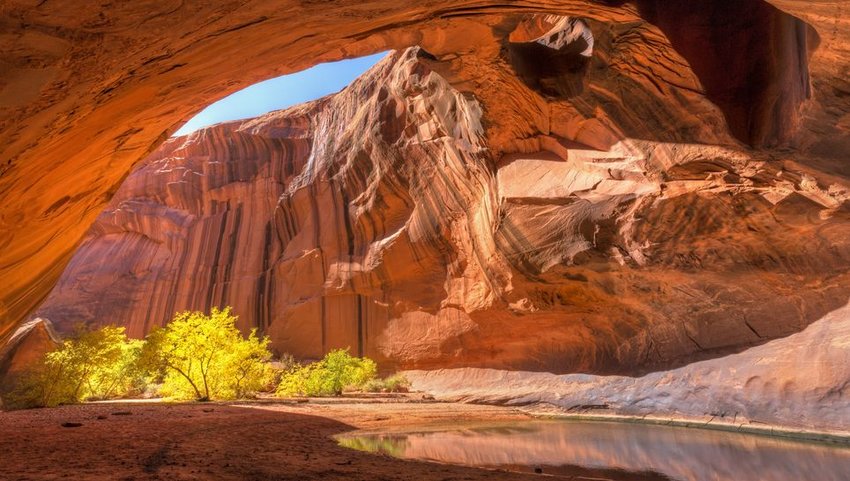 Tucked within lower Neon Canyon in the Grand Staircase-Escalante National Monument, Golden Cathedral is a stunning sandstone alcove that features three breathtaking pothole arches. The trail begins at the edge of a plateau, referred to as Egypt Bench, before descending to the Escalante River and toward Neon Canyon. The 4.5-mile trek each way is remote and unmarked — making it best-suited for hikers with expert navigation skills.
Vermont
The Long Trail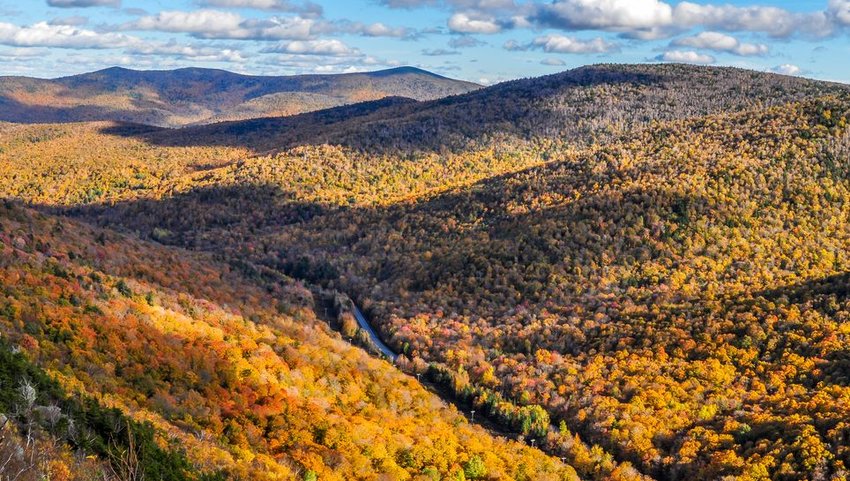 You have to appreciate the straightforwardness of Vermont's trail-naming strategy. At 272 miles, the Long Trail is indeed very, very long. With 166 miles of side trails available, the opportunity for adventure feels endless. The Long Trail follows the main ridge of the Green Mountains from the Massachusetts-Vermont border to the Canadian border and skirts around Vermont's highest summits along the way. The trail isn't just lengthy. It's steep, rugged, remote, and often referred to as Vermont's "footpath in the wilderness." Hiking the trail end-to-end takes an average of 20 to 30 days. If you can't take a month off to walk in the woods, the trail can also be broken up into smaller, equally scenic sections.
Virginia
Old Rag Mountain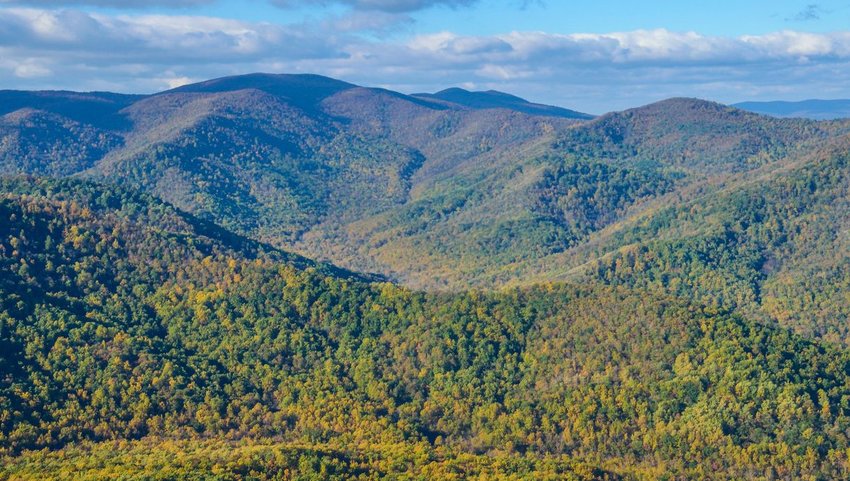 Old Rag Mountain is one of the most popular (and dangerous) hiking trails in the mid-Atlantic region. This Shenandoah National Park gem climbs to the top of 3,284-foot Old Rag Mountains and offers stunning panoramic views of the surrounding 200,000-acre Shenandoah wilderness. Old Rag is notoriously challenging and is best-known for its long tracts of bare rock and strenuous rock scramble. The most common route is a nine-mile loop that follows Ridge Trail over the rock scramble to the summit and descends along the Saddle Trail and Weakley Hollow Fire Road. It's important not to underestimate this hiking trail. Every year hikers are rescued from this iconic footpath due to exhaustion, injury, or dehydration.
Washington
The Enchantments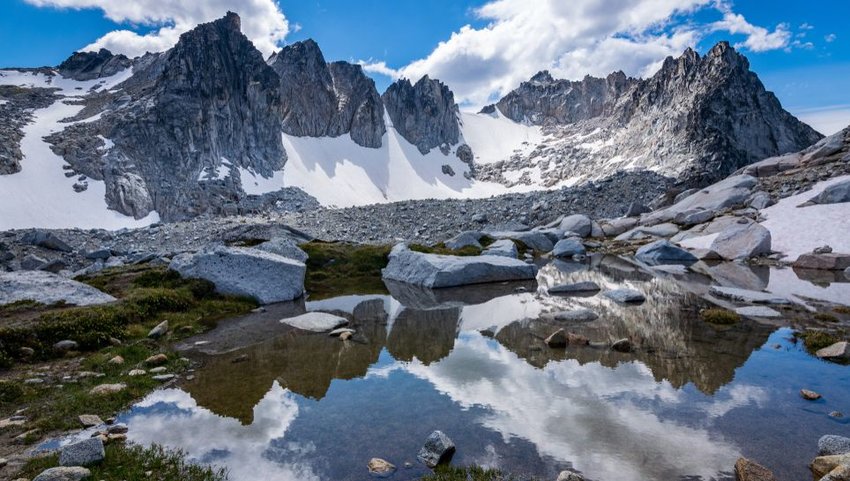 If you ask a local, they'll tell you that you'd have better luck winning the Powerball than landing an illusive permit to hike Washington's most sought-out trail. It's easy to see why the Enchantments are so enchanting. This 18-mile footpath is an alpine paradise featuring a string of crystal-blue, alpine lakes that sit beneath rugged Cascade summits. There simply aren't enough superlatives to describe this stretch of the Alpine Lakes Wilderness, so we'll let the numbers speak for themselves.
The Core Enchantment Zone, in particular, is the most popular destination for hikers. In 2018, over 17,500 people attempted to obtain permits to hike in this area and just 4% of those hopeful hikers were given that chance. Those that don't end up with an overnight permit will generally opt to obtain a day pass and hike as far into the Enchantments as they can. The full 18-mile and 6,500-foot climb to the Core Enchantments is a true test of endurance and probably won't leave you much time to appreciate your surroundings. If you can't grab an overnight permit, consider making the trip to Colchuck Lake, Snow Lakes, and Ingalls Lake — all of which are great day hikes.
West Virginia
Endless Wall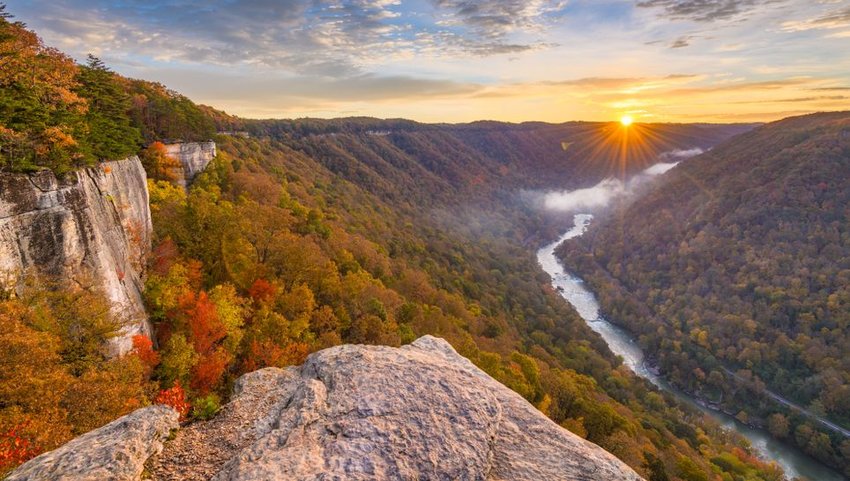 Skirt the cliff line that forms the north rim of the New River Gorge on the 2.7-mile Endless Wall trail. Scenic vistas are a staple of this footpath, so it's easy to see why this area is popular amongst experienced climbers. At about the two-mile mark, the overlook at Diamond Point is the perfect place to stop for lunch and take in the views from 1,000 feet above ground.
Wisconsin
Ice Age Trail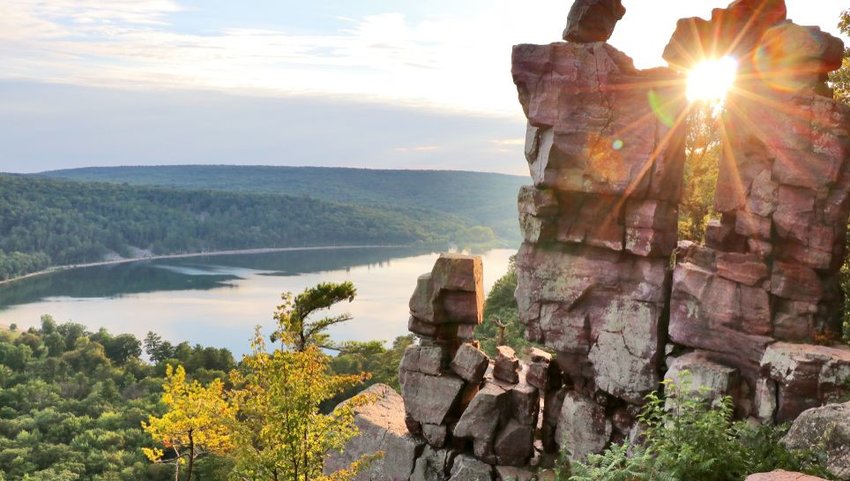 Roughly 12,000 years ago, a massive flow of glacial ice carved out Wisconsin's incredible landscape. The 1,200-mile Ice Age National Scenic Trail was constructed to highlight the incredible features of this glacial phenomenon. The trail is mostly maintained by volunteers and is not complete, but more than 600 miles of yellow-blazed segments and 500 miles of unmarked footpaths are available for exploration.
Wyoming
Teton Crest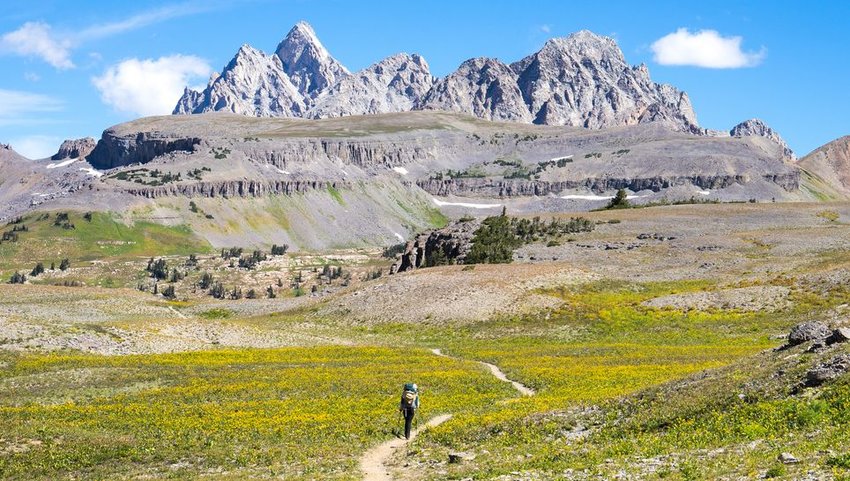 Pick up a postcard of Wyoming and chances are you'll be holding the Teton Range in the palm of your hand. The Tetons have become synonymous with adventure in Wyoming and these picture-perfect peaks happen to house one of the most spectacular long-distance trails in the country. The Teton Crest is a high-altitude hiking trail that features glacial-carved canyons, rugged granite peaks, and several stunning alpine lakes. Over the course of 40+ miles, the trail rarely dips below 8,000 feet in elevation as it travels through two national forests — Grand Teton National Park and the Jedediah Smith Wilderness. The trail is challenging and can only be attempted between July and early September. The permit process is also highly competitive, so you'll want to plan ahead if you're looking to add this trek to your bucket list.
Enjoy this article? Share it with a friend
All featured products and deals are selected independently and objectively by the author. The Discoverer may receive a share of sales via affiliate links in content.
Discover the World's Best Destinations, with your free weekly travel guide sent straight to your inbox.
Welcome to The Discoverer!
We are so excited to fill your inbox with discoveries from around the world! You can expect your first edition to arrive on Monday. Until then, feel free to check out our previous editions.