The 11 Most Instagrammable Spots in Europe
Travel allows us to embrace different cultures, open our eyes to new ways of thinking, and foster a sense of humility within ourselves. But beyond the meaningful and, let's face it, sappy reasons we travel, there's another form of travel that is increasingly taking over the world: Instagram travel
Thanks to Instagram, we can share our travels with the press of a button. Whether you're a serial selfie poster or try to catch the perfect light illuminating a gorgeous landscape, there are a multitude of locations throughout Europe that will help you achieve that perfect post. Here's our list of some of Europe's most Insta-worthy spots. Do it for the 'gram!
Venice, Italy

Photo by @nois7 / @nowdiscovering
We'll go ahead and start off with one of the more obvious destinations on our list - Venice, Italy. Venice is chock-full of beautiful architecture and is steeped in rich history. As a whole, Venice provides many backgrounds for beautiful photos, but we suggest heading for the less popular spots like the Bridge of Sighs. This spot has become one of the more coveted posts to have on your Instagram feed. Visible only from Canonica Bridge and Ponte della Piglia, legend has it that if lovers pass under the bridge together, their love will last forever. You know what else lasts forever? A photo. On Instagram.
Swiss Alps, Switzerland

Photo by @marcobaeni / @nowdiscovering
This one is a given - the Swiss Alps are undeniably one of the most marvelous mountain ranges on Earth. Over 60% of Switzerland's surface area is covered with this mountain range, so you'll have no shortage of snow-capped peaks and green meadows for that perfect Insta-post.
Santorini, Greece

Photo by @filippo_cesarini / @nowdiscovering
Whether you've been there or not, we're all familiar with Santorini. The white and blue buildings are unmistakable. Hovering at the top of most people's bucket lists, Santorini is literally built to provide you the best possible photo (well not really but, you know). Want to know more about Santorini? Check out our edition on this magical island retreat. Read Now!
The Vatican City, Rome, Italy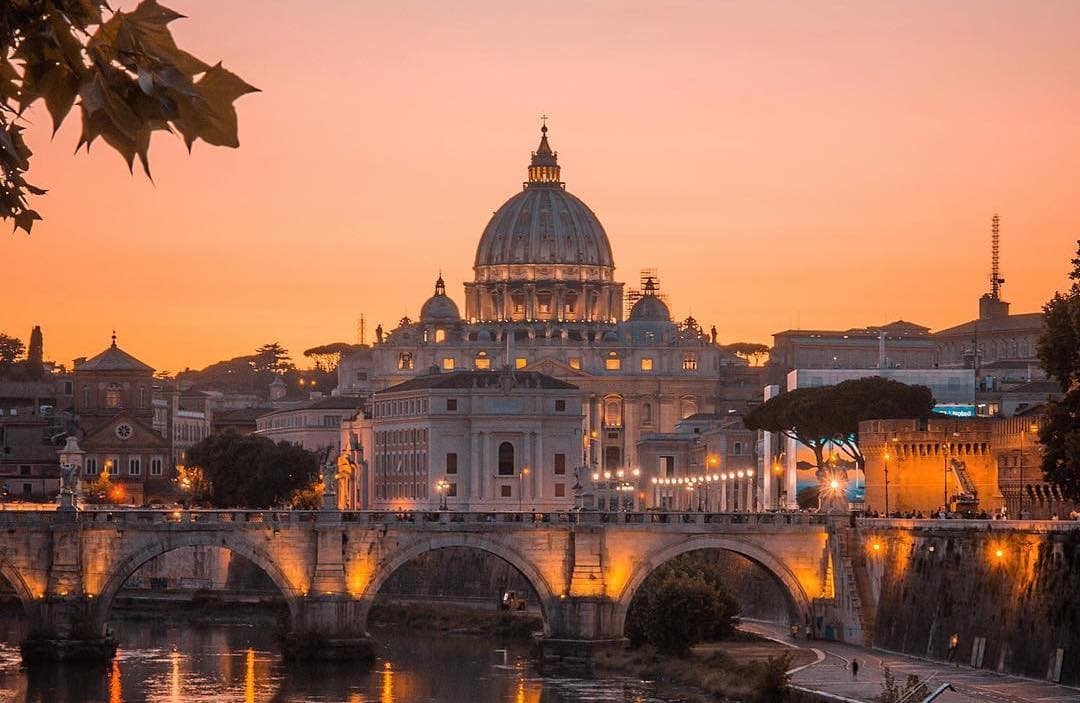 Photo by @brigrc / @seeqrtravel
The Vatican City is widely regarded as one of the world's greatest and most beautiful architectural wonders. It's also the smallest country in the world, so of course we are going to include it on this list. From the Sistine Chapel to St. Peter's Basilica, the beauty can be overwhelming - so make sure you have your camera at the ready!
Bruges, Belgium

Photo by @wonguy974 / @nowdiscovering
If a perfectly designed medieval town is what your Instagram craves, then Bruges is the place for you. With its charming cobblestone streets and picturesque canals - some might even say "Instagrammable" - it situates itself as one of the more photogenic places to visit. Don't forget to try the chocolate while you're here - it's indescribably delicious.
Alhambra, Granada, Spain

Photo by @sara.delgado23
The Alhambra is Granada's - and Europe's - love letter to Moorish culture. Set against Sierra Nevada peaks, this mesmerizing palace complex started as a walled citadel before it became an Instagrammer's dream backdrop. The architectural details found throughout the complex are so intricate and fascinating they deserve their own sitcom. So whip your phones out and give credit where it's due! Check out our Granada edition!
Saint Basil's Cathedral, Moscow

Originally constructed in the mid-16th century, Saint Basil's Cathedral looms near the Kremlin in Moscow, Russia, and has stood watch over countless historical events. Like something out of Candy Land, this cathedral is one of the most colorful structures in the world. Legend has it that the primary architect was blinded after its completion so that he wouldn't be able to construct anything that could rival its beauty.
The Louvre, Paris, France

Photo by @wonguy974 / @nowdiscovering
What's more important than getting the perfect shot? Making sure your followers know you have culture. That why The Louvre in Paris, France makes a perfect backdrop. With over 35,000 works of art on display here, there's plenty of opportunity to get that selfie with the Mona Lisa or maybe strike a pose with Venus de Milo.
Edinburgh, Scotland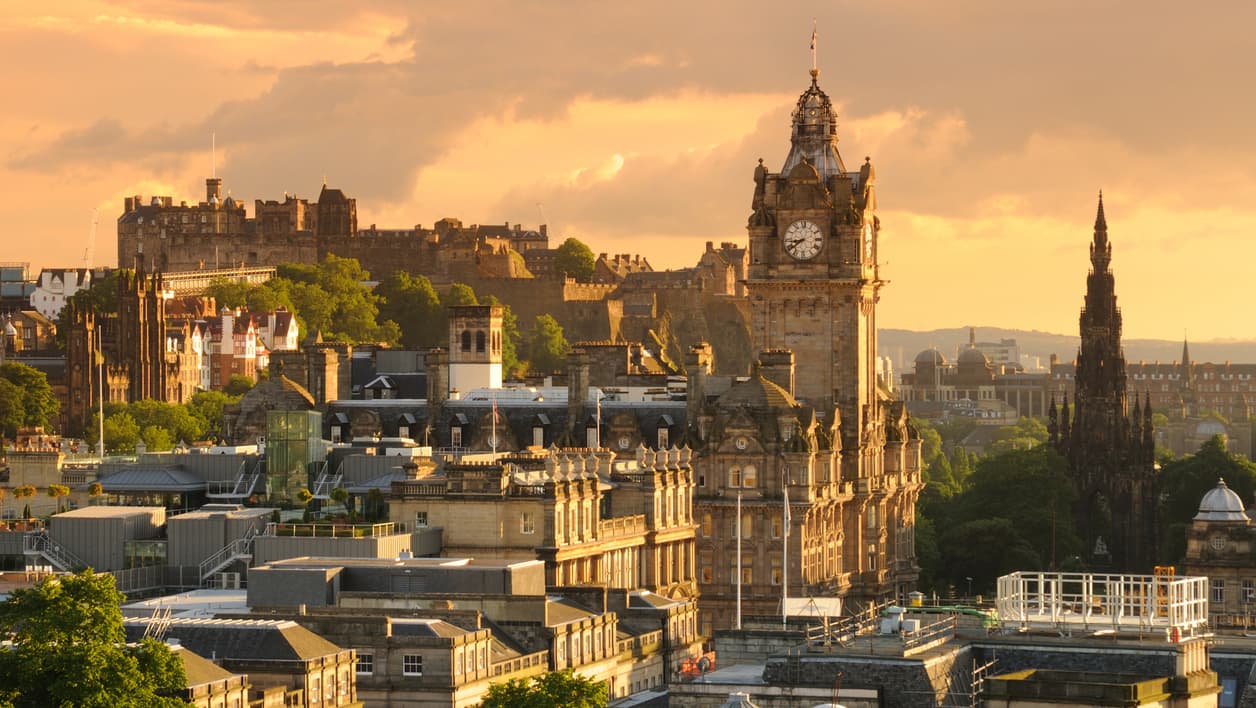 The birthplace of the Harry Potter series, Edinburgh, begs to have its picture taken. But it doesn't have to twist our arm. There are so many spots here that have historical and literary significance like The Balmoral Hotel or Greyfriars Kirkyard where you can find familiar names inscribed on the gravestones - does Tom Riddle or Professor McGonagall ring a bell?
The Colosseum, Rome, Italy

Photo by @alliemtaylor / @thedscvrr
Assuredly the most popular tourist destination on our list, The Colosseum in Rome, Italy certainly takes the cake for one of the most Instagrammable places in Europe or even the world. Though much of it has been destroyed (⅔ of it to be exact) it still stands as one of the most impressive structures for travelers to add to their bucket list.
Le Mont-Saint Michel, Normandy, France

Romance and fantasy come together within the walls of Mont-Saint Michel. Quite honestly something out of a fairytale, Mont-Saint Michel is known as the "Wonder of the West". It stands as one of France's most iconic images with the incredible spires and the Abbey du Mont-St. Michel dramatically rising from the sea. Hordes of travelers come here every year to snap the perfect shot of this fairytale destination - and why wouldn't they? Just look at its majesty!
Enjoy this article? Share it with a friend
All featured products and deals are selected independently and objectively by the author. The Discoverer may receive a share of sales via affiliate links in content.
Discover the World's Best Destinations, with your free weekly travel guide sent straight to your inbox.
Welcome to The Discoverer!
We are so excited to fill your inbox with discoveries from around the world! You can expect your first edition to arrive on Monday. Until then, feel free to check out our previous editions.