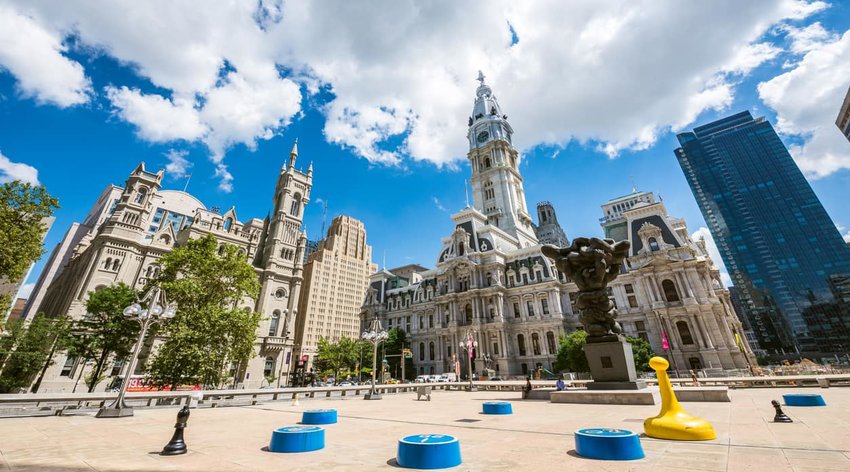 Sunrise to Sunset in Philadelphia
The City of Brotherly love has so much to offer visitors that it's tricky, but not impossible to enjoy a single day in historic Philadelphia. From historic colonial landmarks to bustling farmer's markets to trendy upscale dining, Philly is a haven for every type of visitor. Whether this is your first visit or you have many unchecked items on your itinerary, we have assembled the ultimate way to spend sunrise to sunset in Philadelphia.
Where to Stay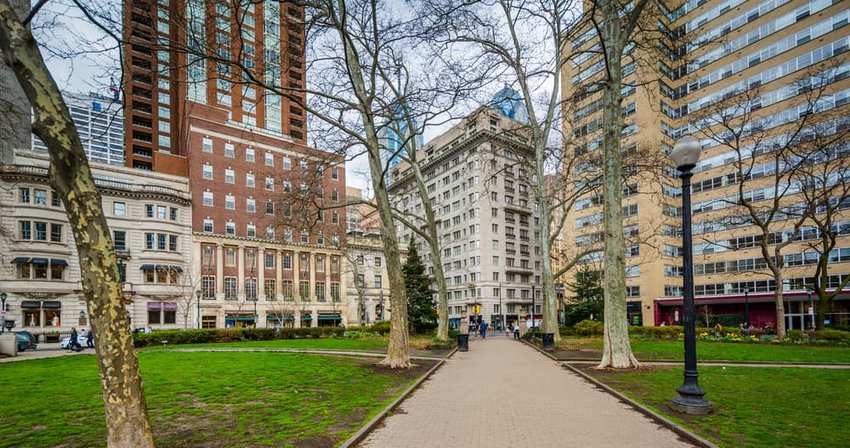 Credit: Jon Bilous/Shutterstock
The best way to enjoy Philadelphia is to wake up in the middle of the action. If you stay in one of the landmark hotels near Rittenhouse Square, like the Bellevue Hotel, and you will get a jump-start to your day. The Bellevue Hotel is one of Philly's living landmarks and symbolizes the style of the city's gilded days. Marvel at the amazing architecture and spacious hotel rooms as you are pampered by the great staff of the Bellevue. Rittenhouse Square was one of the original squares planned by city founder William Penn in the 17th century and is close to many of the must-see attractions in Philly. Use it as a base and you can easily navigate the wonders of this historic colonial city.
Getting Around Philly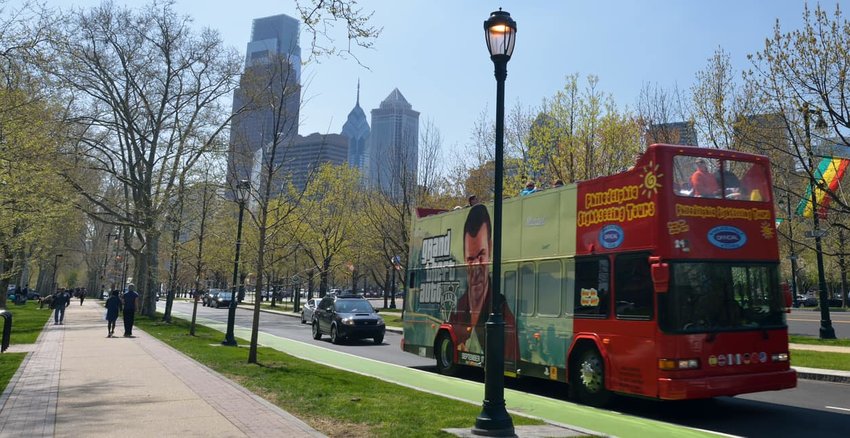 Credit: aimintang/iStock
Since you will have to pack in a days adventure in a city that has endless things to do, getting around quickly is a must. A couple of blocks north of the Bellevue on Broad Street is the Independence Visitor's Center. That is where you will find one of the best ways to see Philly your way. Check out the Hop-On Hop-Off Big Bus Philadelphia Trolley Tour and you can explore the history and beauty of Philadelphia at your own pace by stopping at the spots you want and rejoining the tour whenever you are ready.
Rise and Shine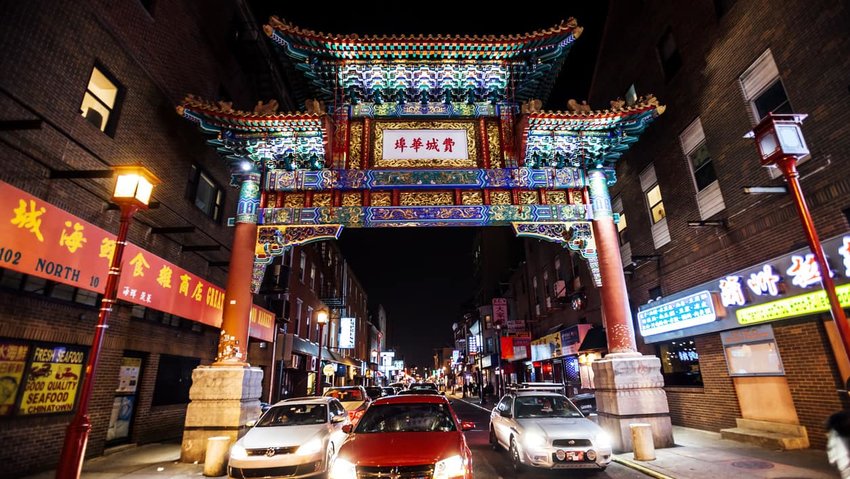 Credit: peeterv/iStock
For breakfast, follow the lead of "Sam I am" and take a walk around the corner from the Bellevue to the Green Eggs Café, an eco-friendly diner that offers unforgettable menu items that make it a go-to stop for locals and visitors alike. Order the Cookie-Dough Stuffed French Toast and you will be energized for your morning excursions.
A short 10-minute ride on the trolley will drop you off at Friendship Gate on 10th Street, the entrance to Chinatown. You will not forget this amazing and immersive experience. Dating back to the mid-19th century, Chinatown has been a vibrant part of the city coming to life with seasonal festivals, fabulous street food and great shopping. For a quick snack, stop at Chinatown Square where there is a unique blend of vendors from all of Asia. The Nori Dog at Hi Kori is amazing.
Go For the Classics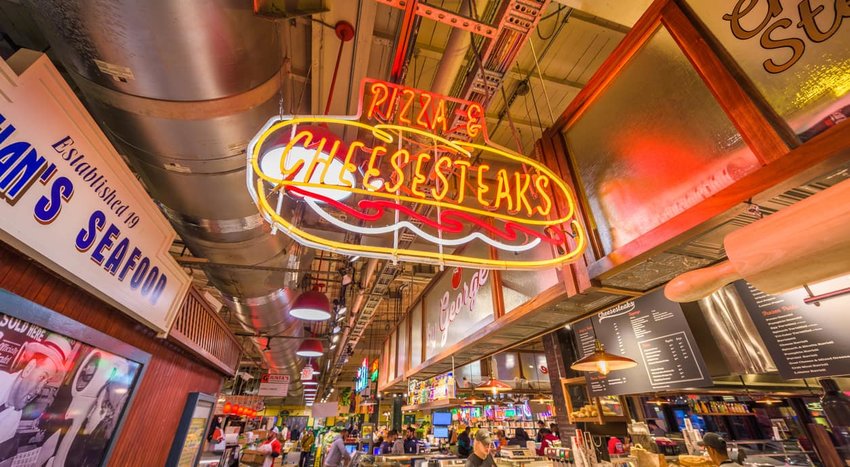 Credit: Sean Pavone/iStock
A short walk south from Chinatown will run you right into the Reading Terminal Market, one of America's largest and oldest public markets that set up shop in 1893. The Market offers an unbelievable choice of locally grown and exotic produce, choice meats, and seafood plus fresh baked goods, and delectable confections. No trip is complete without experiencing an original Philly Cheesesteak and Reading Terminal Market has one of the best in town. A cheesesteak at Carmen's is unforgettable! Now it's time to hop back on the trolley and head for City Hall.
Get a Better View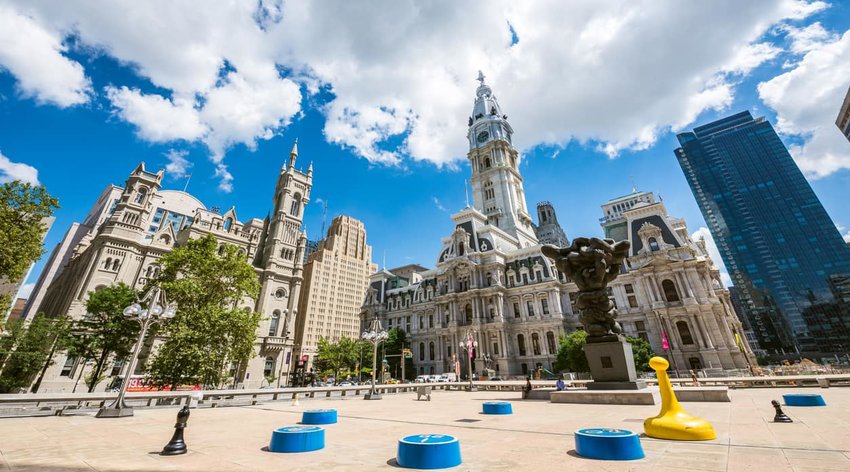 Credit: ferrantraite/iStock
You won't get a better chance to get a birds-eye view of the city that from Philadelphia City Hall, the largest City Hall in the United States You won't have time to take the complete tour, but you can still take the 550-foot ride up to the city's highest open-air observation deck and take in breathtaking views of the Philadelphia skyline.
Don't forget to stroll over to the LOVE statue afterward. This iconic statue is another one of those landmarks that will always be associated with the City of Brotherly Love. The sculpture Robert Indiana lent it to the city as part of the U.S. Bicentennial in 1976.
Embrace Your Independence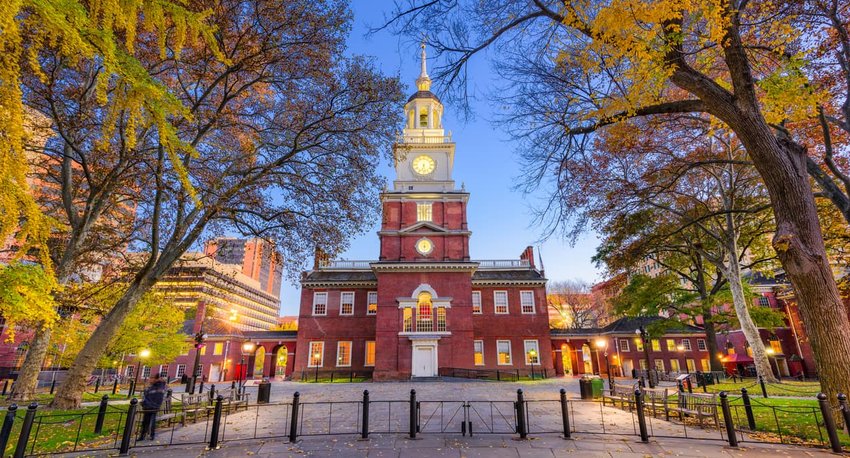 Credit: SeanPavonePhoto/iStock
The Trolley tour ends up where you started and now is the chance to see some real colonial U.S. history and a visit to Independence Hall is a must. This is, after all, the building in which the United States Declaration of Independence and Constitution were both signed. If you time it right, you might be able to get on the inside tour, but tickets usually go quickly. So, if you are in town for just the day, you might have to save the tour for your return visit. If you walk across Chestnut Street, you can get a selfie with the Liberty Bell.
Raise a Glass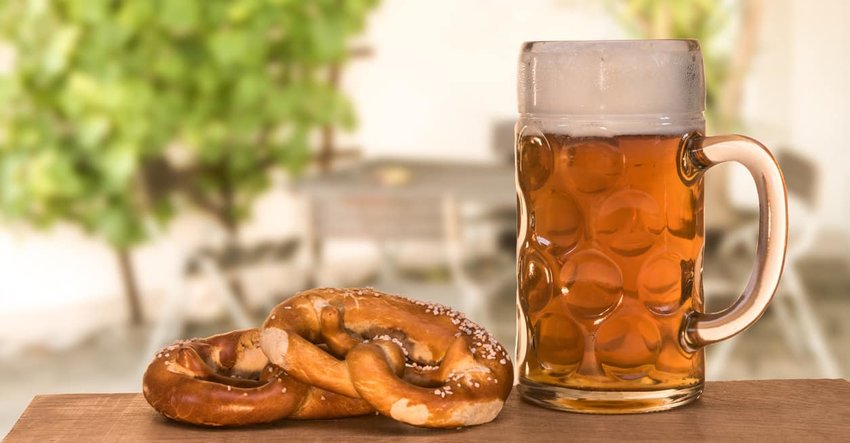 Credit: K_Thalhofer/iStock
If you are visiting during the warm weather season, start off your evening by heading to the Independence Beer Garden across the street from the Liberty Bell. This outdoor German Beer Garden is a garden oasis in the city and is a great place to cool your heels and enjoy a pint of the local favorite—Yards Pale Ale and the classic Philadelphia soft pretzel with beer sauce.
Dine in Style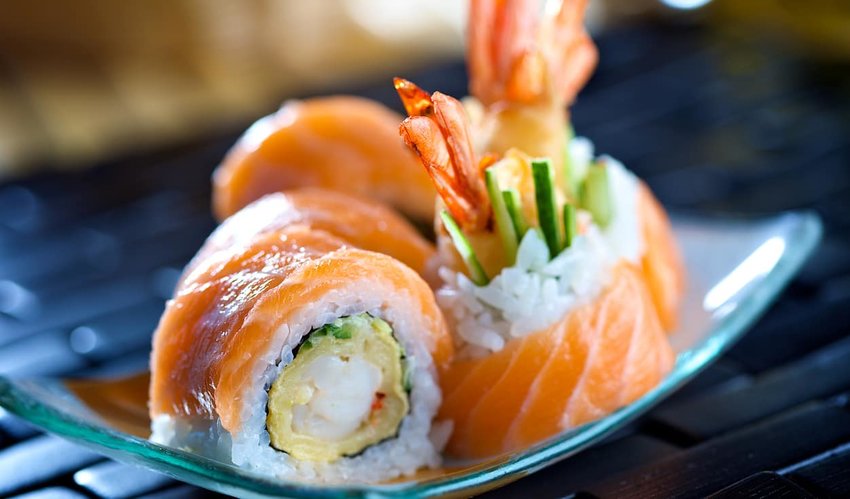 Credit: ShyMan/iStock
It is time to dine in style. Less than a five-minute walk will put you at Morimoto's. Yes, famed Iron Chef legend Masaharu Morimoto is the head chef here and you won't find a better place to unwind after a day touring Philly than his flagship restaurant in the U.S. that has made Conde Nast Traveler magazine's "50 Hot Tables in America." Locals and visitors alike flock here to feast on everything from traditional sushi dishes to cutting-edge contemporary Japanese cuisine.
On your walk back to the Bellevue, stop by Time, an upscale whiskey bar and dance club. They have amazing live music every night and in the Upstairs lounge, a DJ is there to spin your favorite hits.
You did it! You have just had the most amazing sunrise to sunset experience that Philly can offer. We know that you will not want to stop at just one visit and now that you have experienced Philadelphia at its finest, it's in your blood and the city will draw you back time and time again.
Enjoy this article? Share it with a friend
All featured products and deals are selected independently and objectively by the author. The Discoverer may receive a share of sales via affiliate links in content.
Discover the World's Best Destinations, with your free weekly travel guide sent straight to your inbox.
Welcome to The Discoverer!
We are so excited to fill your inbox with discoveries from around the world! You can expect your first edition to arrive on Monday. Until then, feel free to check out our previous editions.