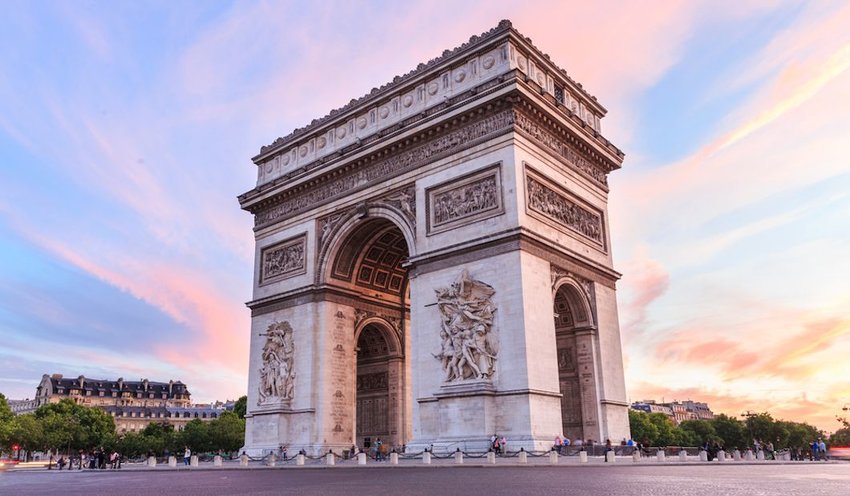 Discover Paris for Every Budget
The City of Lights conjures up all sorts of romantic images involving world-class art, stunning architecture, luxurious shopping, exquisite wine, and extravagant meals. All that sounds enticing, but it doesn't exactly sound affordable. With a reputation built on sophistication and class, it's hard to see Paris from a different perspective. While Paris certainly has the potential to empty your wallet, there are ways that savvy travels can budget their way around the city. Regardless of what you're packing in your wallet, Paris is attainable on every type of travel budget.
Tight Budget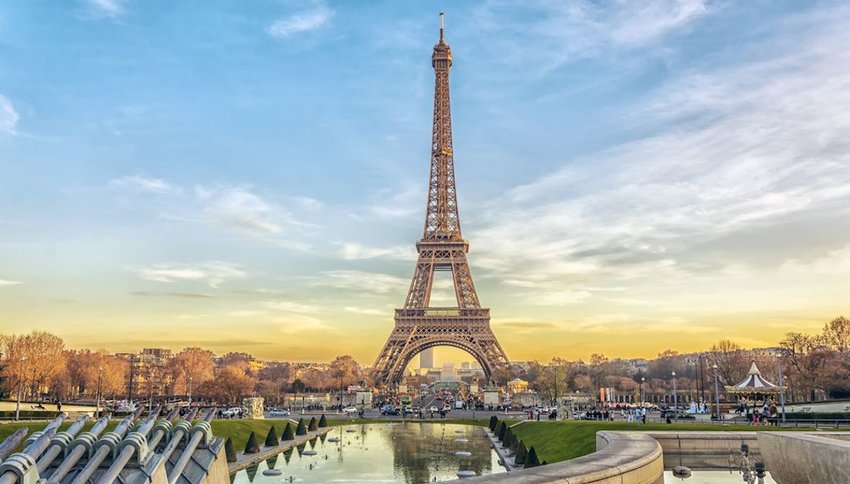 Backpackers, listen up! It is possible to ball on a budget in Paris. Who would have thought? Between inexpensive lodgings, public transportation, and some pretty delicious food options, you can experience this magical city on a shoestring.
Accommodations
A night in a shared dorm surprisingly starts at $30 per night. This is doable, but can add up quickly. It also seems slightly unfair once you consider there may not be a kitchen or other included amenities. A better bet would be a private room on Airbnb that offers bathroom and kitchen access for around the same price.
Food
Internationally-known for its cuisine, Paris pulls out all the stops for visitors, no matter their budget. You may think you have to splurge on a night in a fancy restaurant, but you can get the same delicious treats for cheap. Street vendors churn out sweet and savory crêpes that'll fill you up for five euros, while a simple baguette from a street-side café runs around seven euros. The city's world-famous pastries skitter in at one to two euros.
Stroll into any corner shop and pick up an inexpensive yet authentic bottle of wine, and make yourself a little picnic in the park. Don't forget to check out the Paris food markets, as well, where you can find fresh produce for relatively cheap to accompany your meals.
Activities
Worried about what to do when attraction entrance fees start adding up? Thankfully, some of Paris' most incredible spots can be experienced for free, if you plan it right.
If you find yourself in Paris over the weekend, head to the Louvre, which offers free admission the first Saturday of every month. Meanwhile, the permanent collection housed in Paris' Museum of Modern Art is always free to access.
Pass up pricey access to the Eiffel Tower's elevator and sit for free in the grassy expanse of Champ du Mars — running southeast from the tower — for a picnic. Wait for dusk to see the best light show in the city. You can also slip over to the steepest public park in the city, which offers million-dollar views for nothing at all.
Don't worry, you can still get your shop on, too. Stroll through the fascinating flea and antique markets of St-Ouen packed with over 2,000 stalls or get your hands on some local goodies at Marché d'Aligre.
Last but not least, you can't go wrong with a stroll along the Seine River, the perfect place Paris for people watching and free entertainment.
Mid-Range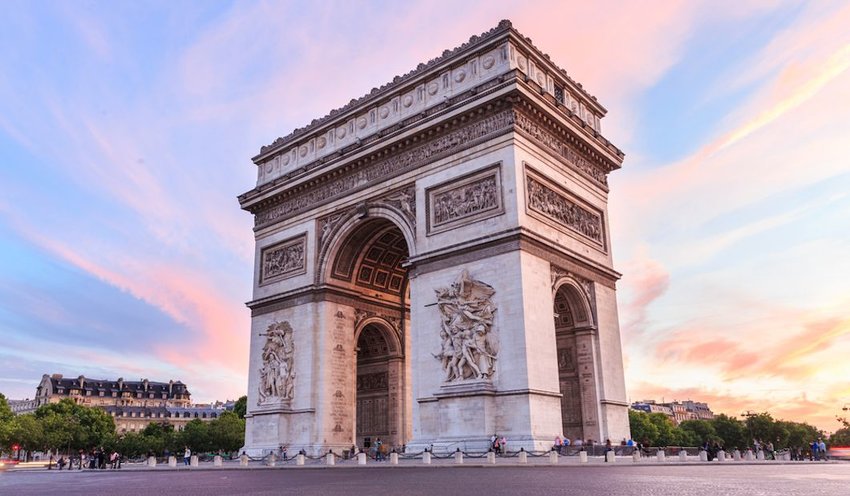 The city opens up more opportunities when you've got some wiggle room in your budget. If you've saved up your cash for this trip, you can pick and choose where you want your funds to go. Will you dole out for nicer accommodations or save up for a few fancy meals? The choice is yours!
Accommodations
Steal a room for under $100 per night at the cheerfully decorated Hotel Exquis By Elegancia. Since it's centrally-located, sightseeing at all the main attractions from here is a cinch. If hotels aren't your style, snag an Airbnb near the Eiffel Tower. There are plenty of bright, airy abodes between $100 to $200 per night.
Food
We've picked a few must-visit restaurants suitable for when you don't want to drop a small fortune, but still crave delectable Parisian cuisine.
Chartier is popular with the locals and tourists for its simple fare, historic dining area, and authentic atmosphere. Meanwhile, discreetly-located Le Cornichon boasts top-notch food at a price you can stomach — 35 Euros for a traditional three-course meal. And no trip to Paris is complete without a visit to a classic and cozy bistro. Try Au Petit Tonneau for a Coupe de Champagne and entrées under 30 euros.
Activities
Granting access to over 50 museums and monuments (including the Musée du Louvre, Musée d'Orsay, and the Arc De Triomphe), a Paris Museum Pass is a worthwhile purchase for those who plan on museum-hopping for several days.
If you'd rathe stay off your feet, then a boat trip down the Seine River is an obligatory activity. Cruise past Notre Dame and the Eiffel Tower while sipping a glass of Champagne on a 90-minute tour for just 24.50 Euros. Or, if you want an alternate view of Paris, book a flight aboard the Ballon de Paris Generali. A ride in this environmentally-conscious balloon is 12 euros a pop.
A budget traveler might settle for a free snapshot of the Eiffel tower from below, but there's something to be said for the view from the top. It comes with a 25.50 Euro price tag, but if you can't imagine leaving the city without that perfect shot, it's worth shelling out.
Finally, learn about the darker side of the city with a visit to the Catacombs of Paris, one of the largest ossuaries in the world at 11,000 square meters. A general entry ticket is five euros.
Luxury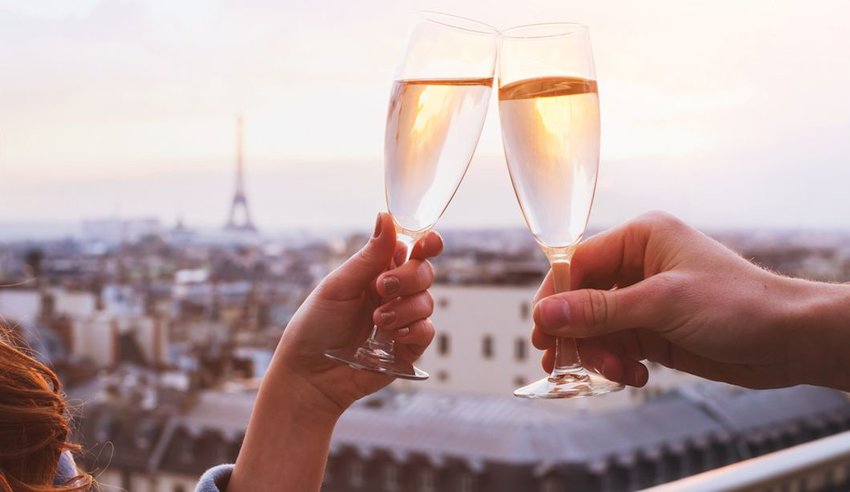 Finding luxury in Paris isn't difficult. What's tough is deciding on what to splurge on. The name alone conjures images of twinkling lights, bubbling champagne, superb food, and all things bourgeoisie. So what will you choose?
Accommodations
A glamorous interior (aided by none other than Karl Lagerfeld himself) and a hopelessly romantic façade welcomes you at the Hôtel De Crillon. With a priceless location and an age-old reputation, this luxury hotel offers gorgeous suites, 24-hour service, and boutique shopping to complete the quintessential Parisian experience.
Boasting rooftop dining with views over the glittering Eiffel Tower and a fleet of BMWs and mini coopers covering all your transportation needs, The Peninsula Paris is extravagant at every turn. The most luxurious suite in the hotel is adorned with chandeliers, a fireplace, and grand piano, and can be custom-built to each guest's preferences with touch-screen technology.
Food
With a daily changing menu and a full dinner complete with wine costing 370 euros, l'Astrance is out of reach for most, but if you have the money, Pascal Barbot's Michelin-star restaurant is spot on.
Decked out in crystal chandeliers and antique mirrors set against an elegant white and silver interior, Le Meurice is a Michelin-starred restaurant famed for its décor as much as its seafood specialties. The blue lobster with black garlic is heavenly.
Activities
If wine is your passion, tasting your way around the Musée du Vin is a day well spent. A guided tour around the museum is a great warm up before partaking in any one of the courses or tastings onsite.
Paris bustles with energy and excitement when the sun goes down. Dinner and a show at the world-famous Moulin Rouge should be high on your list of must-have Parisian experiences. Pop the champagne, tuck into expertly-prepared French dishes, and enjoy one of the best live shows on the planet.
Indulge in relaxation like a true Parisian at the historic Piscine Molitor. This legendary pool-complex-turned-artist-haven has returned to its original roots (with the addition of a spa and restaurant). Access is exclusive. Members only or out-of-towners can purchase a day pass for 180 euros.
Enjoy this article? Share it with a friend
All featured products and deals are selected independently and objectively by the author. The Discoverer may receive a share of sales via affiliate links in content.
Discover the World's Best Destinations, with your free weekly travel guide sent straight to your inbox.
Welcome to The Discoverer!
We are so excited to fill your inbox with discoveries from around the world! You can expect your first edition to arrive on Monday. Until then, feel free to check out our previous editions.