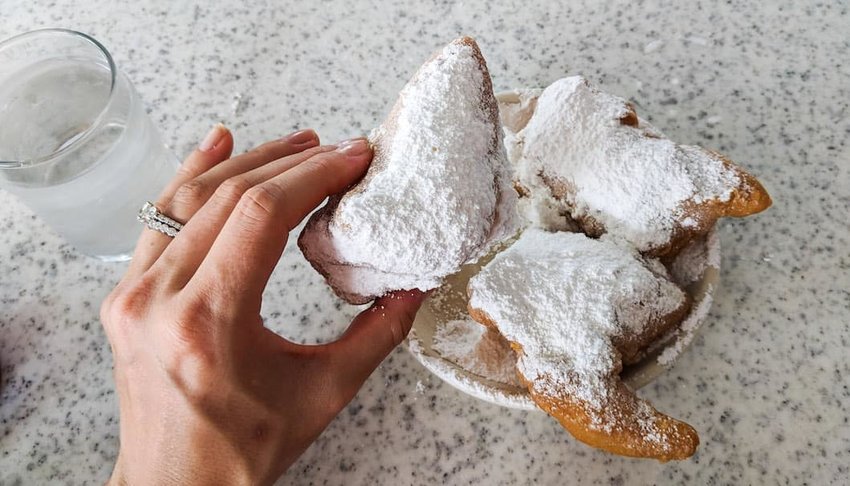 10 Foods You Have to Try in New Orleans
New Orleans is a haven of delicious dishes that make it the envy of the culinary world. The Big Easy churns out specialty dishes like no other, and a trip here is as much about eating as it is touring or even partying. So while you're in town, don't miss out on these classic New Orleans dishes.
Beignets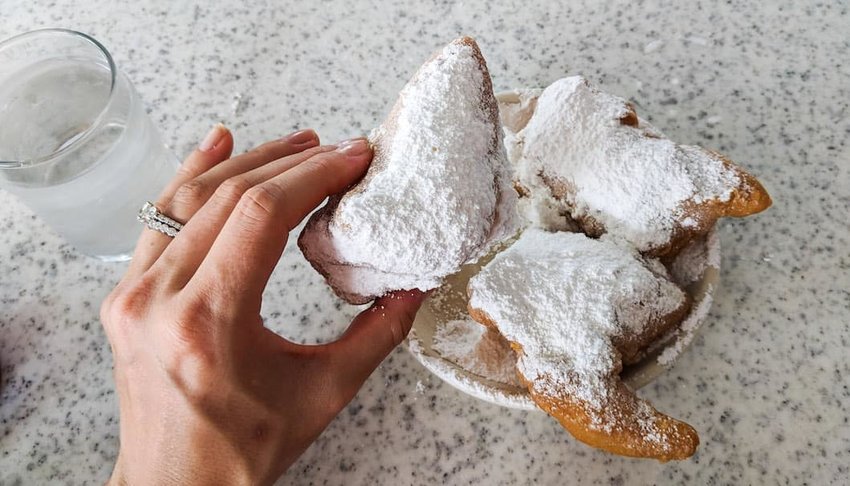 Credit: @abroad_with_ash
Sugary and sweet, fluffy and warm, who could pass up a delicious beignet sitting in a bag of powdered sugar? That's how Cafe du Monde, world-famous beignet shop, does it in the Big Easy. One of the most recognizable spots in the city, this restaurant is definitely a tourist hotspot but it handles the number of visitors with ease, employing a large kitchen that churns out piping hot pastries 24/7. Of course, other establishments have worked up their own versions of this dish, and you can find some great beignets at the aptly-named Café Beignet if you need a change of scenery.
Oysters
If you're not a fan of the slimy seafood that comes on a shell, you've never been to New Orleans. Here, they whip up extraordinary oysters a multitude of ways — charbroiled, fried, Rockefeller, raw, you name it. Let's start with the classic. Raw oysters, no matter how you like them — dunked in cocktail sauce or with just a squeeze of lemon — can be found across the city but you'll love cracking into the $1 oysters at Bourbon House's happy hour. For charbroiled oysters, visit Royal House, a classic oyster bar whose fare comes topped with Parmesan butter cheese. For a classic Nola fried oyster, hit up Drago's and get yours with creamed spinach, bacon, bordelaise sauce and extra cheese all topped on toasted French bread. Finally, if you're recovering from a night on the town, try Acme Oyster House, which serves up Bloody Marys topped with oysters or oyster shooters complete with vodka and a drop of cocktail sauce.
Crawfish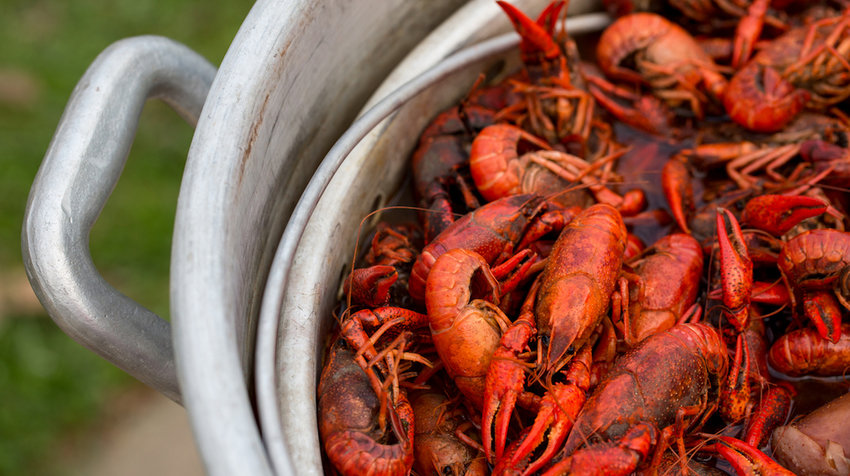 Credit: Jenniveve84/iStock
Nothing beats a good Louisiana crawfish boil, and while these are usually enjoyed in a big backyard bbq with friends and family, you can find great spots to try it in the city. The Galley Seafood offers a big menu and outdoor seating so you can grab a beer and enjoy the open-air feeling of summer that a crawfish boil needs. Cajun Seafood also offers a classic experience, with four locations offering up flavorful crawfish at communal tables for you and all your friends.
Gumbo
Go to Galatoire's for gumbo just like grandma made — that is, if your grandma's gumbo was a flavorful concoction of shredded duck and andouille sausage. This place has been around since the 1950s and you'll want to sample other items as well, just make sure you leave room for this dish. For another classic, step into Dooky Chase's, where the homemade gumbo is loaded with crab, shrimp, chicken, two kinds of sausage, ham, and veal brisket.
Po Boys
This classic New Orleans sandwich is easily enjoyed on the go for a tasty and inexpensive lunch. Every place will have its own spin, some toasting the bread more heavily, others stuffing the sandwich with toppings. All are worth trying, but a few spots stand above the rest. Johnny's Po Boys serves up a multitude of different sandwiches — everything from the classic fried shrimp to veal parmesan. For a truly local experience, stop into Adams Street Grocery, a hole-in-the-wall spot that delivers the greatest sandwiches for under $10 on perfectly toasted bread. Parasol's also offers delicious options if you're near Magazine street and want something chill and easy.
Shrimp and Grits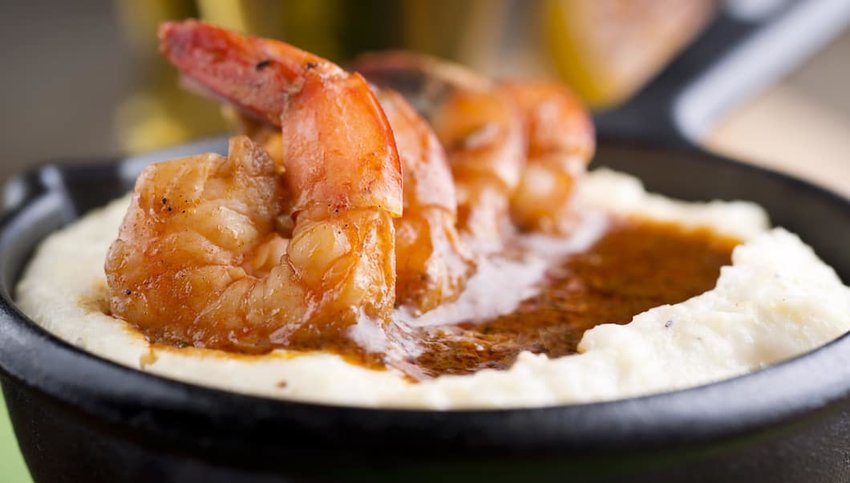 Credit: rudisill/iStock
Southern-raised folks will know that very little beats a plate of shrimp and grits. The classic comes with a creamy red sauce and silky-smooth grits. This simple dish has been elevated to an art form in New Orleans and most restaurants in the city will offer some version of the dish on their menu. Drago's makes another appearance with their take on the dish, while Atchafalaya serves up a classic version with a creamy base you have to try.
Coffee
This necessary drink will perk you up in the morning after a night of Nola parties. French Truck Coffee is a favorite, and you can find several cute locations throughout the city serving up specialty roasts. For something more local, try Backatown Coffee Parlour, which is located conveniently to St. Louis Cemetery No. 1. HiVolt Coffee in the Garden District is also a prime roaster and the chic shop is a great spot to sit if you need to squeeze in some work during your trip.
Biscuits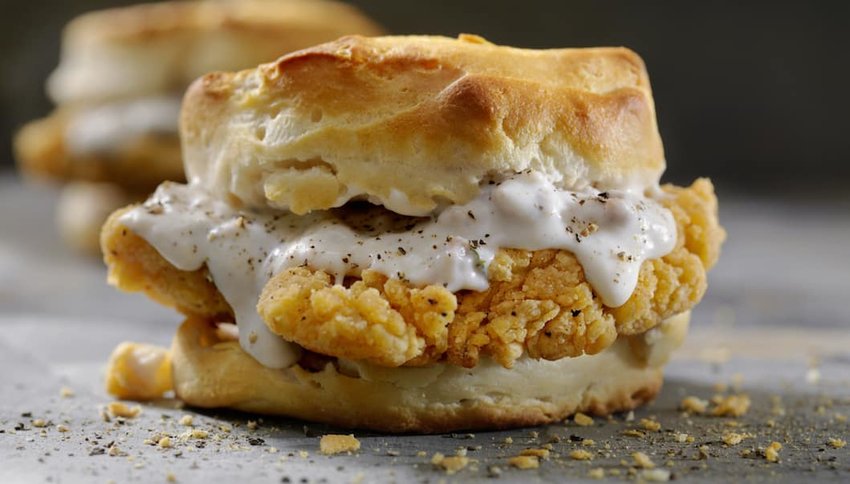 Credit: LauriPatterson/iStock
Beignets may be the famous New Orleans pastry, but buttery biscuits are an everyday staple for locals. Whether you prefer them drenched in gravy, topped with fried chicken or plain with copious amounts of butter, this is one dish you can eat with every meal. Biscuits & Buns will top your dish with everything from pot roast to andouille sausage and gravy. For a trendy and chic brunch spot, step into Willa Jean where fresh biscuits are barely visible under a mountain of fried chicken and gravy.
Dessert
For sweet treats, you'll never run out of options. From the birthplace of Bananas Foster — Brennan's — to the famous bread pudding at Commander's Palace, there are plentiful options to satisfy every sweet tooth in your group. Or just grab a classic scoop of ice cream from one of Creole Creamery's locations.
Hurricanes
Of course, you can't come to New Orleans without indulging in some libations. By far the most famous drink on Nola menus are Hurricanes. A sweet mixture of rum and juice served in a curvy glass or often in a plastic one prime for on-the-go fun, this drink can be found in most hands on a weekend night. Pat O'Brien's is responsible for this creation and is still one of the preferred spots to indulge. But don't mark out some of the other bars, like Lafitte's Blacksmith Shop, which serve up their own version.
Special thanks to Discoverers @willeckman and @abroad_with_ash for their recommendations
Enjoy this article? Share it with a friend
All featured products and deals are selected independently and objectively by the author. The Discoverer may receive a share of sales via affiliate links in content.
Discover the World's Best Destinations, with your free weekly travel guide sent straight to your inbox.
Welcome to The Discoverer!
We are so excited to fill your inbox with discoveries from around the world! You can expect your first edition to arrive on Monday. Until then, feel free to check out our previous editions.