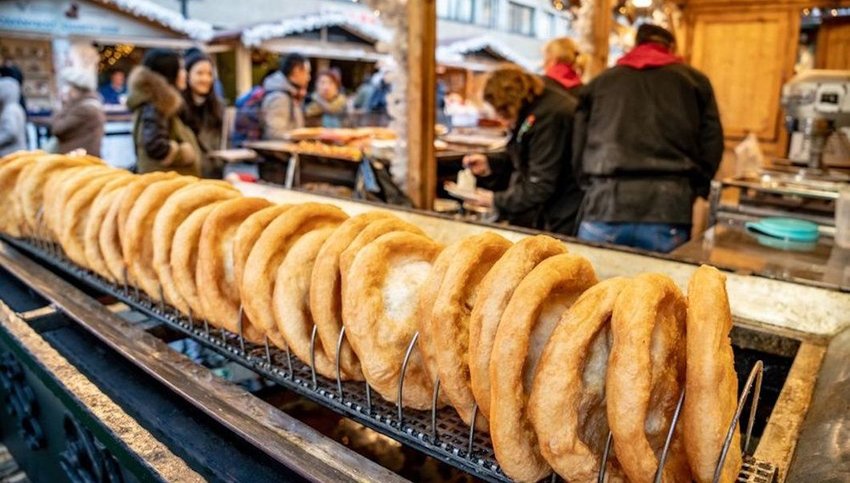 Mouthwatering Treats to Try at Europe's Christmas Markets
From the vibrant metropolises of Scandinavia to the charming small towns of Germany, the main squares across Europe come alive each holiday season with the arrival of Christmas markets. These outdoor marketplaces are lined with stalls that feature delicate glass ornaments, handcrafted nativity figurines, and traditional Christmas foods that fill the air with enticing aromas. Experience the festive spirit at Christmas markets across the continent and learn your destination's culture by sampling the local dishes.
Chimney Cake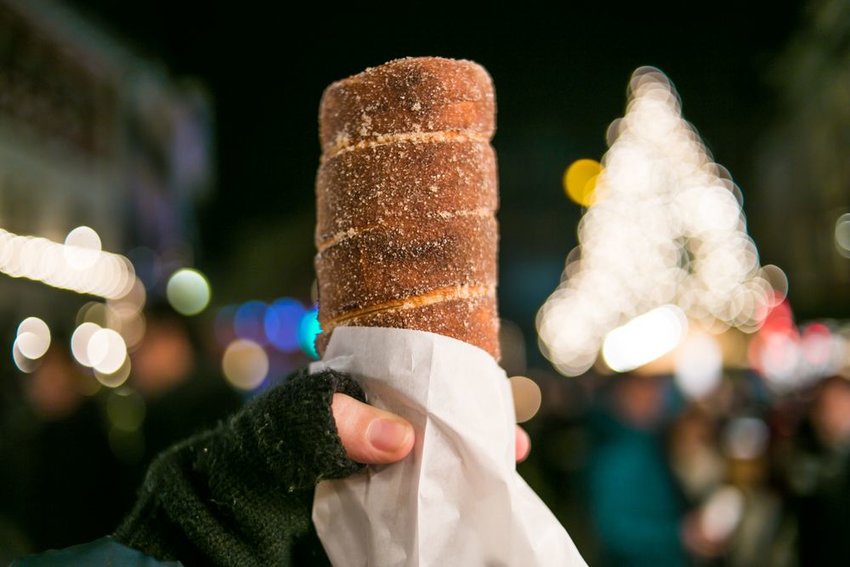 Celebrate Hungary's oldest pastry by sinking your teeth into a chimney cake. Originating in Transylvania, these sweet treats were originally made for special occasions — making appearances at weddings and religious festivities. However, their roaring popularity led them to become available at fairs, festivals, and street stalls over time. Made of dough, this pastry is coated with oil and carefully wrapped around a spool. The dough is then turned gently over an open fire to achieve a crunchy exterior and soft, fluffy interior. The cylindrical dessert is then dusted with sugar and crushed walnuts or almonds. Vendors have made delectable additions to these traditional treats by stuffing the hollow center with ice cream and topping it off with a drizzle of caramel or handful of fresh fruit.
Glühwein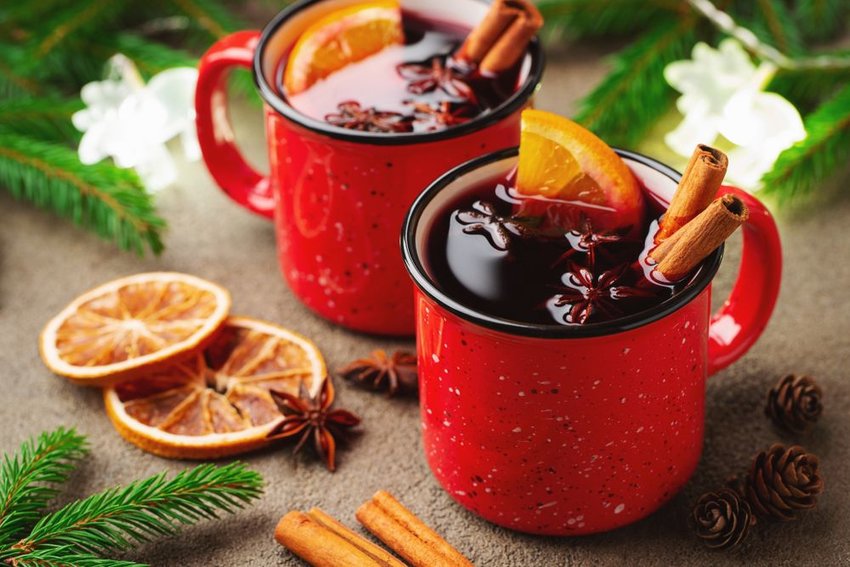 Believed to have made its first appearance in 1420, glühwein has long been the unofficial Christmas drink across Europe — especially in German-speaking nations. Prepared from red wine and delicately spiced with cinnamon, cloves, star aniseed, citrus, and sugar, this aromatic concoction is then gently heated and served warm in decorative mugs you can keep as souvenirs for a small deposit. With variations across regions on the continent, like glögg in Scandinavia, this festive mulled wine serves as the quintessential Christmas drink and market goers sip on steaming mugs as they browse the stalls.
Prague Ham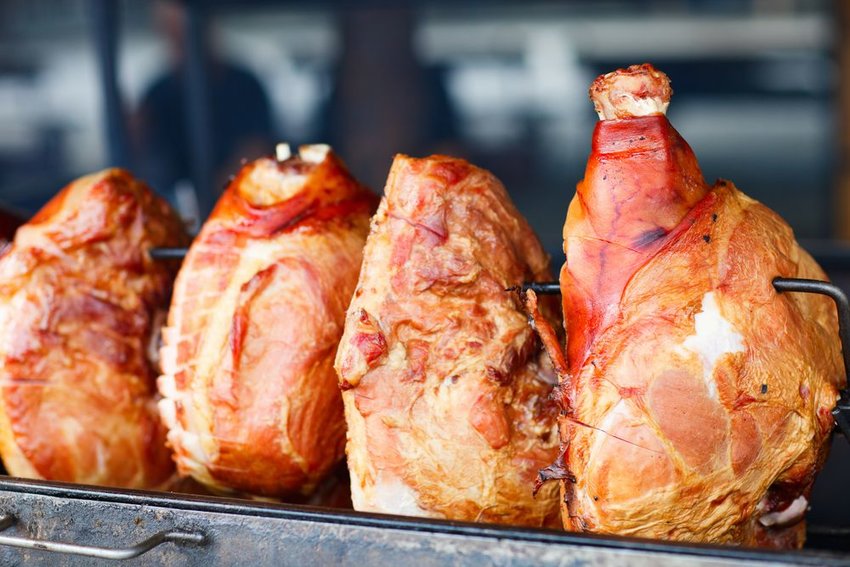 As a recent addition to the European Union's Traditional Specialities Guaranteed list, authentic Prague Ham is produced under a strict set of rules and is one of the Czech Republic's most popular meat products. Brine-cured, stewed, then mildly beechwood-smoked for an intense smoky aroma, Prague Ham has been a delicacy in the nation since the 1860s. Enjoyed year-round, this traditional boneless ham can be found roasting over an open flame at the Christmas markets. Sliced from the spit at the point of purchase, sink your teeth into the golden skin and rose-colored tender meat for a flavorful experience.
Stollen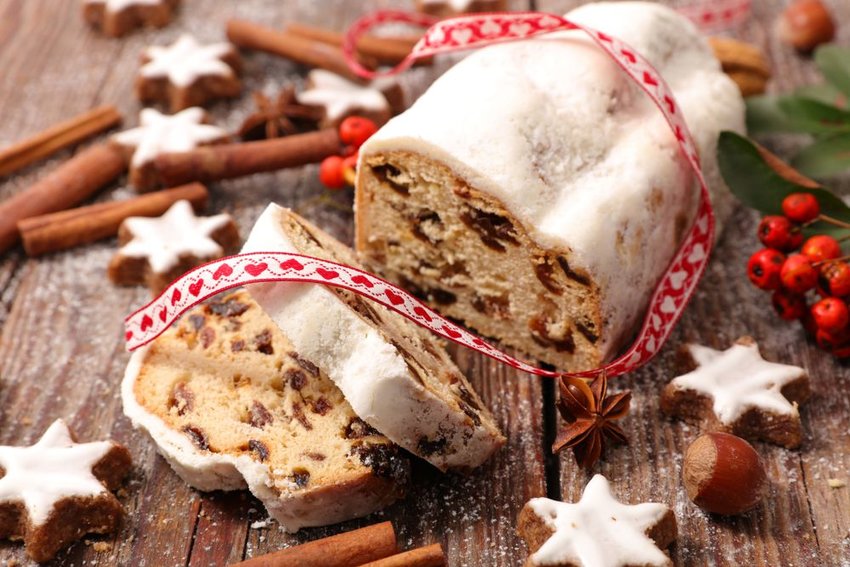 Much like the fruit cake, stollen is a traditional Christmas cake-like bread, featured on supermarket shelves and at all German Christmas markets during the holiday season. As a rich and dense yeast treat, stollen is speckled with dried fruits, nuts, spices, and candied orange and lemon peels, and then dusted with powdered sugar for a sweet finish. Believed to have originated in Dresden in the 13th century, this eastern German city remains dedicated to preserving the traditional craft of preparing stollen. A giant stollen is paraded through the Saxon capital on the back of a horse-drawn carriage from where thousands of observers can purchase a piece for themselves.
Wurst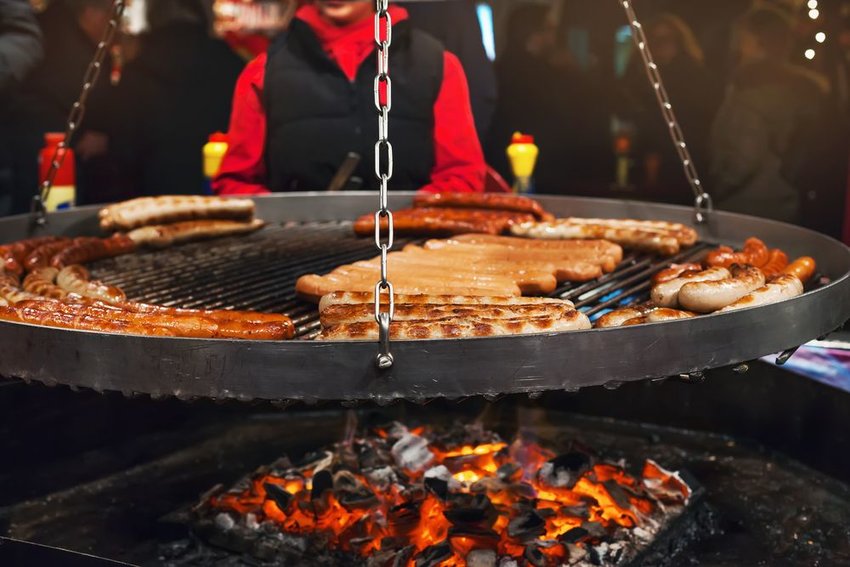 Follow your nose to the schwenkgrill at the Christmas markets, where sausage lovers will be delighted by the sight of a swinging grill suspended above a charcoal fire and topped with a variety of sausages that cook to succulence as the grill rotates. Though variations of the wurst are served at markets throughout the continent, you're especially spoiled for choice at the markets of Germany and Hungary. Sample the finger-sized Nuremberg Rostbratwurst at the charming market of small town Nuremberg, made from ground pork and flavorfully seasoned with marjoram, ginger, cardamom, and lemon powder. For a classic Thuringian experience in east-central Germany, try the Thüringer Rostbratwurst, a hearty blend of pork and veal grilled over a charcoal fire for a distinct smokiness. These freshly grilled sausages can be had in a bun with a dollop of mustard as a snack to go, or as a meal served with sauerkraut, potato salad, and mustard.
Kartoffelpuffer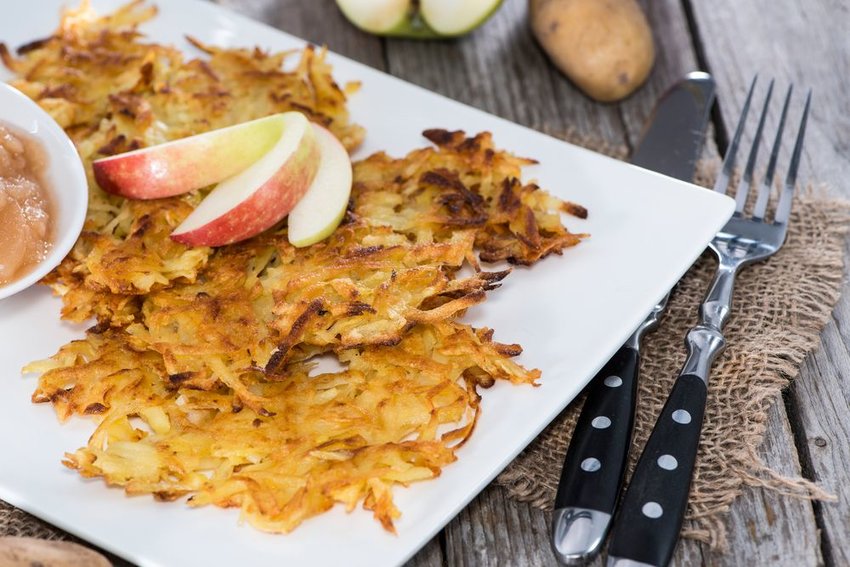 Hot and crispy, these addictive potato pancakes dominate the stalls of Germany's Christmas markets. Finely grated potatoes are dunked in an egg and flour mixture, then pan-fried to achieve an appetizing light golden hue for a satisfyingly greasy treat. Though these crisp discs can be served as a savory meal at home with an accompaniment of meat, kartoffelpuffer are most commonly slathered with sweet applesauce at the Christmas markets for a flavorfully contrasting snack. Beyond the Christmas season, these potato pancakes can be found as an appetizer on beer garden menus and at folk festivals like Oktoberfest and are referenced under different names according to region. For example, in Bavaria, kartoffelpuffer are recognized as Reiberdatschi.
Lángos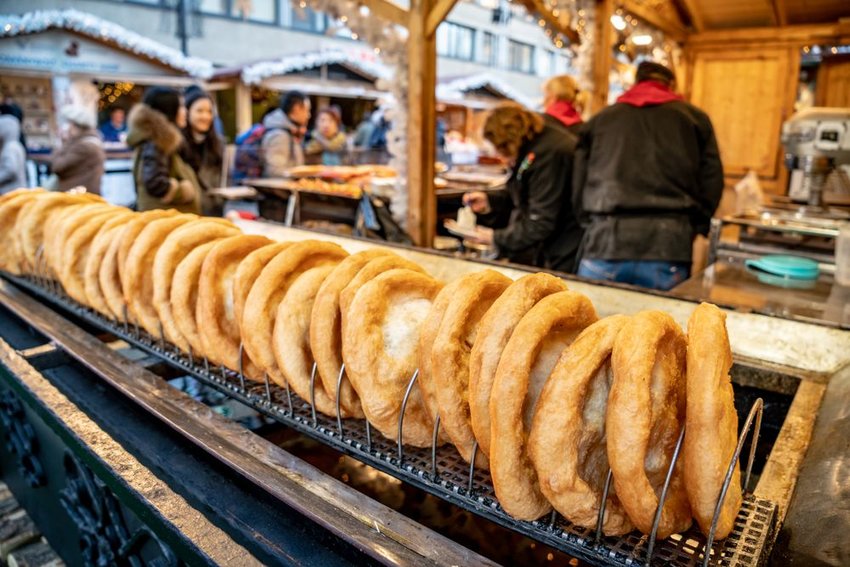 Ditch the fork and knife with this hearty treat and use your hands to devour it. Fondly referred to as the Hungarian pizza, lángos is a deep-fried bread traditionally slathered with sour cream and topped with a handful of diced ham and shredded cheese. A heavy snack, the base of the pizza is made of yeast dough with mashed potatoes and doused in oil to achieve a golden color and funnel cake-like texture when fried. Crispy on first bite and chewy on the inside, this hearty dish is a celebrated item among Hungarian street foods and a wildly popular snack after a night out. Despite its origins,  the lángos now makes regular appearances at Christmas markets abroad.
Enjoy this article? Share it with a friend
All featured products and deals are selected independently and objectively by the author. The Discoverer may receive a share of sales via affiliate links in content.
Discover the World's Best Destinations, with your free weekly travel guide sent straight to your inbox.
Welcome to The Discoverer!
We are so excited to fill your inbox with discoveries from around the world! You can expect your first edition to arrive on Monday. Until then, feel free to check out our previous editions.