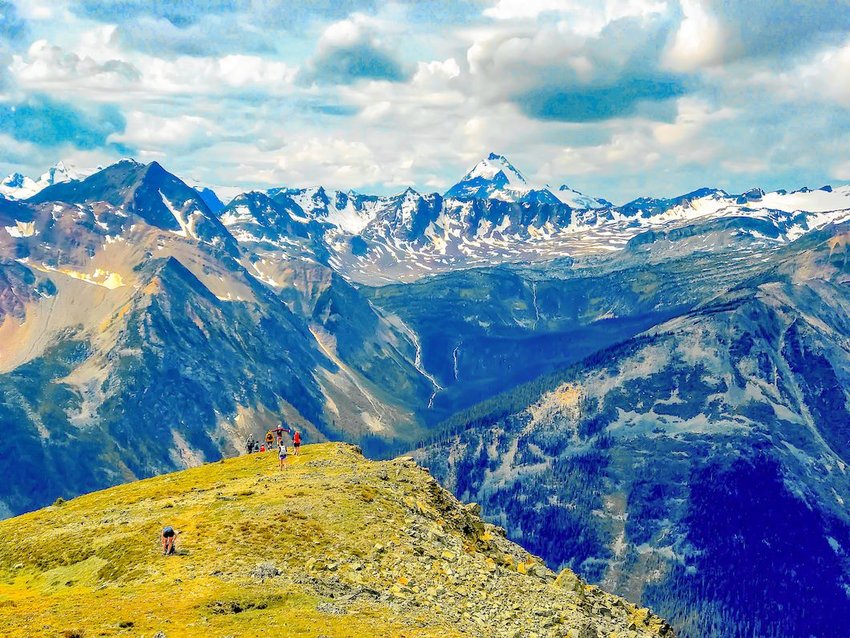 Go Now: Mountain Running Along the Esplanade Range
A warm breeze propels my ponytail above my windbreaker, and I find my cadence atop the broad high-alpine saddle at 7,800 feet. Running south, I meditatively bound between the soft, flower-crowned mountain heather and glimmering quartz-embedded schist of the Esplanade Range, a subset of Canada's Selkirk Mountains in southeast British Columbia (B.C.).
I'm here to experience one of the first-ever helicopter-supported mountain running retreats in the world, and this is day two of our group's guided trip. In 1986, Golden Alpine Holidays, a pioneer of the backcountry ski industry, established four huts along the Esplanade: Sunrise, Meadow, Vista, and Sentry, which are linked by well-defined singletrack in the summer. Today, these remote havens are booked for warm-season treks, and Alpine Helicopters is contracted to swoop adventurers in-and-out of their adventure's 's tailends, year-round. The mechanical bird also portages the gear—food and apparel—to each hut, so explorers can travel light on foot.  
The hut-to-hut hive is perfect for trail runners, too, thought Magi Scallion, race director of the Golden Ultra, an endurance event company that she founded five years ago, in Golden, B.C. Coupled with the organized races, Scallion designed run programs to promote inclusivity and usher newcomers into the sport. In suit, she launched the 5-day Esplanade Traverse Trail Running Camp, in 2018, with two guides and 12 travelers, max. This summer, a second helicopter-backed mountain run program in the Bugaboos, a range south of the Esplanade, was launched by CMH Heli-Skiing & Summer Adventures.
On the Trail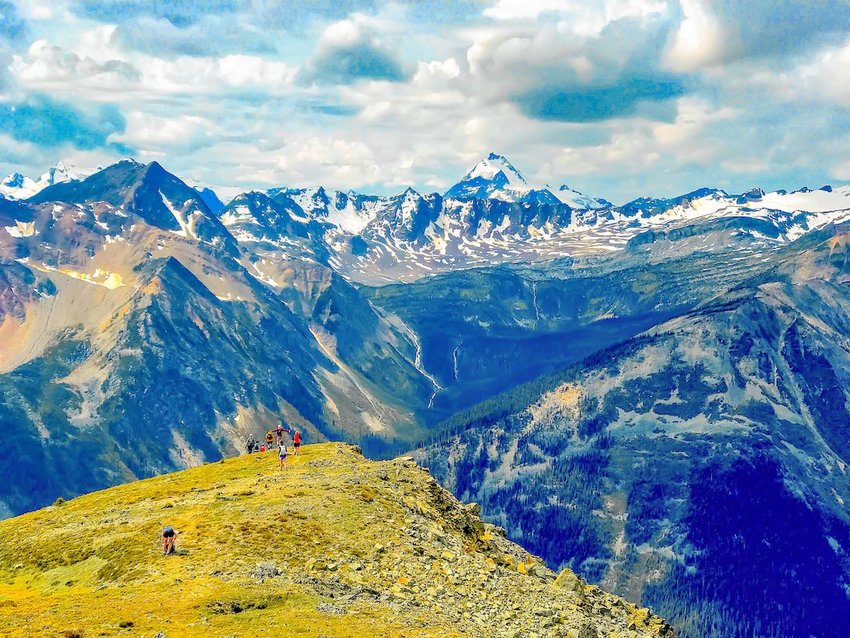 As a lifelong skier and snowboarder, I'd recently prioritized a visit to this mountainous province. I took a solo winter road trip, in 2018, along the Powder Highway: a 642-mile route that links eight ski resorts and mountain towns including Golden. The prolific circuit holds one of the largest concentrations of backcountry, slackcountry, cat, heli, cross-country and downhill ski and snowboard options in the world. At the time, I'd freshly started trail running--running, but on non-flat, rocky, dirt trails in the public lands near where I live rather than paved sidewalks and roads--and I met a ton of Canadians in B.C. who glorified their home's lush summer conditions. I returned to Colorado from my snowboard trip with a craving to check out the terrain on foot, too. When I learned about the catapult of helicopter-supported mountain running, I thought it would be a rare, once-in-a-lifetime thrill—I'd taken a 30-minute heli-sightseeing tour once before—but the flights would also shave mileage and elevation gain off an arduous approach. I could solely relish mountain runs in the heart of large-scale alpine.  
The evening before we're flown into the wild, our group meets Scallion and assistant guide, Haley Burns, in Golden, to organize our drop bags: We'll each carry our own lightweight trail run pack, hut-to-hut, while larger items, like pajamas or battery packs, are stowed in sacks, which are transported to each bunkhouse. In the morning, we grab breakfast at Bluebird Cafe and carpool 45 minutes north to the launch pad. Scallion takes the inaugural heli-ride, stag, with all of our gear, so that she can leave a load at each hut. The helicopter returns to charter a group. I opt for the third, final pick-up with three others.
The double-turbine engine's loud drone and whomp-whomp of the dual blade is loud, as the robust Bell 212 helicopter approaches the dirt landing. I plug my ears and lower my gaze to prevent specks from flying in my eyes. Bent at a 90-degree angle, I quickly walk beneath the rotor, step into the front passenger seat, and buckle-up beside the pilot. For the entire flight, which lasts only 5 minutes, we glide in awe over Kinbasket Lake: a 162-mile brilliant turquoise waterway that's eight-fold the length of Esplanade Range and backdropped by the towering Canadian Rocky Mountains, to the east. Suddenly, my stomach rises like I'm taking a rollercoaster drop, as the chopper steeply steers down and west into the valley of Schlichting Creek and Vista Hut, our first overnight stay. On the ground, we excitedly take-off for a mellow 5.5-mile afternoon jaunt and picnic in our cabin's backyard. The next day, we traverse one-way to Meadow Hut.
As the warm breeze settles on the ridge, I unzip my jacket and look west: he snow-dressed ridges feed a lattice of waterfalls on steep, verdant slopes, which abruptly plummet 5,000 feet to the valley floor. Two glaciated, neighboring cirques are dominated by Ventego, Seraph, and Cherub Mountains, which reach 9,800 feet.
Ahead of me, the terrain's backbone quickly ramps up, so I stop on level ground to  peel off my jacket and grab lunch from my streamlined pack. "Woohoo!" I call out to my comrades as they reach me one-by-one. Our crew of eight runners and two guides, Scallion included, lounge to soak in the views for 10 minutes before ascending the switchbacks to the crest of 8,671-foot Cupola Peak, the most prominent point of the Esplanade.
Bird's-Eye View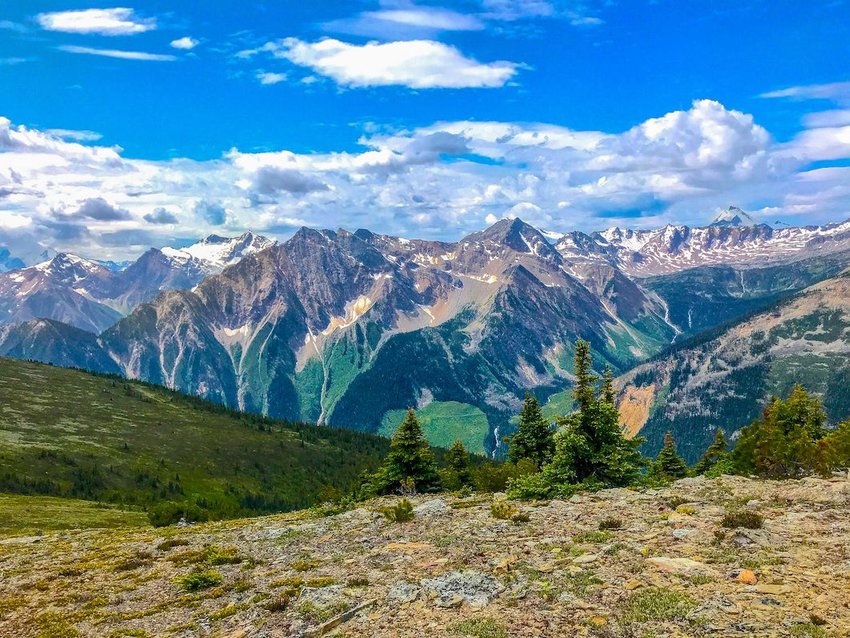 Born and raised in Colorado's high-altitude San Juan Mountains, I feel at home as we climb and breath the crisp, thin air. Through our group conversations, I'm quickly reminded of that novelty and humbled by others who, for the first time, are embracing the mind-strengthening challenge and replenishing rewards of this landscape. "I've never ventured into mountain wilderness or even given myself the gift of a vacation," my new friend, Kathrin, joyously confides as we power hike, a technique used by trail runners on raised inclines that are too steep to efficiently run. Kathrin, a German-born Canadian, is a single mother of three little ones with her nuclear family an ocean away. I'm immediately drawn to her spirited smile and irrepressible positivity. In my daily life, trail running is often me-time: a period for my mind to wander, resolve, create, and relax. But, this retreat is showing me what I didn't know I needed: communal disconnectedness. A chance to wander deep into the present moment's enjoyment, with others.  
Twenty minutes later, we reach Cupola's base and start a short, 5-minute scramble up boulders and slab to the summit. One move from the top, I look over my shoulder. With a huge grin, Kathrin freezes then giggles, "This is the scariest thing I've ever done!" Supporting my trail partner as she expands her comfort zone nearly eclipses my heartfelt swell for the views. From the pinnacle, we count several high-alpine lakes—Nuclear, Meadow, Electric Blue, and Carrol are the largest—including Boulder Lake, which neighbors the bright cardinal roof of Meadow Hut, our shelter for the night, in the basin below. To the south, the Esplanade tapers to the Columbia River, which traces the northern boundary of  the Purcell Mountains. Here, the axis of three distinct mountain ranges is among the most stunning vistas I've ever seen.
I pat myself dry on the porch, beneath the sky's swirls of honey, marmalade, and rose hues. The region's elongated sunset draws our 16-hour, midsummer day to a close near 10 p.m. Alone, I listen to Boulder Lake's rippling creek, which circumnavigates Meadow Hut's wood sauna, where we can bathe with basins of steaming and frigid water, a therapeutic ritual that I came to love each eve. Slowly, I inhale the aroma of fir and Engelmann spruce, and appreciate my body for its ability. By the week's end, we'll trail run and power hike nearly 30 miles with 11,700 feet of gain. And those human-powered days are deeply nourished by naps, nutritious meals, journal time, absence of technology, and, for our crew, incessant laughter.
As I walk on the spur trail to the hut, a collective bellow rings out of the hut's open windows. I chuckle and warmly think, 'The last time I laughed this free and often, I was a kid.' Inside, we gather at the long dinner table and dive into Scallion's next icebreaker game: Pair up and identify the other's animal-self, based on an overcome life challenge. Kathrin and I dive in and realize, despite our contrasted origins and cultures, we are more alike than different and connected through our resilience. Her fortitude is that of an eagle's, and she tells me, I am a strong, supportive wolf among a pack. Nothing is more uplifting than to believe in each other's power, on and off the trail.
Learn more about the 2020 Esplanade Traverse Trail Running Camp at retreatgolden.com.

Enjoy this article? Share it with a friend
All featured products and deals are selected independently and objectively by the author. The Discoverer may receive a share of sales via affiliate links in content.
Discover the World's Best Destinations, with your free weekly travel guide sent straight to your inbox.
Welcome to The Discoverer!
We are so excited to fill your inbox with discoveries from around the world! You can expect your first edition to arrive on Monday. Until then, feel free to check out our previous editions.