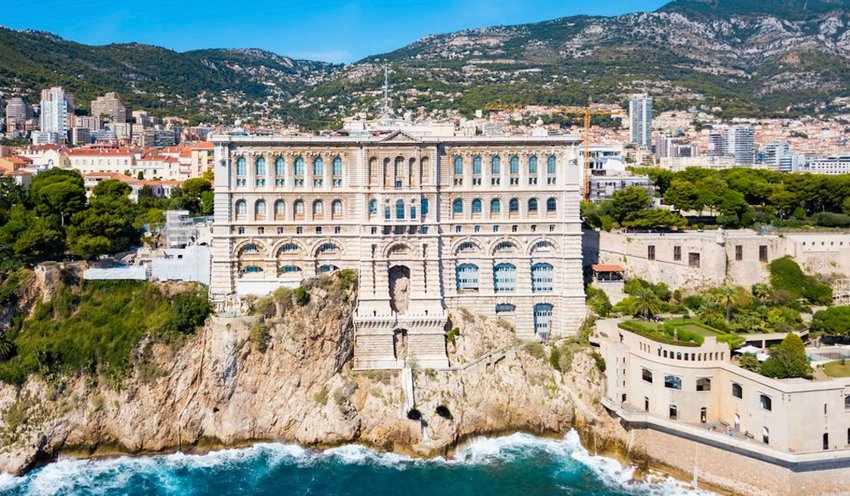 5 Jaw-Dropping Aquariums Around the World
Our oceans are one of our most precious, and endangered, resources. And whether you're a diving buff, cruise lover, or just want to do your part protecting the oceans, there are some incredible places to learn about the world under the sea. From noted marine research facilities to underwater zoos, here's a look at five jaw-dropping aquariums around the world. No scuba gear or certification necessary here.
Oceanographic Museum, Monaco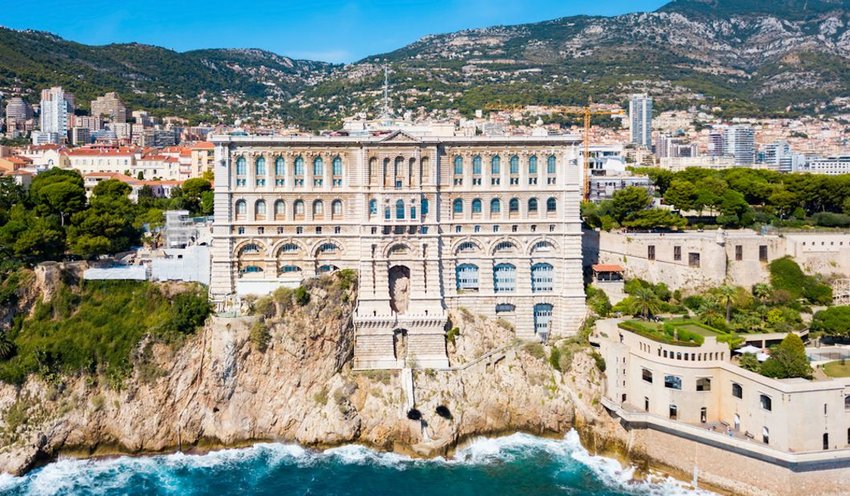 The building that houses the Oceanographic Museum in Monaco is worth a visit alone as the iconic structure was built on the side of Le Rocher cliff. This area of Monaco's old town is known for its medieval windy lanes and stunning views. It features a Baroque Revival architectural style, took over ten years to build, and required 100,000 tons of stone. Prince Albert I, great-great-grandfather of H.S.H. Prince Albert II, was the museum's founder. On the museum's façade, don't miss the names of 20 renowned oceanographic research vessels' names inscribed into the frieze.
Visitors to the Oceanographic Museum can see over 6,000 specimens on display and learn more about the world's oceans through its exhibits on sea-related objects like tools, model ships, weapons, sea animal skeletons, and more. Jacques Cousteau served as the museum's director for just over 30 years, as well.
Monterey Bay Aquarium, USA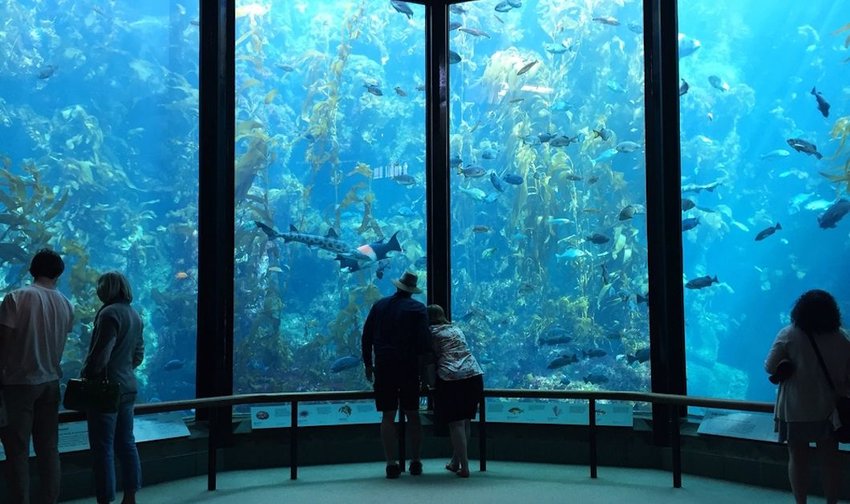 The Monterey Bay Aquarium is home to over 35,000 sea creatures that represent over 550 species, mostly all local marine life varieties. When it opened in 1984, it was the first aquarium to feature an exhibit of a living kelp forest. Monterey Bay Aquarium prides itself on its marine research and conservation efforts. This work includes the Seafood Watch, a sustainable seafood advisory list. With around 200 exhibits in total, it's no wonder why this aquarium is a must-see for visitors to Northern California.
The building where the aquarium is housed in is a defunct sardine cannery and has been recognized for its architectural achievements. It also helped lead to a revitalization of the cannery row area, providing additional things to do for visitors to Monterey Bay. If you're a fan of Disney Pixar movies, you likely already know filmmakers made multiple research trips to Monterey Bay Aquarium to gain inspiration for the Marine Life Institute featured in the film 'Finding Dory.'
AquaDom, Germany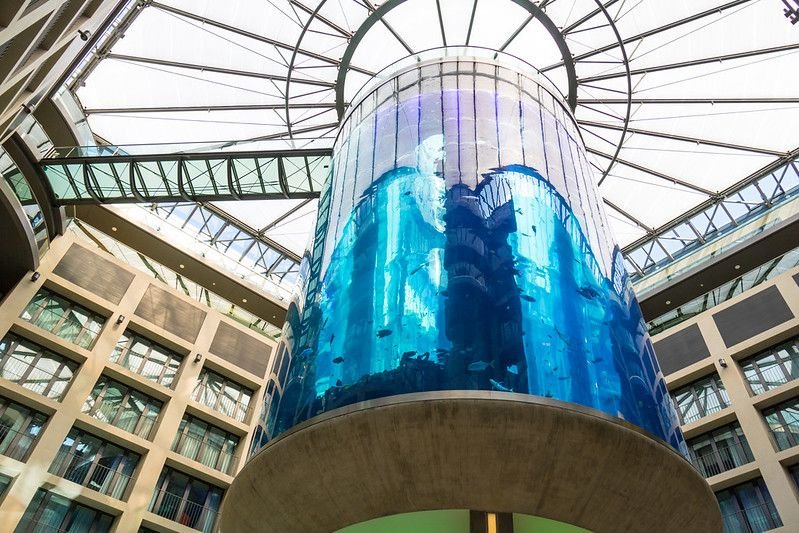 If you find yourself in Berlin next year, don't pass up the opportunity to have a cocktail underneath the world's largest cylindrical aquarium In the Radisson Blu Hotel, you'll find the Atrium Bar where you can imbibe while gazing up at the 82-foot high AquaDom. With one million liters of saltwater, a two-story interior elevator, and more than 1,500 fish housed here. It is part of the adjacent SEA LIFE Berlin. Note: you'll have to wait a few more months to visit this jaw-dropping aquarium. AquaDom is currently undergoing renovations to modernize it and will reopen in the second quarter of 2020.
Okinawa Churaumi Aquarium, Japan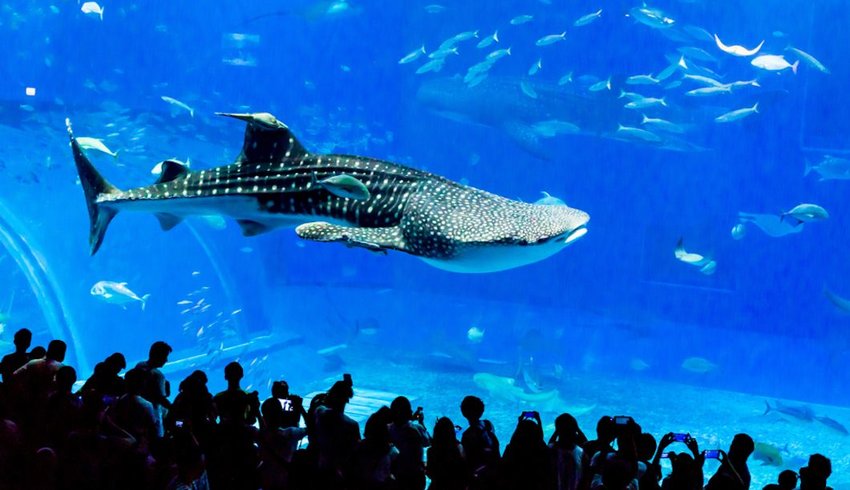 Located at Ocean Expo Park in Okinawa, you'll find the Churaumi Aquarium. Start by exploring the Coral Sea tank, a naturally-lit exhibit that showcases a large section of Japanese corals. The impressive cultivation of coral, about 450 colonies of 70 different types, is made possible through open tanks allowing in strong sunlight as well as the impressive system that supplies fresh seawater.
One of the other most impressive exhibits is the Kuroshio Sea tank. This tank is where some of the world's biggest fish are, including manta rays and whale sharks. Don't miss the Deep Sea tank either. Here you'll find a variety of creatures you wouldn't otherwise get to see as they live far below standard diving depths. You can find many of these creatures below 200 meters, including some bioluminescent types of marine life.
Dubai Mall Aquarium, United Arab Emirates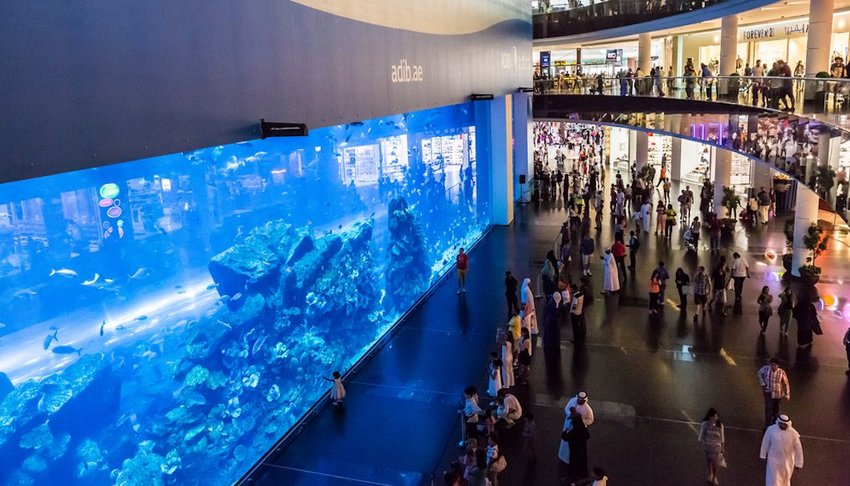 The Dubai Aquarium and Underwater Zoo is located in a shopping mall of all places, and it's one of the largest suspended aquariums in the world. There are over 33,000 specimens on display from 140 species of sea life, including an impressive number of sand tiger sharks. The aquarium reaches to the third floor of the mall and features a cool tunnel you can walk through and see huge stingrays and sand tiger sharks overhead. Want to get closer up? The Dubai Aquarium offers immersive experiences here, as well. If you have your swim gear, there are snorkeling and swimming with sharks excursions.
Dubai is a very layover-friendly city, with many people booking lengthy connections and using the opportunity to take a city tour for a few hours. The Dubai Mall has a guided private tour for those short on time. In an hour, you can explore all of the highlights, including a glass-bottom boat ride, submersible simulator, fish feeding, and a behind-the-scenes tour of the shark and crocodile exhibits.
Enjoy this article? Share it with a friend
All featured products and deals are selected independently and objectively by the author. The Discoverer may receive a share of sales via affiliate links in content.
Discover the World's Best Destinations, with your free weekly travel guide sent straight to your inbox.
Welcome to The Discoverer!
We are so excited to fill your inbox with discoveries from around the world! You can expect your first edition to arrive on Monday. Until then, feel free to check out our previous editions.