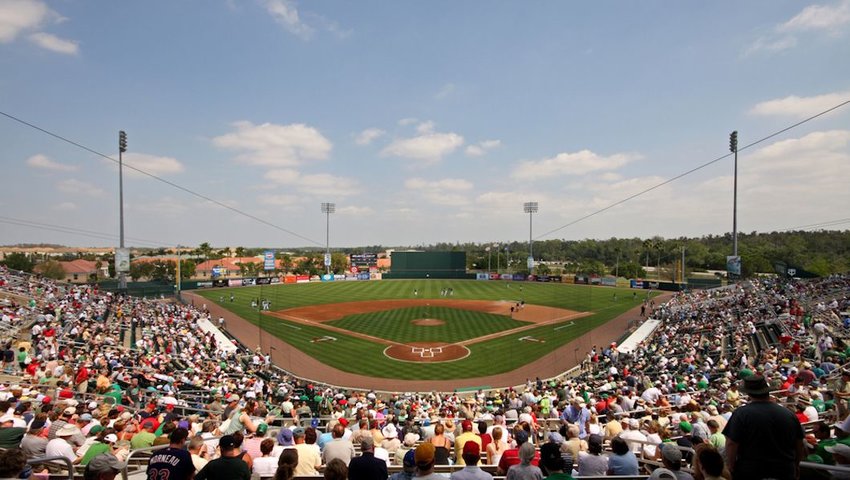 How to Plan the Perfect MLB Spring Training Trip
For most people in North America, spring starts with the vernal equinox in March. But for baseball fans, it starts much earlier than that — around mid-February, to be exact, when MLB teams report to either Florida (the Grapefruit League) or Arizona (the Cactus League) for spring training.
Not too long ago, spring training trips were thought to be reserved for only the most die-hard fanatics. (Think: Jimmy Fallon's character in "Fever Pitch.") These days, though, they're popular among even casual fans, as well as families and road-trippers from neighboring states. And no wonder — what's not to love about a quick getaway filled with sunshine, baseball, and good food?
If you're new to the spring training experience, or thinking about planning a trip to see your favorite team this spring, here are a few tips to help you make the most of your time.
Time Your Trip Strategically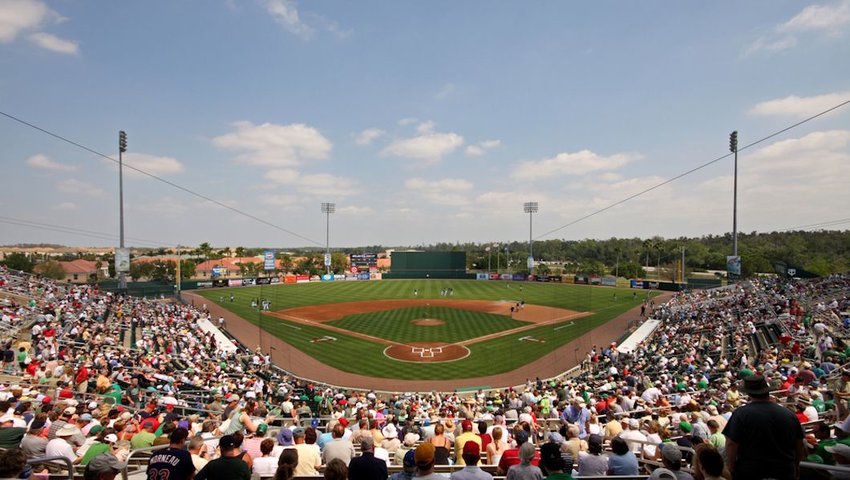 Players report to spring training in early February, but games start toward the end of the month and last through mid- to late March. Sometimes the easiest way to plan your trip is to look at your team's schedule and see when they're playing key rivals, or when they have the highest concentration of games in a short span of time. (Split-squad games happen frequently, so there are some weeks when you can see a team play twice in one day.)
Keep in mind, though, that teams tend to narrow down their rosters as the regular season approaches, so if seeing lots of potential future big leaguers is important to you, it's best to visit earlier in the spring. On the other hand, if you want to get a feel for what the team will look like in the more immediate future, you're better off planning a trip for one of the final weeks, when your favorite starters will play deeper into games. Either way, try to factor in a weekday or two; training facilities can be very crowded on weekends, especially for teams with fan bases in or near Arizona and Florida, so you'll have more opportunities for player interaction on a Wednesday or Thursday than on a Saturday or Sunday.
Visit Multiple Ballparks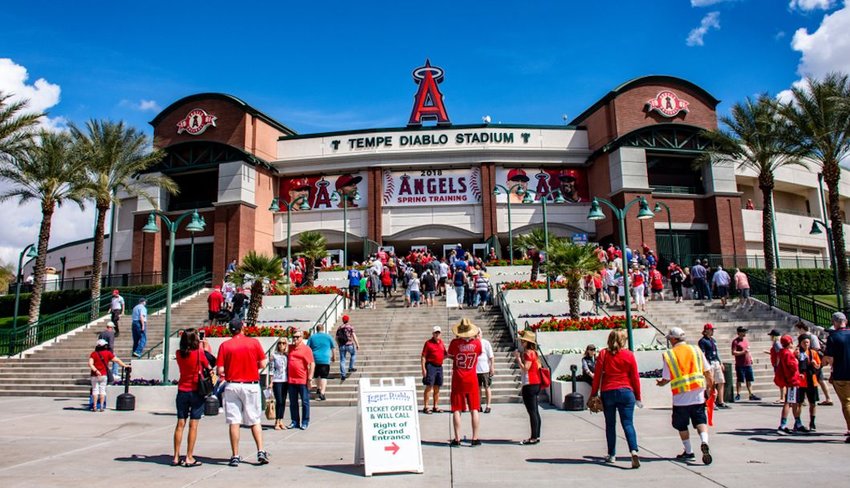 Don't worry about "home field advantage" at spring training. One of the best things about the current setup is that you can see your favorite team play at multiple ballparks in one trip. (This is especially true of the Cactus League, where all 15 franchises train in or around the Phoenix metropolitan area.)
Just like their regular-season counterparts, each spring training stadium has its own character and vibe. Surprise Stadium in Arizona, for example — where the Kansas City Royals and Texas Rangers play — has a cozy, retro feel, while the Padres and Mariners' Peoria Sports Complex caters to families with a shipyard playground and splash pad for kids. On the other side of the country, in Florida, the Phillies' Spectrum Field boasts a tiki bar, and JetBlue Park at Fenway South (home of the Boston Red Sox) features a replica of the Green Monster. Different ballparks also have different food options, so look for unique offerings beyond the usual hot dogs, nachos, and peanuts. Some stadiums let you bring in outside food, too, but check individual policies online before you go.
Choose Your Seats Wisely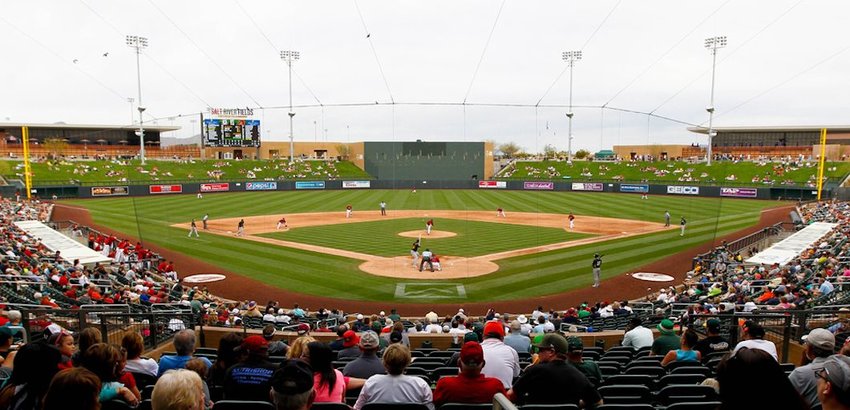 In general, it's a good idea to purchase tickets to spring training games in advance, especially for rival matchups or marquee teams. You can wait and try to buy your tickets at the gate, but there's always a risk that a game will sell out. Securing them ahead of time ensures you won't waste a trip to the ballpark and also gives you the option to choose your seats.
Spring training facilities tend to be much smaller and more affordable than regular stadiums, so you don't necessarily have to break the bank to get good seats. And "good" is relative anyway — some people prefer to be close to the dugout, while others like the view from behind home plate. A lot of the ballparks in Florida and Arizona also have open lawn seating just beyond the outfield, so you can bring a blanket, park yourself on the grass, and wait for a home run to land nearby. One important consideration: Unlike in the regular season, most spring training games take place during the day, so it can get uncomfortably warm in those later innings. A quick search online will tell you where to sit in each stadium to maximize your time in the shade. And if you do pick a spot in the sun, come prepared with sunscreen, water, and a hat.
Hit the Team Store
The best spring training souvenir is a signed baseball from your favorite player, but if you're the kind of fan who likes to wear your heart (or your team spirit) on your sleeve, you may want to spend some time browsing the goods at the stadium store. Often you'll find things you can't get anywhere else, like spring training t-shirts and pins. In some cases, you may even be able to score regular season merch — like a new cap or BP jersey — that hasn't been released online yet.
Frequent the Practice Fields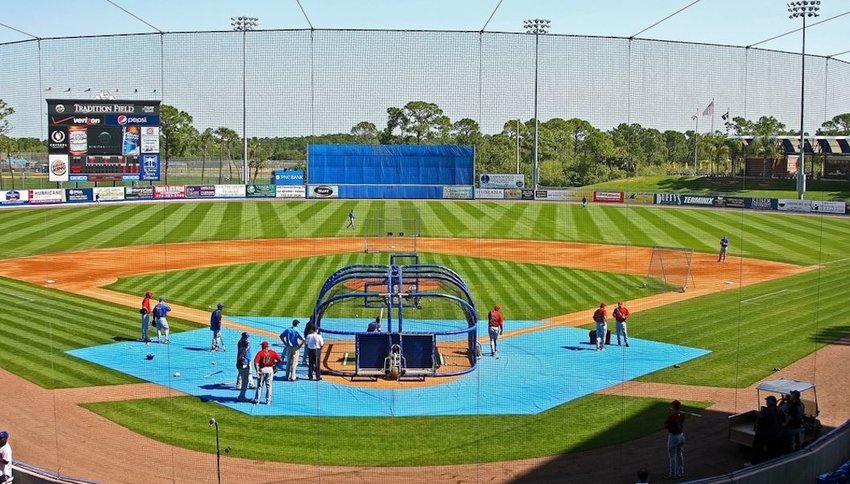 For a lot of fans, games are the main event at spring training. If you really want to make the most of every minute, though, head to the stadium a few hours early to watch the players train. Schedules vary (especially on game days), but teams typically hit the practice fields in the morning. And while, yes, they're there to work, the vibe is pretty relaxed and fun — for both them and you. It's not unusual to hear teammates teasing each other (and their coaches) as they take BP or run drills.
Practices are also your best chance to meet the players and get autographs. Some facilities are more conducive to this than others, but most parks offer at least some access. A few tips: Ask after their workout, not before; bring your own pen or marker; and don't underestimate the power of graciousness and good manners. (Yelling a player's name and shoving a Sharpie into his hand isn't necessarily the best strategy, even if everyone else is doing it.) Also: Don't just lavish your attention on the team's current superstars. Keep your eyes peeled for visiting alumni, and talk to the rookies and prospects, too. They're more likely to stop to sign something, and you won't have to fight as many crowds to get to them. Plus, you never know who they'll become — maybe one of those minor leaguers is the next Mike Trout. Which brings us to our next tip…
Hold on to Those Free Programs
One of the purposes of spring training is to give new, up-and-coming players a chance to earn a spot on the team, which means there will be a lot of names and jersey numbers you don't recognize — especially in the earlier weeks. Many stadiums hand out free booklets containing information not only about the ballpark (such as food options, bathroom locations, and accessibility) but also about the home team. That information will come in handy when you want to know the name of the non-roster invitee who came up to bat and hit a home run on the first pitch, or when you're trying to ask a top prospect for his autograph. ("Hey, you" is not an ideal greeting.) You can also use the program to collect signatures if you don't want to carry around a bag full of baseballs.
Explore the City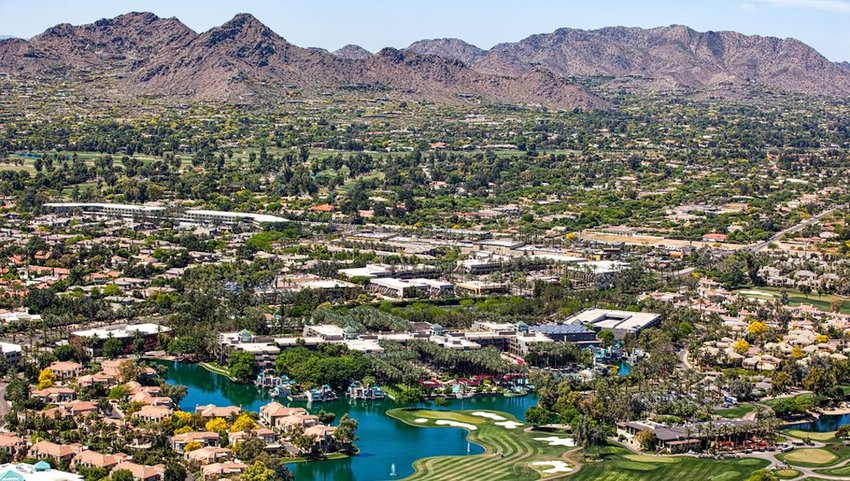 Since most spring training games take place during the day, you'll probably have a little free time at night. You could just head back to your hotel and order room service — or you could use that time to check out some of the local attractions and restaurants in the cities surrounding the ballparks. (After all, you can only stomach so many hot dogs.) There's plenty to do (and eat) in both Florida and Arizona, so leave some room in your itinerary to play tourist.
Enjoy this article? Share it with a friend
All featured products and deals are selected independently and objectively by the author. The Discoverer may receive a share of sales via affiliate links in content.
Discover the World's Best Destinations, with your free weekly travel guide sent straight to your inbox.
Welcome to The Discoverer!
We are so excited to fill your inbox with discoveries from around the world! You can expect your first edition to arrive on Monday. Until then, feel free to check out our previous editions.