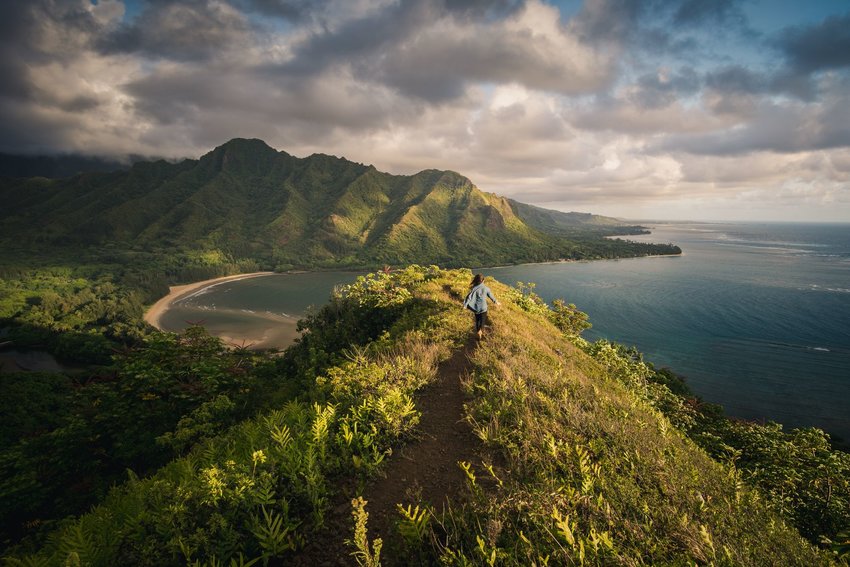 How to Travel to Hawaii Without Leaving Home
Flickering Tiki torches. Fragrant, tropical flowers. Gentle ocean breezes. Fluttering palm fronds. Ukulele music drifting across the warm night air. The tantalizing smell of roasted pork. Rhythmic waves crashing onto a white, sandy beach. Rum-packed, fresh fruit juice cocktails. These are the sounds, smells, sights, tastes, and sensations that I remember from living on Maui and visiting Kauai and Oahu.
While I no longer get to enjoy living in the Aloha state, my fascination with Hawaii must be written into my genes. Like many men of his generation, my father served time in the U.S. Army and was lucky enough to be stationed on Oahu — just days after he married my mother. My parents spent their first few years together living on Oahu before Hawaii was even an official U.S. state. My father learned to surf there, and still fondly remembers biting into mind-bogglingly sweet pineapples picked right from the field.
If you've been dreaming about a Hawaiian vacation, you may have to wait a while due to concerns over the coronavirus pandemic. Now that we're being asked or required to stay home and avoid all unnecessary travel, many of us are shelving our vacation plans. But while it's no substitute for the real thing, we can elevate our mood and have some fun by having a Hawaiian "staycation" in our backyard or living room. A few years ago, I planned a luau-themed birthday party for my daughter, so now I'm going to share some tips on how to travel to Hawaii without leaving home!
Dress for Success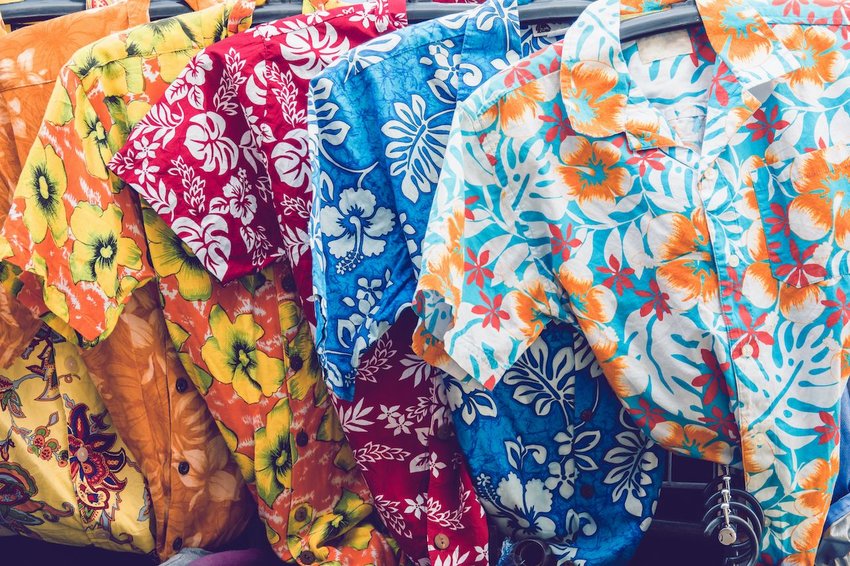 One of the first things that will make you feel like you're vacationing in Hawaii is dressing the part. Dig through your old Halloween costumes and the back of your closet where you might find a few things. Look for flowered leis, grass skirts, straw hats, and colorful tropical shirts. If you can't find anything, Amazon and other online retailers have everything you need.
Flowered leis are a necessity for any Hawaii trip! For about $10, I bought this pack of 12 leis for my daughter's party. If you want a complete outfit, you can't go wrong with this $13 set that includes a leaf hula skirt, plus a flowered lei, headband, and two wristbands. Kids will want to join the fun too, so here's a similar set both boys and girls will love.
Guys, you'll need a brightly colored tropical shirt, so if you couldn't find one in your closet, check out this selection on Amazon from King Kameha, which ranges from about $10 to $25. Gals, if you'd rather wear a tropical print dress instead of a hula skirt, one option is a cute, off-the-shoulder flowered dress like these from Gemijack. Step into some flip flops or sandals, and you're ready for a luau!
Deck the Halls
OK, maybe not the halls, but to make your Hawaii staycation feel more authentic and fun, you'll want some décor that will get you and your family into the aloha spirit. A palm tree or two is a must, so if you don't live in a warm climate with natural palms in your yard, you can improvise with inflatable trees like this $21 set of two.
Tiki torches are a must to create the proper ambiance, so this set of four bamboo ones will convert your backyard into a Hawaiian paradise (don't forget the fuel)! If you can't use outdoor tiki torches, these indoor tabletop torches stand about 13 inches tall and include a wax candle. Tiki totem poles can also add to the festive atmosphere, like these inexpensive paper ones like these for about $16, or this set of five hand-carved wooden poles that sell for about $95.
Set the Table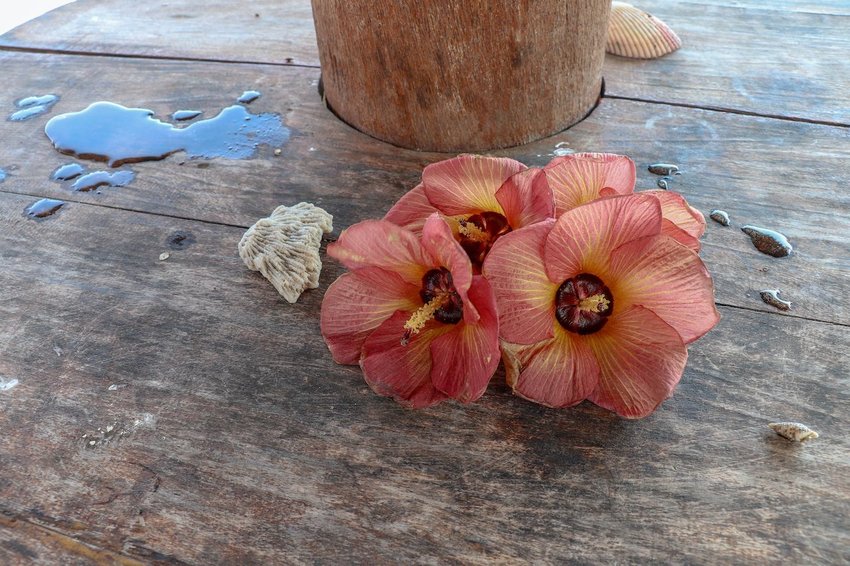 You can channel your inner Martha Stewart and get really creative here, or you can turn to Amazon, Party City or Oriental Trading Company for tabletop décor, dishes, and silverware. Dress up an indoor or outdoor table with a grass skirt like this $19 set that also includes decorative hibiscus flowers, palm leaves, two 9-foot garlands, and 50 umbrella cocktail toothpicks.
Fragrant, gorgeous flowers are one of the most distinctive memories I have of living in Hawaii. Fresh flowers make fantastic, simple centerpieces for your Hawaiian at-home adventure. Look for flowers such as lilies, birds of paradise, orchids, anthuriums, and plumerias.
You can create attractive, simple centerpieces using clear glass bowls or dishes. Just fill them with water and  add some floating candles and fresh flowers. Another festive idea is to turn a pineapple into a vase by coring it and cutting the bottom off so it will sit flat. Place it on a plate of sand and surround it with seashells.
Don't forget tableware. You can go all out and buy complete sets of paper plates, napkins, and cups, or use your existing tableware with tropical print linen napkins and pineapple napkin rings like this set. You can also opt for an eco-friendly set of disposable palm leaf plates, forks and knives that are fully compostable.
Add Some Games and Music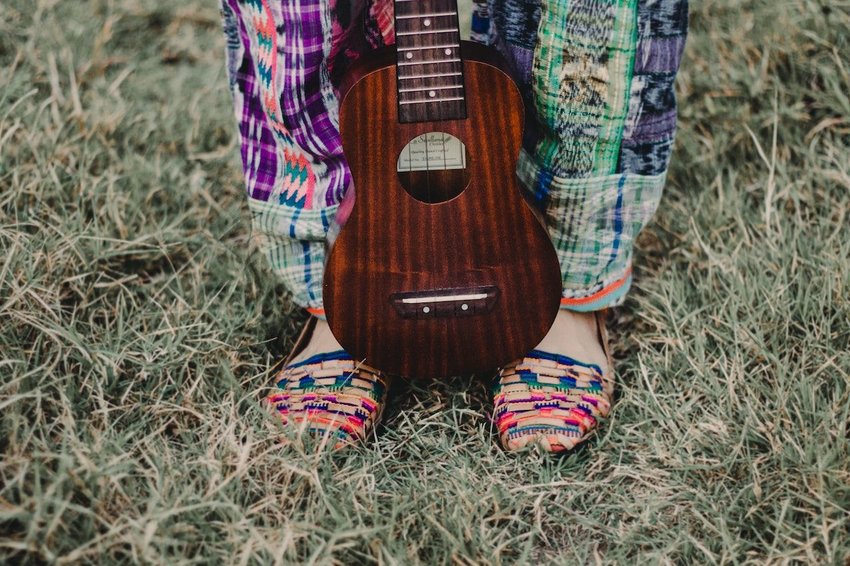 Now that you've got your attire, décor, and table set, it's time to add some fun activities and music to enhance your Hawaii staycation. For my daughter's party, we had a limbo game. Using a rounded wooden 1-inch dowel I bought at Home Depot, two large flower pots filled with garden rocks, 5-foot wooden garden stakes, several large nails, brightly colored spray paint, and some ribbons, I created a simple limbo game like this one. If that sounds like too much effort, you can order a ready-made limbo kit for about $40 from Amazon. Or simply have two people hold a broom handle at various heights!
Another silly game you might see at a Hawaiian luau is "Toss the Coconut," which works just like "Hot Potato." Oahu's Polynesian Cultural Center, which produces some of the most authentic luaus in Hawaii, has the game's instructions, plus a list of other luau games.
The classic strumming of a ukulele, which resembles a small acoustic guitar, is a sound you'll hear all over Hawaii. The ukulele was invented in Hawaii, patterned after a Portuguese instrument, in the 1880s. You can stream Hawaiian music using any of your music streaming apps, but I'm partial to the "Hawaiian Dreams" playlist on Spotify. If you're looking for specific songs and artists, the Polynesian Cultural Center provides a comprehensive list.
Another essential part of being in Hawaii is watching talented hula dancers perform ritualistic dances. Nothing will liven up your Hawaii staycation more than learning how to perform some basic hula dance moves from Hawaiian-based chocolate company, Hawaiian Host, in this short video!
The Best Part...drumroll...Hawaiian Food!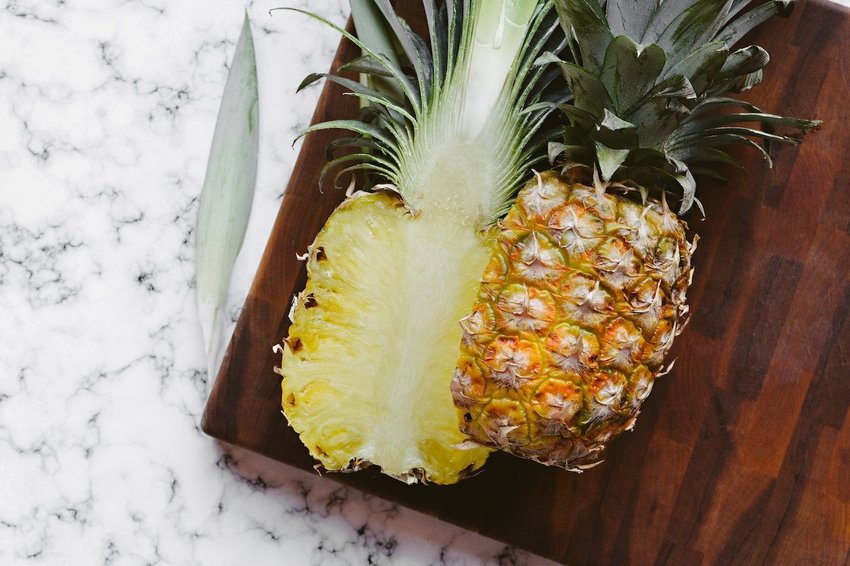 One of the most enjoyable things I remember experiencing in Hawaii was attending a luau and sampling dozens of delicious dishes. In addition to the fascinating performers telling ancient Hawaiian stories through dance, food takes center stage at a luau. You may not have it in you to pull off a buffet featuring 20 different foods like you might find at authentic luaus, but you can make do with a few favorites.
Kalua pua'a, roast pork, is the quintessential luau main dish. Typically, kalua pua'a is prepared in a Hawaiian imu (an underground oven using heated stones). Most of us don't have an imu in our backyard, so the next best thing is your oven. Check out this authentic kalua pua'a recipe from the Polynesian Cultural Center. You can order kitchen-grade ti leaves for the recipe, which are the classic tropical Hawaiian foliage used in leis, cooking, and skirts. Some Asian grocers sell ti leaves, or in a pinch, banana leaves or just plain aluminum foil will also work. Seafood, chicken long rice, and poi are additional luau favorites.
Ah, Spam. You can't have an authentic Hawaiian experience without serving at least one dish with the canned meat, Spam. Hawaiians were introduced to Spam, a salty pork-based processed meat, during World War II because it was a staple in American GIs' lunches. The military purchased literally tons of Spam during WWII because it was shelf-stable and didn't require refrigeration, and you can still find it in nearly any Hawaiian's pantry today. One of the most popular Spam dishes you'll find in Hawaii is Spam Musabi, which involves a teriyaki-type sauce, white rice topped with fried Spam — all wrapped in a sheet of nori (dried seaweed). Hawaiians usually enjoy Spam Musabi as a snack or a quick lunch.
You'll also see plenty of fresh fruit served at any Hawaiian meal. Instead of merely dicing fruit and dumping it into a bowl, you can jazz things up a bit. I've turned pineapples into "fruit baskets" by slicing them in half lengthwise (leave the stalk intact). Scoop out and dice the pineapple. Then fill both halves with the diced pineapple mixed with other fruit such as bananas, apples, melons, and grapes, and adorn it with a few fresh flowers. Google "DIY pineapple fruit basket," and you'll find dozens of ideas. If you can't get fresh flowers, artificial ones work just fine, like these from Amazon.
Another food I remember savoring in Hawaii was macadamia nuts. Shops all over Hawaii sell them covered in chocolate. They're also delicious roasted and salted, but they will knock your socks off in macadamia nut cream pie, a popular luau dessert.
Hawaiian Cocktails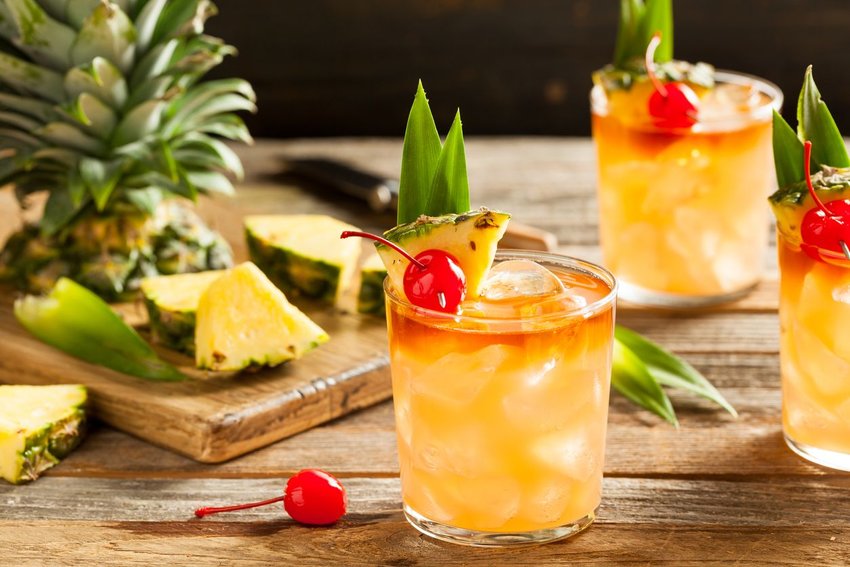 No luau is complete without some rum cocktails, and the quintessential luau drink is the mai tai! Instead of buying a mix, elevate your mai tai experience by using fresh juice. Created by Vic Bergeron, aka Trader Vic, in 1944, the original recipe can be found here, along with four other classic Hawaiian cocktails. For the underage set or non-drinking folks, you can whip up some delicious mocktails.
Instead of serving mocktails in traditional glasses or cups, for my daughter's luau party, I bought this set of 12 coconut shell cups that come with lids and flowered straws. Regardless of the type of glass you use, don't forget to garnish them with fresh fruit and paper umbrellas!
Movies and TV Shows Filmed in Hawaii
One final way to get into the Aloha spirit is to watch some movies and TV shows that take place in Hawaii. Watch Nicolas Cage, Sarah Jessica Parker and James Caan in the 1992 comedy, "Honeymoon in Vegas." For an uplifting movie based on actual events, watch teen surfer Bethany Hamilton (played by AnnaSophia Robb) overcome a devastating shark attack and return to pro surfing in "Soul Surfer."
And who can forget watching Tom Selleck racing around the streets of Oahu in his red Ferrari in the TV detective series, Magnum P.I.? Hawaii Five-O is another classic detective TV drama set in Hawaii that ran from 1968 through 1980. You can find newer versions of both series on some premium cable channels or Amazon Prime Video.
Enjoy this article? Share it with a friend
All featured products and deals are selected independently and objectively by the author. The Discoverer may receive a share of sales via affiliate links in content.
Discover the World's Best Destinations, with your free weekly travel guide sent straight to your inbox.
Welcome to The Discoverer!
We are so excited to fill your inbox with discoveries from around the world! You can expect your first edition to arrive on Monday. Until then, feel free to check out our previous editions.