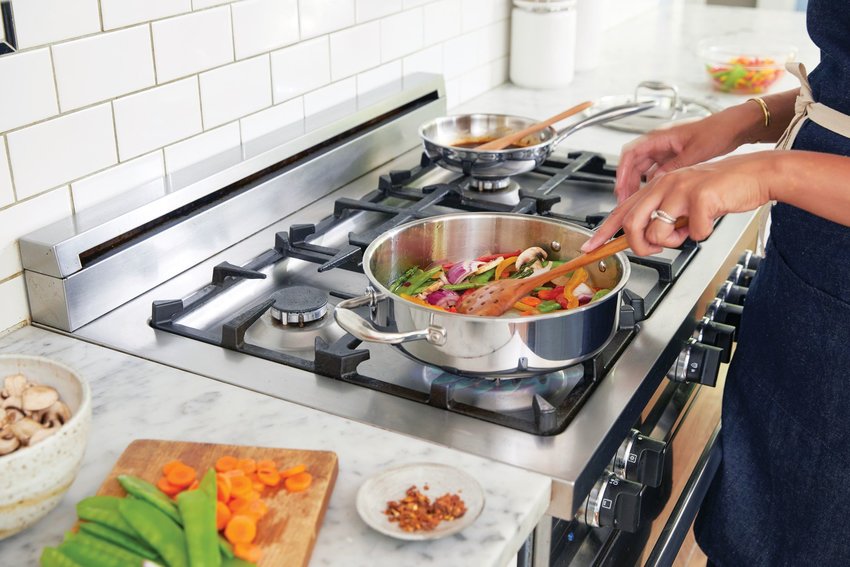 6 Food Books That Will Make You Want to Travel
If the biggest highlight of your travels is the food you sample along the way, you'll want to bring a little bit of that food culture home with you. You might try pack your suitcase with wine, olive oil, or exotic snacks you picked up on your journeys or learn the secrets of different cooking techniques to try in your own kitchen. But if you want to keep the inspiration going, check out these cookbooks and chef memoirs that will have your mouth watering.
Downtown Italian
This cookbook from three young restaurateurs contains recipes inspired by Italy and created in the brownstones of New York's West Village. From antipasti to desserts, the colorful photos of the 100 dishes included in the cookbook will make your mouth water for a taste — and make your fingers itch for a plane ticket. Page through the recipes and pick a few to try out. Next time you visit Italy (or New York), you'll be more educated about the food you're tasting.
The Spice Companion: A Guide to the World of Spices
Did you know that a hot pepper called Aleppo is commonly used in Mediterranean cuisine — and did you know that it's sourced from a Syrian town that was once a stop on the Silk Road? The Spice Companion is a virtual course on spices from around the world. Over 100 spices are included in the book and for each one, you'll read the history and origin, information on where to buy it and how to store it, five traditional cuisine pairings, three suggestions on how to use it, and a unique spice blend recipe. The coffee table book is ideal for anyone who loves spice. This beautiful volume is an excellent way to learn more about the world and will inspire you on your next adventure.
Yes, Chef: A Memoir
Chef Marcus Samuelsson is well-known from Food Network shows such as Chopped and Top Chef — not to mention his Harlem restaurant Red Rooster. Samuelsson was born in Ethiopia and attended culinary school in Sweden and today, his dishes include elements of both cultures. His memoir details his story including apprenticeships he completed in Switzerland and Austria and of the dishes he made there. It's enough to convince anybody to jump on a plane. Samuelsson has written several other cookbooks as well.
The Omnivore's Dilemma: A Natural History of Four Meals
The Omnivore's Dilemma is a fascinating read for anyone interested in food. The author, Michael Pollan, sets out on a journey to create a meal that he hunted and gathered by himself. The book follows his journey through the farmlands of America as he sources the ingredients for this one perfect meal. Along the way, he goes into more detail about the history and sociology of food — explaining, for instance, how corn can be traced back to the Mayan people in Mexico. The Omnivore's Dilemma can inspire readers to look for restaurants with organic choices, explore the agriculture scene in America, and maybe even set off in pursuit of the perfect meal of their own.
Classic German Baking
Not many people know more about German food than Luisa Weiss, a Berlin-born, American-Italian writer who compiled over 100 recipes in this book. Weiss, who is known for taking the principles of German baking and simplifying them for the American public, sourced the recipes from friends, family, and bakers who live in Germany, Austria, and Switzerland. Streuselkuchen (crumb cake), elisenlebkuchen (gingerbread), strudel, and more can be found in this cookbook. And it's more than just recipes — Weiss included information on the origins, meanings, and rituals associated with each dish.
The Year of Eating Dangerously
When Tom Parker Bowles decided to take a trip around the world to try "dangerous" local recipes, he decided to do something else too — document the journey in a book. Bowles ate blowfish, live seafood, cobra bile, and more in countries around the world. When he came back to the States, he traveled to New Mexico for some of the hottest hot sauces in the world. The tone of the book is funny and conversational as Bowles brings you along on his culinary adventures around the globe. This story isn't totally about the weird foods and fun times though. Bowles also takes time to talk about the cultural differences surrounding food.
Featured Image Credit: Better For People & The Planet/ Unsplash
Enjoy this article? Share it with a friend
All featured products and deals are selected independently and objectively by the author. The Discoverer may receive a share of sales via affiliate links in content.
Discover the World's Best Destinations, with your free weekly travel guide sent straight to your inbox.
Welcome to The Discoverer!
We are so excited to fill your inbox with discoveries from around the world! You can expect your first edition to arrive on Monday. Until then, feel free to check out our previous editions.