Top Tips for Exploring Edinburgh from Local Discoverers
Scotland's capital city is a magnificent juxtaposition of old-world charm and modern attractions. The effect is both intimate and overwhelming as it offers its own take on classic European staples like elegant ruins, art museums, quirky cobblestone streets, and a collection of fabulous hotels and restaurants. Whether you come for the history or the poetry or the shopping, every inch of this city holds something wonderful to discover.
We talked to three local Discoverers about their top recommendations for touring the city like a pro.
The Discoverers:
Toby - Toby is a 20-year-old amateur urban and landscape photographer originally from Aberdeen, North-East Scotland. He's been a resident in Edinburgh for nearly two years and studies Pharmacology at the University of Edinburgh.
KK - KK is a travel and lifestyle blogger based in Edinburgh but spends about half of the year traveling for both work and pleasure. Her blog and Instagram showcase her cosmopolitan lifestyle - whether that is a lazy day spent in beautiful Edinburgh or wandering through a new city.
Tess - Tess is a 24-year-old Bathonian and recent Philosophy and Psychology Graduate from the University of Edinburgh. She's currently taking a year out of education to travel, mainly in Europe.
What To Do:
National Museum of Scotland
"Just a ten-minute walk from Edinburgh Waverley train station, the National Museum of Scotland is a brilliant attraction for all ages and interests. In addition to the huge range of displays, the visit wouldn't be complete without a trip to the roof-top terrace. Providing unique views of Edinburgh Castle, the University of Edinburgh and Arthur's Seat, the journey to the top is sure to leave you stunned. The best part? Admission is completely free!" - Toby
Surgeons' Hall Museums
"My number one recommendation for anyone visiting Edinburgh is the fascinating Surgeons' Hall Museums, home to one of the largest collections of surgical pathology in the world. For a small entry fee, visitors can explore the comprehensive sets of anatomical specimens displayed in the beautifully refurbished Edwardian galleries. It's as much of an aesthetic experience as much as it is an educational one!" -Tess
The Royal Mile and Edinburgh Castle
"Arguably the most iconic element of the Edinburgh skyline is Edinburgh Castle, which can be reached by walking up the famous Royal Mile. Throughout the year, both are tremendous tourist hotspots - becoming immensely popular during August for the Edinburgh Fringe Festival, and the Royal Edinburgh Military Tattoo. Located in the centre of Edinburgh, a trip here will make you feel right at the heart of Scottish culture and its capital city." -Toby
"The Royal Mile is the main street in Edinburgh that lies in the Old Town and leads to the famous castle. Off of it, you will find an endless amount of alleyways and small streets to get lost in. Some of these are claimed to be haunted so it's worth going on a ghost tour while you're in the area - in particular at Mary King's Close." -KK

Arthur's Seat
"If you are in Edinburgh for one day or one week, you cannot skip a hike up Arthur's Seat. In the centre of the city you can find a group of hills and the top of the biggest one is called Arthur's Seat. It's a relatively easy climb up and the views of the city are magnificent. No matter the weather, this is the top sight to check out." - KK
"I'd especially recommend seeing the sunset over the capital from here - it's a fantastic watch and something you can't miss." -Toby
"Remember to wear suitable walking shoes and warm clothes for the 45-minute ascent, because it can get rather windy up at the top!" - Tess
Where to Stay:
"Stockbridge is a picturesque, historic and bustling neighbourhood on the Waters of Leith just north of Princes Street, and the perfect location for top-quality Airbnb accommodation. Full of wonderful independent shops and cafes, and close to scenic attractions such as Dean Village and Circus Lane, Stockbridge is a great base for those looking to explore the architectural highlights Edinburgh has to offer.
Wanting to stay in Old Town instead? Just over the meadows from Edinburgh Castle is the wonderful neighbourhood of Bruntsfield, providing a warm and sociable atmosphere to any visitor! Home to some great cosmopolitan restaurants and quirky stores, Bruntsfield is the best place to be for a traveler who likes to pick up something unique as a momento to a city.
If you're not too fussed about splashing your cash, the Waldorf Astoria Edinburgh - The Caledonian is a magnificent hotel at the central West End. With modern furnishings, amazing views of Princes Street Gardens and an incredible accompanying restaurant, the Caledonian is the perfect suggestion if you want to treat yourself to a bit of luxury.
Looking for a once-in-a-lifetime hotel experience? The Old Town Chambers offer incredibly stylish apartment-style accommodation just off the Royal Mile with awe-inspiring views." -Tess
"There are a few hotels in the middle of town that I would recommend. The newly opened Principal Hotels are a great choice, and both have highly-rated restaurants underneath them, as well as the boutique hotel called Eden Locke." - KK
Where to Eat: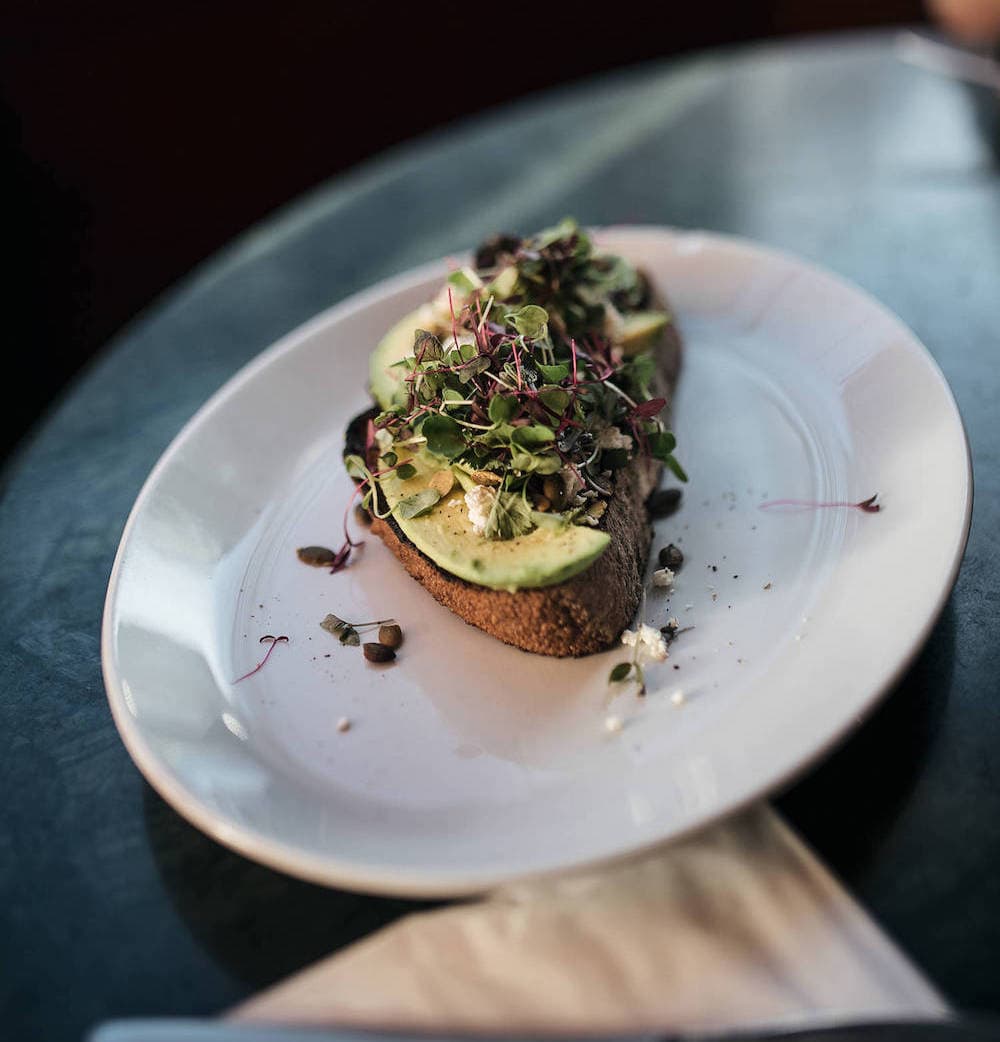 Hamilton's Bar and Kitchen
"Live like a local and dine at Hamilton's, one of the highest-rated restaurants in the area, with one of the most diverse menus in the city!" -Toby
The Pitt or Stockbridge Market
"If you're wanting to try the food the locals love, head over to one of the many food markets the city has to offer. My top pick is The Pitt which is east of the city in Leith. Second runner-up is Stockbridge Market. Both of these are crammed with food stalls offering the best foods in the city." -KK
Harmonium
"If you're looking for a bistro dining experience, try out Harmonium, a little gem tucked away in Leith. The succulent Filet o'To-Fish followed by a tasty Rhubarb and Peach Cobbler is the perfect order to satisfy your taste buds!" -Tess
Mimi's Bakehouse
"Situated near the Leith Docks area of North-East Edinburgh, Mimi's Bakehouse is ideal for lunch or brunch. Their menu is fantastic and caters to just about anyone, but I'd say they offer a very good family or couple experience in particular. Also, a 'Mimi's Little Bakehouse' sits near the foot of the Royal Mile, so why not head there before making your way up to Edinburgh Castle?" -Toby
Ting Thai Caravan and Saboteur
"For a big taste on a small budget, make your way to Ting Thai Caravan for authentic Thai cuisine. The Pad See Ew is hands down the best Asian noodle dish I've ever tasted, and the crispy Mun Tod are a perfect accompaniment to any dish. Head down the street to their sister Vietnamese restaurant Saboteur for a delicious Pho Cha Chay that packs a punch!" -Tess

George Street and The Dome
"George Street, running parallel with the main shopping street Princess Street, is the perfect place for dining and drinks. The area appears rather upmarket but also offers affordable places to sit in. I'd recommend The Printing Press Bar and Kitchen for its high-quality food and atmosphere. My personal favourite is the wild mushroom lasagne.
Your evening could be completed by heading over the road to The Dome - one of the finest bars in Edinburgh - for some drinks. With the beautiful interior and high-class service, each amazing cocktail is worth every penny. The Dome undergoes a festive makeover come Christmas, making it the perfect place to relax and enjoy time with others over the festive period.
At the west-end of George Street is Tigerlily, a restaurant/bar offering a wide range of food and cocktails. Its unique and vibrant interior has never failed to impress visitors of the city." -Toby
Vegan
"Edinburgh also has a wonderful array of vegetarian/vegan restaurants which are both good for the stomach and the planet! The Lucky Pig at Paradise Palms is a haven of dairy and plant-based street food wonders at reasonable prices. Try the indulgent Southern-fried Halloumi, or the vegan Chipotle Mac N Cheese, to satisfy your carb cravings. Don't forget to order a Long Island Ice Tea-Pot to wash it all down with!" -Tess
Classic Scottish Food
"If you are looking for good, hearty Scottish food you cannot go wrong with:
Angels With Bagpipes
The Kitchin
The Dogs
Voyage of Buck." -KK

Coffee Shops:
"Edinburgh is also great for its coffee scene and I'm proud to say I've made my way to most of them. All of these offer amazing quality coffees from the best roasters and small meals like avocado toast and pastries to keep you going."
My personal favourites include:
Hyde & Son
Brew Lab
Filament Coffee
Thomas J Walls
Fortitude Coffee." -KK
Beyond Edinburgh
"I can appreciate that not all visits to Edinburgh will have enough time for this excursion, but if you're at all into photography, civil engineering, or even general sightseeing, this trip shouldn't go amiss. With train fares to North Queensferry sitting cheaply, within 20 minutes you can find yourself on the banks of the Forth, admiring the stunning Forth Rail Bridge." -Toby

"You could easily spend a week in Edinburgh but don't forget that it's also close to some of the most beautiful landscapes in the world. If you don't have much time many companies offer day trips out of the city to places like Glencoe (where James Bond was filmed). You won't regret it." -KK
Enjoy this article? Share it with a friend
All featured products and deals are selected independently and objectively by the author. The Discoverer may receive a share of sales via affiliate links in content.
Discover the World's Best Destinations, with your free weekly travel guide sent straight to your inbox.
Welcome to The Discoverer!
We are so excited to fill your inbox with discoveries from around the world! You can expect your first edition to arrive on Monday. Until then, feel free to check out our previous editions.