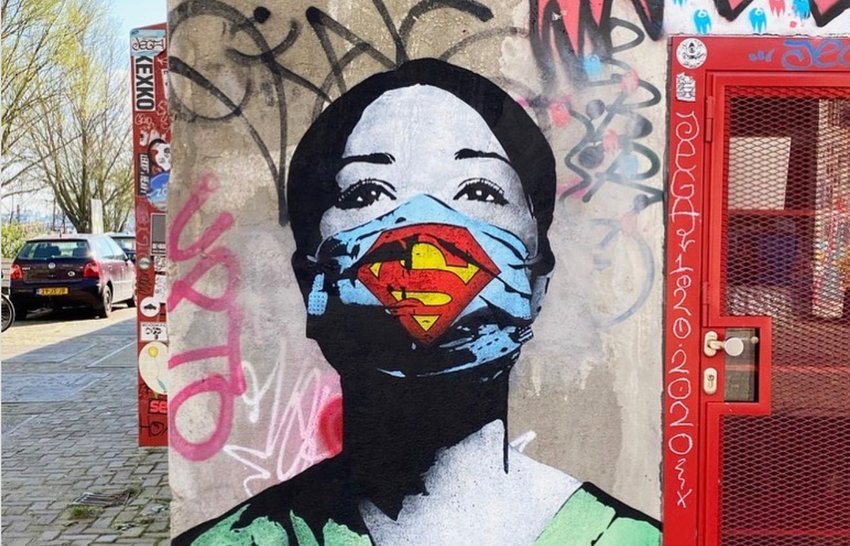 The Best Coronavirus-Inspired Street Art From Around the World
Street art is one of the most expressive art forms, and a captivating platform for social and political commentary. In recent weeks, some prominent artists have found inspiration to portray the coronavirus in thought-provoking, educational and comical ways, while in many cases celebrating and honoring the healthcare workers that keep us safe. From London to North Carolina to Norway, here are a few great pieces to check out.
Cardi B, San Antonio, Texas
In early March, eccentric rapper Cardi B posted a video with her thoughts on the coronavirus and telling the world how shit is gettin' real. It didn't take long for the rant to get turned into a video remix and then become an anthem of the pandemic. To add even more publicity to the event and singer, the LA comic and hip-hop artist Colton Valentine updated his already existing mural of the rapper in the Tobin Hill district of San Antonio. Valentine painted a face mask to the portrait and a speech bubble with the words Coronavirus! Shit is real!
Game Changer, Southampton, UK
The legendary, and still anonymous, Bristol-based artist Banksy is most commonly recognizable for its tongue-in-cheek and subversive content. But he's taken inspiration from the current situation to celebrate the tireless work of the United Kingdom's NHS healthcare workers. Decorating a corridor in Southampton General Hospital, the mural shows a young boy playing with a toy nurse dressed as a superhero while Batman and Spiderman look out from a trash can. Plans are in place to auction the piece after lockdown and raise funds for charities.
The Lovers, Bryne, Norway
After spending time in the jungles of Peru, Norwegian artist Pøbel arrived in his hometown to find everybody in compulsory self-isolation. What also struck him was the sight of people wearing bright blue medical face masks. This inspired him to paint a mural of a couple in a loving embrace yet prevented from intimate contact by their masks. Set beneath a bridge, which becomes illuminated at night, the artist's idea is to demonstrate that love, joy and hope can still exist in a time of struggle and hardship. Tattoo artist Pony Wave was inspired by an alike theme for her recent Venice Beach mural.
Pure'll Gold, Charlotte, North Carolina
Not long after Cardi B eloquently informed us that things were getting serious, Darion Fleming found himself in a supermarket with a notable shortage of hand sanitizer. This planted the idea in Fleming's mind that said hand sanitizer could soon become impossible to find and hypothetically as valuable as gold. The mural is of a Purell-brand bottle of sanitizer; however, the liquid that it contains is gold and spills out to create a splash at ground level. Look carefully at the bottle to see a label stating New! Available Nowhere.
Soap and Mask Bears, San Francisco, California
Stroll the streets of San Francisco today and it's hard not to spot one of the iconic Honey Bears of local artist Fnnch. They brighten up the city's businesses, mailboxes, private homes and street corners. To give his signature style a relevant theme, Fnnch has added a series of new bears that wear masks and resemble blue soap dispensers. And, to maintain their jovial aspect, the bears are holding lockdown essentials such as glasses of wine and slices of pizza. You can find many examples in the Castro, Mission and Pacific Heights districts. Honey Bear face masks, prints and wooden cutouts have raised over $100,000 for charities.
Super Nurse, Amsterdam, Netherlands
An appreciation of healthcare workers has been a running theme in recent global street art instillations. Amsterdam-based artist Fake created this vivid mural of a nurse wearing a Superman mask to spread love to all professionals working to save and protect lives. It implies that healthcare workers everywhere are superheroes at all times and not only in periods of extreme crisis. Similar works in other parts of the world include Austin Zucchini Fowler's Healthcare Hero in Denver and Mauricio Ramirez's Frontline Heroes in Milwaukee.
Photo via Fake
Enjoy this article? Share it with a friend
All featured products and deals are selected independently and objectively by the author. The Discoverer may receive a share of sales via affiliate links in content.
Discover the World's Best Destinations, with your free weekly travel guide sent straight to your inbox.
Welcome to The Discoverer!
We are so excited to fill your inbox with discoveries from around the world! You can expect your first edition to arrive on Monday. Until then, feel free to check out our previous editions.