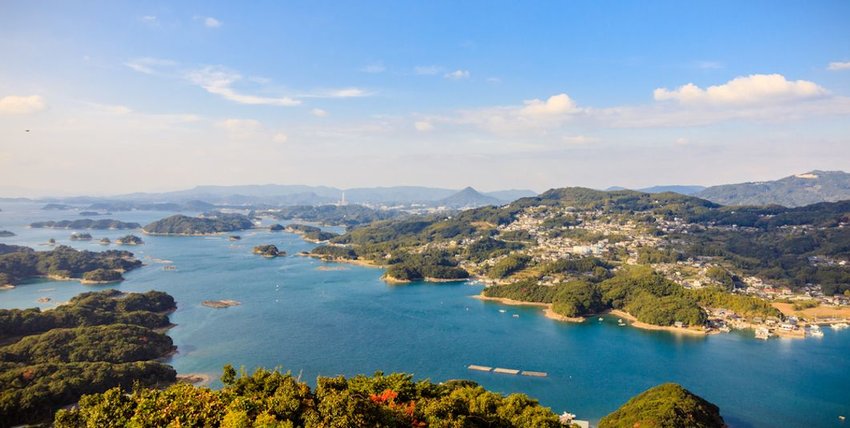 A Guide to Island Hopping in Japan
Most travelers are aware that Japan is an island nation. However, few realize that it is in fact a sprawling archipelago of 6,852 islands spread between the Sea of Okhotsk, Pacific Ocean, East China Sea, and the Korea Strait and Sea of Japan. Away from popular tourist centers such as Tokyo and Kyoto where ancient traditions and contemporary lifestyles blend, Japan's islands offer varied cuisines, cultures, climates, and ecosystems.
From tropical beaches and frozen lakes to watersports, wildlife watching, and ski resorts, the diversity of landscapes and activities Japan has to offer is incredible. Fancy a vacation with a difference? Here's our guide to island hopping in this breathtaking country.
Staying Close to Honshu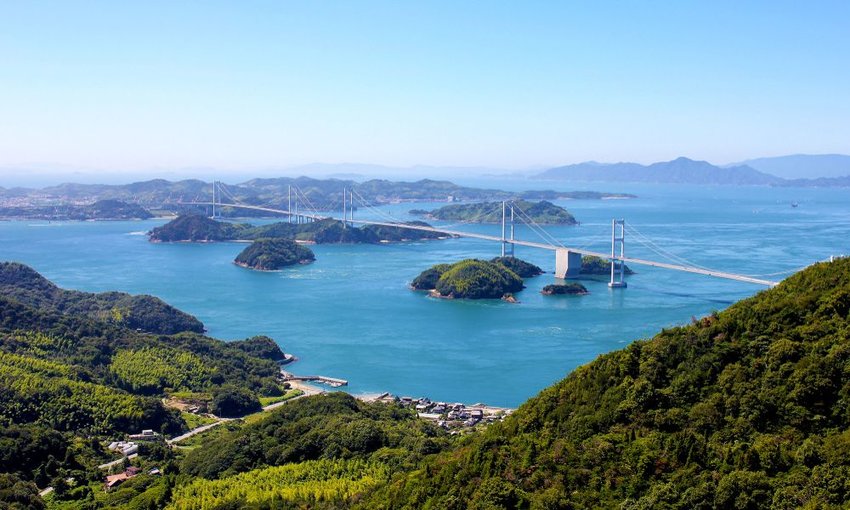 Your island-hopping adventure will most likely begin on Japan's long and curving main island, Honshu. There are a number of easily-accessible islands off Honshu's shores, which make for a perfect day or weekend trip.  
If Japan's capital Tokyo is your first port of call, then your island-hopping adventure can begin by crossing the extravagant Rainbow Bridge and riding the futuristic Yurikamome to Odaiba. This manmade island is a high-tech district in Tokyo Bay with a dining, entertainment, and shopping attractions for all ages. Don't miss the National Museum of Emerging Science and Innovation and the Tokyo Water Science Museum. There's even an artificial beach with fantastic views of the iconic Mt. Fuji.
But to experience Japan's true island vibe you'll want to catch a plane or board a ferry to the Izu Islands. This chain of nine islands was once where criminals and samurai were exiled by the Tokugawa shogunate. Today, the islands are more famous for balmy year-round temperatures, pristine beaches, volcanic hot springs and arguably the country's best snorkeling locations. Try surfing on Niijima Island, ride on horseback around fields of camellia on Oshima Island, and hike to Mt. Miyatsuka on Toshima Island.
Finally, from Okayama, ferries make short journeys to the small islands of the Seto Inland Sea. There's delightful olive groves and the scenic Angel Road sandbar on Shōdoshima and excellent art museums on Naoshima and Teshima. Bridges and the Shimanami Kaido Bikeway connect six islands between the northwestern corner of Shikoku Island and mainland Honshu.
Visiting Tropical Okinawa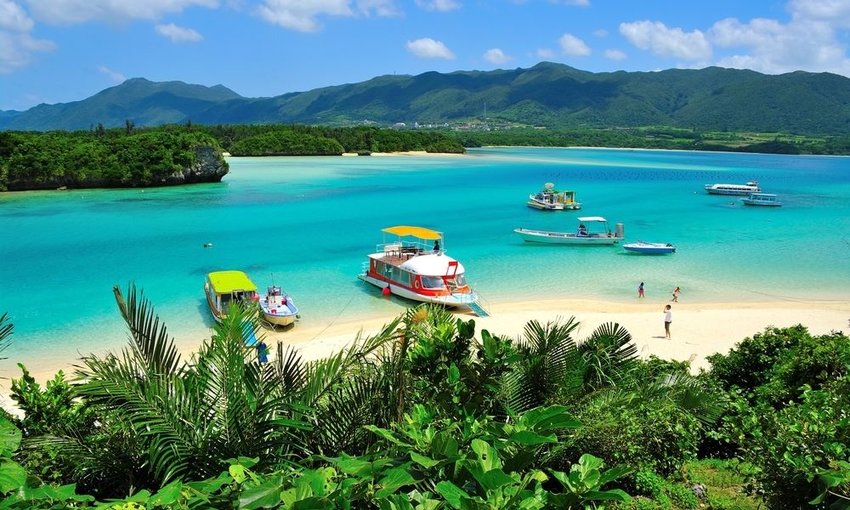 Those that come in search of the idyllic beach lifestyle will find it on the 150-plus islands of the Okinawa prefecture. This is the historical home of the Ryukyu Kingdom and was an independent kingdom up until 1872. Ryukyu art and culinary, dance, and music traditions thrive on the more than 150 islands in this prefecture. Furthermore, these islands are adored for their azure waters, gorgeous beaches, and verdant jungle countryside.
Naha, on Okinawa Island, is the gateway to destinations that appear to have been lifted from travel magazines. Kumejima Island entices with its sugary white sand and Zamami Island is a hotspot for whale watching. Get away from it all at the beach resorts of Mikurajima Island where pods of dolphins swim playfully amid a kaleidoscope of coral reefs.
A warm year-round climate makes Okinawa's islands attractive whatever the season. Plan your visit in winter, when local tourism decreases despite water temperatures remaining at a consistent 68 degrees Fahrenheit.
Hopping to Hokkaido and Other Remote Islands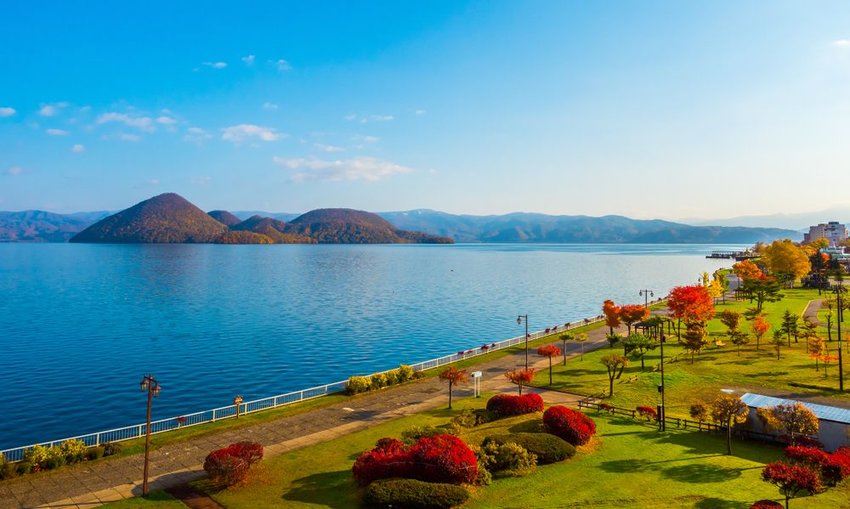 There's something to entice travelers looking for more than just the beach on a Japan island discovery. Take your adventure to Hokkaido, the northernmost island and recipient of the country's harshest winters. Snowy winters lure skiers and snowboarders to Daisetsuzan National Park. Meanwhile, drift ice from Russian waters floats passed the coastline of Shiretoko National Park. Hokkaido's cool summer months present the chance to explore green valleys, mountains, rivers, and wildflower meadows by bike, foot, and kayak.
For an island with a difference, Gunkanjima is a ghost town perched off the coast of Nagasaki. From afar, the group of abandoned coal mining buildings resembles a battleship. Alternatively, choose Sado Island for its Earth Celebration music festival and Yakushima Island for hikes through emerald-green forests.
By Train or By Plane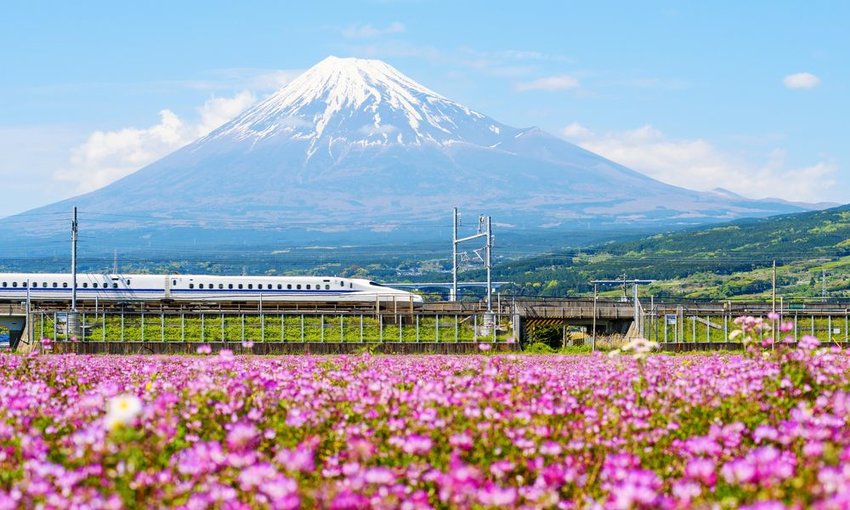 Japan's public transport network is lauded for its reliability and a combination of buses, ferries, planes, and trains can transport you to the farthest imaginable corners of the archipelago. Ride the shinkansen bullet train to Okayama to board daily ferry services to the islands of the Seto Inland Sea. Bullet trains also reach Hokkaido and cities on Kyushu Island. The Japan Rail Pass is a worthwhile purchase for unlimited travel on most shinkansen services.
For the Okinawa prefecture, fly to the capital city Naha and then continue via high-speed boats or plane to other islands. Island hopping is possible by bike as well on the 37-mile-long Shimanami Kaido Bikeway.
There are 1,754 miles from the tip of Hokkaido to Japan's southernmost island, thus getting around the entire archipelago could take a lifetime. Maximize your vacation by splitting your time between the major island groups, namely the Izu Islands, Nagasaki prefecture, Okinawa Islands, and Seto Inland Sea.
Where to Stay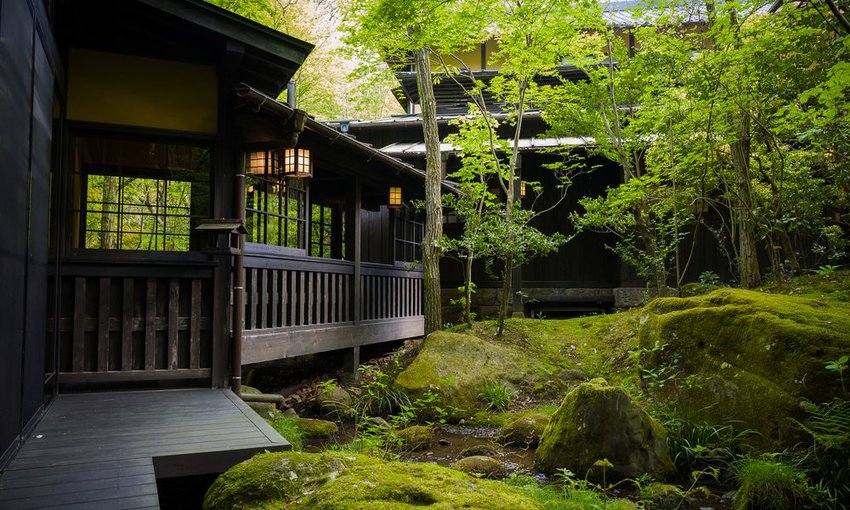 With many islands beckoning with their coastal riches, resort hotels are popular accommodation options. More traditional accommodation types are called ryokan and minshuku. At a ryokan, you'll be sleeping on a futon on a tatami-matted floor and often share the bathroom and other communal spaces. You'll be given a yukata (cotton kimono) to change into when inside the minimalist lodging and be served breakfast and dinner. A welcoming ambience awaits at a minshuku, which are great opportunities to enjoy a Japanese family-friendly bed and breakfast. They are common at hot spring, mountain, and ski resorts.
As a rule, last-minute bookings are not necessarily a guaranteed way to save money, so it's advisable to make reservations in advance. Bear in mind that prices tend to increase during festivals and peak tourism periods such as the Golden Week from late-April to early-May, August's Buddhist festival of Obon, and New Year's Eve. Here's some useful information about budget lodgings in Japan.
Enjoy this article? Share it with a friend
All featured products and deals are selected independently and objectively by the author. The Discoverer may receive a share of sales via affiliate links in content.
Discover the World's Best Destinations, with your free weekly travel guide sent straight to your inbox.
Welcome to The Discoverer!
We are so excited to fill your inbox with discoveries from around the world! You can expect your first edition to arrive on Monday. Until then, feel free to check out our previous editions.