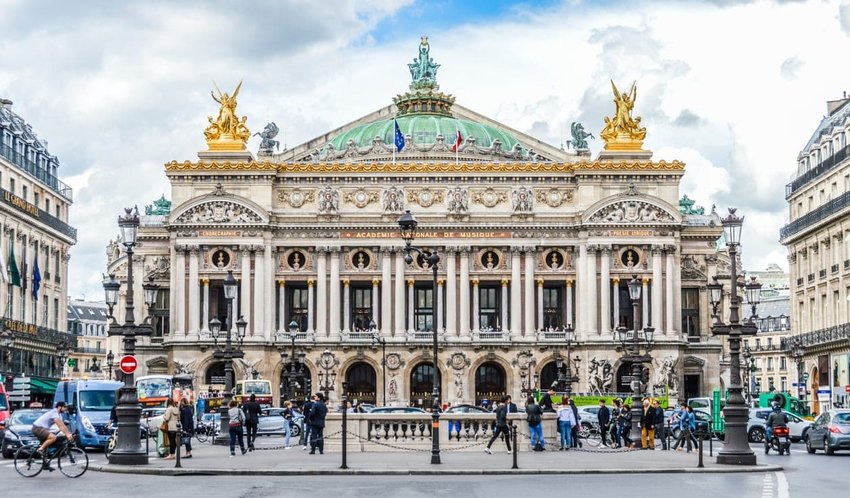 8 Unusual Paris Landmarks That Will Make You Fall in Love
It's easy to feel the love in Paris. The aptly nicknamed City of Love has a certain charm and charisma that casts a spell over all who come to visit. Paris oozes with traditional French culture, an overwhelming love for the arts, and a strong sense of pride and history. What many tourists don't realize is just how many cool and unusual things they can see and do in this city that don't involve gawking at the Eiffel Tower, discovering The Louvre, and marveling the Norte Dame Cathedral. We're not saying you shouldn't do these things - you should! Just don't forget to mix up the norm with some of these unusual Parisian landmarks that will have you falling head over heels for the most romantic city in the world:
1. Louis Vuitton Fondation
This art and culture center is one of Paris's most iconic buildings of the 21st century. The purpose of its construction is to display art and exhibits from the 20th and 21st century. Housed inside an incredibly innovative building, the entirety of the structure is covered by giant panels of smooth glass molded into abstract shapes. The art displayed falls into four categories: Contemplative, Pop, Expressionist, and Music & Sound. Since it's opening in 2014, the foundation houses 268 pieces from 102 artists in addition to two temporary exhibits of modern art displayed annually. Don't forget to visit the Auditorium, designed to showcase live artistic expression, especially for music and musicians. Lovers of the arts will fall hard for the whole experience.
2. The National Opera of Paris - Palais Garnier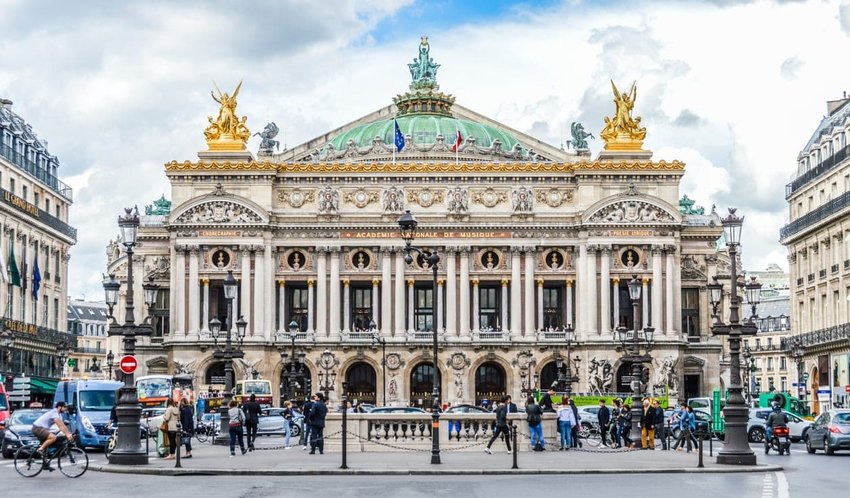 What's more hopelessly romantic than the theater in the Paris? Even if you're not into the opera, the building of the Opéra National de Paris (founded in 1669!) is straight out of a movie. The 30-meter high vault constructed of swirled marble and double staircases impress upon entrance. The horseshoe-shaped French auditorium and 8-ton bronze and crystal chandelier that hangs over the theater decorated in more marble, stucco, and velvet will have your jaw on the floor. Take in an opera, ballet, or symphonic concert to fully experience this magnificent space. Currently, the venue produces 380 shows a year to over 800,000 audience members. Experiencing a Parisian opera is one way to feel a true connection with the city.
3. The Molitor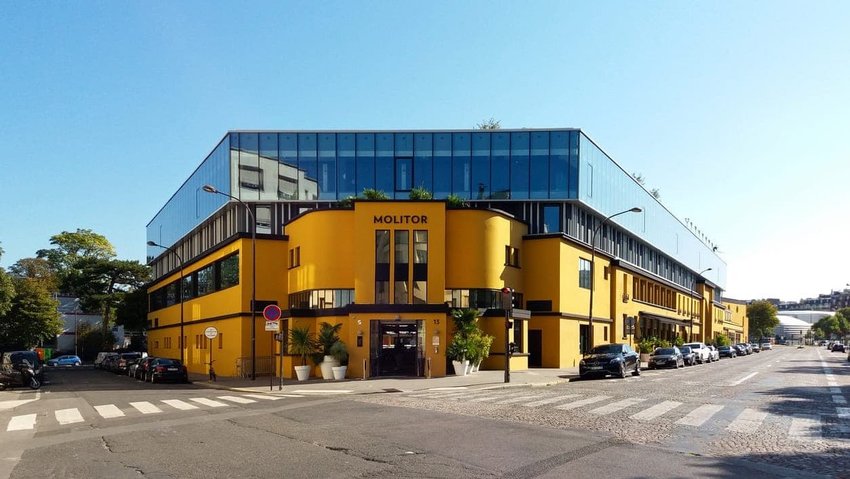 Not only is this building a historical monument, it's also a modern-day pool, spa, hotel, bar, rooftop space, art gallery, and restaurant rolled into one. Today it's a symbol of luxury, but it wasn't always this way. In the 1960s, the Molitor housed Paris' two most popular swimming pools and was the place Parisians came to swim, sunbathe, play sports, or just socialize. When it closed in 1989, the artistically-minded who frequented the Molitor took it upon themselves to occupy the abandoned building. They turned it into their hub for creativity and expression. During the 90s, the building was covered with colorful graffiti, sparking the beginning of street art in Paris. Parties, events, fashion shows, and concerts were held here during this time. Fast forward to present day and the city has revamped the Molitor into its present-day state. However, the building's history has not been erased - the city's first street art graffiti has been preserved on the hotel's lobby walls and corridors. The restaurant and spa are open to the public and the Molitor is known to host cultural and sporting events. This building holds many of Paris' decade-old secrets for those who want to dig beneath the surface.
4. The Statue of Liberty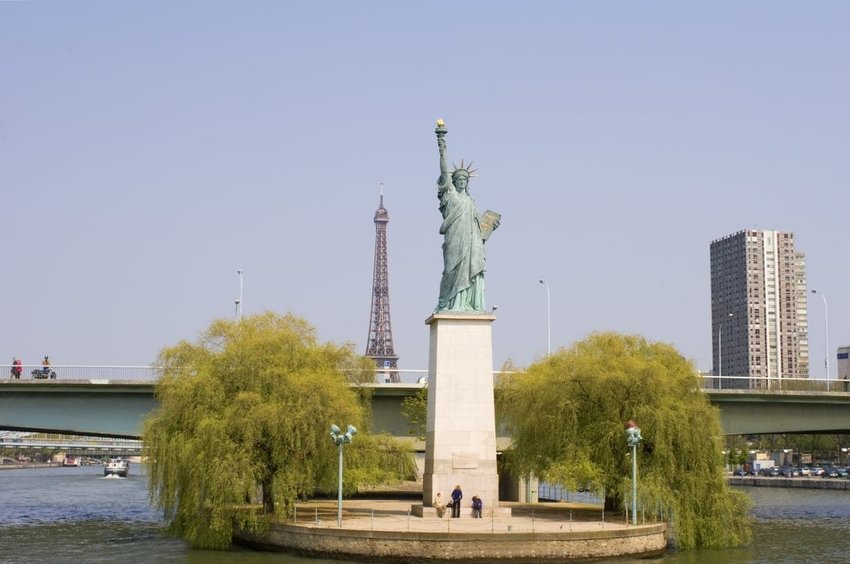 Yep, Paris has one, too. This may seem unusual if you didn't know that New York's most iconic landmark was actually a gift from the French people to the Americans in 1886. As a token of goodwill, friendship, and to commemorate the French Revolution, the U.S. reciprocated by giving France its own (smaller) version of the now-famous statue just several years later. A walk along the embankment of Ile aux Cygnes allows you to stroll through a beautifully landscaped green area and walk right up the statue. You can embark on a romantic dinner boat cruise along the Seine River at sunset while you listen to a live violinist, feast on French cuisine, and view both the Eiffel Tower and Statue of Liberty from the water. This is Paris at its finest.
5. La Cinémathèque Française
Parisian take films very seriously. That's the reason you'll find multiple historic cinemas scatted around the city. One of the oldest cinemas in Parisian history is La Cinémathèque Française. It holds one of the biggest collections of films, film documents and film-related objects in the world. The hefty collection is due largely to the efforts of several men (Henri Langlois and Lotte H. Eisner). They secretly moved their personal film collection (largest at the time) outside of France during WWII to protect them from the destruction ban placed on all films made prior to 1937. After the war, the French government dedicated a space for the collection and the La Cinémathèque Française was born. Today, daily screenings focus on directorial tributes, revivals, and thematic festivals. There's also a fascinating film history museum on site that's totally worth a visit.
6. Un Regard Moderne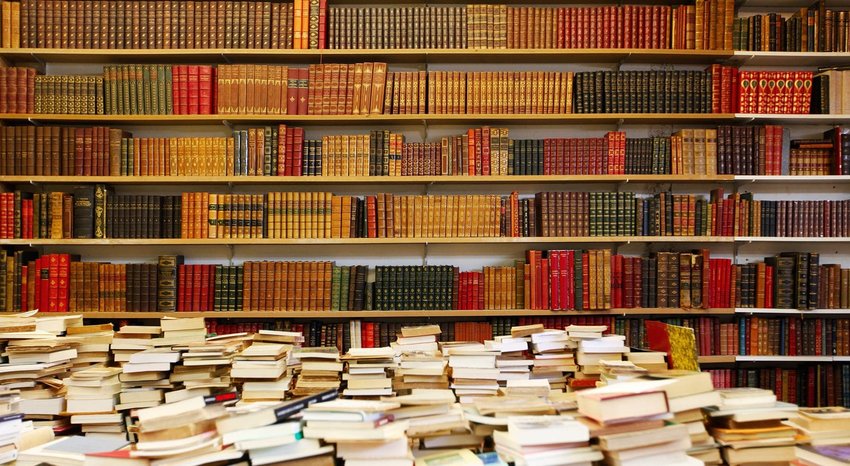 This is not your ordinary bookstore. A cornerstone with artists, musicians, and independent publishers, this bookstore houses an unreal collection of unusual and inspirational art books, essays, and comics. This tiny 2-room shop is packed floor to ceiling with amazing finds running the gamut from graphic design, fetishism, science fiction, and censored books. Nothing is off limits here. This bookstore (and others like it) is a secret part of Paris that the typical tourist would bypass without even noticing. Don't be like the rest!
7. National Library of France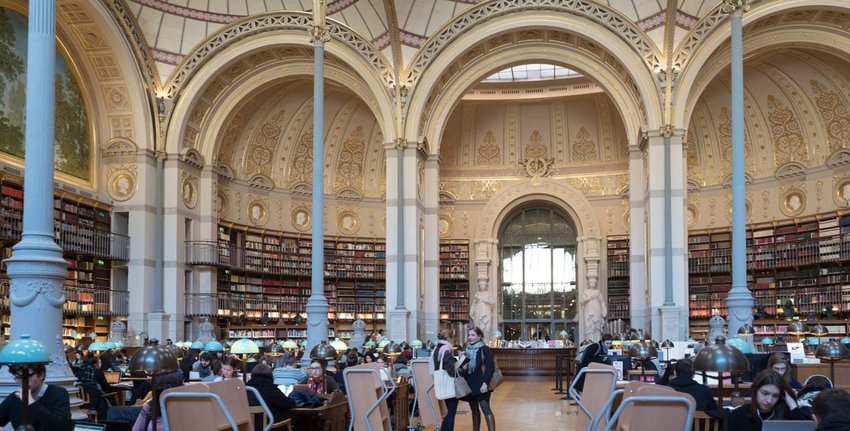 Even if you're not a bookworm, it's hard not to be blown away by the impressive Bibliothèque Nationale de France. Although its location has been changed several times, this library was originally founded in 1368! Until the late 1800s it housed the largest collection of books on the planet. It's since been surpassed but is still one of the biggest in the world with over 10 million books. The Bibliothèque Nationale de France is more than a library. It also houses thousands of ancient Greek manuscripts, two of King Louis XIV's globes (hung from the ceiling), and a collection of Greek, Roman, and French antique coins. Browse the books, architecture, and enthralling history of this uber-important historical French landmark.
8. La Promenade Plantée
A locally beloved green space, this 3-mile stretch of parkland built atop a 10-meter high bridge was the world's first elevated park walkway. The start is found behind the Opera Bastille at the cross roads of Rue de Lyon and Avenue Daumesnil and ends at Bois de Vincennes. The walkway is shaded in shrubbery and decorated with gardens, flowers, archways, and small pools. This is a favorite place of Parisians to jog, walk, read a book, or just take a break from the city. The unique views from the park also make it an interesting way to view the city!
Enjoy this article? Share it with a friend
All featured products and deals are selected independently and objectively by the author. The Discoverer may receive a share of sales via affiliate links in content.
Discover the World's Best Destinations, with your free weekly travel guide sent straight to your inbox.
Welcome to The Discoverer!
We are so excited to fill your inbox with discoveries from around the world! You can expect your first edition to arrive on Monday. Until then, feel free to check out our previous editions.