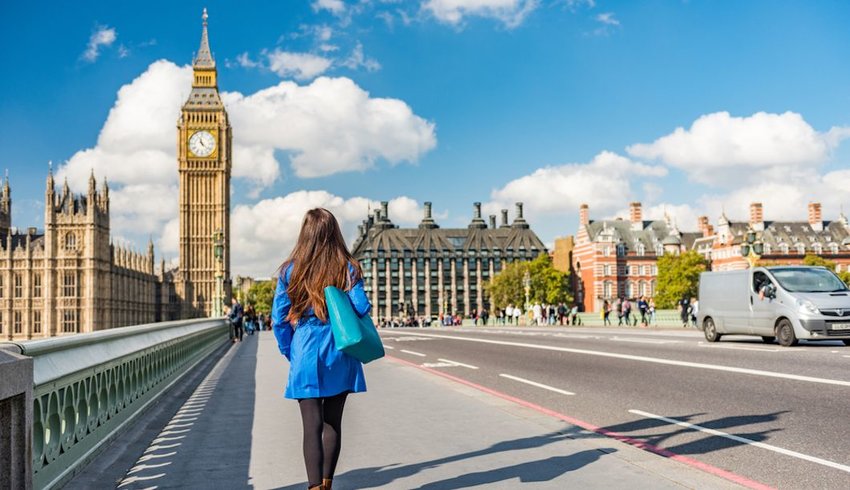 8 Travel Wallets to Keep Your Valuables Safe
Passports, boarding passes, currencies, and travel documents — there's a lot to juggle when you travel abroad. But between keeping your credit cards safe and organizing all your documents, a good travel wallet will solve all these problems and more. Whether you prefer to carry a cute clutch or are looking for a serious anti-theft organizer, we've found the best wallets for your travel needs. Read on to discover eight travel wallets to keep your valuables safe.
For the Dual Citizen: Leatherology Travel Wallet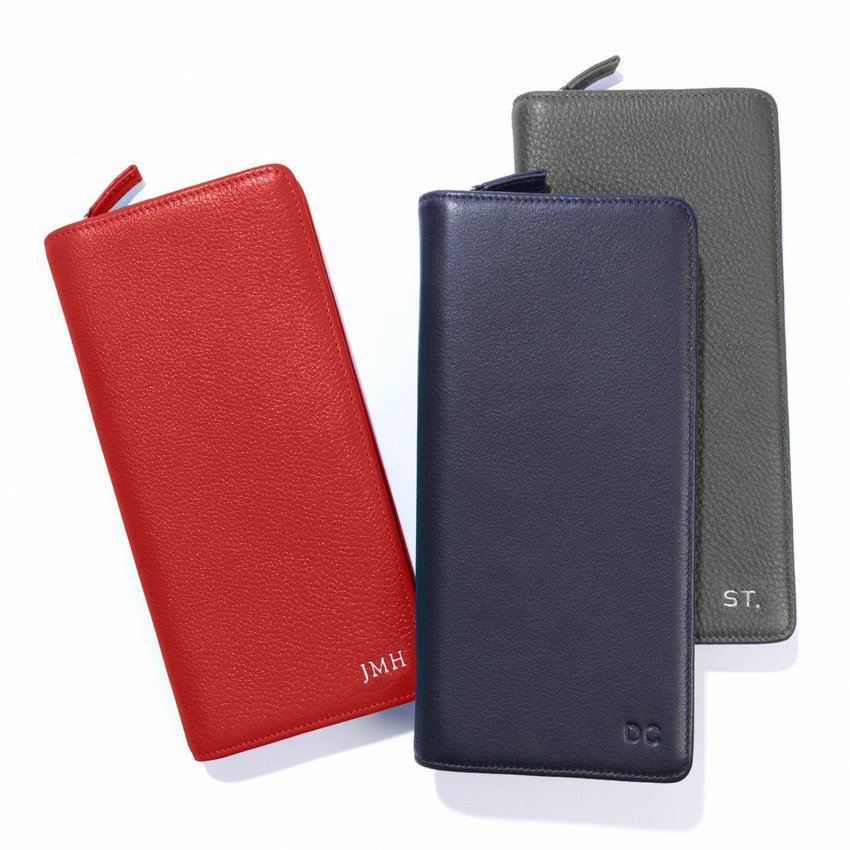 If you're packing two passports, Leatherology's Zip Around Travel Wallet will make your dual citizenship feel like a breeze. In addition to both of your passports, the wallet's generous size allows you to carry multiple credit cards, plenty of travel documents, and as much foreign cash as you need. Most importantly, the wallet's zip closure will give you peace of mind on your travels. With the variety of colors and the add-on monogram, this gorgeous wallet also makes for a great gift.
For the Fashionista: Kate Spade Spencer Continental Wallet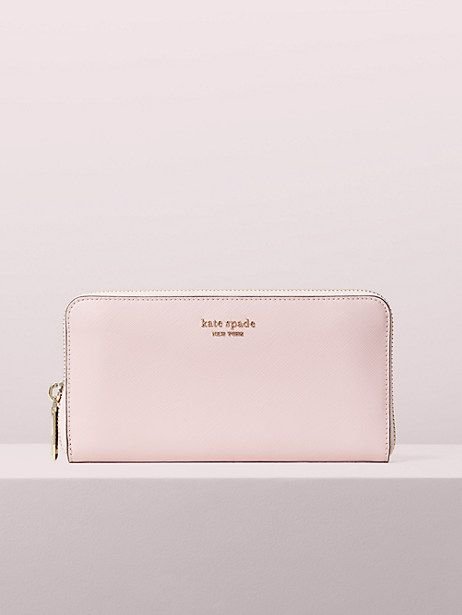 If you're a jet-setting fashionista, Kate Spade's Spencer Zip-Around Continental Wallet is about to become your favorite accessory. This zip-around clutch will keep your travel documents, cash, and credit cards safe, but the sleek design isn't lacking in the fashion department. Plus, the wallet is big enough to fit your passport, but still small enough to tuck into your purse. In fact, it's so cute you'll probably want to use it at home in addition to all your travels.
For the Minimalist: HuMn Money Clip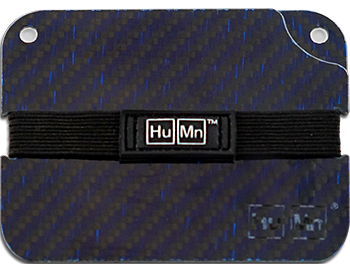 If you're the type of minimalist who prefers to carry a money clip over a wallet, then HuMn's Carbon Fiber RFID Blocking Wallet is just the thing for you. The brand's flagship wallet allows you to carry up to six credit cards with RFID protection, so snoopers can't electronically steal your credit card info. The billfold's carbon fiber is made of EMI/FRI shielding mesh for extra protection, so whatever you choose to bring, you know you're keeping it safe.
For the Thrifty: Zoppen Travel Passport Wallet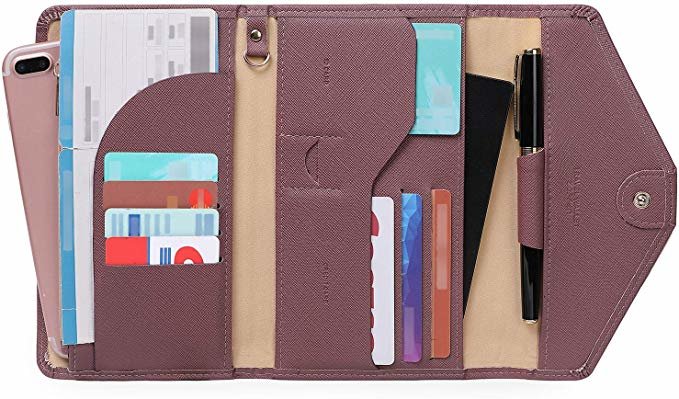 Sure, a travel wallet is great, but what if you spent all your money on the airplane ticket? That's when you need something like the Zoppen Multi-Purpose RFID Blocking Travel Passport Wallet. At only $14.99, this tri-fold travel wallet fits everything you need when you're on the go. From your smartphone to your passport to the pen you need for customs and immigration, this wallet will protect your stuff and keep you organized (even if you're on a budget).
For Anti-Theft Protection: Pascafe Travel Organizer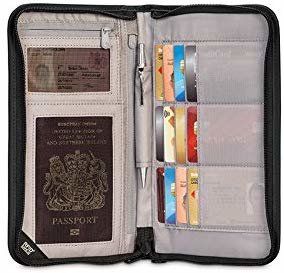 Between potential pickpockets and could-be-hackers, traveling with your valuables can be scary. That's why an anti-theft wallet, like Pascafe's RFIDsafe V200 Anti-Theft RFID Blocking Travel Organizer is great for travel. Not only does it have room for everything you need, including your passport, credit cards, travel documents, and currency, but it can be strapped to your wrist or clipped to the inside of your suitcase. And since the wallet's RFID technology protects your sensitive information, you needn't worry about a thing.
For the Neat Freak: Aspinal of London Classic Travel Wallet
If you happen to own a label maker, then the Aspinal of London Classic Travel Wallet will speak your language. This chic travel wallet is a wonder of organization with beautifully labeled compartments for your boarding pass, currency, tickets, passport, and travel documents. Never again will you be desperately searching for your things in a mild panic. Even if you're a wannabe-neat-freak with a mere hope of staying organized, this wallet won't let you down.
For Vacation Double-Duty: Porter Travel Wallet
When you travel, the things you bring need to be highly functional. Sometimes you want a travel wallet to carry your documents and other times you need a strappy purse to wear out in the evening. Meet the Porter Crossbody Travel Wallet, which addresses both these needs. When you're in transit, the wallet will keep your travel documents organized and fit inside your carry-on. But when you get to your final destination, the wallet's strap converts it into a cross-body purse for a night out on the town.
For No-Nonsense Travel: Revere Sport Travel Money Belt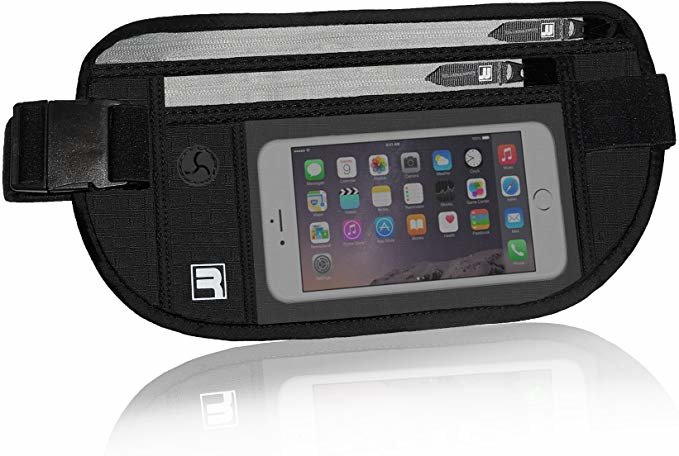 It's time we realized that fanny packs are here to stay. They're functional, they're great for travel, and they're even kind of cool. Take the Revere Sport Travel Money Belt, which will carry everything you need securely at your waist. The multiple pockets allow you to separate your passport and travel documents from your cash, phone, and earbuds. It's also lightweight, waterproof, and slim enough to wear with anything. Once you get over the fact that you're wearing a fanny pack, you will love it.
Feature Photo Credit: Maridav/Shutterstock
Enjoy this article? Share it with a friend
All featured products and deals are selected independently and objectively by the author. The Discoverer may receive a share of sales via affiliate links in content.
Discover the World's Best Destinations, with your free weekly travel guide sent straight to your inbox.
Welcome to The Discoverer!
We are so excited to fill your inbox with discoveries from around the world! You can expect your first edition to arrive on Monday. Until then, feel free to check out our previous editions.