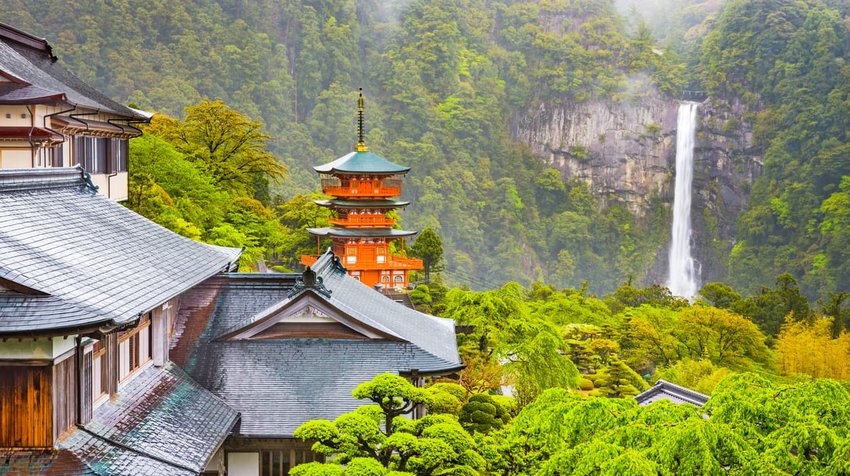 Does Tokyo and its madding crowds have you wishing for new and exciting places to visit in the Land of the Rising Sun? What's stopping you from packing a bag and hopping on the next bullet train out of the city to explore amazing Japanese gardens, spiritual shrines or tranquil mountain villages? Come along as we explore 8 hidden gems of Japan—before they get too crowded.
Shirakawa-go Village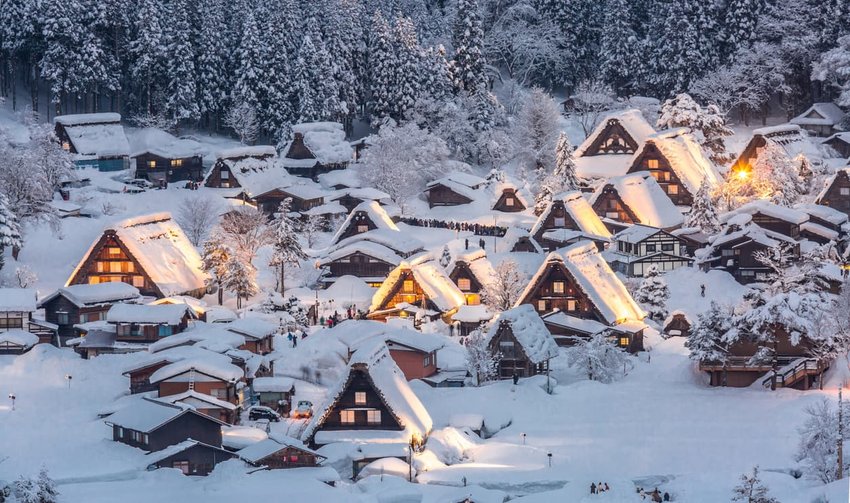 Credit: vichie81/iStock
Nestled in a serene river valley and surrounded by mountains, Shirakawa-go is a nature lover's four-season wonderland. You will be awed by the cherry blossom trees in spring, lush green fields in summer, brilliant autumn leaves in fall and a white Christmas village feel in winter. For an authentic Japanese experience, book a stay in the stay in the Gassho-style farmhouses. This UNESCO World Heritage Site has many attractions that will make your stay unforgettable and the pace of life is meant to be slow in this quaint mountain village. Take your time and walk to the Shiroyama observation deck and you will be rewarded with soul-inspiring views of the peaceful valley.
Kenrokuen, Kanazawa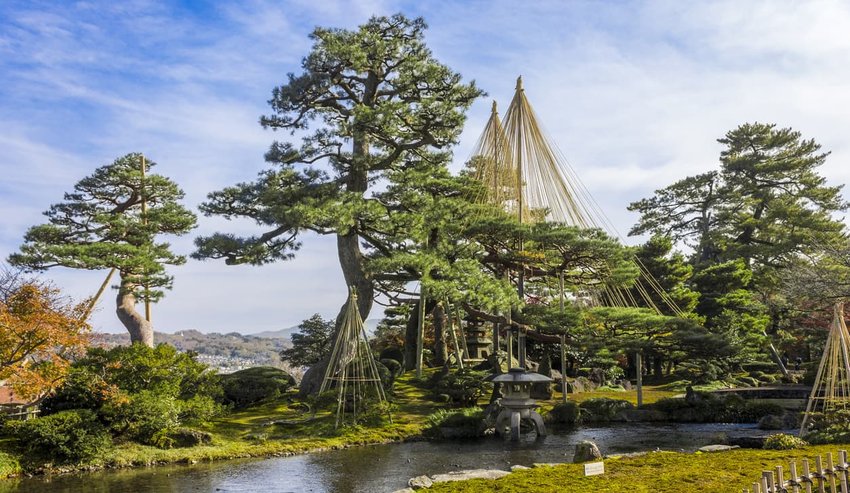 Credit: Joaquin Ossorio-Castillo/iStock
There is no reason to ask why Kenrokuen Garden in Kanazawa is known as of Japan's "three most beautiful landscape gardens." These amazing and spacious grounds were once the outer garden of Kanazawa Castle and were nearly two centuries in the making. First open to the public in 1871, the beauty of Kenrokuen lies in its design, with unique, but breathtaking looks for each season. Stroll along the walking trails and admire the plum and cherry blossoms in the spring and enjoy your green tea at a teahouse as you welcome the blazing red color of the maple trees in the autumn. At the entrance to the garden, you will find a lovely pedestrian walkway lined with shops and restaurants. If you are here in the spring, sit and admire the beautiful cherry blossoms in all their blooming glory.
Kumano Kodo, Osaka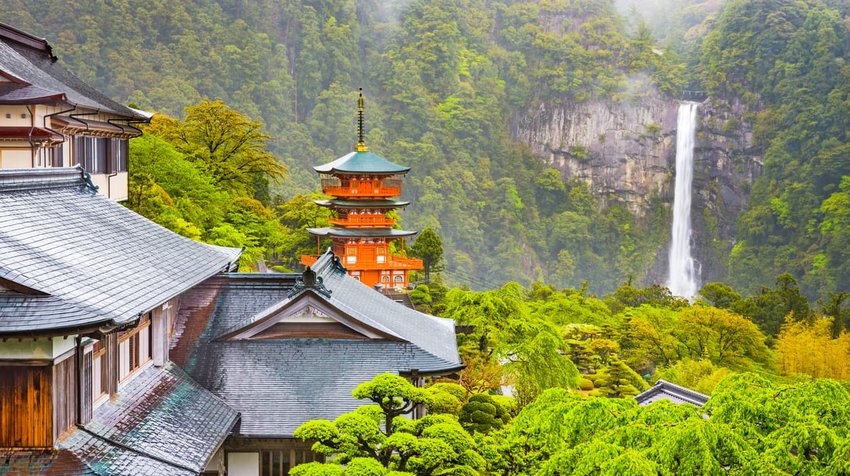 Credit: Sean Pavone/iStock
Even though Osaka is known as one of Japan's busiest cities, a hidden gem can be found nearby. Tucked away in the Kii Mountains you'll find the ancient and tranquil Kumano Kodo trail (Kodo means "pilgrimage route"). This sprawling network of trails spread out over the peninsula was a popular pilgrimage to the three main shrines, collectively known as Kumano Sanzan. The walk is spectacular and the route is one of only two UNESCO World Heritage recognized routes of pilgrimage. Plan ahead and book a stay at one of the small family run Japanese inns where you can soak in a hot spring called "onsen" and savor fresh local cuisine that comes from the nearby sea.
Nagano Prefecture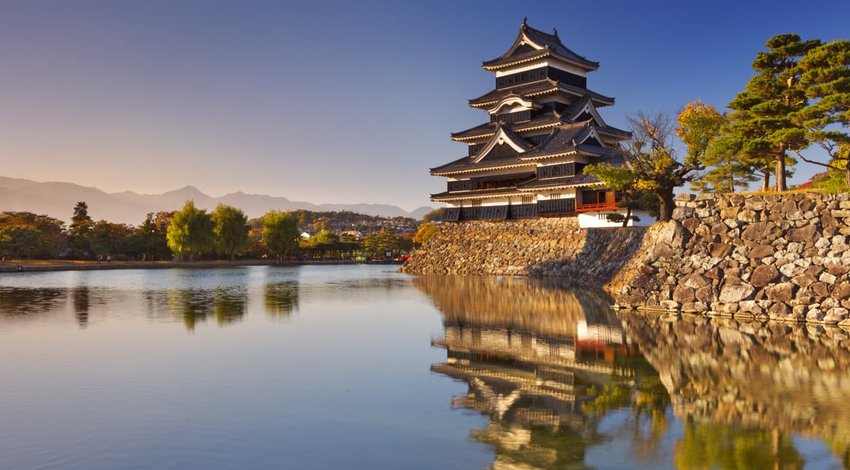 Credit: sara_winter/iStock
A spectacular day-trip from Tokyo is to Nagano Prefecture (a prefecture is an administrative district). This hidden gem earned the nickname "Roof of Japan" because is smack-dab in the middle of Japan and is completely surrounded by towering mountains. Because Nagano hosted the 1998 Winter Olympics, ski lovers will have no trouble finding world-class snow resorts that rival Aspen and St. Moritz. You will fall in love with its treasure trove of natural wonders, culture and history—and amazing views of sacred Mt. Fuji. Nagano is also the king of onsens. Check out Jigokudani Wild Monkey Park to catch a glimpse of something you don't see every day, onsen-bathing wild snow monkeys. A must-see while in Nagano is Matsumoto Castle that features Japan's oldest wooden donjon (tower). This five-story black and white stucco treasure provides a striking contrast set against the majestic Japanese Alps.
Yamadera, Yamagata Prefecture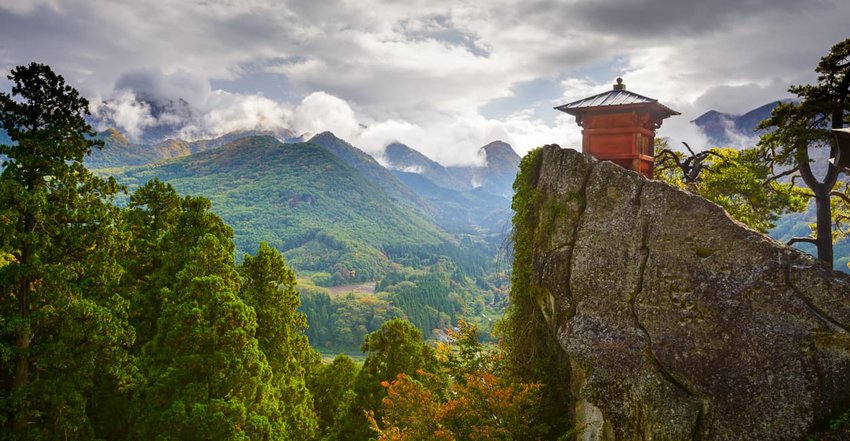 Credit: SeanPavonePhoto/iStock
Just an hour's train ride from the city of Sendai, you will find our next hidden gem. The locals call this spot Yamadera ("mountain temple" in Japanese). This serene temple is shrouded by the mountain forests northeast of Yamagata City. The views of the valley from the temple ground perched high up a steep mountainside are absolutely breathtaking. The temple was founded in 860 by the Buddhist sect of Tendai. To reach the upper area of the temple grounds, you have to be in fairly good shape. After you buy a ticket at the Sanmom Gate, a stone path of 1000 steps leads up the mountainside to the temple grounds. The best place to get that spectacular view is to take a path to Godaido, the wooden observation deck. This is a great place to rest and meditate over the beauty of the surrounding Yamagata countryside.
Kurashiki City, Okayama Prefecture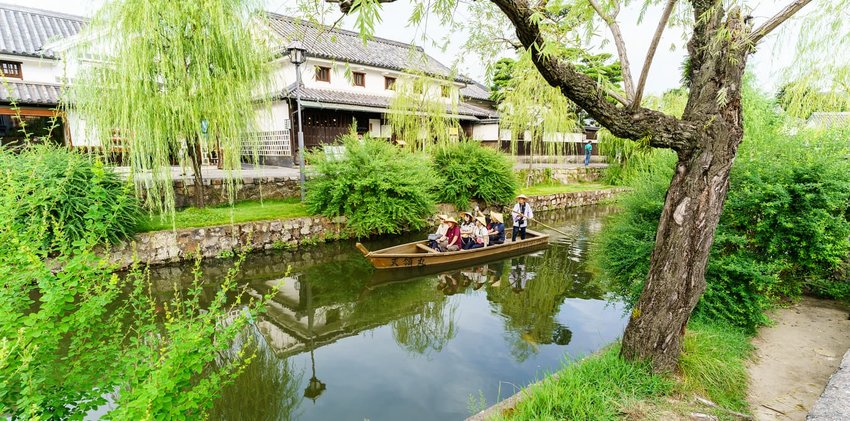 Credit: PK6289/iStock
If you want to enjoy a leisurely canal ride and soak in some history as well, Kurashiki City (roughly translated as "town of storehouses") is a great spot to do both. This well-preserved city dates back four centuries to the Edo Period, when Kurashiki City served as a vital rice distribution center. Canals were built to allow boats and barges to navigate between the city's storehouses and the nearby port. In fact, the city gets its name for the home of the stored rice Large amounts of rice were brought to the city from the surrounding area and stored before being sent to major cities like Osaka and Edo (the old name for Tokyo). Many of Kurashiki's old storehouses have been converted into museums, boutiques and kissaten (tea-shops). A stay in a ryokan is an experience of a lifetime. A ryokan is a type of traditional Japanese inn and is the oldest type of hotel in the world.
Yakushima, Kyushu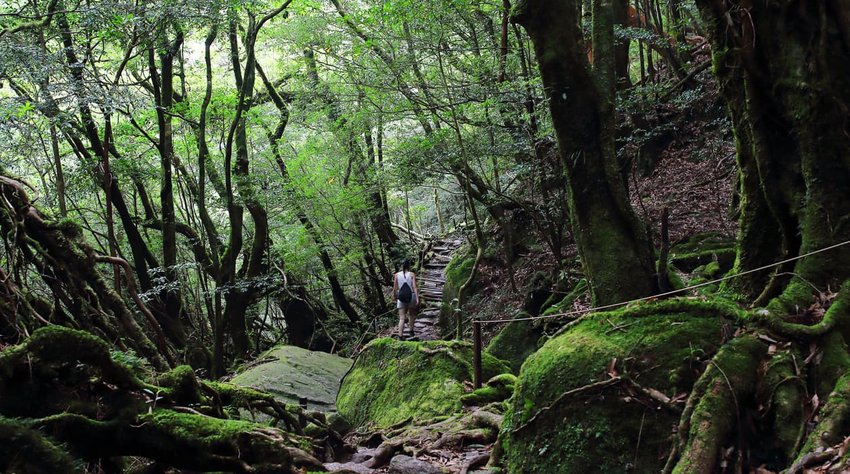 Credit: Nachosuch/iStock
Just off the southern coast of Kyushu, you will find a hidden getaway that is ancient in every sense of the word. The subtropical island of Yakushima is literally covered with a massive age-old cedar forest that contains some of Japan's oldest living trees. The locals affectionately call these prehistoric trees yakusugi (sugi is the Japanese word for cedar). The most ancient trees may be over 7000 years old. Yakushima was in the brink of extinction because of extensive logging to make cedar roof shingles, but recent preservation efforts have allowed the forest to recover and thrive. The area is now a national park and a UNESCO Natural World Heritage Site. Most people come here to relax and hike among the ancient cedar trees. After a day of trekking, stay the night in of the many seaside lodges, like Marine Blue, where you can stand on your veranda and watch the sunset melt into the sea. If your timing is right, you can even catch a glimpse of sea turtles laying eggs on the beach.
Hakone, Fuji-Hakone-Izu National Park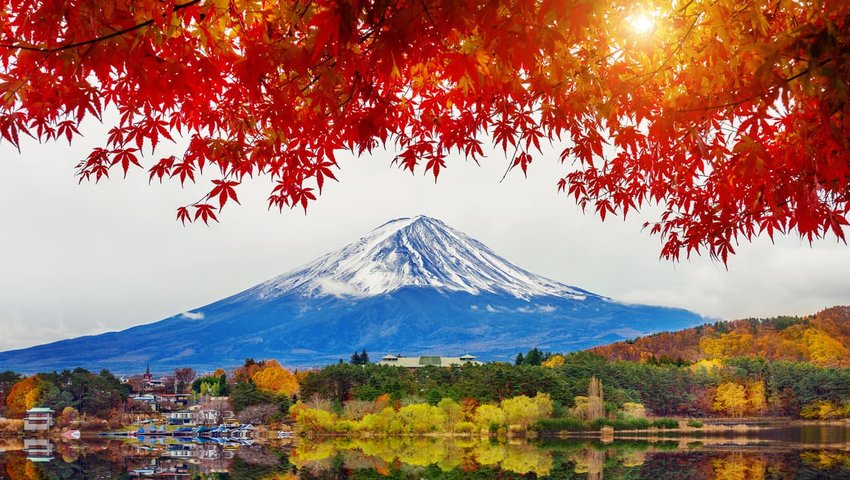 Credit: tawatchaiprakobkit/iStock
If you are visiting Tokyo and want a break from the crowds, shopping and traffic, then hop on a train and head to Hakone. There are plenty of things to see in this area, but it is famous for its world-class onsens, natural beauty and stunning views across Lake Ashinoko of iconic Mount Fuji. If you want some solitude, take a hike along the lakes quiet shores. The best views of the lake and Mount Fuji can be enjoyed from the Hakone Detached Palace Garden and from the sightseeing boats cruising the lake. If you are into medicinal cuisine, try the legendary black eggs of Owakudani. They are chicken eggs boiled in the hot sulfur springs that turn the shells black. According to a local tradition, for each black egg eaten seven years is added to one's life.
Enjoy this article? Share it with a friend
All featured products and deals are selected independently and objectively by the author. The Discoverer may receive a share of sales via affiliate links in content.
Discover the World's Best Destinations, with your free weekly travel guide sent straight to your inbox.
Welcome to The Discoverer!
We are so excited to fill your inbox with discoveries from around the world! You can expect your first edition to arrive on Monday. Until then, feel free to check out our previous editions.