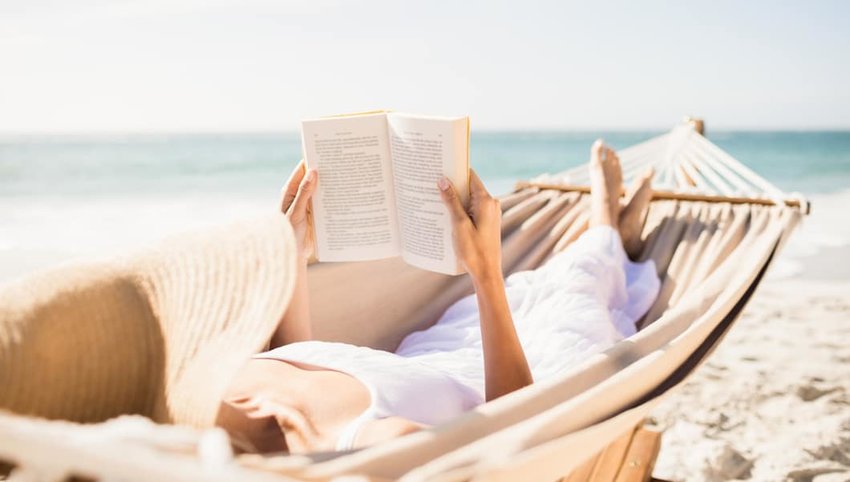 7 Beach Reads to Dive into This Summer
What pairs perfectly with a relaxing beach vacation? A fresh paperback with sand between the pages. There are tons of beach reads out there, so how do you choose? You'll want to bring a book to the shore that will keep you turning those pages, whether it's a thriller, classic, romantic-comedy or whatever inspires you to read. We have come up with 7 beach reads to dive into this summer that will fit perfectly into your beach bag.
Crazy Rich Asians by Kevin Kwan
Keven Kwan's debut novel is filled with jaw-dropping opulence and the age-old struggle between old and new money. The fun all starts when Nicholas Young brings Rachel Chu, his ABC (American-born Chinese) girlfriend home to Singapore for the wedding of the season. She is not prepared for the jet-setting life of palatial estates, dynastic splendor and all that lifestyle entail. The story revolves around the relationships that Rachel builds with the young and beautiful of Singapore's high-society and Nick's mother, who has strong ideas on who her son is supposed to marry. This great read is a peek into the lives of some exceedingly rich, young and in love Asians. Bonus: when you finish the book you can enjoy the recent movie adaptation on the flight home.
Caddyshack: The Making of a Hollywood Cinderella Story by Chris Nashawaty
If you want to find out what really happened behind the scenes of this cult-classic movie, put Caddyshack: The Making of a Hollywood Cinderella Story in your beach bag this summer. You might want to rent the movie and re-watch it before you read the book so you can relive the wild and crazy moments of this 1980 comedy. This no-holds-barred book by Chris Nashawaty doesn't stop at Caddyshack. He delves into the backstories of classic comedy institutions like National Lampoon and SNL and the contributions of the legendary comic genius of Chevy Chase, Bill Murray, and Harold Ramis.
How to Stop Time by Matt Haig
If you liked Benjamin Button, you will love Matt Haig's fascinating novel How to Stop Time. Tom Hazard looks like an ordinary 41-year-old man, but he has a mind-blowing secret—he's hundreds of years old. He has lived lives among the who's who of history and now teaches the subject in a London high school. He stays under the watchful eye of the secret society that protects people like Tom, but the unthinkable happens when he gets involved in a French teacher who is fascinated by him. Tom grapples with the first rule of the society, "Never fall in love." He must make the gut-wrenching decision to stay in the past or live in the present.
The Historian by Elizabeth Kostova
Not all beach reads need to be feel-good stories of distant lands. The Historian does take you to a far-off place, but one linked to the single darkest power of our past. When a young woman finds an ancient book and a collection of yellowed letters, she is thrown into a mysterious world that nightmares are made of.  She must navigate the past secrets of her father and try to connect the fate of her dead mother with the unimaginable evil of medieval ruler Vlad the Impaler, whose reign gave rise to the legend of Dracula. This fascinating read will transport you across time and Eastern Europe as she uncovers the horrific truth about a sinister past.
A Games of Thrones by George R. R. Martin
If you want to dive into the book that started it all and led to the already-classic HBO series, then buckle up and go for an epic dragon ride. This opening salvo of the Song of Ice and Fire fantasy series is simply addicting and the plots are so intriguing you will have a hard time not going to the bookstore for more. The book has it all: political intrigue, zealous infighting and a cast of fantastic creatures that will take you away to a magical and mystical land.
Hungry: Eating, Road-Tripping, and Risking It All with the Greatest Chef in the World by Jeff Gordinier
Hungry is not just about food. This look at global culinary culture by Esquire's food and drinks editor chronicles four years spent traveling around the planet with world-renowned chef René Redzepi. Take an off-beat road trip as Gordinier and Redzepi explore the local food culture of the most unlikely places. From the jungles of the Yucatan peninsula to Sydney and the Arctic Circle, the duo bump into Redzepi's acclaimed foodie friends and colleagues and amazing tales soon unfold. This beach read is part travelogue and part memoir but totally an exciting account at the genius and talent of a couple of amazing people. In the end, Redzepi returns to his humble roots in Copenhagen with plans to resurrect his restaurant in a highly unlikely place.
The Poisonwood Bible, by Barbara Kingsolver

Set in post-colonial Africa, Barbara Kingsolver paints a strikingly vivid tale of missionary life in the Belgian Congo. The story is narrated by the wife and four daughters of Nathan Price, a forceful preacher who takes his family to Africa to do God's work. Most everything that could go wrong does and they soon find all their plans thwarted by the local people and the unforgiving geography of the African continent. The wife and daughters take turns describing their lives in a remote Congolese village and Nathan's quest to convert the Congolese.
Psst! We take pride in promoting products we think you'll like, but just so you know we use affiliate links, which means we may earn compensation for any sales generated from this page. Thanks!
Enjoy this article? Share it with a friend
All featured products and deals are selected independently and objectively by the author. The Discoverer may receive a share of sales via affiliate links in content.
Discover the World's Best Destinations, with your free weekly travel guide sent straight to your inbox.
Welcome to The Discoverer!
We are so excited to fill your inbox with discoveries from around the world! You can expect your first edition to arrive on Monday. Until then, feel free to check out our previous editions.