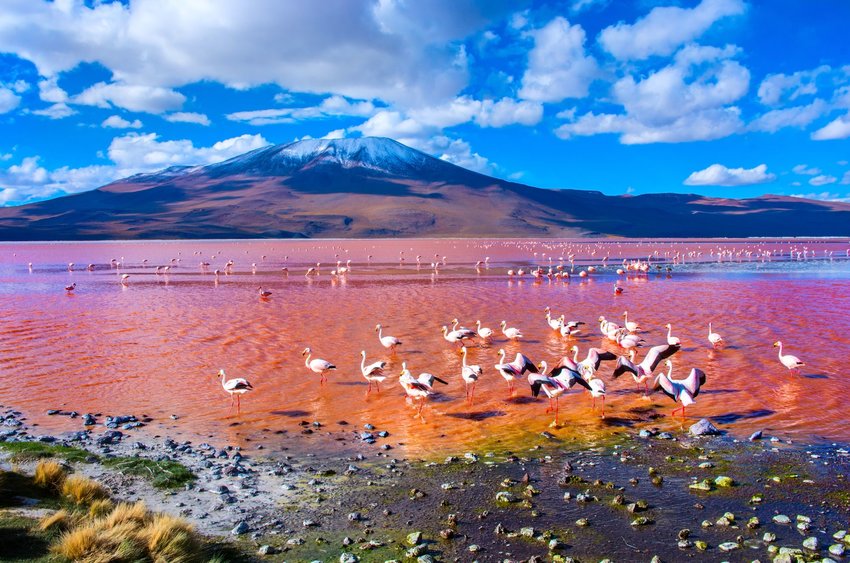 25 Stunning Sites in South America
If you live in North America, you may not give much thought to our southern neighbor. South America is an incredible place to visit though, full of mountains, deserts, jungles and rainforests, not to mention a deep and dramatic history. Here are 25 stunning sites in South America that welcome visitors today.
Machu Picchu, Peru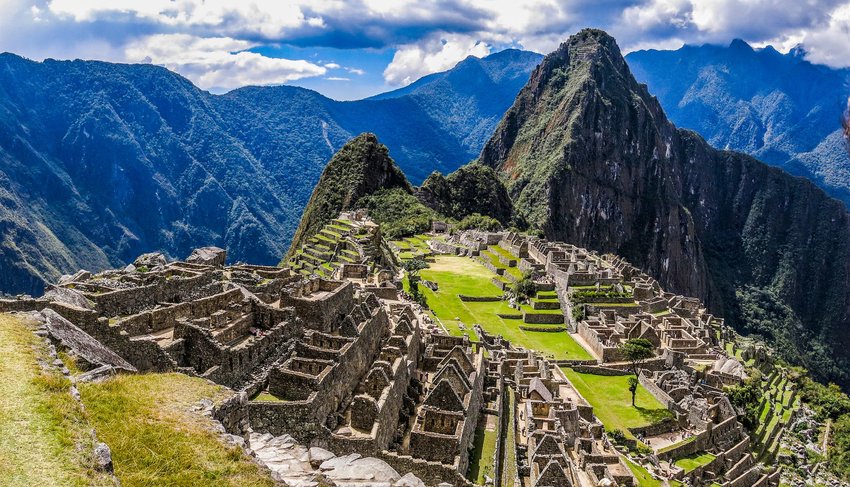 Machu Picchu is one of the most notable places in all of South America. This Incan citadel was built around the 15th century, high up in the Andes Mountains. It was abandoned after it was invaded by Spanish conquistadors in the 16th century, but its ruins were eventually rediscovered in 1911 by American explorer Hiram Bingham. Today, it's one of the most popular (if not the most popular) attraction in South America. To get the best view, you can hike the Inca Trail for more than 50 miles, until you reach the very top where those ancient ruins still stand.
Easter Island, Chile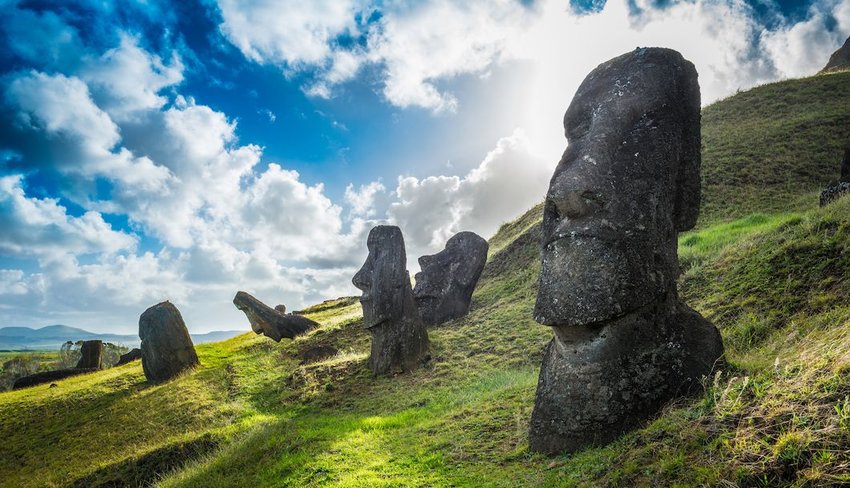 Easter Island is not only one of the most famous places on the continent, but also one of the most mysterious and studied places in all the world. Located around 2,000 miles off the coast of Chile, this remote island is home to nearly 900 enigmatic Moai statues that are thought to have been carved between 1,100 and 1,500 B.C., as well as an incredible landscape featuring beaches and volcanic craters.
Torres del Paine National Park, Chile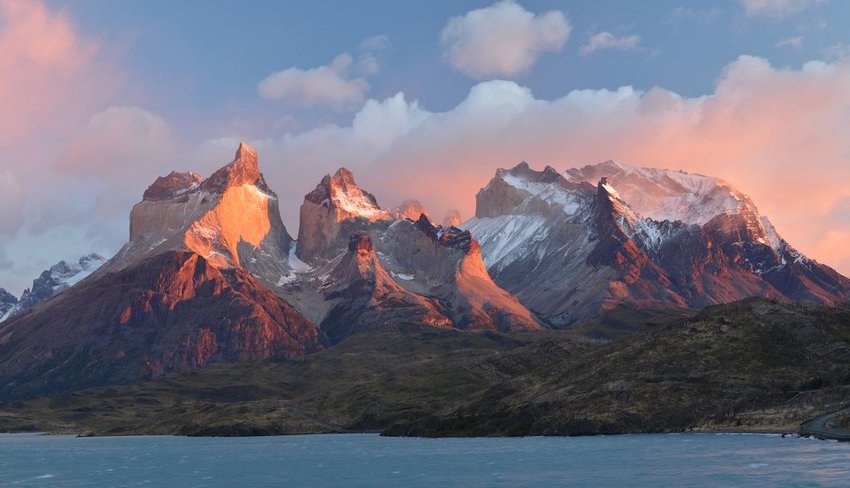 In Chile itself, you can find the Torres del Paine National Park, with its enormous, jagged granite peaks that reach up into the sky and form a very formidable-looking backdrop to the already beautiful landscape. You can also visit the stunning Lake Grey, as well as several other lakes, waterfalls and dense, lush, green forests. In your travels, you may even come across some of the region's native pumas, condors, and guanacos, a species of lama-like creatures that live in the mountains.
Galapagos Islands, Ecuador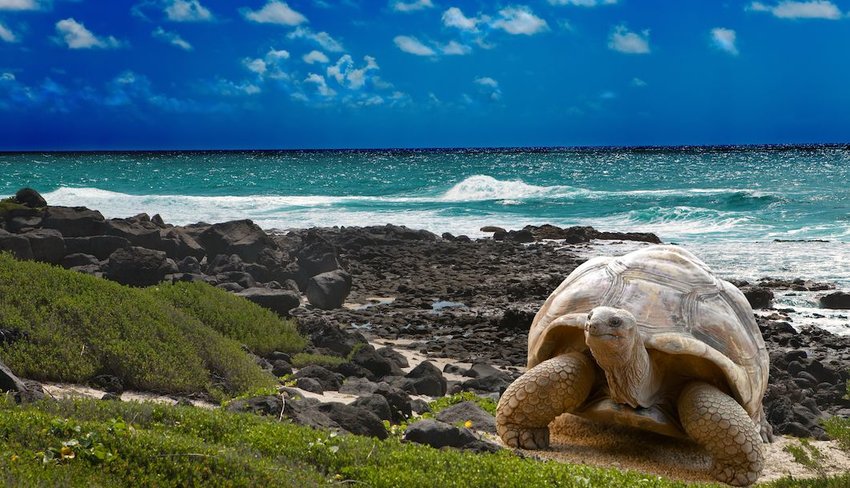 The Galapagos Islands in Ecuador might just be one of the most important biological places on Earth. The environment inspired Charles Darwin's theories on evolution in the 19th century. This island is the perfect spot for nature lovers, as it is the natural habitat of multiple species you have probably only seen in a zoo, including giant tortoises, marine iguanas, painted locusts, and the rare flightless cormorant, just to name a few.
Iguazu Falls, Brazil and Argentina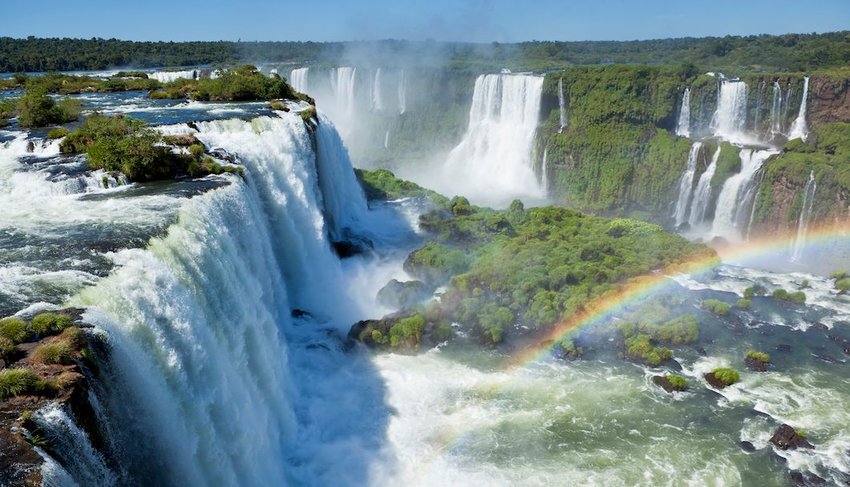 Straddling the border of Brazil and Argentina, Iguazu Falls features not one, not two, but 275 spectacular waterfalls. Some of these falls reach heights of over 260 feet as they flow into the Iguazu River below. You can see them from a boat on the water, or you can be daring and take a walk on the catwalk that stretches over a particularly stunning waterfall called the Devil's Throat.
Atacama Desert, Chile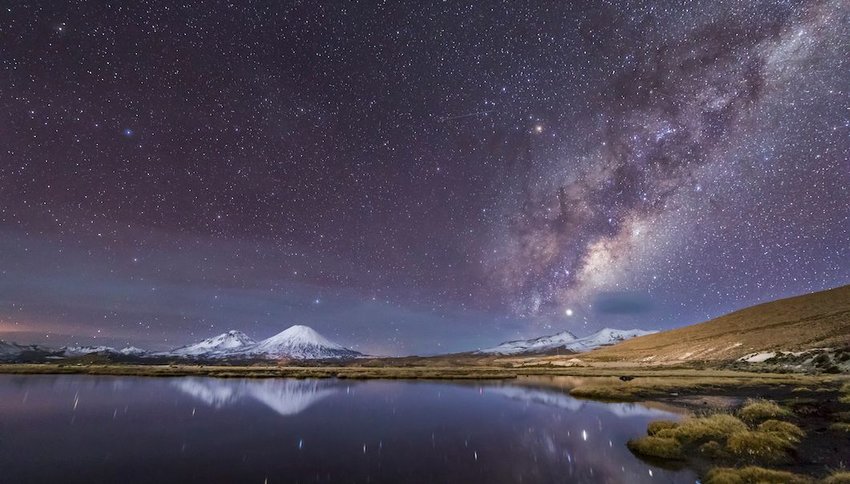 The Atacama Desert is the driest non-polar desert in the world. In fact, there are some places in which not even a single drop of rain has ever fallen. The dry air in the desert makes it the perfect place for stargazing, which one can do on their own, or from the comfort of one of two large observatories. Other features include the stunning salt flats, active geysers and intense blue lagoons.
Salar de Uyuni, Bolivia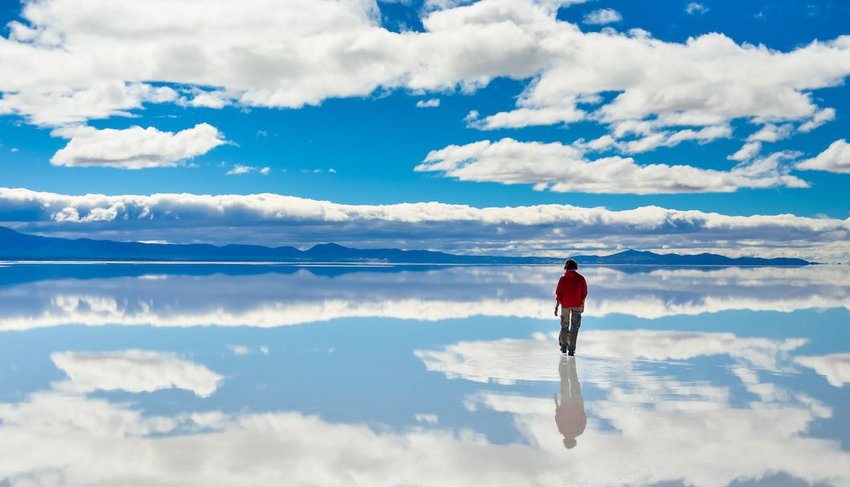 If you want to see something truly incredible, you should visit Bolivia's Salar de Uyuni during the region's rainy season. During this time of year, the world's largest salt flat (which stretches over 4,000 square miles) is covered in a layer of water. This water then creates a bizarre mirror effect, making it impossible to tell where the sky ends and the Earth begins. It looks like something out of a dream, and is certainly not to be missed.
Perito Moreno Glacier, Argentina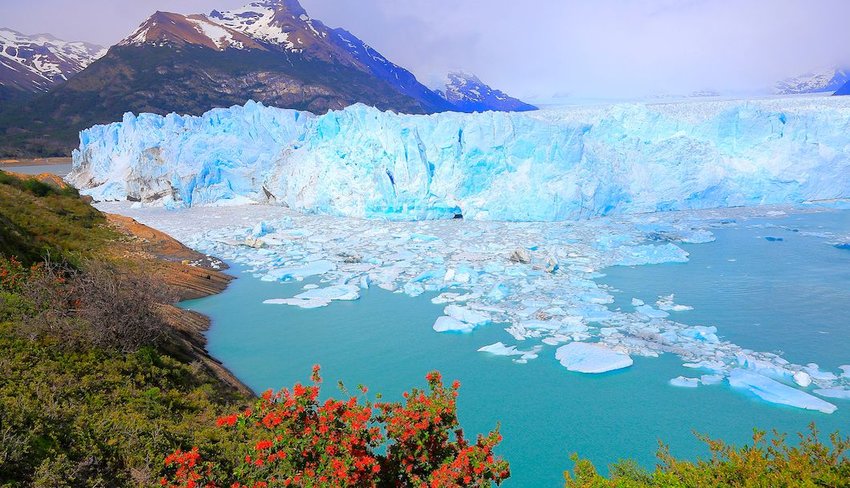 The crown jewel of Los Glaciares National Park, Perito Moreno glacier is a stark white mass of ice towers stretching above freezing turquoise waters. The glacier stands at 240 feet high and over 19 miles long, and is still growing. Like all other glaciers, Perito Moreno sheds ice, but it grows back quickly, making it quite a phenomenon in the glacier world.
Rio De Janeiro, Brazil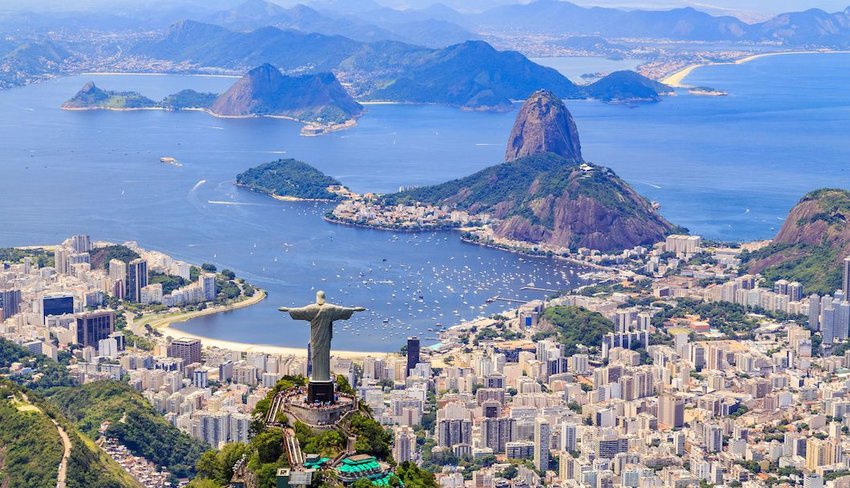 Rio De Janeiro is another of South America's most famous cities, and for good reason. The recognizable, 98-foot-tall statue of Christ the Redeemer looks out over the city from a 2300-foot-high mountaintop. Golden beaches meet a bustling city that thrives on music and spirit.
Angel Falls, Venezuela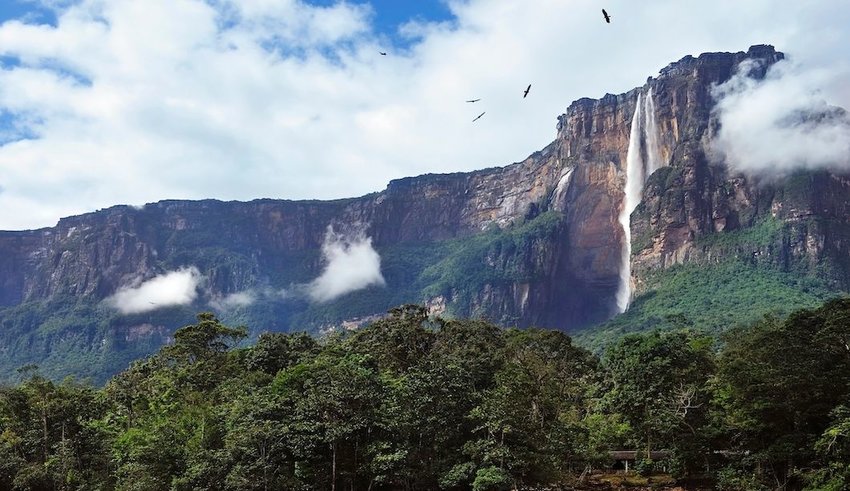 It's impossible to not be impressed by a giant waterfall, and Angel Falls is no exception. This 3,200-foot waterfall is located in the heart of a dense forest, and can only be reached by helicopter, or with help from local guides on foot. To make the falls even more intriguing, this single waterfall splits into two during the rainy season, but in the dry season its water evaporates before it ever hits the ground.
Eje Cafetero, Colombia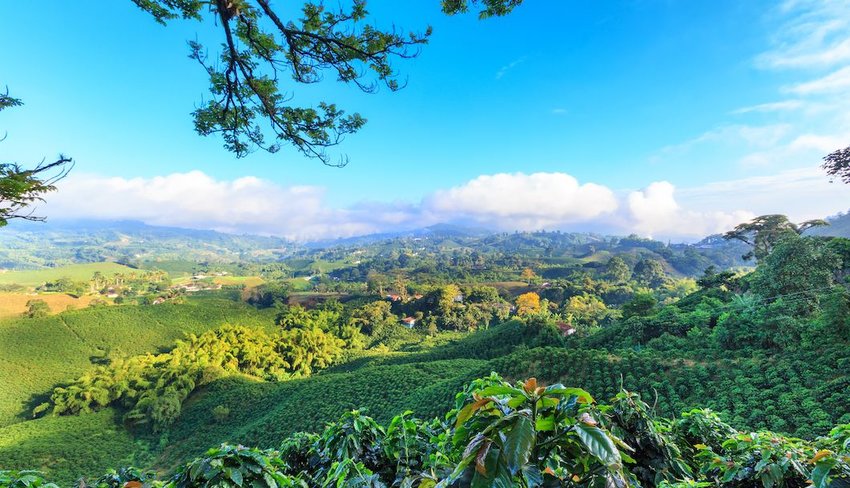 For many people, there's only one thing more important than travel, work, and perhaps even life itself — coffee. If you're a caffeine addict, you can't pass up the opportunity to visit Eje Cafetero, also known as the "coffee zone of Colombia." This stunning green region is populated with numerous coffee farms. There's no better place to go for some of the freshest, hot, delicious coffee that people all over the world just can't get enough of.
Isla del Sol, Bolivia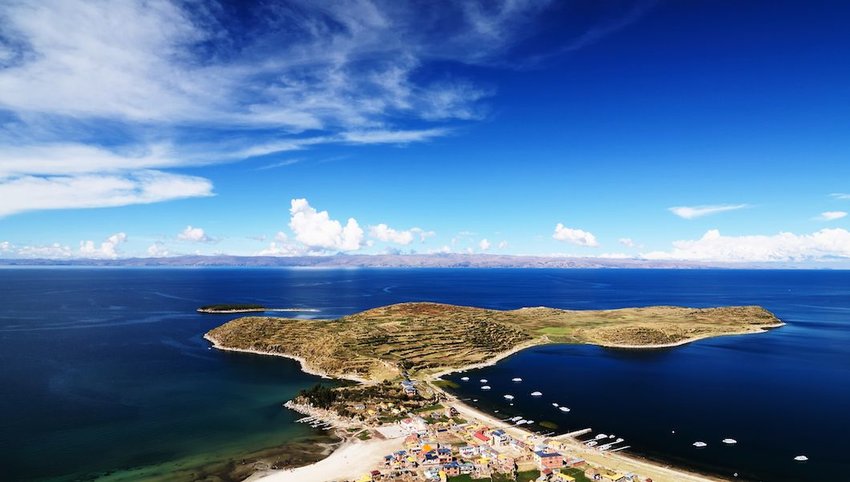 If you enjoy interacting with native cultures on your travels, then you should make sure to stop over at Isla del Sol in Bolivia. This island, located on Lake Titicaca, is home to the Quecha and Aymara peoples, who maintain their language and traditions from long ago. Visiting Isla del Sol is like stepping into the past, and it's an incredible way to connect with, and learn more about some indigenous South American cultures.
Ouro Preto, Brazil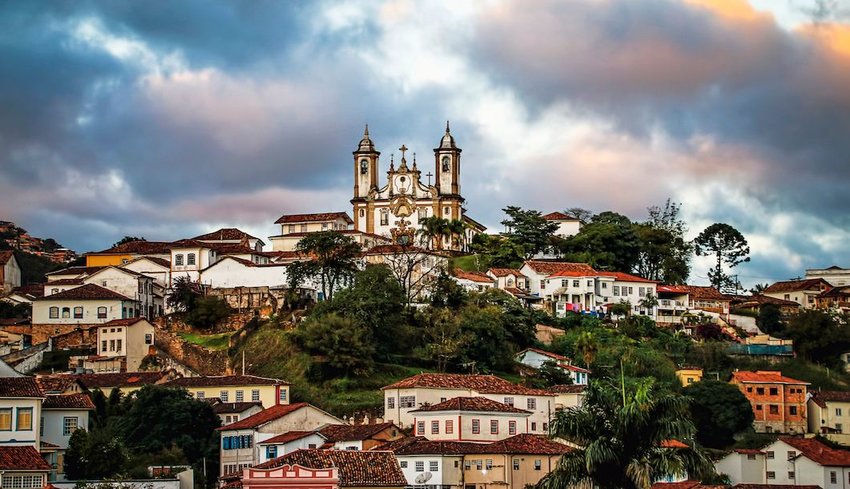 Once a colonial mining town, Ouro Preto is now a bustling college town full of Baroque architecture and charming cobblestone streets. It's home to many historical buildings and structures as well — so many, in fact, that it has been labeled a UNESCO World Heritage Site. The town is usually quiet and a great place for relaxing and exploring, but if you want more excitement, visit in February or March, when the costumed crowds come for Carnival.
Monteverde Cloud Forest Biological Reserve, Costa Rica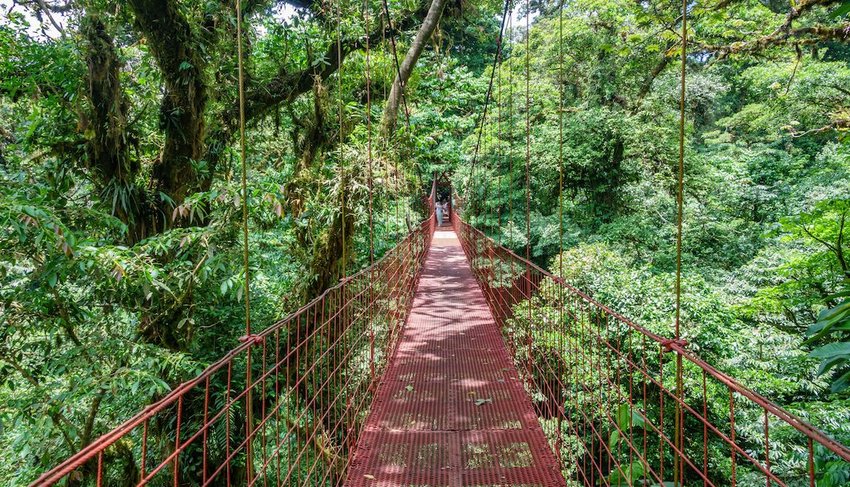 Monteverde Cloud Forest Biological Reserve is like something out of a storybook. This reserve is over 40 square miles large, and is home to over 500 species of birds. With six different ecological zones, it is also home to the rare Golden Toad, as well as the largest collection of orchids on the planet. To make it even more enchanting, a constant low-level cloud cover makes you feel as if you are walking in the sky as you explore this vast oasis of greenery and animal life.
Playa Roja, Peru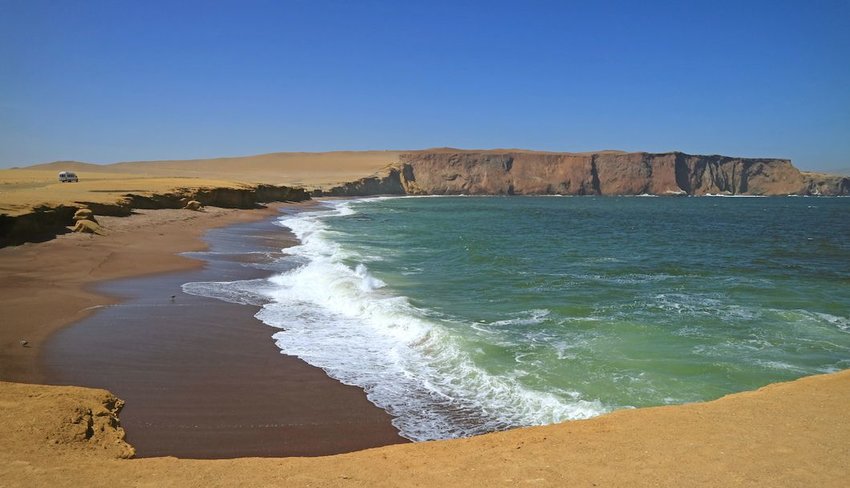 Not all beaches are lush, tropical places. Peru's Pacific coast is actually one of the driest places on the continent, to the point that it's classified as a desert. In what seems like a big contradiction, the dry desert beach of Playa Roja backs up to the ocean, making it a fascinating place to spend an afternoon.
Cueva de las Manos, Argentina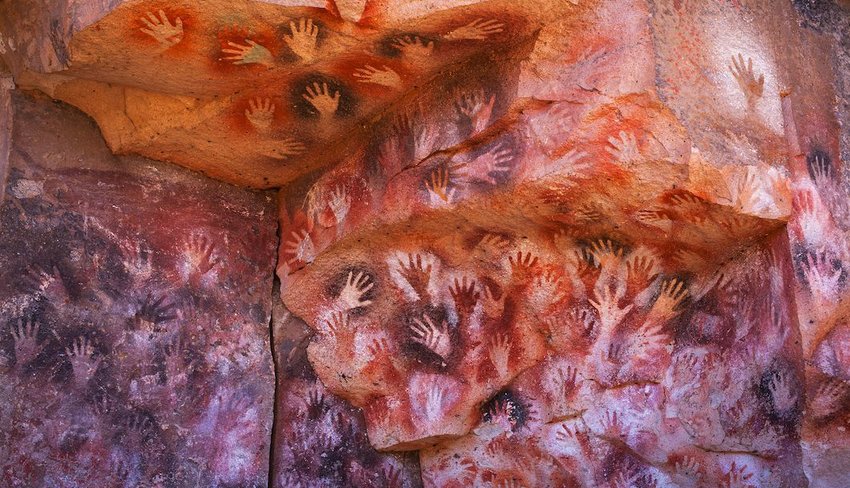 Cueva de las Manos is one of the most intriguing archaeological sites in all of South America. Inside a marble cave deep within Argentina, a wall is covered in handprints from a prehistoric South American tribe. Scientists and archaeologists have studied these handprints for years, and have dated them at around 10,000 years old. To visit this site, though, you really have to make an effort — according to multiple sources, it is one of the hardest places to reach in South America.
Tikal, Guatemala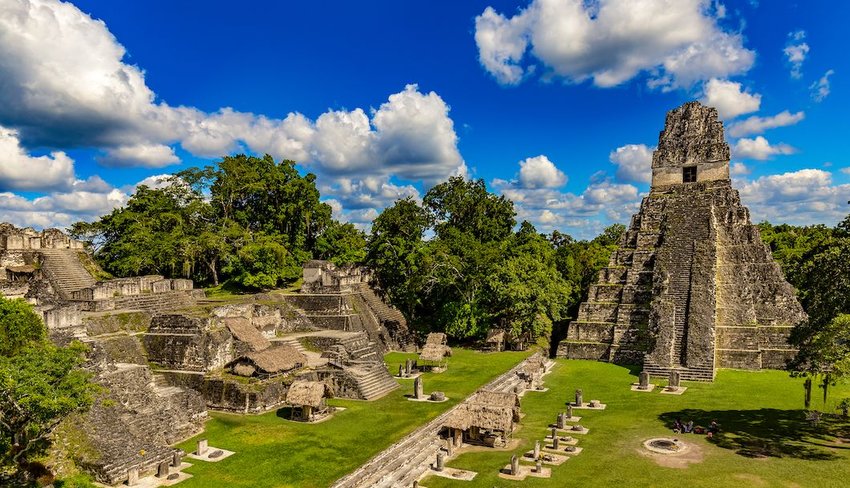 Tikal is an amazing place to visit thanks to the looming presence of an enormous temple built by the ancient Mayans. This area is one of the biggest archaeological sites of the Mayan civilization, and is full of statues, tombs, palaces, temples, and other artifacts and monuments. If you have any interest at all in the rich, mysterious history of the Mayan people, you can't miss this destination.
Colca Canyon, Peru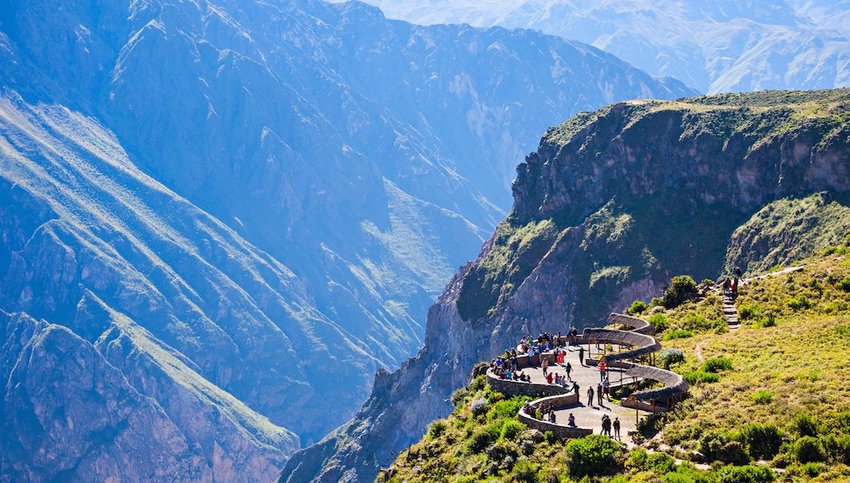 Colca Canyon can be reached one of two ways — an organized tour that lets you see it from the top in all its glory, or an arduous three-day hike down into its depths. Both are well worth a try, as this is one of the deepest canyons in the world. On your way, you may also be lucky enough to see a number of Andean Condors, the largest birds in the Americas.
San Agustin Archaeological Park, Colombia
This UNESCO World Heritage Site is home to the largest collection of religious artifacts in South America, as well as what is reported to be the world's largest cemetery. Burial mounds and ceremonial sites can be found all over the area, as can some amazing, "megalithic sculptures" crafted from enormous rocks and depicting the likenesses of ancient gods and mythical creatures.
Huacachina, Peru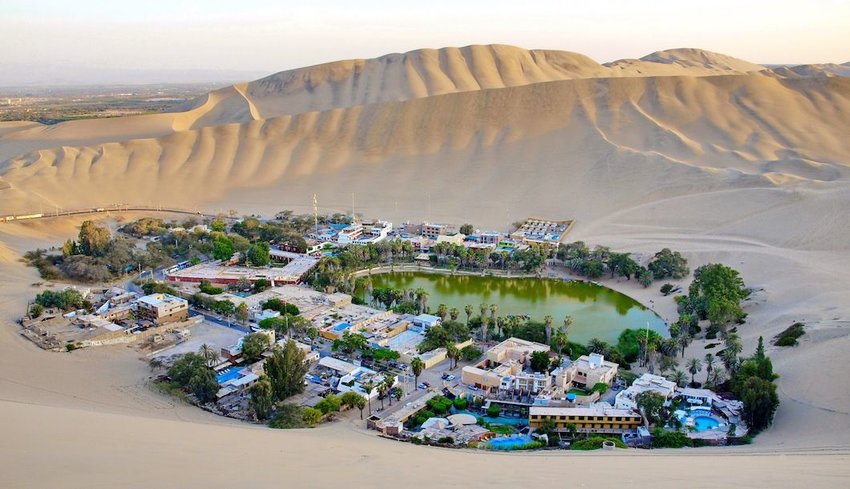 Huacachina is a small oasis in the middle of the Peruvian desert, surrounded on all sides by enormous sand dunes. But those dunes are just for photos. You can actually take the opportunity to go "sandboarding" down them. It's a great way to experience the fun of snowboarding without all that cold, annoying snow.
Islas Ballestas, Peru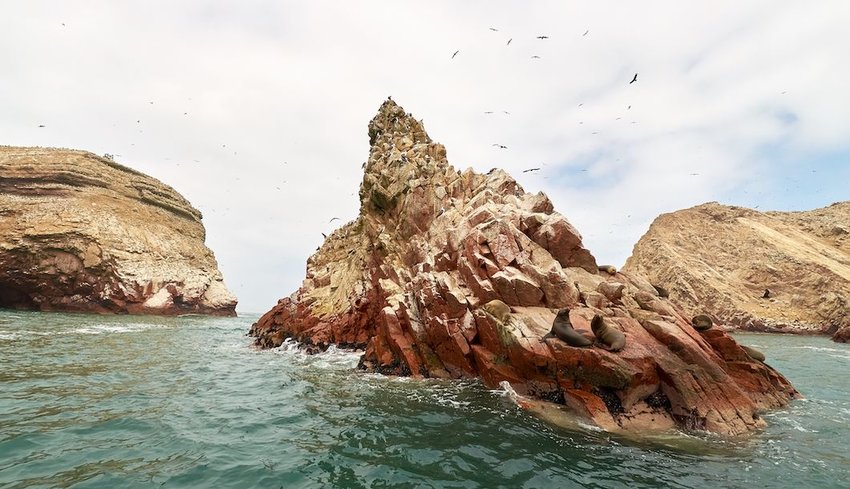 Known to frequent travelers as "a budget version of the Galapagos Islands," Islas Bellestas is chock-full of wildlife you won't see anywhere else. The beaches play host to penguins, sea lions, pelicans, and a whole list of other animals that live free, uncaged and undisturbed by the tourists who come to see them.
Tiahuanaco, Bolivia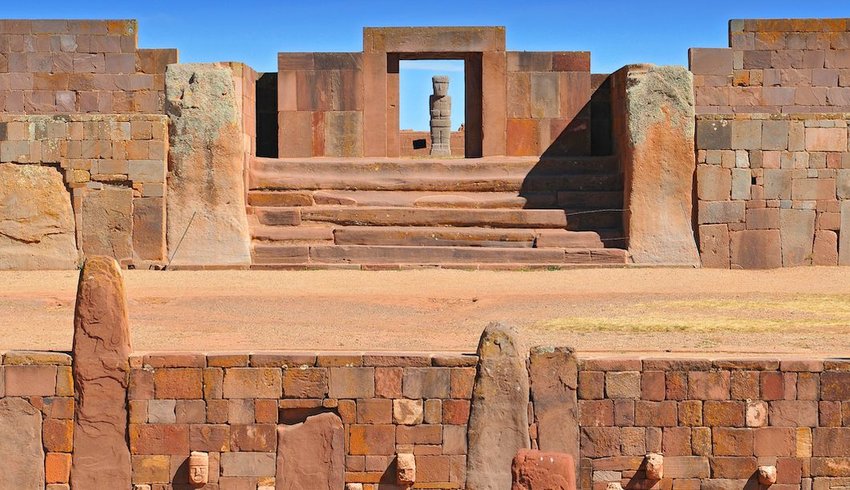 This archaeological site is often overlooked by visitors to nearby Lake Titicaca, but is definitely worth a visit. Tiahuanaco is the oldest archaeological site in the region, and may actually even be the birthplace of prehistoric culture in South America as a whole. The ruins here are quite mysterious, as no one knows how the indigenous people were able to build these structures with stones that have been weighed at 150 tons apiece.
Avenue of the Volcanoes, Ecuador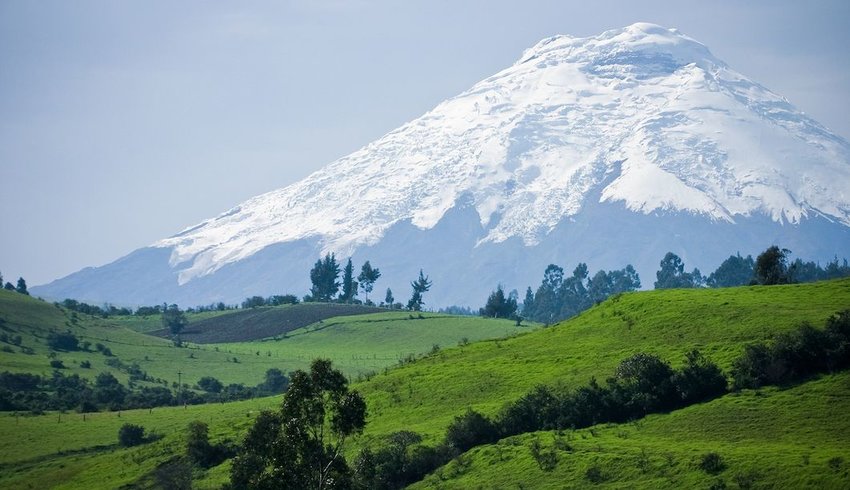 Avenue of the Volcanoes is home to a staggering collection of towering volcanoes and high mountain peaks. The Cotopaxi volcano alone is almost 15,000 feet tall, making it one of the tallest active volcanoes in the world. And when I say active, I mean active — this volcano has erupted at least 50 times since the 16th century, which is unprecedented for a volcano.
Laguna Colorada, Bolivia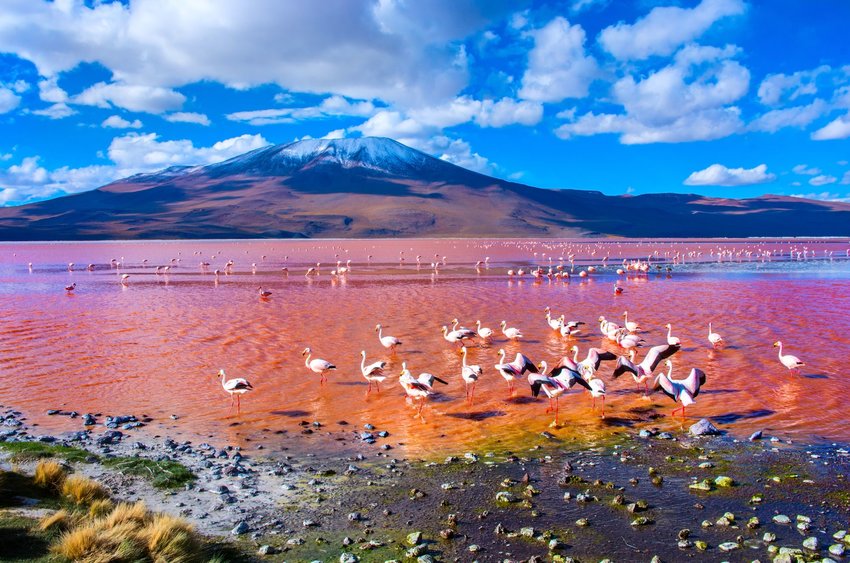 Visiting Laguna Colorada is like stepping into a painting. The water of the shallow salt lake is a deep, striking red due to the algae in the water (or the blood of the gods, according to local folklore). It contrasts with the white borax islands within it and the bright blue sky above, making you feel like you're in a piece of art, or at least a strange dream. To make things even more surreal, you can see thousands of flamingos in this area at any given time, since they love feasting on the plankton in the water.
Amazon Rainforest, Ecuador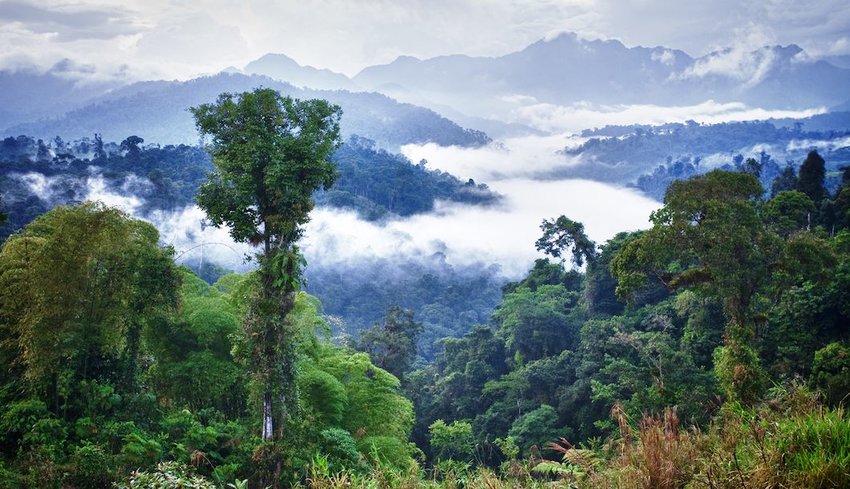 No list of stunning sites in South America could ever be complete without mentioning the Amazon Rainforest. Hailed as one of the most biodiverse regions in the world, the Amazon rainforest extends across eight other countries in addition to Ecuador. It takes up around seven percent of the landmass on the planet, but yet it holds half of the world's plant species. This means that it is also home to an impossibly large collection of animals and insects as well, many of which are protected by several wildlife reserves within the rainforest itself.
Enjoy this article? Share it with a friend
All featured products and deals are selected independently and objectively by the author. The Discoverer may receive a share of sales via affiliate links in content.
Discover the World's Best Destinations, with your free weekly travel guide sent straight to your inbox.
Welcome to The Discoverer!
We are so excited to fill your inbox with discoveries from around the world! You can expect your first edition to arrive on Monday. Until then, feel free to check out our previous editions.