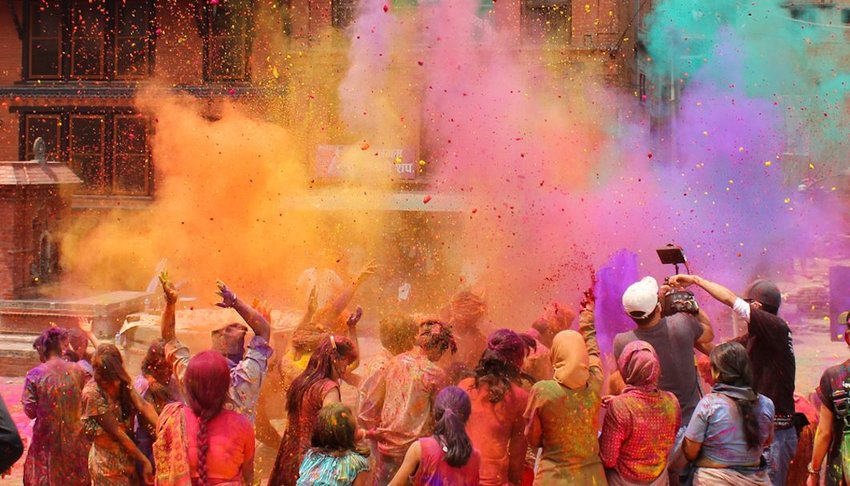 25 Can't-Miss Spring Events Around the World
With the arrival of spring in the northern hemisphere, we welcome warmer, longer days and numerous cultural festivities. Whether it's a parade to celebrate the end of dreary winter or just an excuse to throw a citywide party, these 25 spring events around the world provide a unique insight into each region's culture and offer a chance to celebrate with the locals.
March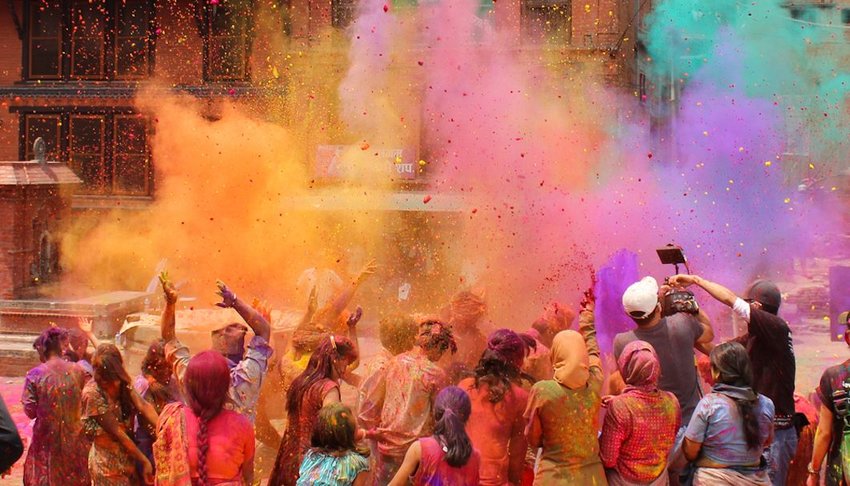 Holi
India
March 10
Rooted in Hindu beliefs, Holi is one of the most colorful festivals in the world and involves spraying water guns and throwing brightly colored powder at each other. Celebrated in India on the day after the last full moon in March, the colors of Holi welcome the oncoming of spring and the prospect of new beginnings. While some of the largest celebrations take place in India, due to its soaring popularity, the holiday is also celebrated in other Hindu dominated destinations throughout the world.
St Patrick's Day
Ireland
March 17
Shamrocks and green beer are only part of this classic Irish celebration. This holidy once commemorated the death of the patron saint of Ireland, but has since evolved into a celebration of Irish heritage. Parades and parties take place around the world, including New York City, home of the world's first St. Patrick's Day Parade. But for a truly authentic experience, head straight to Dublin. Here you'll be able to watch the annual parade, hop in and out of pubs, and dine on delicious food washed down with some local brew.
Cimburijada
Zenica, Bosnia and Herzegovina
March 20
The community of Zenica gathers on the banks of the Bosnia River at the crack of dawn to celebrate the first day of spring each year in a festival known as Cimburijada — the Festival of Scrambled Eggs. This Bosnian tradition unites thousands of friends and families as they dance to live music and share a traditional breakfast of eggs prepared in a giant pan.
Spring Equinox
Teotihuacán, Mexico
March 20
Each year in March, thousands of people gather in the ancient city of Teotihuacán, some 30 miles northeast of Mexico City to celebrate the spring equinox. Between 9 a.m. to 1 p.m., thousands of observers dressed in white gather at the Pyramid of the Sun — the largest archeological structure in Teotihuacán — and climb the 360 steps to the top to harness energy for the year.
April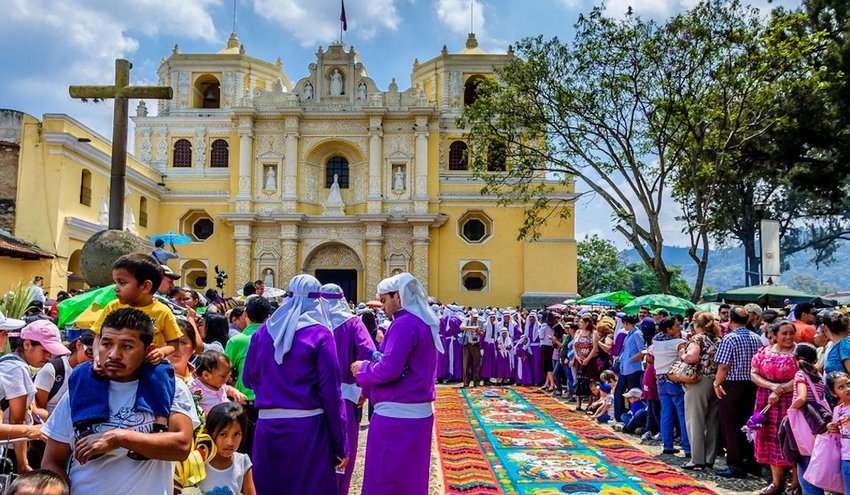 Harare International Festival of the Arts
Harare, Zimbabwe
28 April – 3 May 2020
Zimbabwe's capital of Harare plays host to Harare International Festival of Arts, a six-day event that showcases both regional and international artists showcase work in the realms of theatre, fashion, dance, and music through performances and workshops. Dedicated to the development of  Zimbabwe's art and culture scene, this festival has grown to become largest of its kind in the nation, and draws spectators from around the world.
Nagol
Pentecost Island, Vanuatu
Every Saturday between April and June
In a death defying feat performed by the tribesmen of Vanuatu's southern region of Pentecost Island, participants dive head first from a rickety 100 foot tall wooden tower with nothing more than vines tied to their ankles. As the daredevils dangle just above the ground after their fall, they brush the earth with their body in a bid to enrich the soil in which yams grow, ensuring a bountiful harvest season. The ancient ritual of land diving is said to have inspired bungee jumping, and occurs every Saturday between April and June. A maximum of 50 spectators are permitted to attend each week in order to protect the culture and traditions of the tribesmen.
Semana Santa
Antigua, Guatemala
April 5-11
Renowned for its dramatic Holy Week festivities, Antigua, in southern Guatemala, welcomes more than half a million pilgrims each year. During Semana Santa leading up to Easter weekend, the historic cobblestone lanes of Antigua are carpeted in elaborate floral designs meticulously crafted from sawdust, and disappear as the purple robed bearers of holy figures parade across them during the procession.
Easter
Worldwide
April 12
Easter is one of the largest Christian holidays observed around the world to honor the death and resurrection of Jesus. Celebrations range from egg hunts — like the White House Easter Egg Roll in Washington D.C. — to water fights, church services, and massive parades. Traditions vary based on location and denomination, so whether you want to join in on a big party (like fireworks in Greece) or are looking for something more laid-back (how about reading crime novels in Norway?) you have plenty of options.
Songkran Water Festival
Thailand
April 13-15
Songkran officially marks the beginning of the New Year in Thailand, and is celebrated with a three-day water fight across the nation, with the biggest parties in Chiang Mai, Bangkok, and Phuket. With a light sprinkle of water, people are symbolically purified of their misfortunes, allowing them to enter the new year fresh. But this Buddhist tradition has taken the gesture to new heights, with water fights of epic proportions fueled by pressure hoses, buckets of water, and the most powerful Super Soakers.
New Orleans Jazz and Heritage Festival
New Orleans, USA
April 23 - May 3
The New Orleans Jazz and Heritage Festival is a 10-day cultural event that celebrates the music of this southern state. Featuring blues, R&B, and jazz performances, the festival attracts some 400,000 visitors each year, and has become one of America's most anticipated music events since its inaugural year in 1970. Key headliners this year include Lizzo, Lionel Richie, and The Who.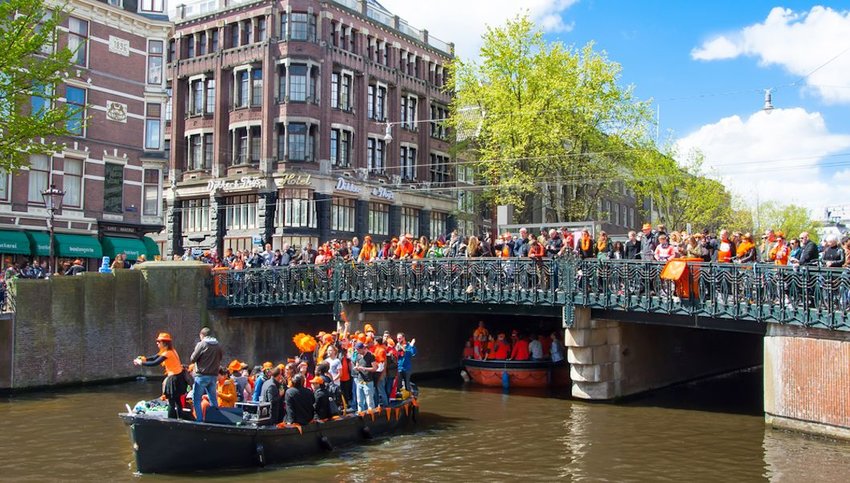 King's Day (Koningsdag)
Amsterdam
April 27
First observed in the Netherlands in 1985, King's Day pays homage to King Willem-Alexander on his birthday, and the nation's capital of Amsterdam erupts into a city-wide party. Participants dress up in orange in honor of the Dutch royal family – the House of Orange-Nassau — and spill onto the streets and canals to dance to live music and share a drink with each other. Accompanying King's Day is a city-wide flea market, as many set up shop in Amsterdam's parks to sell their pre-loved goods.
Beltane Fire Festival
Edinburgh, Scotland
April 30
This Pagan festival falls between the spring equinox and the summer solstice, celebrating the arrival of warmer weather. The Beltane Fire Festival held in Edinburgh, Scotland, is a modern take on an ancient Iron Age Gaelic tradition, and tells the tale of May Queen and the Green Man to the rhythmic beat of drums and lively dances. The celebrations culminate in a massive crackling bonfire atop Calton Hill.
May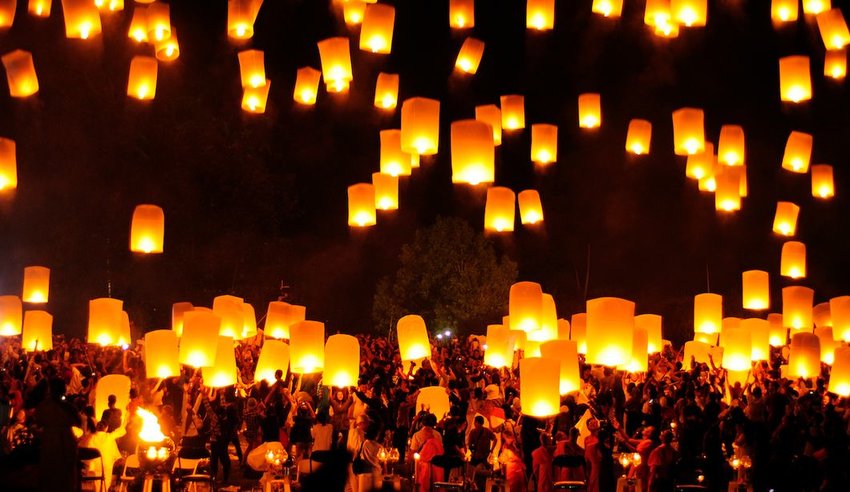 Cinco de Mayo
Mexico
May 5
The version of Cinco de Mayo most Americans know involves drinks and parties, but it actually commemorates a more somber historical event — Mexico's victory over the French forces of Napoleon III at the 1862 Battle of Puebla. Though many parts of Mexico observe Cinco de Mayo, none of the celebrations are as big as in Puebla, southeast of Mexico City.  The celebration here begins with a reenactment of the battle, and is followed by vibrant street parties, cultural performances, and elaborate floats that proudly display Mexico's heritage.
Vesak (Waisak)
Asia
May 7
Vesak or Waisak, is a holy festival traditionally celebrated in Indonesia, that honors the life and enlightenment of Lord Buddha. Taking place on the full moon of the fourth lunar month, thousands of Buddhist monks and observers gather at the UNESCO-listed temple complex of Borobudur on the island of Java, and circle the religious site while carrying candles and offerings. Other primarily-Buddhist nations like Sri Lanka, Singapore, Bangladesh, Thailand, and Cambodia have slight variations on the celebration, but most are fundamentally similar and involve lanterns and candles, and pay homage to Buddha's enlightenment.
Festival of Snake Catchers
Cocullo, Italy
May 7
Possibly Europe's oldest and quirkiest festival, the Festival of Snake Catchers is held in the medieval town of Cocullo in the Abruzzo region of southern Italy every May first. It's said to date back to pre-Christian times, and the tradition of marching a snake laden statue of St. Dominic through the town's streets provides protection against snakebites for farmers in the fields. Live snakes are caught in the surrounding hills in the weeks preceding the Festival of Snake Catchers, and the celebration draws thousands of spectators each year.
Bun Bang Fai
Thailand
May 8-10
Held throughout northeast Thailand and in Laos, Bun Bang Fai, otherwise known as the Rocket Festival, takes place at the start of the wet season on the second weekend of May, with the belief that launching rockets into the sky will encourage rainfall for a plentiful harvest season. The celebration at Phaya Tan Park in Thailand's Yasothon is the biggest and liveliest with music and dance, and judges determine which homemade rocket has been fired the farthest into the sky.
Cheung Chau Bun Festival
Hong Kong, China
May 9-13
Picturesque Cheung Chau Island, a short ferry ride away from the city of Hong Kong, is the setting for the rollicking week-long Cheung Chau Bun Festival that falls on Buddha's birthday. The main event of the bun scrambling competition takes place on the final day of the festival at Pak Tai Temple — the island's most important religious site. Participants race to the top of a 60 foot bamboo tower to collect as many handmade buns as possible to score points — the higher up the bun, the higher the score.
London Wine Week
London, England
May 11-17
London Wine Week in May allows festival passholders to access exclusive deals, alfresco parties, and tutored tastings across the city for seven days. Flat Iron Square near London Bridge plays host to the London Wine Week Hub, where festival goers can visit pop-up wine bars and gorge on specially priced street food. With over 125 participating venues, round up some fellow wine lovers and create your own wine tour across the city.
Cannes Film Festival
Cannes, France
May 12-23
A playground for film industry representatives, innovative and up-and-coming filmmakers, and critics to celebrate the global film industry, the Cannes Film Festival, held on the sun-kissed French Riviera, is the world's largest international showcase of cinematic art. Over the course of 12 days, screenings across all genres are held, and young talent vie for the highest prize awarded at the festival — the Palme d'Or.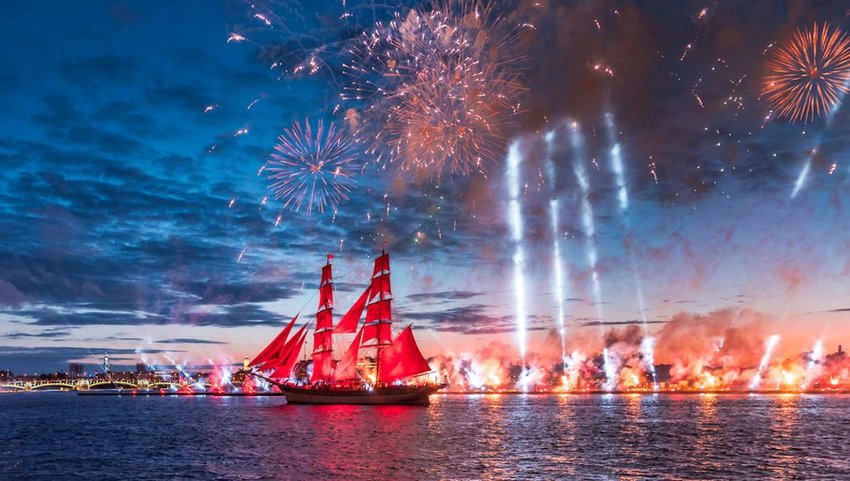 White Nights Festival
St. Petersburg, Russia
May 22 - July 21
Russia's White Nights Festival runs from May to July, when the sun rises before 4 a.m. and sets after 10 p.m., celebrating the nation's long spring and summer nights. It's both a cultural affair, as ballet and opera performances take over St. Petersburg's historic Mariinsky Theatre, and a city-wide celebration, as citizens revel in raucous all-night street parties. Meander along the banks of the Neva River to delight in performances of sword swallowers and fire eaters, and late into the night, watch the city's drawbridges open.
Monaco Grand Prix
Monte Carlo, Monaco
May 24
From the grandstand, a private yacht, or hotel rooftop, watch as Formula One racers navigate the narrow roadways and hairpin turns in a nail-biting competition to complete 78 laps of the 3.3 km Circuit de Monaco in ritzy Monaco's Monte Carlo. The Monaco Grand Prix takes place on the last weekend in May, and its extreme level of difficulty pegs it as one of three races that make up the Triple Crown of Motorsport.
Cooper's Hill Cheese Rolling and Wake
Brockworth, England
May 25
Believed to date back to the early 1800s, the Cooper's Hill Cheese Rolling and Wake takes place on England's Spring Bank Holiday just outside of Gloucester every year. A wheel of cheese is rolled down a steep 600 foot hill just one second ahead of its competitors who throw themselves after it. The first person to cross the finish line is awarded the coveted round of double Gloucester cheese.
Haeundae Sand Festival
Busan, South Korea
Late May - Early June
Set in the urban port city of Busan, Haeundae is South Korea's favorite beach. Stretching 1.2 miles, this seashore's powdery soft sands play host to family vacations, beachfront hotels, and year-round fun. The annual Haeundae Sand Festival kicks off in late May or early June each year to welcome the start of beach season, and features four days of beach volleyball competitions, sand art displays, and hot sand baths that are reported to have a number of health and beauty benefits.
June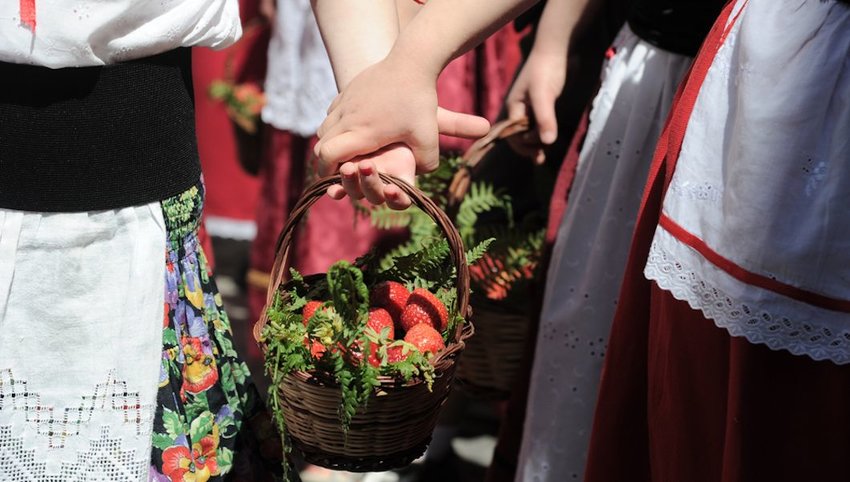 Ise Ebi Matsuri
Shima, Japan
June 6
The first Saturday of June in Japan's Shima celebrates the lobster and the end of the fishing season in Ise Ebi Matsuri, which translates to Spiny Lobster Festival. Held since 1954, participants don traditional Japanese wear and parade the streets of this coastal city in central Japan with a giant replica of a lobster on a float. Festival goers are invited to sample the lobster miso soup and stay for the fireworks that are set off for the festival's grand finale.
Nemi Strawberry Festival
Nemi, Italy
June 7
Surrounded by the Alban Hills some 30 km southeast of Rome, Nemi is a lakeside town celebrated for its production of  sumptuous strawberries. The first Sunday of June each year is dedicated to celebrating this sweet fruit, and visitors have the opportunity to taste the strawberry in a number of forms - ice cream, jams, and pastries.

Enjoy this article? Share it with a friend
All featured products and deals are selected independently and objectively by the author. The Discoverer may receive a share of sales via affiliate links in content.
Discover the World's Best Destinations, with your free weekly travel guide sent straight to your inbox.
Welcome to The Discoverer!
We are so excited to fill your inbox with discoveries from around the world! You can expect your first edition to arrive on Monday. Until then, feel free to check out our previous editions.