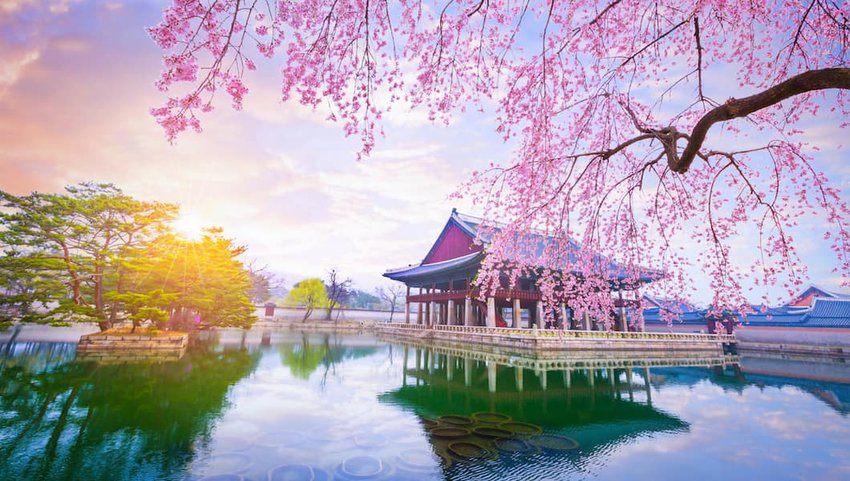 10 Photos of Seoul That Will Make You Want to Book a Flight
Seoul is a majestic city and its blend of ancient and modern offers travelers to South Korea an unforgettable experience. From peaceful temples and majestic palaces to a vibrant nightlife and awe-inspiring skyscrapers, Seoul will overwhelm your senses. They say that a picture is worth a thousand words so, here are 10 photos of Seoul that will make you want to book a flight today!
Gyeongbokgung Palace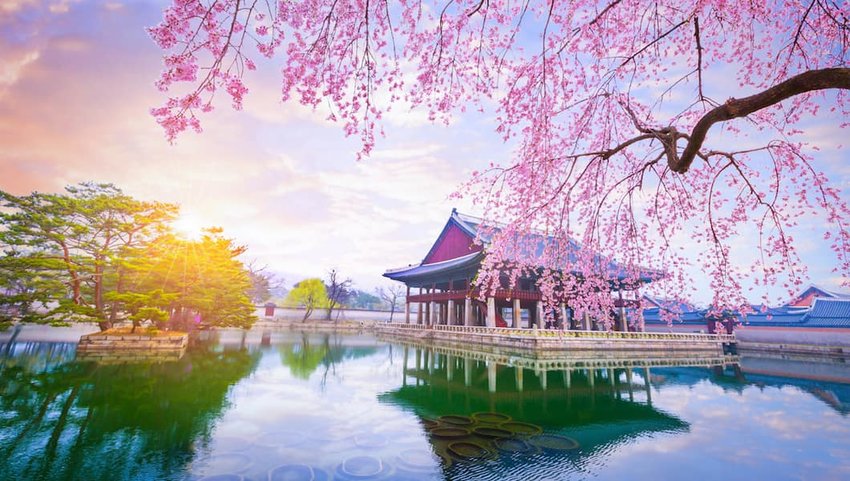 Gyeongbokgung Palace is probably the most iconic sight in all of Seoul and has a long and storied history. Gyeongbokgung means "palace greatly blessed by Heaven" and was completed in 1395. This was the main royal residence and the largest of the Five Grand Palaces in Seoul. Gyeongbokgung Palace has had a sad history of destruction and occupation by the Japanese as a result of the Korean War. In recent years, the Korean government has undertaken an effort to rebuild the palace to its former grandeur.  Free guided tours in English are available at 11:00, 1:00 and 3:30 every day except Tuesday.
Bongeunsa Temple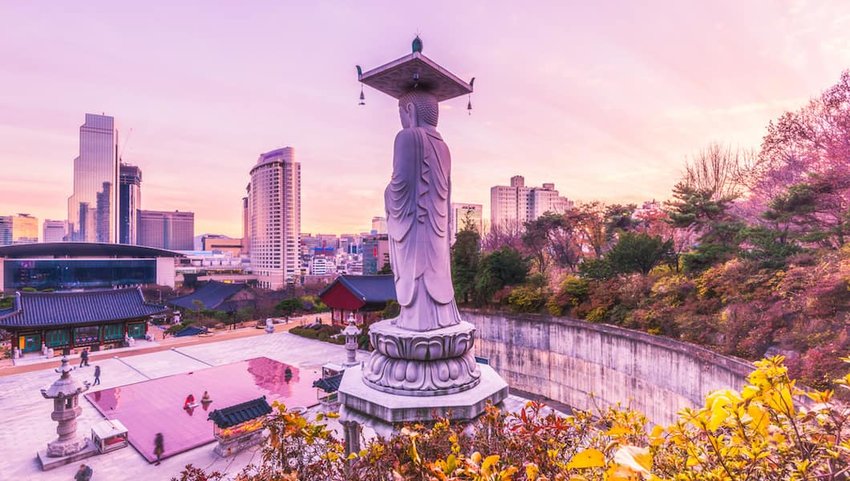 For a place to relax and heal your spirit, check out Bongeunsa Temple in the heart of Gangnam City. You may think that an ancient temple would look out of place surrounded by modern buildings like the Convention Center and Exhibitions Hall (COEX), but you quickly get lost in the serene setting of flower-lined paths. This Buddhist temple has existed for more than 1,200 years. The newest addition to the temple grounds is the colossal 75-foot-tall statue of Buddha that stands guard over the temple and gazes out over the residents of Seoul. More than 10,000 devoted believers and hundreds of tourists visit Bongeunsa Temple each day. They run a "Temple Life" and "Temple Stay" program for people who want to experience temple life and learn more about traditional Korean Buddhist culture. You don't have to speak Korean to experience this relaxing program, on the fourth Saturday of every month, the Temple Stay program is carried out in English.
Some Sevit Complex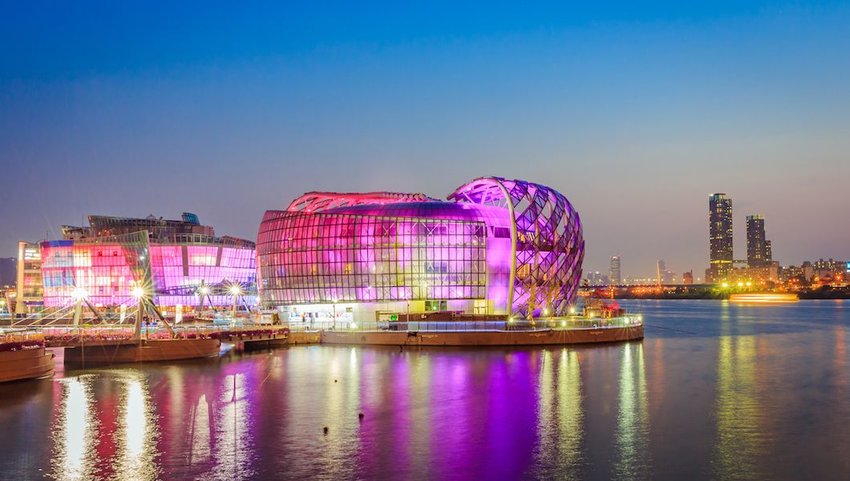 Some Sevit is a cultural complex made up of three man-made floating islands near the Banpo Bridge. With a theme of "flowers of the Hangang River" the three islands represent the view, life, and the earth. "Some Gavit," the largest island, forms a flower in full bloom and functions as a cultural facility used for performances, international conferences and exhibitions. "Some Chavit" looks like a flower bud and represents life. Here you can attend many cultural activities, events and great places to eat. The smallest island, "Some Solvit," takes the form of a seed planted in the earth. Here you can enjoy water sports and an outdoor garden as you enjoy the scenic Hangang River. Set around the complex are colorful LED lights that create a brilliant light show each night.
Bukchon Hanok Village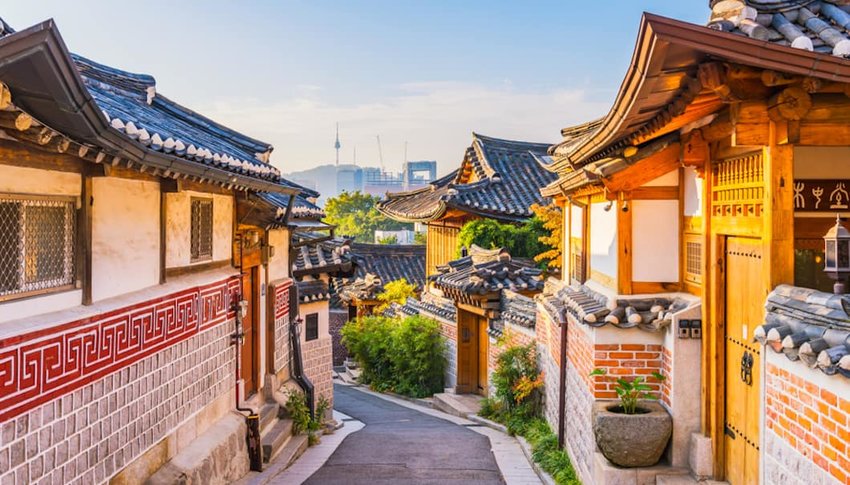 Bukchon Hanok Village is an ancient settlement dating back almost 600 years and features traditional Korean wooden houses called "hanok." This picturesque village is set in the hills north of Cheonggyecheon Stream between Gyeongbokgung Palace and Changdeokgung Palace. In Seoul proper, hanok's are being replaced by modern buildings and Bukchon Hanok Village is one of the only places in Korea where you can experience this tradition. The government is set on preserving the area and there are about 900 hanok buildings in Bukchon today; many have been restored using traditional designs and materials. This is a must-stop attraction on your stay in Seoul and you will find a charming assortment of restaurants, tea houses and cultural centers that will leave you with an appreciation of the rich culture of Korea.
Myeong-Dong Shopping District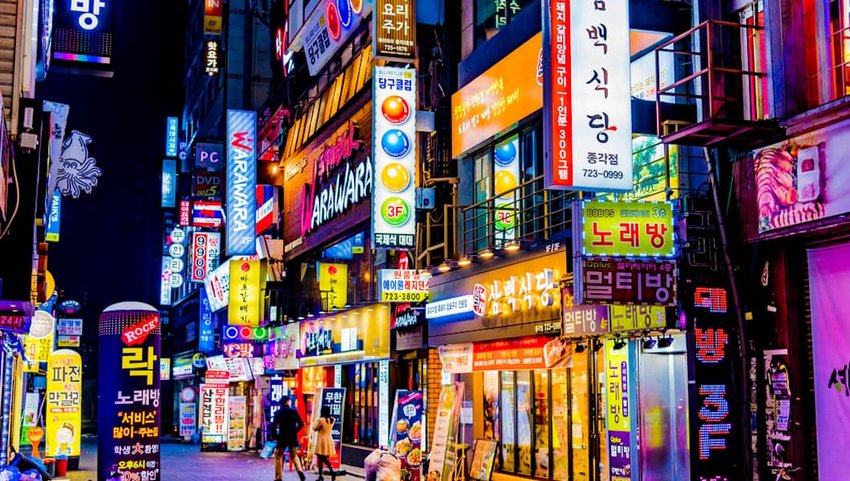 Think of Myeong-Dong as the Times Square of Seoul. It's home to the hottest district for shopping and nightlife in the city. During the day, the area is a mecca for commerce and banking with a daytime population of around two million people. As the sun sets, the area transforms itself into a hub of shopping, eating and drinking. Myeong-Dong offers shoppers an amazing mixture of street stalls and retail shops selling everything from high fashion to casual wear. Korean cosmetics are the hot-ticket item and tourists make a beeline to stores offering discount prices. The night also brings out many push-cart stalls selling a variety of incredible street food. The hard part is deciding which one you'll patron as you wander around Seoul's slice of shopping heaven.    
Starfield Library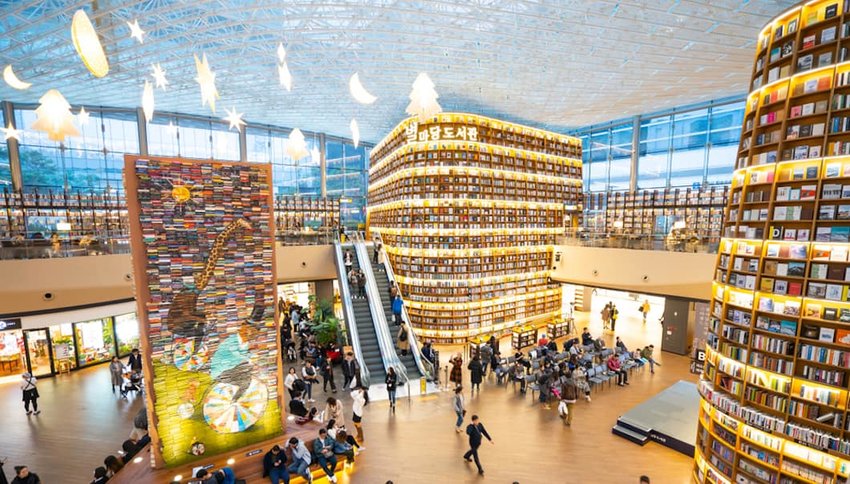 Set in the center of the largest underground mall in Asia, the COEX Starfield Library is a book lover's paradise. Filled with over 50,000 titles, the two-story library features open seating and bright lights illuminating tall columns of bookshelves. Though you can't rent the books, there's plenty of seating for you to enjoy while flipping through magazines or iPads with material. With free Wi-Fi, air conditioning and power outlets, the library attracts just as many tourists looking for a break as it does serious readers. But whether you post up here for fifteen minutes or three hours, there's plenty to love about a space dedicated to books.
Seoul's Amazing Cuisine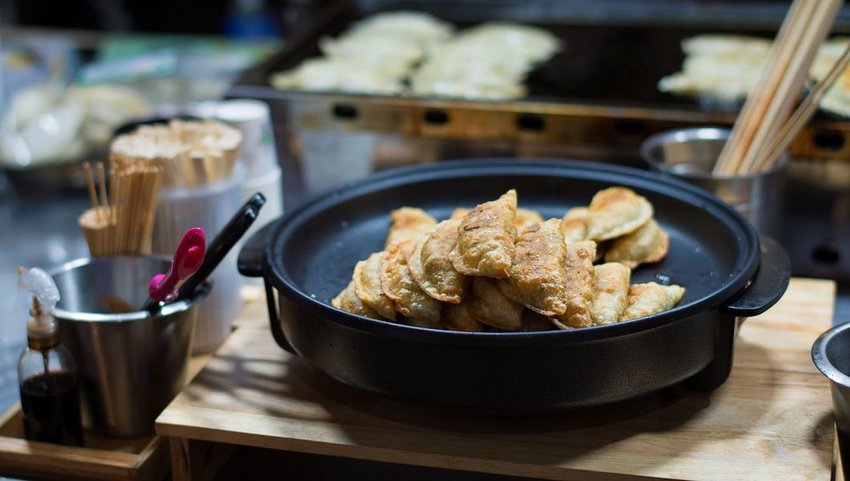 Korea's food is not only healthy but is an amazing feast for both the eye and the stomach. You've heard the old adage "food is the best medicine." For the Korean people, it rings true and they believe that food and medicine have similar origins and so perform the same purpose. Good health comes from good food and Seoul is home to some of the best food in the world. The most popular way to spend an evening is to have a communal meal with friends at a "Gogi Jib" or barbecue restaurant. If you want to see an amazing feast prepared before your eyes, order gogi-gui (roast meat) where a colorful selection of fresh meats and vegetables are brought for you to cook your meal yourself using the grills built right into tables. Don't forget to order Kimchee, the national dish of Korea. Kimchee is a traditional side dish made from salted and fermented vegetables and is one of the oldest health foods in the world.
Seoul Skyline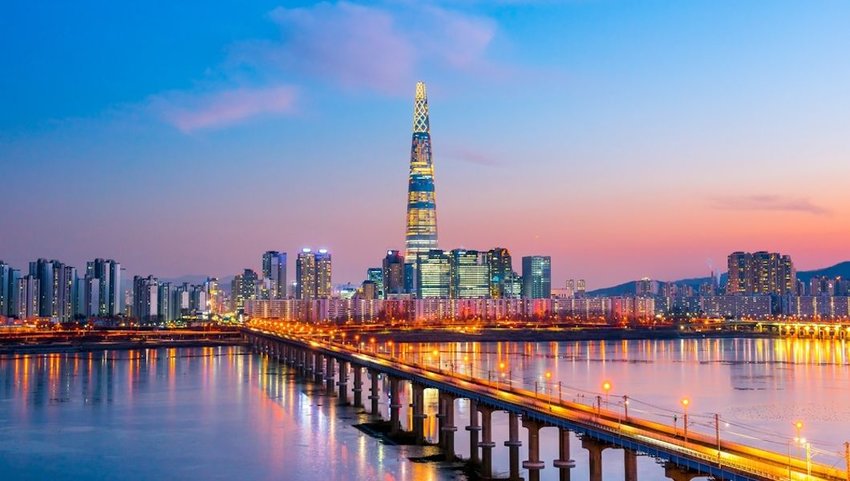 Ancient and modern go hand in hand in Seoul. Koreans honor the traditional past but embrace the modern world. They work hard and play just as hard making Seoul one of the liveliest nightlife scenes in Asia. So, put on your dancing shoes and head to the nightclubs, bars and lounges and prepare yourself for the biggest party around. Bars are usually not for the faint of heart when it comes to drinking. Many of Seoul's bars are filled with employees off the clock and looking for a good time. Seoul is also home to some great lounges that offer a variety of music and genres from punk rock to jazz. If you want to show off your vocal skills, head to the most popular activity in Seoul — noraebang, or karaoke. Get out and explore this thoroughly modern city where fun is the name of the game.
An Amazing Culture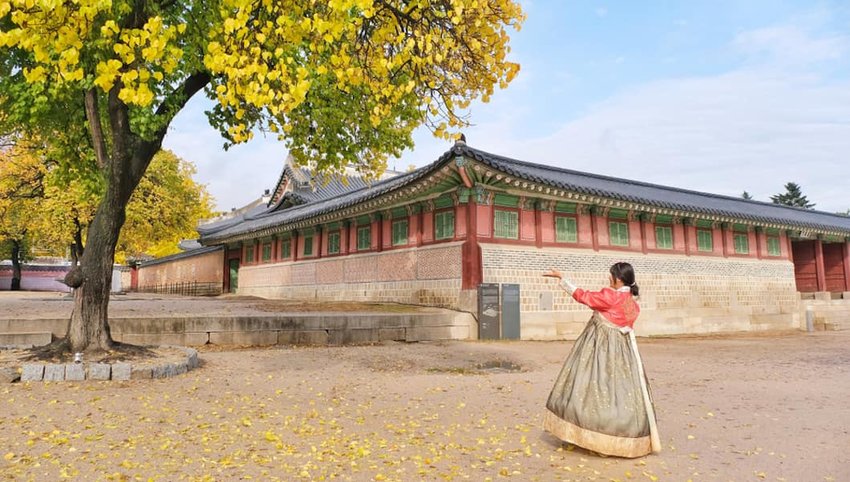 We have highlighted the fact that Seoul is a very modern city but also still holds on to many of their traditional values and their old way of life. Two things that ensure that Koreans stay true to their heritage are language and religion. The Korean language has the traditional principles of social status and respect built right into it. Words change depending on who you are speaking with as a sign of respect, making sure that age-old values always stay alive. Festivals and traditional dress also keep the amazing culture of Korea alive. The biggest festival in Seoul each year is the Lotus Lantern Festival that colors Seoul with bright lanterns in celebration of the birth of Buddha. The event is enjoyed by thousands of people every year, regardless of background, nationality or religion.
Bukhansan National Park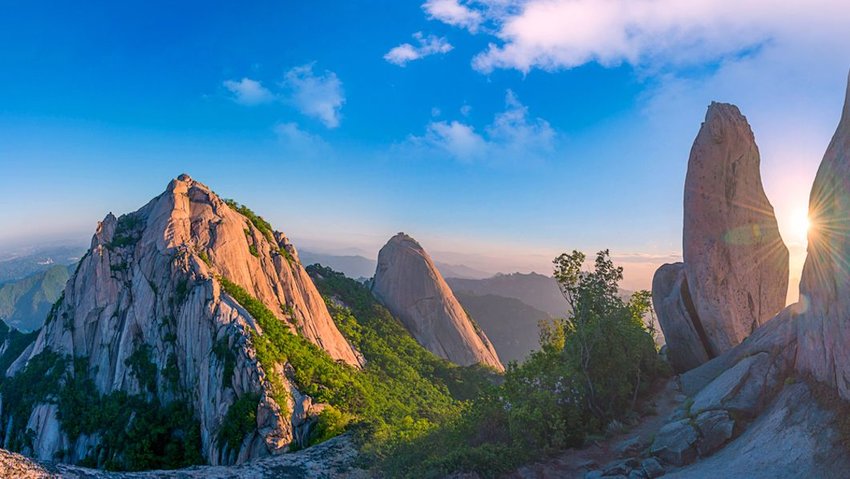 You have to visit Seoul's most cherished mountains at Bukhansan National Park while you are in town. How popular is this national treasure? Well, the park gets about five million visitors each year and is listed in the Guinness Book of World Records as the world's "Most Visited National Park per Unit Area." Bukhansan is easily accessible from anywhere in Seoul and is only 25 minutes by subway. The park is easily Korea's favorite hiking destination and is home to dozens of granite peaks and gorges lined with crystal clear streams. After a day of hiking the serene trails, check out the authentic and affordable Korean eateries near to the park entrance.

Enjoy this article? Share it with a friend
All featured products and deals are selected independently and objectively by the author. The Discoverer may receive a share of sales via affiliate links in content.
Discover the World's Best Destinations, with your free weekly travel guide sent straight to your inbox.
Welcome to The Discoverer!
We are so excited to fill your inbox with discoveries from around the world! You can expect your first edition to arrive on Monday. Until then, feel free to check out our previous editions.